banana cake with vanilla frosting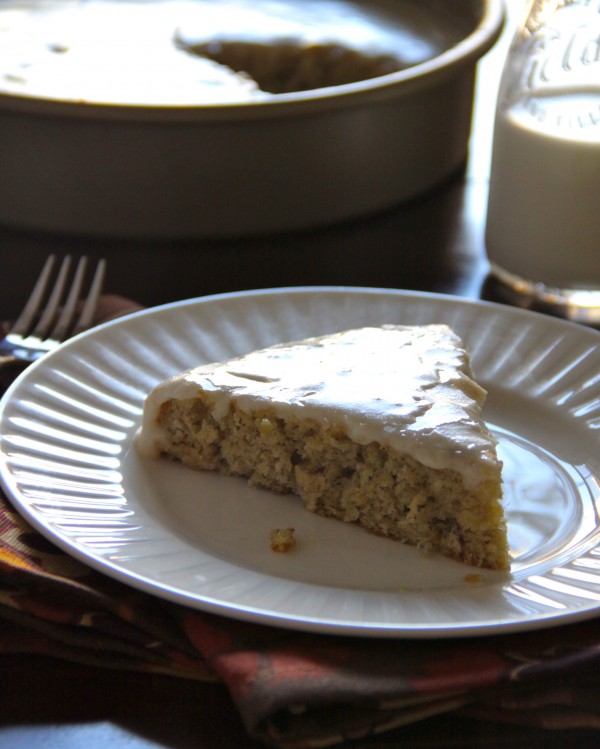 This cake is ironically appropriate for this week.
If you would have asked me back on January 1st of this year whether or not 2012 would be "bananas," I would have laughed.
Surely, 2012 couldn't be as crazy as 2011? Or 2009? Or 2008? Right?
Wait a minute.
I totally missed that memo, didn't I? Here I was naively thinking that once you graduated from college everything would be sunshine and lollipops. How bad could being an adult be? I'd have zero homework. I would have money to buy beer and fierce-looking clothing. I would be able to travel and see the world. Life would be easy peasy.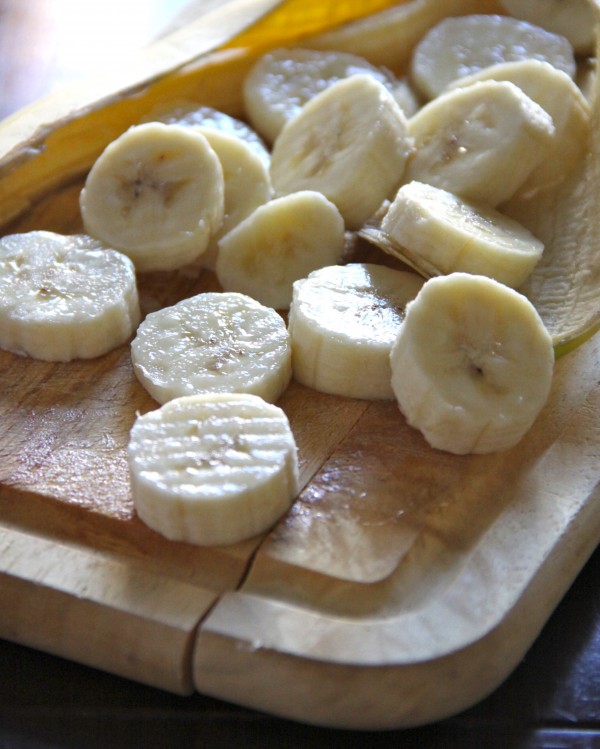 The only way I can respond to my naive self are in the words of my famous friend, Cher, "As if!" Ever since I graduated from college, life got more and more complicated every year. I don't think I realized it at the time, but being 23 I had the energy to handle all of these changes. Planning a wedding out of state, going on a honeymoon for a week, and returning to a foreign city where I had three days to find a place to live. Back then I had zero trouble. Today, I would be in deep doo-doo. Now that I am the ripe ol' age of 29, I just want to hire someone to take care of all of these changes.
Either way, all I know is praise the Lord for this banana cake. I'll tell you a little secret about this childhood favorite cake. You can actually make it in the microwave. GASP! My Mom made it that way for years. She says it keeps the cake light and moist. I made this cake in the oven because I was a little freaked out about baking a cake in the microwave at high altitude. You're picturing the explosion too, I don't blame you.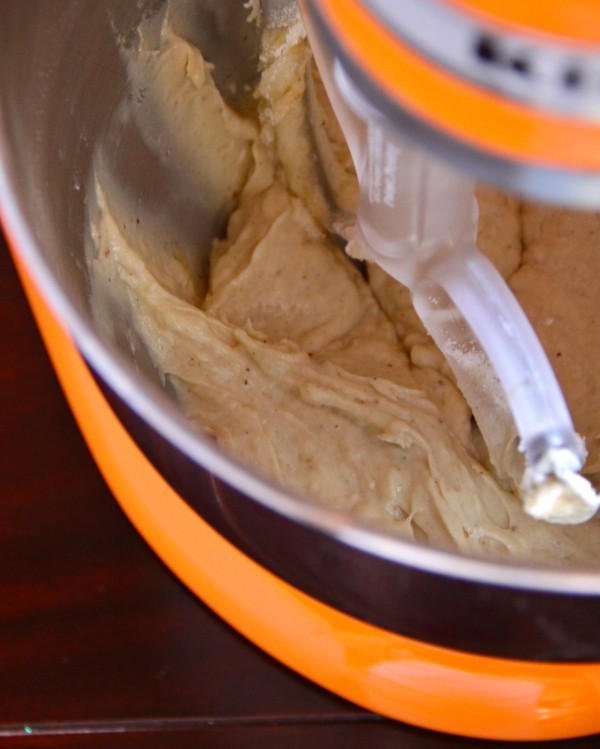 Besides the simplicity of the cake, the vanilla frosting is a tried and true frosting. Sometimes I make it for cookies, other times, I whip up a batch and keep it in the fridge in case of emergencies. One finger lick and your world is back on track.
The moral of this story, when life is bananas, make banana cake.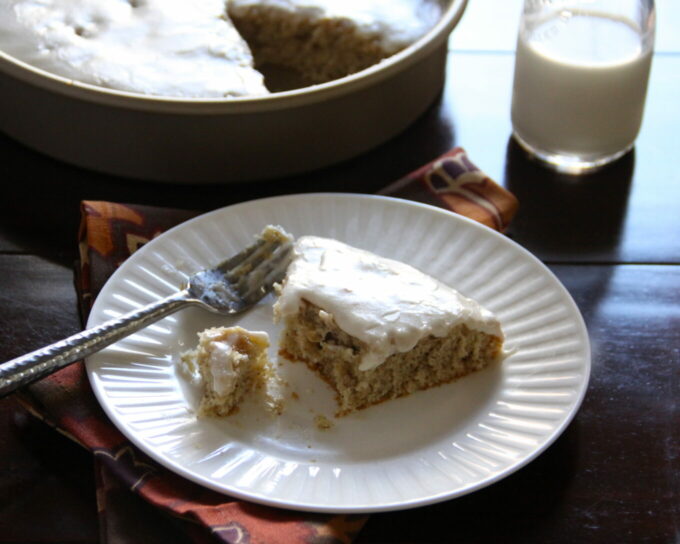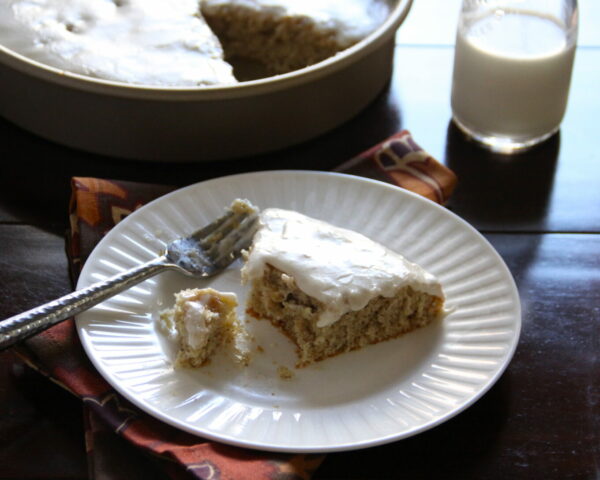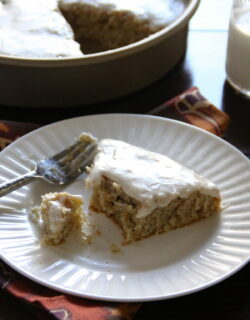 Banana Cake with Vanilla Frosting
Ingredients:
for the cake:
1/4 cup unsalted butter, room temperature
3/4 cup sugar
2 eggs, separated
2/3 cup mashed bananas - approximately 2 small or one large
1/4 cup sour cream
1 cup all-purpose flour
1/2 tsp. baking soda
1/4 tsp. salt
1/2 tsp. vanilla
1/4 tsp. nutmeg
for the vanilla frosting:
4 tablespoons unsalted butter, room temperature
2 cups confectioner sugar
4 tablespoons milk
1/4 teaspoon salt
1 teaspoon vanilla extract
1 teaspoon almond extract
Directions:
for the cake in the oven:
Preheat oven to 350 degrees. In a mixer, cream butter and sugar. Beat the two yolks and stir into sugar mixture. Add mashed bananas. In a medium bowl, combine baking soda, salt, nutmeg, and flour. Add the sour cream to the egg/sugar mixture.Take turns adding the egg/sugar/sour cream mixture to the flour, along with the mashed bananas.
Beat the two egg whites until stiff, and fold into the batter gently. Stir in the vanilla. Bake in a conventional oven for about 22 to 25 minutes. Let it cool before adding frosting and serving.
for the cake in the microwave:
Place batter in a microwave safe glass pie dish.Microwave for 4 minutes on Medium Setting.Turn dish half-way through if you do not have a carousel. Microwave for 2 minutes on High Setting. Microwave for 3 minutes on Low Setting.Microwave for 2 minutes on Medium Setting. Microwave an additional 40 sec on High, or until toothpick inserted in center comes clean.Let cool before adding frosting and serving.
for the vanilla frosting:
Cream butter with 1 cup of sugar. Stir in vanilla, almond extract, and salt. Frosting will be thick. Add 3 to 4 tablespoons milk. Stir well. Frosting will be runny, now stir in the other cup of powdered sugar. Stir or mix well. If too thick, add more milk. Keep adding milk and sugar to desired spreadable frosting consistency.
All images and text ©