foodie fridays: chocolate-peppermint holiday bites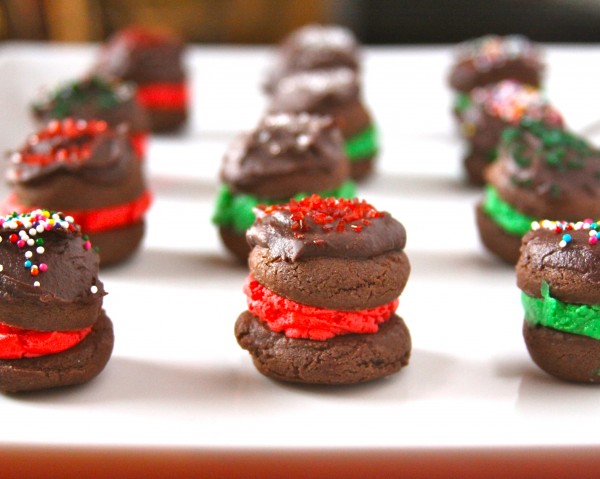 "Sleigh bells ring, are you listening,
In a lane, snow is glistening
A beautiful sight, 
We're happy tonight.
Walking in a winter wonderland."
Ahhhh…Christmas.
There's no other holiday quite like it.
From the calmness of the winter white snowfall to the festive holiday lights to roaring fires to endless pours of peppermint eggnog, it all has a special place in my heart. Christmas is the one time of the year where anything is possible. In a way, it's magical.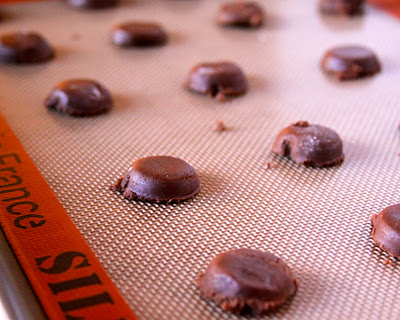 The fact that one jolly, white-bearded man can ride in a sleigh with nine reindeer (one with a particular glowing red nose) around the world in one night delivering presents to all the good boys and girls is without a doubt, magical.
The fact that a curmudgeon of a man is visited by three spirits – past, present and future, and is a changed man overnight is crazy, but without a doubt, magical.
And the fact that a snowman who sings of silver and gold can bring someone instant joy….that is without a doubt, magical.
But what if I told you that I could add to this list?
What if I told you that a single, bite-size cookie contains all the Christmas magic you'll need?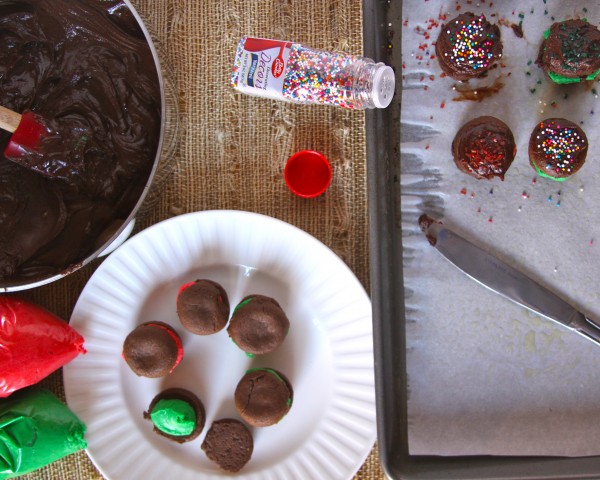 I realize this is a bold statement, but I don't mess around when chocolate and peppermint are in the picture. What doesn't scream Christmas other than peppermint icing piped between two miniature chocolate cookies and then topped with a layer of chocolate, and then decorated with holiday cheer?
Okay, besides the scene from Mean Girls when they are performing to "Jingle Bell Rock", but you get the picture.
If you feel like spreading Christmas magic, then make these delicious cookies for the people you love.
Hold on.
This just came over the wire.
"I'll double gifts this year if you leave these chocolate-peppermint cookies by the fireplace" – Santa
Wait a minute….I don't have a wire….
Merry Christmas!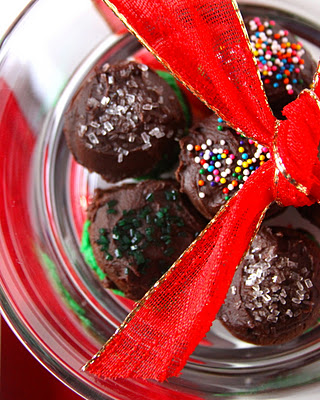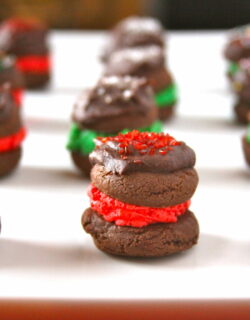 Chocolate-Peppermint Holiday Bites
Ingredients:
for the dough:
1 1/4 cup all purpose flour
1/2 cup cocoa
1 teaspoon baking soda
1/4 teaspoon baking powder
1/4 teaspoon salt
1 cup granulated sugar
1/2 cup butter, room temperature
1 egg, room temperature
for the peppermint filling:
1/4 cup shortening
1/4 cup butter, room temperature
2 cups confectioners sugar
1 teaspoon vanilla
1 teaspoon peppermint extract
food coloring: green or red
for the chocolate covering:
2 cups chocolate chips
1/4 cup butter, room temperature
Directions:
for the dough:
Preheat oven to 350 degrees.Cream butter and sugar together. Add the egg and combine. Mix together the dry ingredients in a separate bowl. Add dry ingredients (three batches at a time) to btter and sugar mixture and beat until just smooth. Roll dough into a ball and set in fridge for 30 minutes to chill.
After the dough has chilled, scoop out about a teaspoon's worth of dough and flatten gently on a lined baking sheet. Bake for about 8 minutes. Cool completely.
for the peppermint filling:
Beat shortening and butter together. Add the confectioner's sugar and extracts, and continue to beat until combined. Drop either red or green food coloring into bowl until desired colored is present. Scoop filling into a plastic bag and snip the corner off the edge and pipe a small amount between cookies. Then push the sides together making a sandwich!
for the chocolate covering:
Melt butter and chocolate over low heat. Take a knife and spread a single layer on top of the bite size sandwich. Place cookie on wax paper. Decorate with sprinkles and then place in freezer for 30 minutes to let the chocolate set. Enjoy!
All images and text ©