foodie fridays: cinnamon toast crunch doughnuts & a blogiversary!
It can't be? 
No? Really?
Shut-the-front-door.
That's right friends, this Sunday, Climbing Grier Mountain (CGM) will turn two. Holy bonkers!
Have I really been blogging for 104 weeks and 730 days? Have I published 584 posts? As I was reading through old posts the other day, especially my first(yikes!), it was hard to imagine that CGM would be here today. I started this ol' blog as a way to stay connected with family and friends. 
Living out of state when 99% of the people you know live in the sunflower state makes staying in touch a little difficult. That first year I spent writing posts about Mr. B's and my adventures in the crazy Mile High City. Looking back, I'm pretty sure we couldn't even squeeze a fart into our schedule! Goodness gracious we covered a lot ground.
The start of 2011 I introduced y'all to Foodie Fridays. You graciously accepted my less than adequate photos of food and provided me with words of encouragement to continue writing about my passion for food. And for that, I can't thank you enough. I continued the year still covering our misadventures, taking ridiculous fashion pictures in the bathroom, and honing my photography and writing skills. Needless to say, 2011 was a major growing period. 
2012 started off with a bang. After a year of submitting recipes, my celery root soup recipe was featured on Tasty Kitchen in February. I was beyond excited and I'm pretty sure I jumped for 72 hours straight when I saw my mug on the tasty food site. It was the best feeling in the world to see all my hard work finally recognized. Soon, I was submitting recipes to Food Gawker and Daily Healthy Living Buzz, and participating with other food bloggers in #SaladWeek and #CocktailWeek. My love for blogging about food was blossoming. 
Which brings us to today.   I have a secret to tell you.
One that I have been working on behind the scenes for quite some time and have been waiting patiently to tell you about. Climbing Grier Mountain is packing up and moving. Where? You've probably guessed, CGM is going .com, baby! My kind husband bought my domain site as a birthday gift this year and gave it to me while we were lunching in a yurt. Love that guy. I had been toying with the idea of moving away from Blogger for awhile, and that was the final push I needed. Besides moving to .com, I've been working with Purr Design on a new layout for CGM that will be set to launch in a few weeks! I am freaking out a little. But change is good, right? 
Along with a new website, I've decided to share more with you about food and entertaining because it is something I have become completely passionate about! Don't worry, I'm still planning on writing about Mr. B's and my shenanigans.
And with that, you can't celebrate a birthday without a little something sweet. Last year I made this chocolate-y cake to ring in year one. Well this year, I wanted to play on an old childhood favorite – doughnuts and cereal. I'm not entirely sure how I came up with this concept. All I knew was that I wanted  the ever so famous Cinnamon Toast Crunch cereal on a doughnut. I don't know how the light bulb came on, but it did! Enter, meringue!
 I thought the meringue would be a fun way to bring the cereal and doughnuts together in a fun deconstructed way. Doesn't it look like cereal and milk?
Anyways, as I celebrate two years of blogging, I want to say thank to each and every one of you who read CGM. I cannot express enough how much I appreciate knowing that you are a part of this journey with me. Thank you from the bottom of my heart.Cheers to the adventures ahead!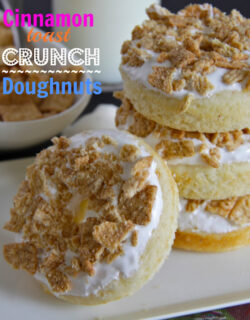 Cinnamon Toast Crunch Doughnuts
Ingredients:
for the doughnuts:
2 cups cake flour, sifted
3/4 cup granulated sugar
2 teaspoons baking powder
1/4 teaspoon ground nutmeg
1 teaspoon kosher salt
3/4 cup buttermilk
2 eggs
2 tablespoons butter, melted
for the meringue:
3 egg whites, room temperature
3/4 cup granulated sugar
1/4 teaspoon cream of tartar
for the cinnamon toast crunch topping:
3 cups Cinnamon Toast Crunch cereal
Directions:
for the doughnuts:
Preheat oven to 425 degrees. Spray doughnut pan with nonstick cooking spray. In large mixing bowl, sift together cake flour, sugar, baking powder, nutmeg and salt. Add buttermilk, eggs and butter. Beat until just combined. Fill each doughnut cup approximately 2/3 full.
Bake 7 to 9 minutes or until the top of the doughnuts spring back when touched. Let cool in pan for 4 to 5 minutes before removin.
for the meringue:
In a mixing bowl, beat egg whites and cream of tarter until combined. Gradually add sugar. Beat until soft peaks form.
for the cinnamon toast crunch topping:
Pour 3 cups of the cereal in a Ziploc bag. Crush with hands or rolling pin, leaving a few large chunks. Sprinkle on top of doughnuts.
To serve:
Take a doughnut and dip into the meringue. Sprinkle crushed cinnamon toast crunch on top. Enjoy!
All images and text ©