foodie fridays: deconstructed pork belly deviled eggs
Hold on to your Easter plates, folks.
We are about to enter the foodie zone and I need everyone's tasting buds on deck.
As you know, Easter is this Sunday and most of us will be hunting and gathering eggs in our backyards, eating large quantities of sugary peeps, and drooling over a giant maple-glazed ham. I expect myself to be doing all three with a heavy emphases on the peep eating of course.
However, given all the peeps, chocolate eggs, scalloped potatoes, and large hams, there is one particular dish that I always look forward to having at Easter, deviled eggs. Oh yes. These bad boys date all the way back to the 19th century and were called "deviled" due to the spicy nature of the yolk topping. Typically the yolks were mixed with mustard and cayenne pepper, thus creating a devilish kick. Nowadays people are throwing everything into the mixture expect for the kitchen sink. Deviled eggs are so popular they even have their own carrying trays!
Poor deviled eggs, they need a break. Or better yet, a makeover.
So this Easter, I am knocking down a century-old barrier, and giving the deviled egg a modern twist. You may have heard of the term 'deconstructed' in the foodie world. If not, it simply means to take parts of a dish and separating the individual components into a new usage.Pretty simple, right? The hubs and I were brainstorming a couple of weekends ago and came up with a brilliant way to showcase the modern deviled egg by using the deconstructed method.
We knew we wanted to flip the deviled egg from the inside out, but needed a delicious foundation. Enter the pork belly. Pork belly is a boneless cut of fatty meat that is derived form the belly of the pig. It's very popular in Asian cuisine, but has made head way as a replacement for bacon in the U.S. Besides pork belly being beyond flavorful, it's relatively cheap and easy to make. Pork belly costs about $10 for a pound. And trust me, a pound can go a long way this little fellow. The best method to cook pork belly, low and slow.
Once we knew the pork belly was the foundation for our new deviled eggs, everything else fell into place. It was like building a new house. First, we cut one inch slices of pork belly. Then we topped it with the mustard/mayonnaise yolk mixture. Topped that with small cubed egg whites and garnished it with thin slices of green onions. Or scallions for your East-coasters. Easy, peasy.
Well….what do you think? Doesn't the deviled egg look sassy? Thought so.
My work here is done.
Now someone bring me a peep.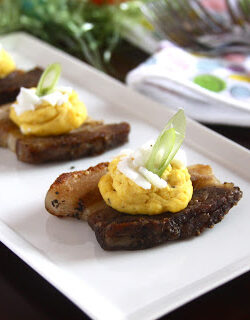 Deconstructed Pork Belly Deviled Eggs
Ingredients:
for the pork belly:
1 pound fresh, skin-on pork belly
3 cups chicken stock
Kosher salt
freshly ground pepper
for the deviled eggs:
6 large eggs
1/6 cup mayonnaise
1 teaspoon Dijon mustard
1 tablespoon thinly sliced scallions, garnish
Kosher salt
freshly ground black pepper
Directions:
for the pork belly:
Preheat oven to 275°. Season pork belly generously with salt and pepper. Place in a large ovenproof saucepan. Pour stock over. Bring to a simmer over low heat, cover tightly, and braise in oven until tender (check after 2 hours and 45 minutes). Remove from oven and let it cool. Wrap pork belly in plastic wrap. Put pork belly into a 9-inch dish. Place another 9-inch dish on top and put a 15 oz can on top to keep it weighed down. Place in fridge over night.
Unwrap pork belly and bring back to room temperature. Cut meat into 1 inch slices. Heat 1 tablespoon oil in a large cast-iron skillet over medium-high heat. Add pork and saute until browned on all sides, about 4 minutes. Remove from skillet to cool slightly.
for the deviled eggs:
Place eggs in a large saucepan, cover with water. Bring to a boil, cover with lid, and remove from heat. Let sit off heat for 10 minutes. Drain the saucepan. Transfer eggs to a large bowl of ice water. Let the eggs cool for at least 10 minutes in ice bath. Halve the eggs lengthwise and remove yolks. Finely mash reserved yolks with mayonnaise and mustard. Season with kosher salt and freshly ground black pepper to taste. Transfer to a large resealable freezer bag, then cut 1/2" off 1 corner. Pipe onto 1 inch pork belly slices; garnish with chopped egg whites and thinly sliced scallions.
adapted from Bon Appetit
All images and text ©