foodie fridays: ginger pecan scones
Ginger.
What kind of images appear in your mind when you hear this word? For me, I think of red heads, preventing motion sickness, and sushi. A little random, but that's how I roll.
I was flipping through the ol' Bon Appetit magazine last week when I stumbled upon this recipe for ginger scones. As I was sipping my coffee, I realized I had never made scones. Hmmm, I wonder why? Probably because baking at high altitude always results in a disaster. Remember when I tried to make
sugar cookies
? Bad news bears.
Well, I gave myself a little pep talk and decided to put my big girl panties on and give it a go.
This recipe calls for three kinds of ginger:
Ground.
Crystalized.
Fresh ginger.
Ginger is considered one of the miracle foods. The spice can be used not only for medical purposes, such as curing nausea and reducing anxiety, it can also be used in cooking, whether savory or sweet. If you peel ginger and place it in a ziploc bag in the freezer, it will keep for a long time.
Back to the scones. After baking these scones I realized that I am a complete bone head and should have made these 'cookie meets biscuit' treats a long time ago. The dough was easy to form and it takes about twenty minutes for it to bake.
The flavor of these scones are off the charts. The ground ginger and freshly grated giner provide a warmth to the stomach and immediatley relaxes you. The crystalized ginger than provides a devilish, sugar rush.
Please do me a favor and make these right now! Oh, and don't be afraid to slab butter on them. It will melt in your mouth. Promise.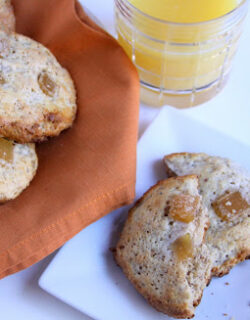 Ginger Pecan Scones
Ingredients:
3 cups all-purpose flour
2/3 cup plus 1 tablespoon sugar
1 tablespoon baking powder
1 1/2 teaspoons ground ginger
1/2 teaspoon baking soda
12 tablespoons chilled unsalted butter, cut into 1/2-inch cubes
1 1/3 cups pecan, chopped
1/2 cup plus 3 tablespoons crystallized ginger, chopped
1 cup plus 1 1/2 tablespoons buttermilk
1 1/2 teaspoons fresh ginger, grated
1 teaspoon vanilla extract
Directions:
Preheat oven to 425 degrees.
Spray a baking sheet with non-stick cooking spray. In a large bowl, combine flour, 2/3 cup sugar, baking powder, ground ginger, 3/4 teaspoon salt, and baking soda. Next, add the butter. You'll want to use your fingertips and work the butter into the dry ingredients until a coarse pea size forms. Then add pecans and 1/2 cup crystallized ginger, work until combined.
In another bowl, combine buttermilk, grated ginger, and vanilla extract. In the dry ingredients bowl, form a well in the middle of the bowl. Add the buttermilk mixture and combine into a ball. Move the ball to a counter and begin to knead just until dough comes together. Roll out dough until you can cut 12, 2-inch circles. Brush each circle with a little bit of buttermilk. Sprinkle each circle with sugar and crystallized ginger. Bake for about 20 minutes, or until golden brown! Serve with some buttah!
recipe from Bon Appetit
All images and text ©