foodie fridays: greek mac and cheese wonton bites with crumbled feta + mint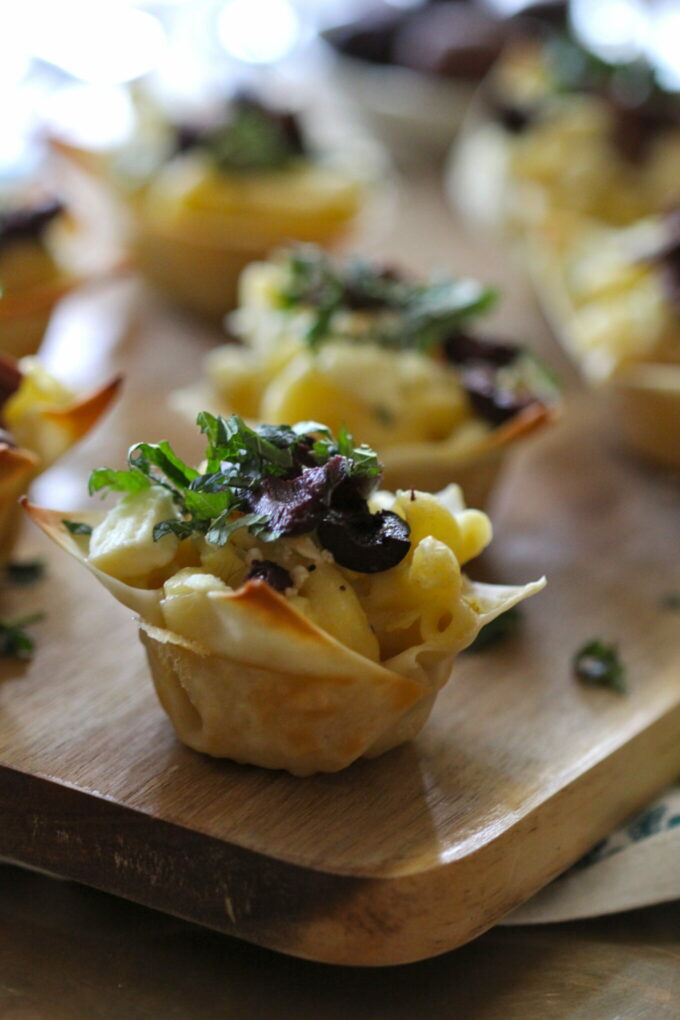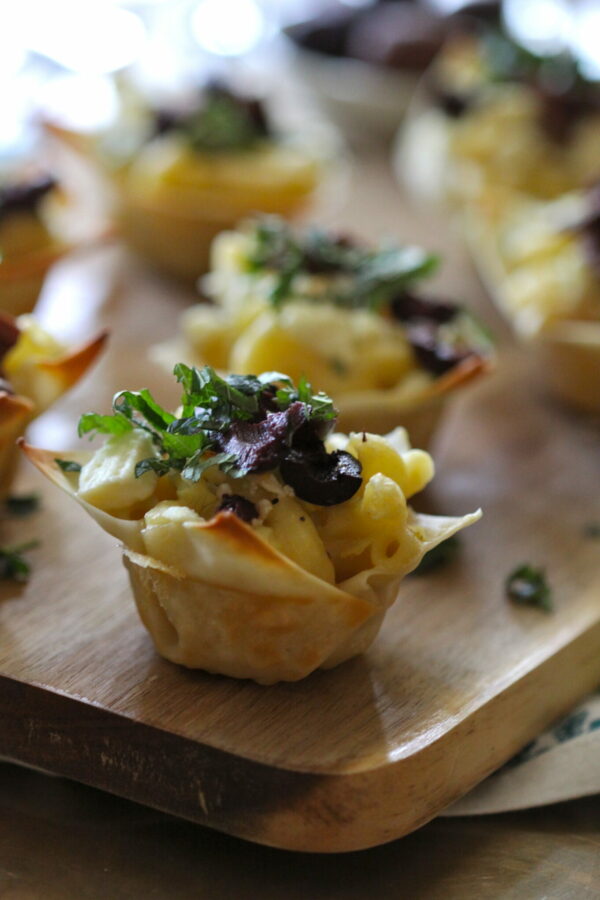 While I was jogging around the park this week, I noticed one of those pretend cop cars out of my peripheral.
Oh, what are they called?
You know, they look like a giant boat floating down the intersection and generally old ladies use them as a form of transportation.
I got it! A Mercury Grand Marquis.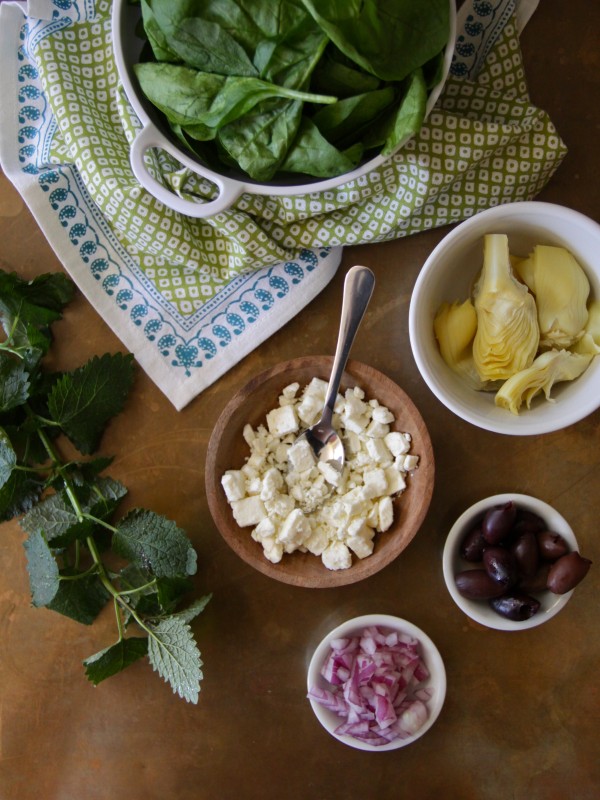 I don't know about you, but anytime I see that particular make and model, I instantly become paranoid. I start listing off in my mind everything I've done wrong in the past seventeen minutes…."I totally shouldn't have meaned mug that lady. Why did she have to be running in a super cute Lululemon outfit? Why did I have to stare at her six-pack? Why?!" The funny thing is, in the back of my mind I know there is a 99.9% chance it's just Ethel driving back from grocery store.
So, this got me thinking. What if it really was a cop car? What if Ethel took the bus today and I am being tailed? What could the cops possibly want? After I asked myself 234 questions, I realized if someone were following me they would be either be slightly intrigued or painfully bored. I'm as routine as it gets folks. I get up at the same time every day. I eat breakfast at the same time every day. I workout, do households chores, and go to sleep at the same time E-V-E-R-Y D-A-Y. Total yawn-fest.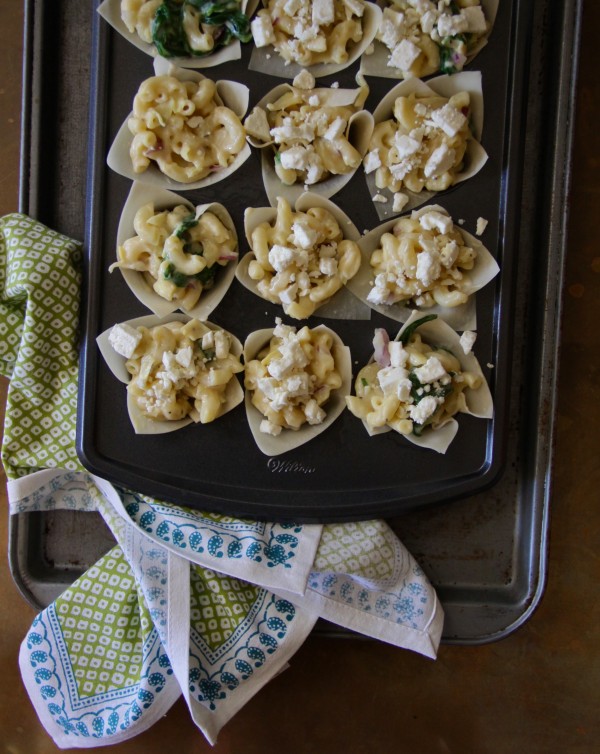 But then there's the occasional trips to Charleston, dinning at fun restaurants, and working on my food blog that would quite possibly make them forget they were following me altogether. I mean, who wouldn't want a plate of bite sized Greek mac and cheese wonton bites on a Friday afternoon? Hello, gooey cheese, salty kalamata olives, and delicious artichoke hearts! You can practically taste the flavors of Greece in these bites.
So, remember friends, if you ever feel like you're being tailed, whip up a batch of these Greek mac and cheese bites. You'll keep the cop distracted. If that doesn't work, start breaking plates and yelling, "OPA!"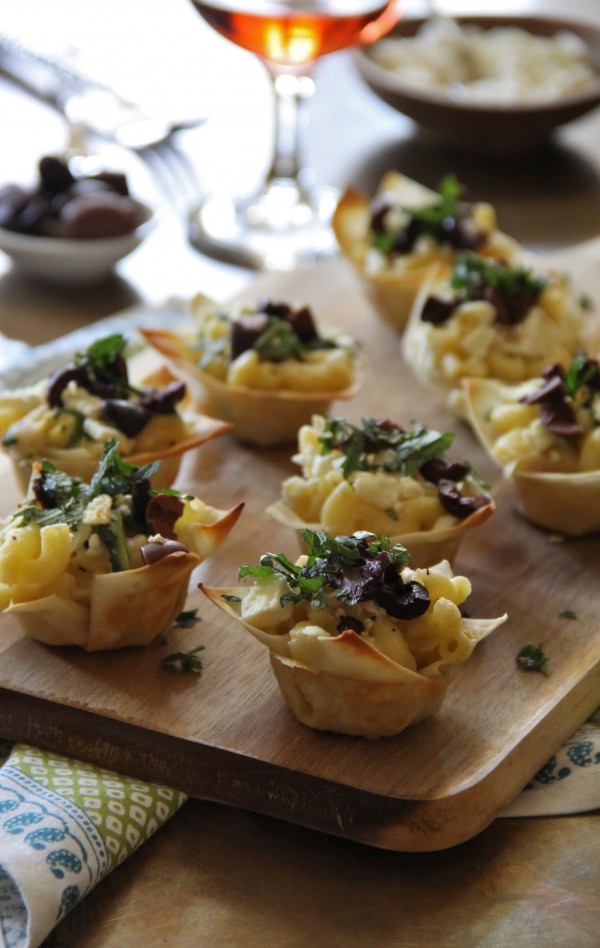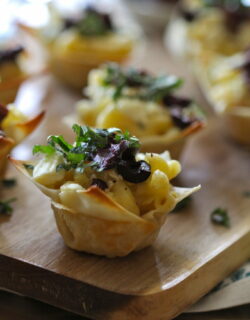 Greek Mac and Cheese Wonton Bites with Crumbled Feta + Mint
Ingredients:
24 small wonton wrappers
1/2 pound elbow pasta
1 1/2cups fresh spinach
2 tablespoons red onion, chopped
1/2 cup canned artichoke hearts, chopped
3 tablespoons unsalted butter
3 tablespoons all-purpose flour
1 cup milk
1 1/2 cups cheddar cheese, shredded
salt and pepper
1/2 cup feta, garnish
Kalamata olives, garnish
Mint, garnish
Directions:
Preheat oven to 400 degrees.
Bring a large pot of water to a boil and cook pasta according to package directions. Once cooked, drain the pasta, and add hot pasta back to the large pot. Add spinach and stir letting the hot pasta melt the spinach.
In a medium saucepan, melt the butter over medium-low heat. Add the flour, whisking to get that flour taste out...about a minute or so. You are making a roux! Gently pour the milk into the flour/butter mixture, whisking so it doesn't clump. You'll want to constantly stir until the sauce has thicken or until it coats the back of the spoon. Add your cheese along with some s&p.
In a large bowl, add artichoke hearts, red onions, and pasta. Add the cheese sauce to the pasta and gently combine. Spray a 12-inch mini muffin tin with non-stick cooking spray. Place a wonton wrapper gently into each muffin tin hole. Ladle about a tablespoon of the mac and cheese into each wonton wrapper. Once complete, place muffin tin into oven and bake for about 12 to 15 minutes or until golden brown. Garnish with feta cheese, kalamata olives, and fresh mint! OPA!
All images and text ©