foodie fridays: grilled artichokes with lemon aioli
Mr. B and I like to heckle. . . each other that is.
Not in a bad way. After five years of marriage, I often think that's the way this ol' ball and chain has survived. See, heckling can be a good thing. Keeps us young in my opinion. I don't know about you, but after listening to the commentators talk about how ancient the "29" & "30" year-old participants are in the Olympics, I'll do whatever it takes to stay young. Ya feel me?
So I heckle Mr. B about waiting on him because I'm from the school of thought, if you're early, you're on time. If you're on time, you're late. And if you're late, don't even bother showing up. I heckle him about eating leftovers. Seriously, how do you people do it? I even heckle him about how he considers large piles of paper on desk as organized.
Don't worry, Mr. B gets his fair share of heckling in. Like pointing out how I shuffle stuff around, but don't really put anything anywhere. He heckles me about not updating software on my Ipad or Iphone. But the best, he heckles me about not eating an artichoke correctly. Oh, it's totes true. I remember the first time I ate an artichoke, I didn't get it at first. I reached for one of the petals, dipped it into the aioli, and basically took a bite of the whole petal. Yeah…I was that girl. You should have seen Mr. B's face. It was a mixture of confusion and disappointment molded into one giant stink-eye.
I remember looking at him and saying, "What?" as if I did something wrong. There was a long, awkward pause. He took a deep breath, grabbed a petal, dipped it into the aioli, and scraped the back of petal with his teeth. "See?", he said, "You've got to get the meat." I looked back at him with a stunned look on my face, and politely replied, "Ohhhhhh. That makes much more sense."
Yes, I realize that I just embarrassed myself on the "The Internets", but I thought y'all would get a kick out of knowing that factoid. You're welcome to use it at your cocktail party. Great story to tell in order to break the ice. Oh, and besides telling that story, you should totally follow up with serving these artichokes with lemon aioli. This recipe is simple to whip up on the weeknights, but boasts a ton of flavor to serve at a fancy dinner party.
Now I'm off to practice my artichoke eatin' skills. Thankfully I married a man that will keep me young by teaching me new tricks!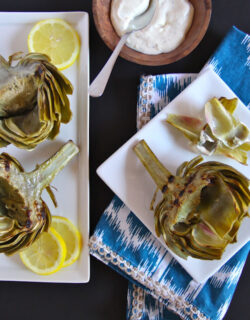 Grilled Artichokes with Lemon Aioli
This recipe is simple to whip up on the weeknights, but boasts a ton of flavor to serve at a fancy dinner party.
Ingredients:
for the artichokes:
2 large artichokes
2 large lemons
olive oil
salt and pepper
for the lemon aioli:
1/2 cup mayonnaise
1 garlic clove, minced
1 tablespoon lemon juice
1 teaspoon lemon zest
salt and pepper
Directions:
for the artichokes:
Using sharp scissors, remove the tips of the artichokes. They're super pointy so be careful! Then cut the artichoke in half and remove that nasty fuzzy choke. Fill a large saucepan with water and add both lemons including their juice. Place artichokes in water and boil for 20 minutes. Once cooked, remove artichokes from saucepan and place on a plate to cool. Preheat a grill pan to medium-high heat. Drizzle a little bit of olive oil on the flesh part of the choke and place it flesh side down on the grill. Takes about 7 or 8 minutes to get nice grill marks. When all chokes are finished grilling place on a plate for serving.
for the aioli:
In a medium bowl, mix together all ingredients. To intensify flavor, set the aioli in the fridge for 30 minutes to let the flavors combine. You won't be disappointed!
adapted from Giada de Laurentiis
All images and text ©