foodie fridays: grilled chicken, mango, and avocado quinoa salad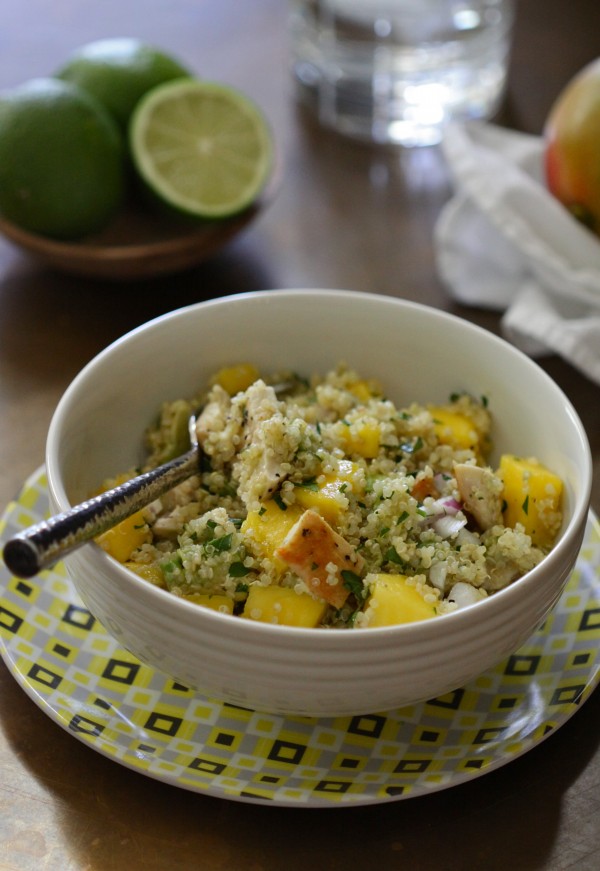 A couple of weeks ago on a snowy May afternoon, I came home and found a package on my front porch.
I'm still trying to erase from my mind that snow boots and a heavy coat were part of my attire on that day. Also, one should never have to search for a snow scraper in May. It's just wrong. Mother Nature can be such a drama queen.
Trying to keep my mind distracted from the falling snow flakes and slushed-filled street, I opened the package with great anticipation. Inside was a fruit gizmo goodie bag from the lovely folks at Oxo. It was like looking into a UPS crystal ball filled with rays of sunshine and all things summer. I knew that in a few short weeks, my summer eating was going to be fruit-a-licious!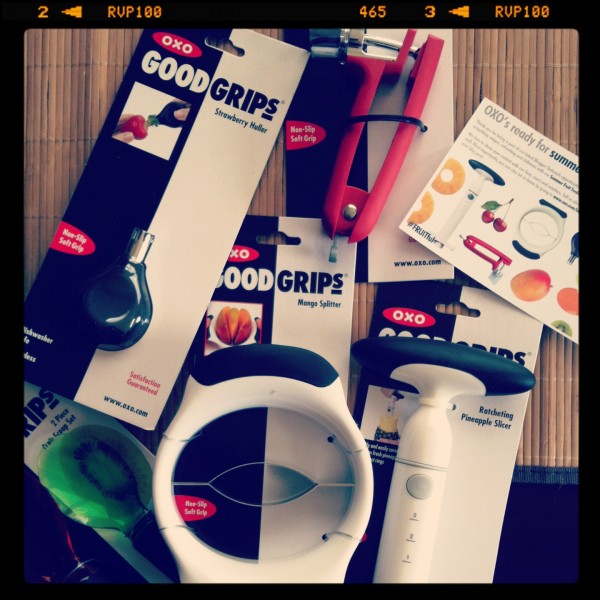 Now, just like every girl needs need a variety of shoes in her closet, she also needs a variety of gadgets in the kitchen. Cherry picker? You never know when you'll bring back cherries from Washington. Strawberry Huller? A must. I buy strawberries by the pound at the Farmers Market and I don't want to waste time slicing the tops off. Lame sauce. A mango cutter? You betcha! Cutting a mango by hand is so 1993. I am completely smitten with the mango cutter. When I am at the grocery store, I tend to give the mango the stink-eye because I don't want to deal with the chopping drama.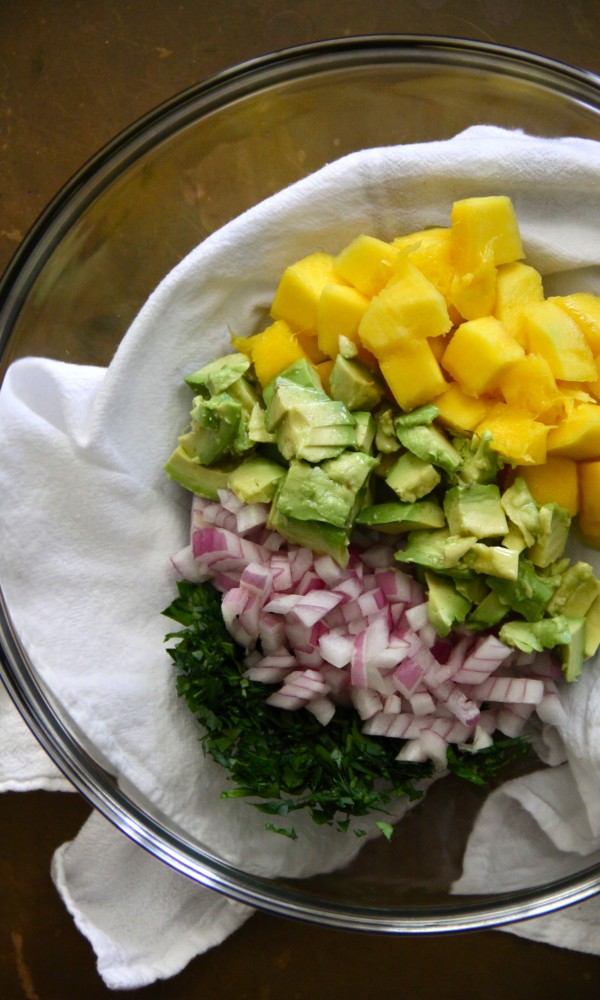 So, you could imagine how excited I was when the mango cutter arrived in my life. Check out how easy it is to cut a mango! (Mind, the man hands. I really need a woman assistant on food blog call).
All you have to do is place the mango vertically and press down with cutter! Voila! Instant mango slices. Can I get AMEN?!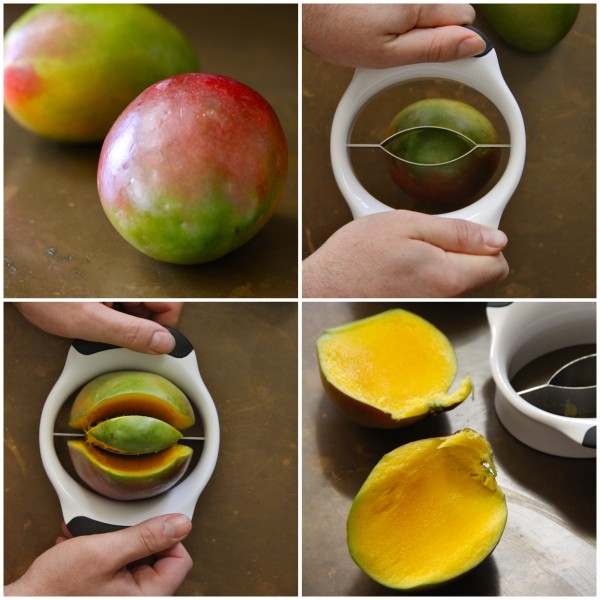 After you have your slices, cut away the skin, and chop them into chunks. Throw the mango into a drink, dessert, or might I recommend into this chicken, mango, avocado quinoa salad. If you're like me and would rather pound dirt than stand over a hot stove when it's 174 degrees outside, this simple and refreshing salad is my go-to. It's full of creamy avocado, grilled chicken, juicy mango, and heart-healthy quinoa. It's summer in a bowl!
Disclaimer: I was given the mango cutter from Oxo to review. I was not compensated for this post. All opinions expressed are of my own.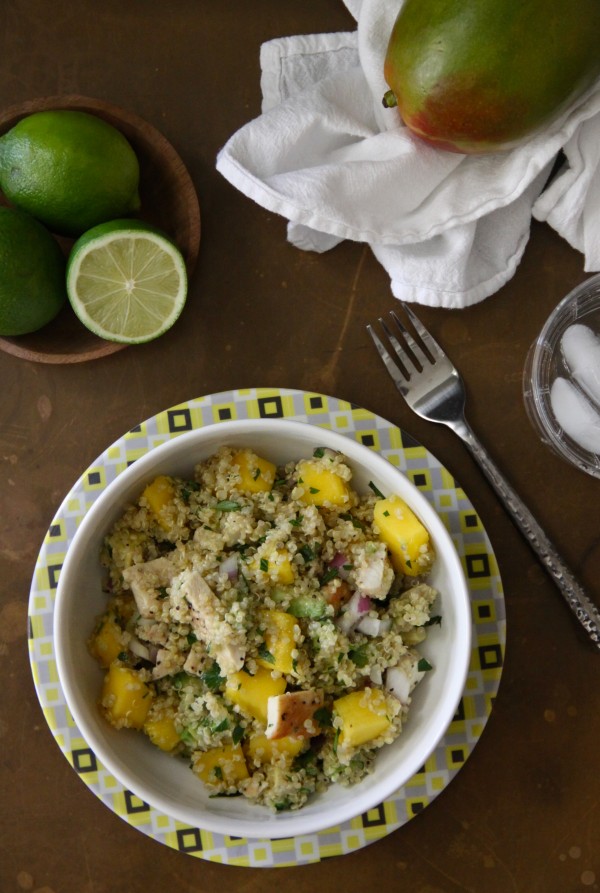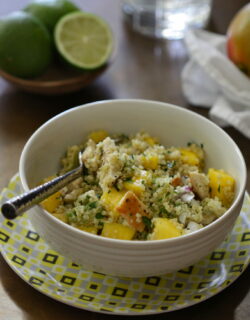 Grilled Chicken, Mango, and Avocado Quinoa Salad
Ingredients:
1 1/2 cups quinoa, cooked
1 lb chicken tenders
salt and pepper
1/3 cup olive oil plus 1 tablespoon cooking oil
1 large mango, peeled, chopped
1 large avocado, halved, pitted, chopped
1 cup red onion, chopped
1/2 cup parsley, chopped
2 limes, juiced
Directions:
Preheat a skillet to medium-high heat. Add 1 tablespoon olive to skillet. Salt and pepper both sides of chicken tenders. Place chicken tenders in skillet. Cook for about 4 to 5 minutes on each side. Once cooked, set aside to let cool and then dice.
In a large mixing bowl, combine mango, avocado, parsley, quinoa, red onion, chicken, 1/3 cup olive oil, salt/pepper, and lime juice. Serve as a main or as a side dish!
adapted from Food and Wine Magazine
All images and text ©