chicken andouille naan pizza with pico de gallo and jalapenos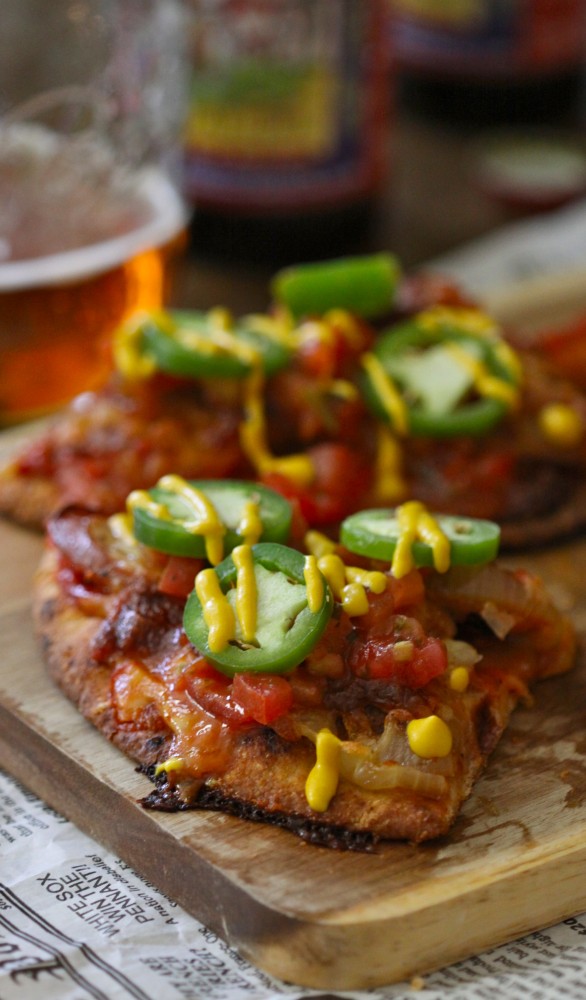 Do you remember drive-in movie theaters?
Wait. Do they still exist?
Back in my adolescent, highly-hormonal middle school days, I looked forward to watching movies outside with a car full of my best girlfriends during the summer months. We would pull out a large New Kids On The Block blanket and sit in the back of a pickup or on the ground, depending on whose parental units were driving. We would share big buckets of buttery popcorn, cold sodas, and my personal movie-watching favorite candy, Milk Duds.
One of the first movies I remember watching at the drive-in was Ace Ventura: Pet Detective. At the time I didn't really get all the hidden references because most of it went over my thirteen year-old head, but also, we were really at the drive-in to gossip. Duh. Cute boys? Yes, please.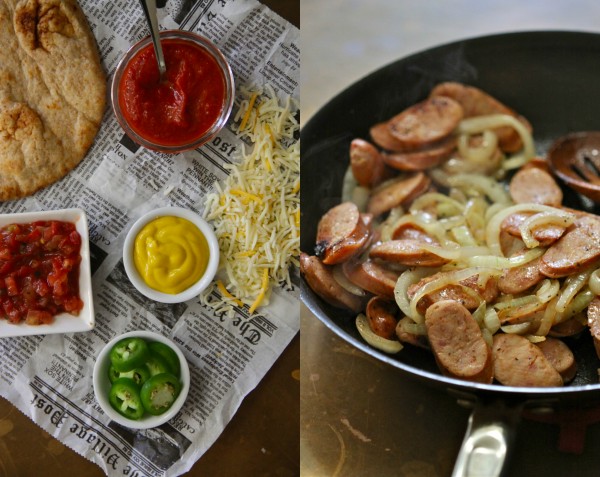 Even though I didn't watch the movie scene by scene, I distinctly remember the commercials before the movie. Specifically the concession commercials. You know what I'm talking about! It's the one where the hotdog dances around with the bun and eventually the hotdog slides into the bun. My girlfriends and I would giggle every time seeing how sex education was in full swing in seventh grade.
A couple of weeks ago I made a spicy hotdog as an ode to the television show, The O.C. Based on comments from y'all, The O.C. was a favorite of yours too, along with that spicy hotdog! Well, this got me thinking. What if I turned this hawt-dog into a pizza? And nope,  this hot dog won't be jumping sexually onto the pizza!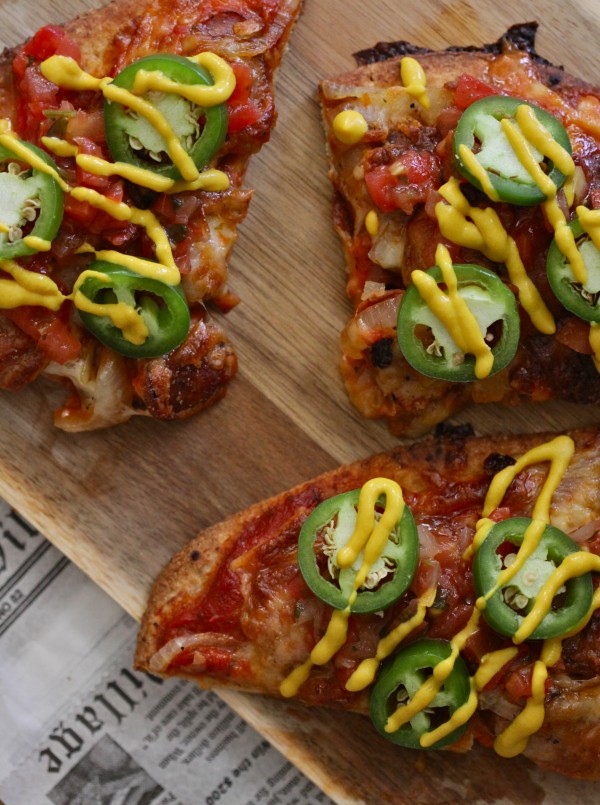 Anyways, I kept all the usual suspects – chicken andouille sausage, pico de gallo, jalapenos, and yellow mustard. The only thing I did different was slather on pizza sauce and use Naan instead of a bun. Friends, let me tell you this spicy pizza did not disappoint. So, make a batch of these dawgs, I mean pizza, and spice up your summer nights.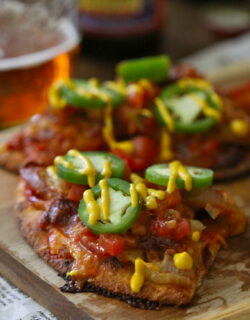 Chicken Andouille Naan Pizza with Pico de Gallo and Jalapenos
Ingredients:
1 package chicken andouille sausage (precooked), sliced
1 medium yellow onion, sliced
1 tablespoon olive oil
2 cups pizza sauce
2 cups montery jack cheese, shredded
3 jalapenos, sliced into rounds
2 cups pico de gallo
3 tablespoons yellow mustard
2 packages whole wheat Naan
Directions:
Preheat oven to 400 degrees.
In a medium skillet preheated to medium-high heat, add a tablespoon of olive oil and saute sausage and onions. Cook for about 5 to 7 minutes. Remove from heat and set aside.
Line two baking sheets with foil and spray with non-stick cooking spray. Place two slices of the Naan bread onto a baking sheet. Top with about 1/2 cup of pizza sauce. Layer on the chicken andouille sausage and onions mixture spreading evenly among the four pieces of Naan. Top each with about 1/2 cup cheese. Bake for about 15 to 20 minutes or until golden brown.
Remove pizzas from oven. Top each Naan pizza with pico, jalapeno rounds, and yellow mustard!
recipe adapted from my chicken andouille brats
All images and text ©