foodie fridays: ground lamb pizza with mint pesto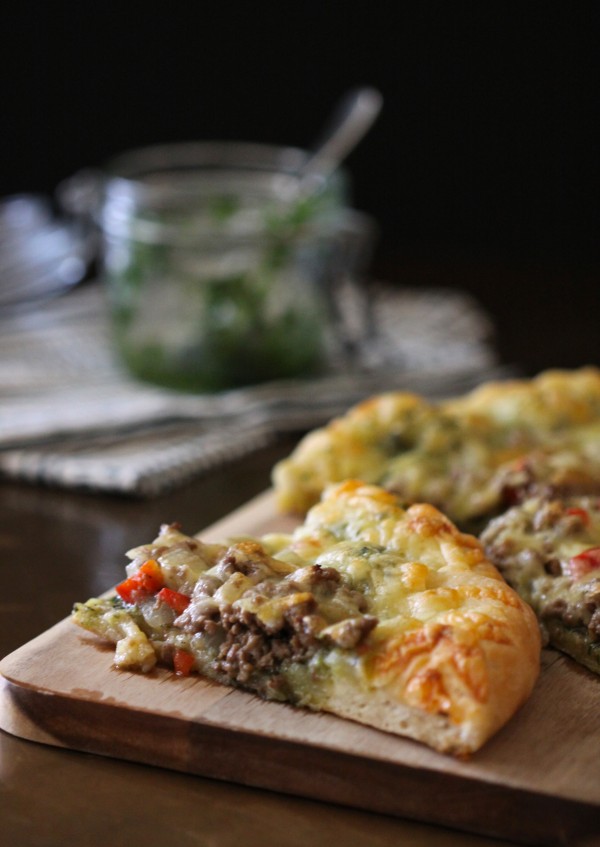 Two things.
First, the last day of March is this coming Sunday. Whoa, bessie. Does anyone else feel these past three months were like driving in a NASCAR race? Everything kept zooming by at ground breaking speed, yet I could only turn left. I hope over the next few months things slow down, or I may have to take over Danica Patrick's job.  And me pretending to be naked on a Go Daddy commercial is probably no bueno.
Second, Easter is on Sunday. Holy sugary peeps! I must have forgotten to turn on my Easter radar because yours truly here has nothing planned. Don't worry, Ma, I'll get my Catholic tookus to church. I wouldn't want to be a no-show on JC's big reveal.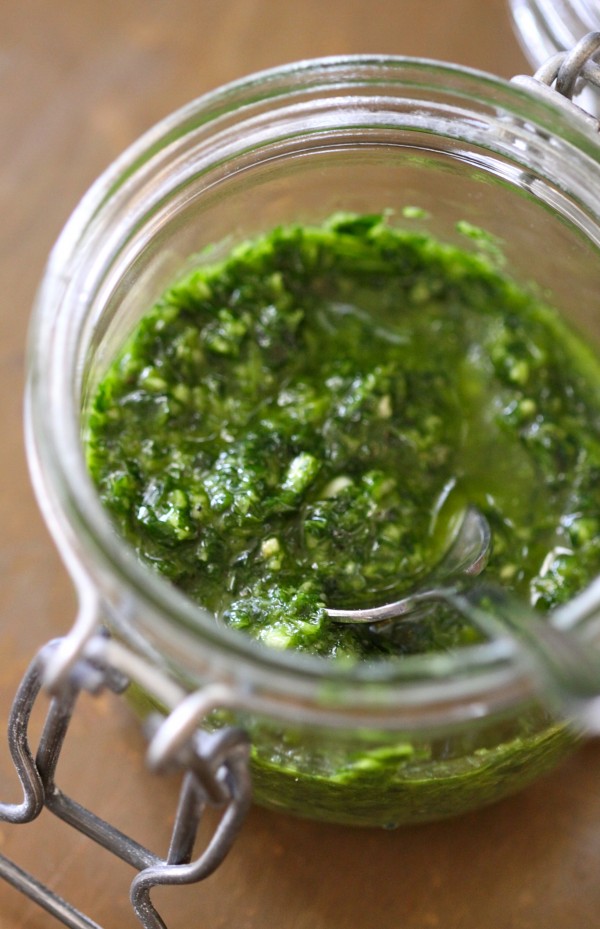 As kid, I dreaded going to church. I grew up going to Catholic school and I remember asking my parents why I had to go to church on Sunday when I went like five times during the week (I was clearly not nun material). I also despised getting dressed up in Easter dresses. Pastel colors and I will never be friends.
Even though I ended up having to go to church, I counted the seconds for when we would arrive home and get our Easter baskets. My mom made the best Easter baskets. She would fill the baskets full with jelly beans, chocolate candy, and fun toys. We did have an Easter egg hunt, although my mom would generally forget where she hid some of the eggs, so we basically had Easter all year round.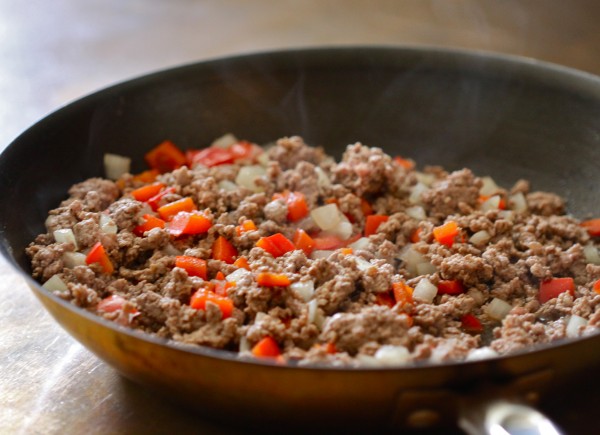 After our hunting and gathering concluded, we all sat down for an Easter feast. The usual suspects were there – ham, buttery rolls, potatoes, and the best chocolate Easter cake on the planet. I am easily amused, so when my mom would dye the coconut flakes green to look like grass, I thought it was the best thing since sliced bread.
I've come a long way since then, which is why I thought it might be fun to take a different route to the Easter meal. Instead of the typical, honey-glazed ham, why not make a rustic lamb pizza. Not only is it super easy to make, but I think it would be fun for the kids to eat. Plus, the mint pesto on this sucker is to die for. Basil pesto is so five seconds ago.
So, make this pizza, dye the coconut flakes green, and cheers to your family and friends!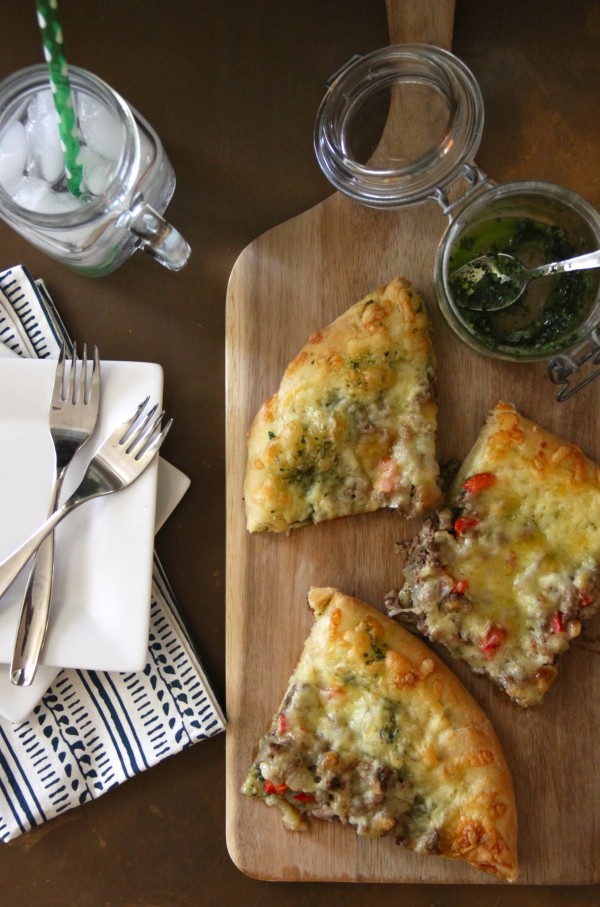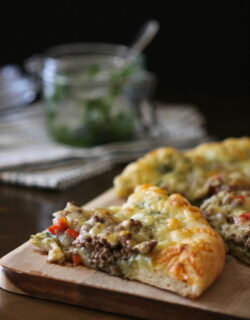 Ground Lamb Pizza with Mint Pesto
Ingredients:
for the pizza:
2 tablespoons olive oil
1 lb ground lamb
1 yellow onion, chopped
1 red pepper, chopped
1 tablespoon cumin
1 tablespoon coriander
1 package of store bought pizza dough
2 cups white cheddar cheese
salt and pepper
for the mint pesto:
1/2 cup parsley
1/2 cup mint
2 garlic cloves
2 teaspoons shallots
1 teaspoon lemon zest
3 tablespoons olive oil
salt and pepper
Directions:
for the pizza:
Preheat oven to 400 degrees. In a large skillet preheated to medium-high heat, add olive oil. Add lamb and begin to brown. Add the red pepper and onion. Saute for a few more minutes. Add cumin, coriander, and salt/pepper. Remove from heat when cooked.
Roll out pizza dough onto a baking sheet in a rectangle. Spoon pesto over dough leaving a one-inch border. Spoon lamb mixture on top and then top with cheese!!! Bake for about 20 minutes, or until golden brown and bubbly!!
for the mint pesto:
In a food processor, add parsley, mint, garlic cloves, shallots, and lemon zest. Pulse a few times. Add olive oil and pulse again. Pesto should be smooth. Season with salt and pepper to taste.
All images and text ©