foodie fridays: mango jalapeno daiquiris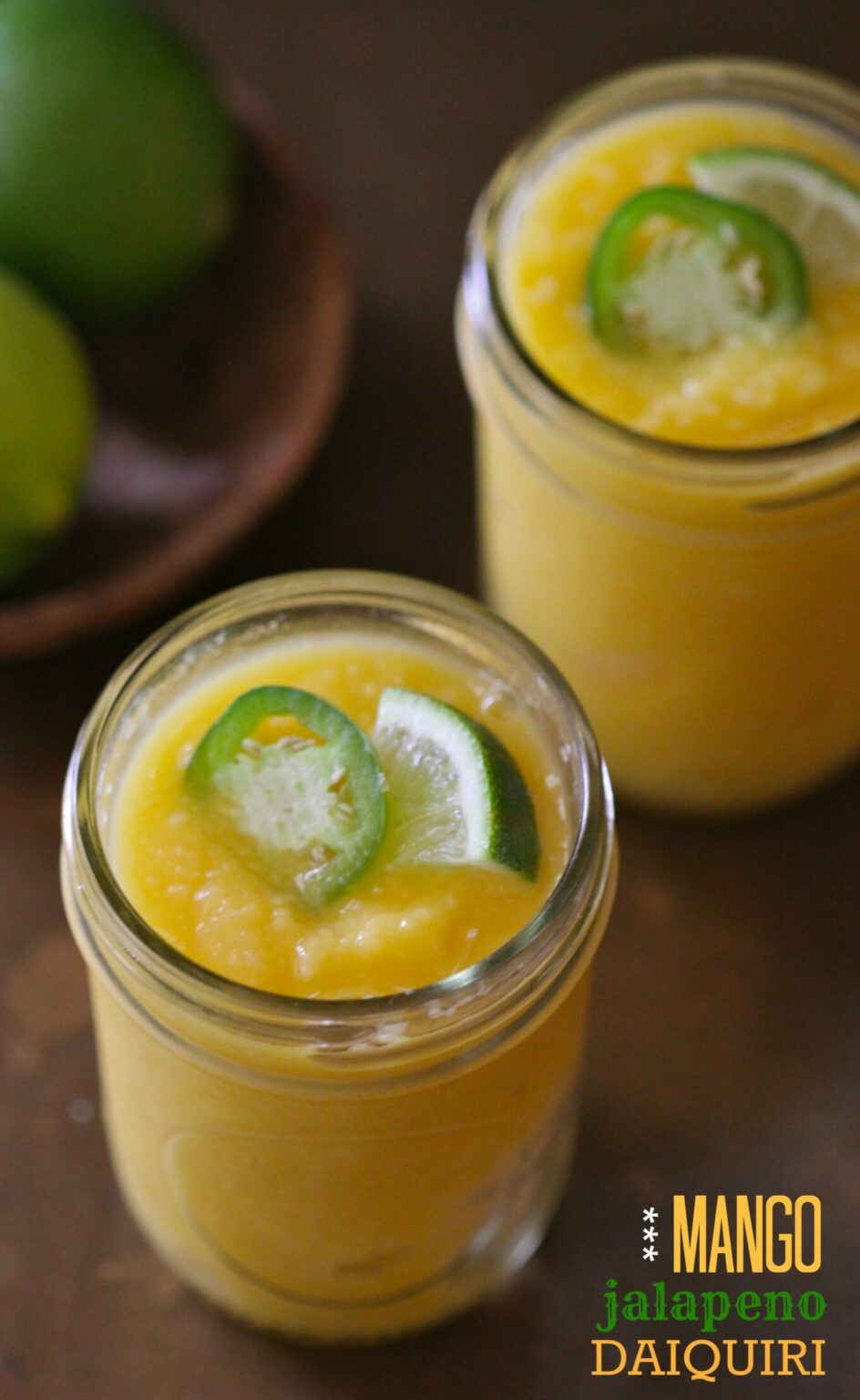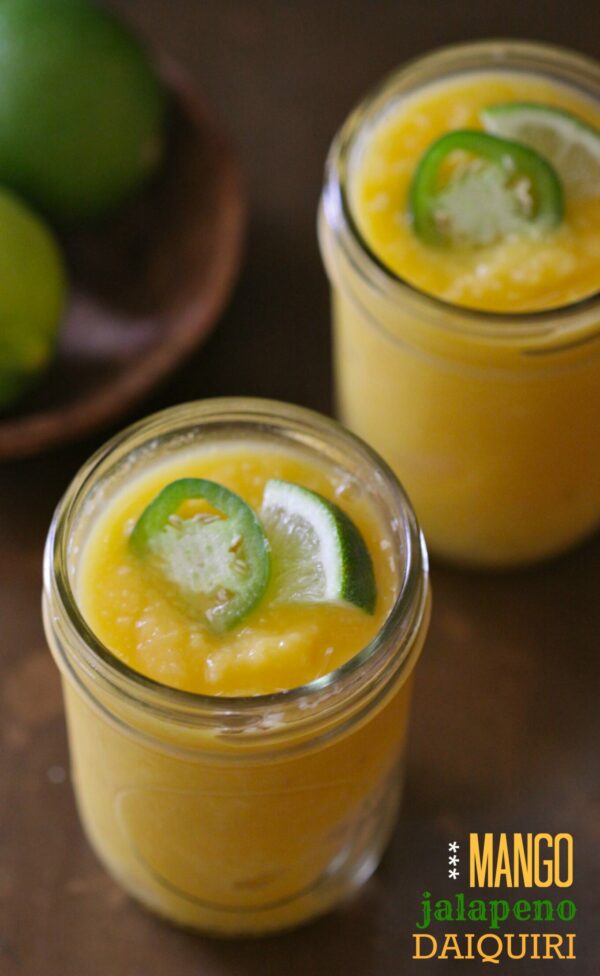 Summer in a glass.
That's what this mango jalapeno daiquiri look likes to me.
Don't you think there should be more non-tangible things bottled? Like the smell of a newborn baby after he or she has had a bath. Or, the smell of the ocean after an afternoon rain. Or, my personal favorite, the smell of old library books. As a kid I loved going to the library, finding a comfy, small reading corner, and getting lost in a story. One of my favorite books was Burglar Bill. I still remember the way the book smelled. Actually, I probably looked a little weird sniffing that book, but at least I wasn't sniffing glue. So I had that going for me, which was nice.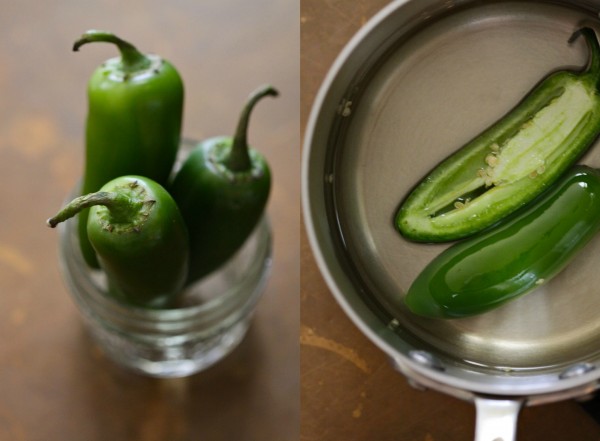 With Memorial Weekend like five minutes away, I wanted to get y'all in the summery spirit. I am pretty stoked for my upcoming summer travels. After I attend the BlogHer food conference in Austin, I will be visiting Charleston, South Carolina with the Griswolds followed by The Bahamas for a wedding! So, that whole spring has sprung thing can kiss my Banana-Boat-sunscreen-covered tookus because it's time for fun in the sun.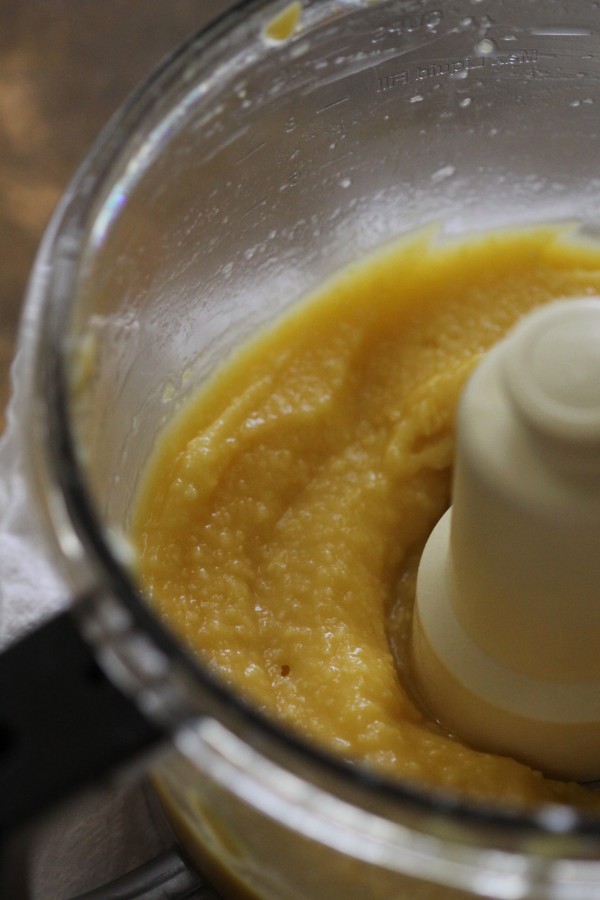 Now, nothing beats a refreshing cold beer on a hot summer day. I'm a beer in a coozy girl at heart. But sometimes, a girls gotta' switch it up. I adore daiquiris. I remember when I was sixteen ordering a virgin daiquiri at the ol' Applebees and thinking I was the bees knees. Thankfully, I have now graduated to making my own version of a summery cocktail.
If you like jalapeno or mango margs, then this daquiri is right up your cocktail alley. Actually, it's pretty much the easiest drink you can make. All you have to do is throw all the ingredients into a food processor and blend away! Pour the daiquiri mixture into a couple of mason jars and garnish with a lime wedge and a jalapeno round, and you have yourself one spicy summer drink!
Now, all we need is the beach!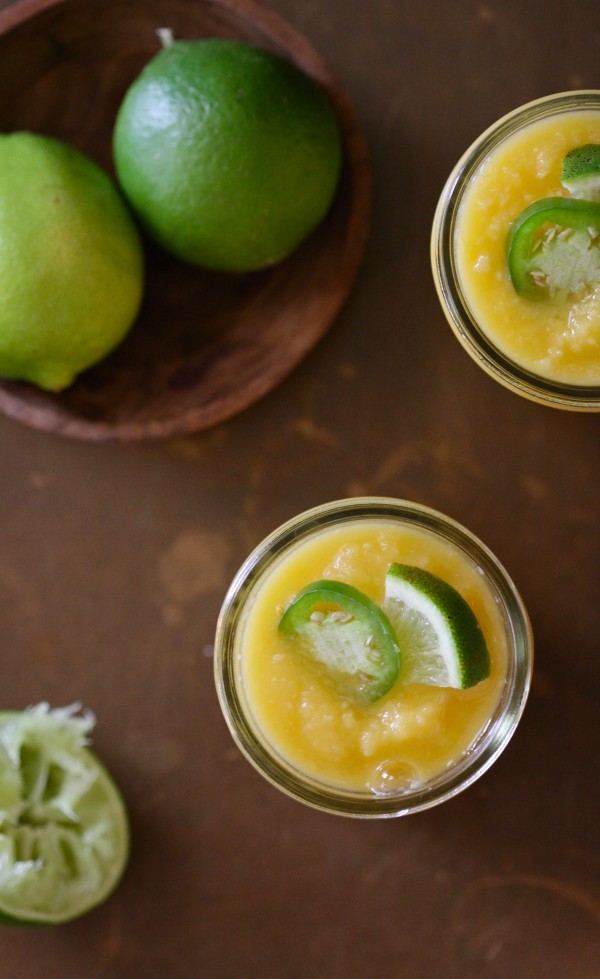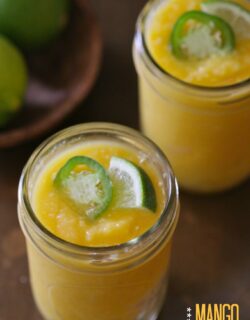 Mango Jalapeno Daiquiris
Ingredients:
for the daiquiri:
1 cup frozen mango, cubed, thawed
2 to 3 teaspoons jalapeno simple syrup
3/4 cup rum
Juice from one lime
Jalapeno slices, garnish
Lime wedges, garnish
Crushed ice
for the jalapeno simple syrup:
1/2 cup granulated sugar
1/2 cup water
1 jalapeno, cut in half
Directions:
for the daiquiri:
In a food processor, combine the first four ingredients. Pulse a few times until smooth. Fill a small mason jar half way up with crushed iced. Pour 1/2 cup of the mango mixture over the crushed ice. Garnish with lime wedge and jalapeno round.
for the jalapeno simple syrup:
In a small sauce pan, add water, sugar, and jalapeno. Turn to medium heat and stir until all of the sugar is dissolved. Remove from heat to cool.
All images and text ©