Foodie Fridays: Green Goddess Dressing
Meet Alice.
Alice Waters, that is.
(pic is front cover of cookbook)
I was first introduced to Alice this past Holiday season when I received her book, "In The Green Kitchen" from my mother for Christmas. At first I was puzzled. Why haven't I heard of her? Surely I should know of this woman, after all, her circle of friends include, Rick Bayless, Charlie Trotter and Thomas Keller. "
But alas, I didn't. So I did what any curious child would do and asked, "Who's Alice?"
My mother gently replied…
Alice Waters is an American chef and owner of the world famous restaurant, Chez Panisse. Alice has been an advocate of sustainable, local food and cooking long before you were even born. You could call her the mother of Mother Earth.
During her studies at UC Berkley in 1967, Alice studied abroad in France. It was during this adventure where she learned to appreciate local produce and seasonal foods by moseying to the markets every morning. She fell in love with the way fresh food tasted and was prepared. When Alice returned home and graduated at the ripe ol' age of 27, she took her newly formed knowledge and applied it to her restaurant. She became friends with local farmers, and learned that good food should be a right, and not a privilege. And the rest as you say, is history.
In honor of my newly found friend, I want to make a very special recipe for you today, Green Goddess Dressing. This is a famous dressing used at Alice's restaurant.
Green Goddess Dressing contains natural ingredients such as shallots, garlic, parsley, tarragon, and basil. The dressing is thick, much like a mayo consistency.
The primary use for this dressing is for salads, but can top of a salmon fillet, or is great dip for crudites.
Check out other books by Alice Waters. I promise you will thank me later.
~ The Art of Simple Food: Notes, Notes, Lessons, and Recipes from a Delicious Revolution
~ Chez Panisse Cafe Cookbook
~ Chez Paniesse Vegetables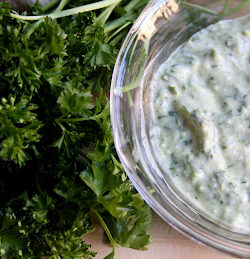 Alice Waters Green Goddess Dressing
Ingredients:
1/2 medium avocado
1 glove garlic, hopped
1 oil packed anchovy, chopped
3 tablespoons white wine vinegar
1 teaspoon lemon juice
1/2 teaspoon lime juice
1/4 teaspoon granulated sugar
3/4 cup olive oil
1/4 cup heavy whipping cream
3 tablespoons parsley, chopped
2 tablespoons tarragon, chopped
2 tablespoons cilantro, chopped
1 tablespoon basil, chopped
1 small shallot
Salt and Pepper
Directions:
In a food processor, place the first seven ingredients. Pulse a few times. Add olive oil. Transfer mixture to a large bowl and add the cream. Gently combine the parsley, tarragon, cilantro, basil, and shallot. Make sure and season with salt and pepper to taste. You'll want to chill the dressing for at 3 hours to make sure the flavors combine!
recipe from Alice Waters
All images and text ©