foodie fridays: pumpkin brownies with brown sugar icing & candied pecans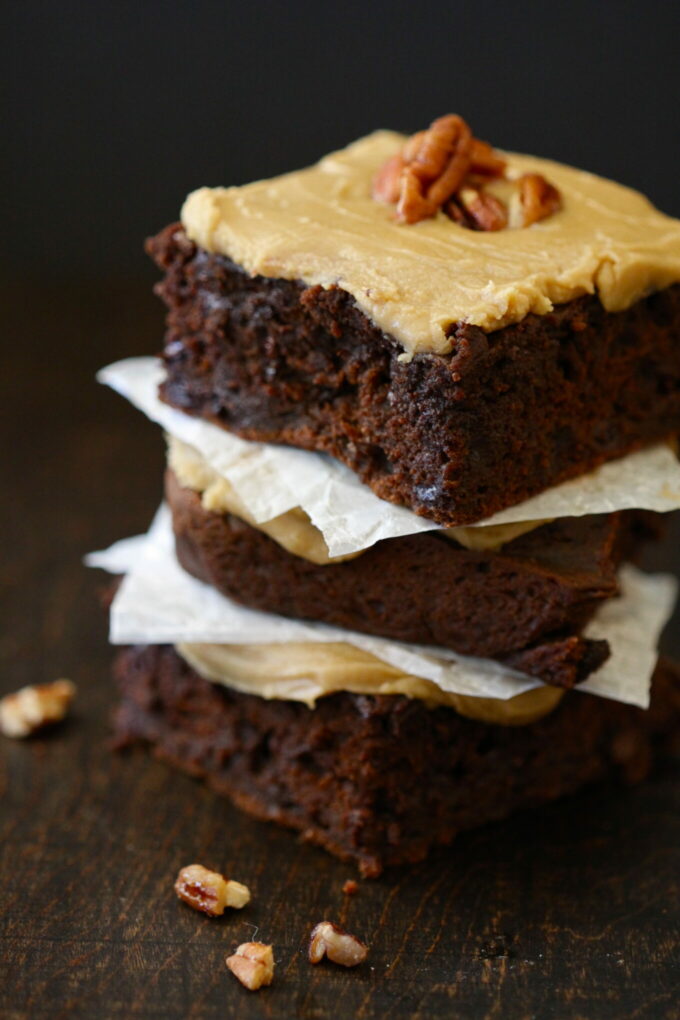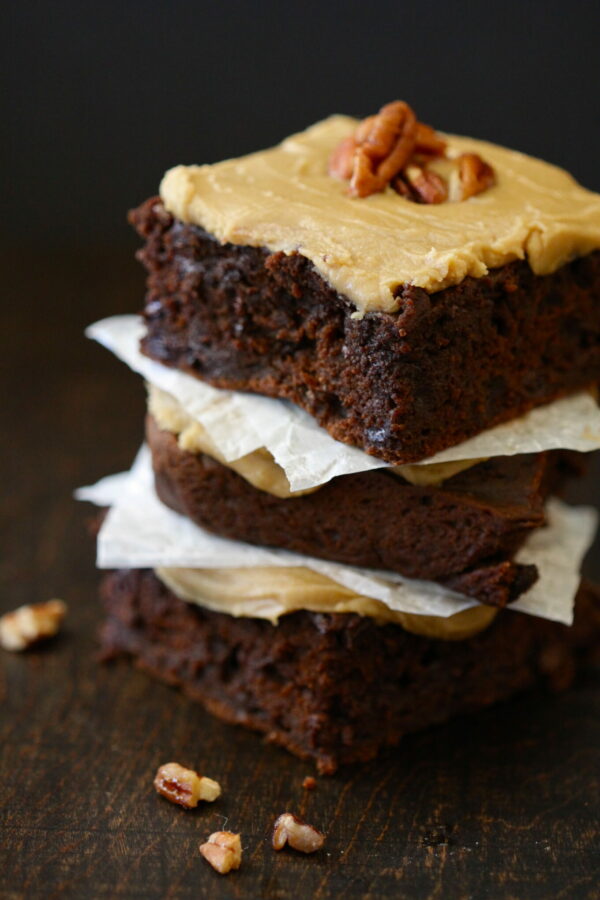 I am sucker for a decadent chocolaty, gooey brownie.
Come to think about it, there's not much I wouldn't do to consume a brownie – walk over hot coals, chug a gallon of milk (<—-which I hear is really hard to do!), have a pie thrown at my face, or streak through the ol' neighborhood. That last one could get real awkward. When it comes to dessert, I am on Team Brownie.
Sorry, loyal cake and cupcake groupies, there's only one rock star dessert poster in my room and that is of Sir Brownie. So imagine how my star-struck eyes filled will thirteen year-old glee when OXO contacted me and wanted to send me their Good Brownie Tool Set for their Bake a Difference campaign for Cookies for Kids Cancer? I screamed TRL-Carson-Daily-top-ten-favorite-video out loud!!!
Check out the goodies they sent me.
I spy with my little brownie-loving eye a 6 piece measuring spoon and cup set (with a sa-weet clip on clip off ring! can't misplace these fellows), a silicone baking brush, and a brownie spatula (which is my fav!!)
You are probably wondering, Lauren, what's with all the brownie hype all of a sudden? Well, let me fill you in! OXO will be donating $100 to Cookies for Kids' Cancer for each blog dedicated to this campaign in September 2013. But that's not all, OXO will also be donating 25 cents per item to pediatric cancer research when you purchase some of these super fab specially marked products (also in retail stores)! Pretty sweet, huh? I know!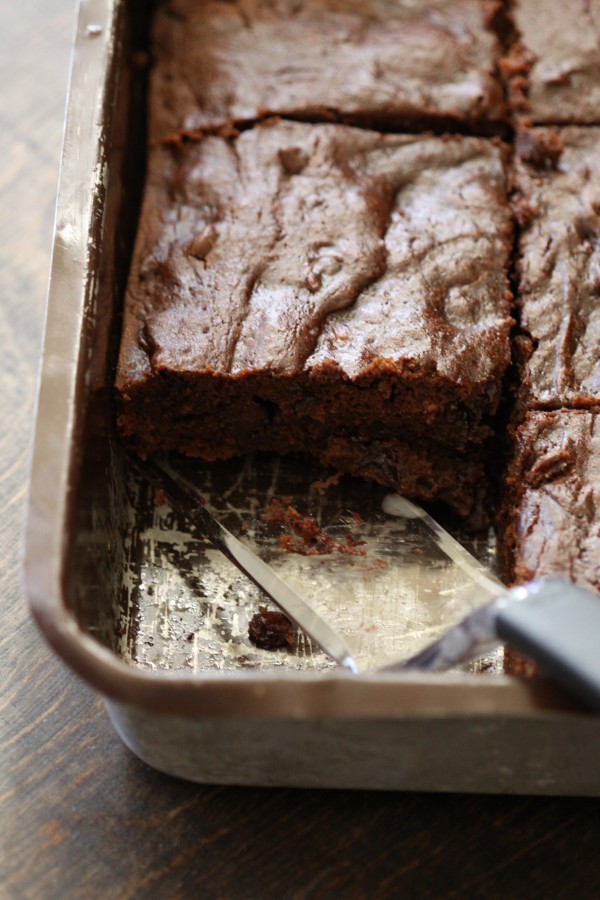 Since this is a bake sale, after all I couldn't show up with an oil changing kit to sell, I figured these pumpkin brownies with brown sugar frosting and candied pecans would be a hit. These are a take on one of my childhood classic treats that mother used to make, pumpkin bread. Well, y'all know me, I gotta' mix it up. I figured I would take the usual spices from the bread – cinnamon, nutmeg, ground cloves, ginger and put it into a brownie. These brownies are nothing short of amazing.
So, what do you say? Let's get to streaking or better yet, make these brownies and bake a difference!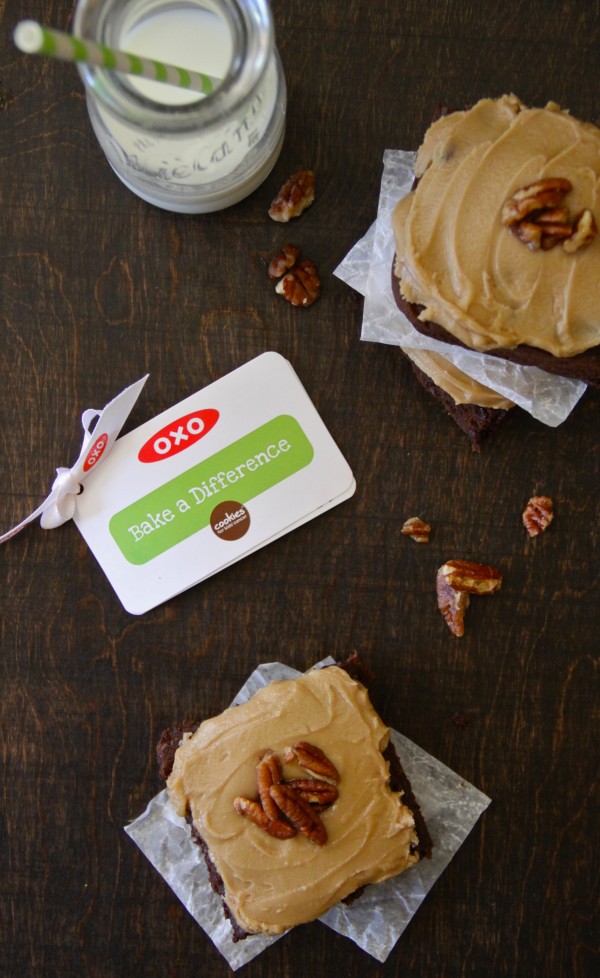 Disclosure: OXO sent me the brownie baking products as a part of their Bake a Difference campaign for Cookies' for Kids Cancer.  I was not compensated for writing this post and all opinions expressed are 100%  my own! 
Cookies for Kids' Cancer is a recognized 501c(3) public charity duly incorporated under the laws of the state of New Jersey. Your donations are tax deductible to the fullest extent allowable by law. 100% of proceeds raised by Cookies for Kids' Cancer fund pediatric cancer research.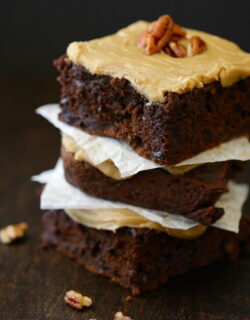 Pumpkin Brownies with Brown Sugar Icing & Candied Pecans
Ingredients:
for the brownies:
1 box of your favorite brownie mix
1 15 oz pumpkin puree
1 teaspoon ground cinamonn
1/4 teaspoon ground ginger
1/4 teaspoon ground cloves
1/2 teaspoon ground nutmeg
for the brown sugar icing:
1 cup brown sugar
4 tablespoons unsalted butter, room temperature
1/2 cup cream
2 cups confectioners sugar
2 teaspoons vanilla extract
for the candied pecans:
1 tablespoon sugar in the raw
1/4 cup pecans, chopped
1 1/2 teaspoons granulated sugar
1 1/2 teaspoons hot water
Directions:
for the brownies:
Preheat oven to 350 degrees. Spray a 8x8 square baking pan with non-stick cooking spray. In a large bowl, combine all ingredients. Pour pumpkin batter into baking pan and spread evenly. Bake for about 20-25 minutes, or until golden brown.
Let the brownies cool before you frost them. Once cooled, spread the brown sugar frosting on top. Top with candied pecans and cut into 9 squares. Enjoy!!
for the brown sugar icing:
Place brown sugar, butter, and cream in a small saucepan. Bring to boil and stir. Remove saucepan from heat. In a large bowl, add confectioners sugar and vanilla. Pour brown sugar over the confectioners mixture and beat until smooth. You may want to set the icing in the fridge for about 5 minutes to let it thicken.
for the candied pecans:
Preheat oven to 350 degrees. In a small bowl, combine all ingredients. Place the pistachios on a baking sheet and bake for about 8 minutes. Remove from oven, cool, and chop.
candied pecans adapted from Food and Wine Magazine
brown sugar icing adapted from Roder Family Cookbook
All images and text ©