foodie fridays: raspberry nutella pie pops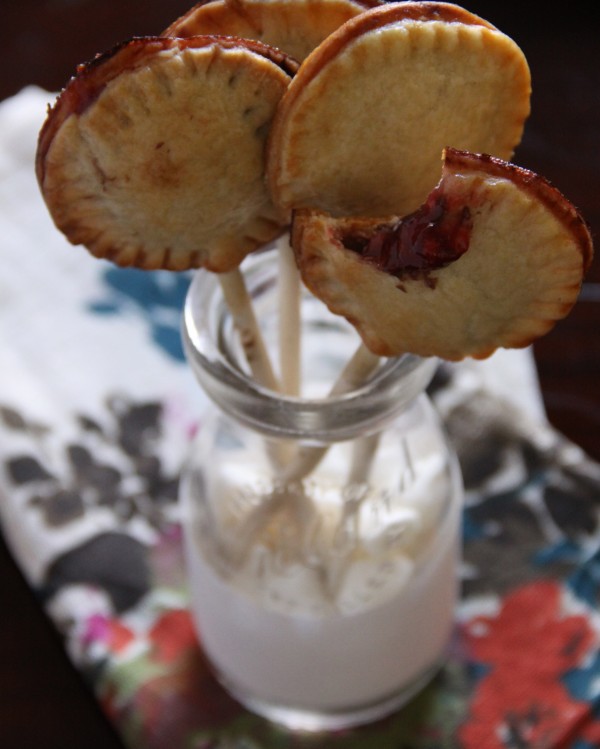 "Lollipop, lollipop…
Oh lolli, lolli, lolli, lollipop, lollipop…
Call my baby lollipop, tell you why
His kiss is sweeter than an apple pie…"
Dang that song is catchy.
Do you think the Chordettes were sitting around one hot summer day licking lollipops and thought, we should totally write a song about these delicious treat. Boys would go wild for us! I guess I can't blame them. They didn't have the convenience of Facebook or "The Twitter's" to inform guys they were crushing on them back in the day. My how things have changed.
But change isn't necessarily a bad thing.
I've mentioned a time or two on this blog about how I don't fancy baked pies. It's not that they taste bad or seem hard to make, I just find them to be kind of blah. Maybe, typical is better is description like diners serving coffee with slices of homemade apple pie. Typical.
Now, if you gave me a chocolate peanut butter brownie or German chocolate cake, I'll start dancing like I just heard Hit Me Baby One More Time by Britney Spears for the first time. Hey, don't judge. You know you liked her back in the day.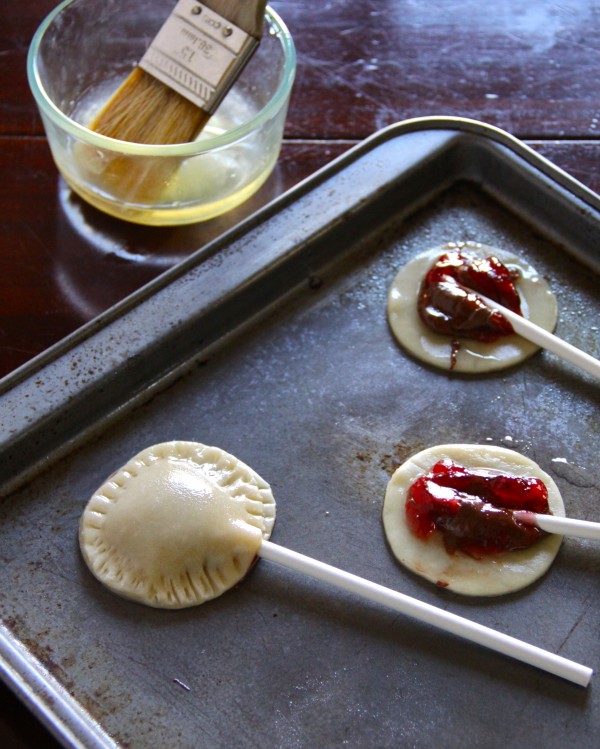 However, given all of this information, my opinion on pies changed when I was strolling through World Market last week (wiping drool from my mouth because they have the best food props on the entire planet), I stumbled across these pie pop sticks. I almost fainted from excitement. Where have these been all of my life? I have always said they need more edible food on a stick.
I grabbed those pie pop sticks off the shelf along with a jar of Nutella and raspberry jam, and sprinted home faster than Usain Bolt. I was determined to make a pie that was far from typical.
I rolled out some store bought dough, cut a few circles out, placed them on a baking sheet, dolloped a teaspoon of Nutella and raspberry jam on the circle, closed them up, and baked them into golden perfection.
Now, this is treat that's worth singing about.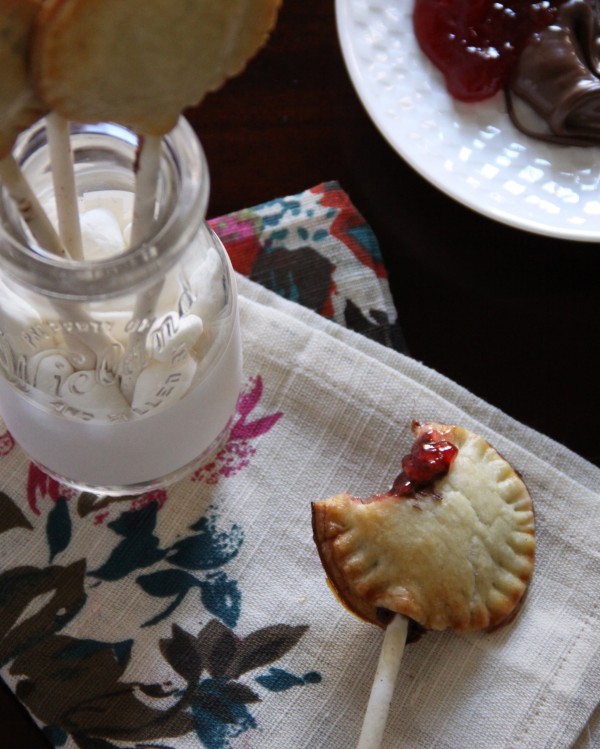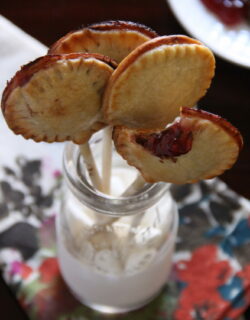 Raspberry Nutella Pie Pops
Ingredients:
1 egg white
1 tablespoon water
1 store bought pie crust
8 1/2 teaspoons Nutella, divided
8 1/2 teaspoons seedless raspberry jam, divided
1 teaspoon lemon zest
8 lollipop sticks
Directions:
Preheat oven to 450 degrees. In a bowl, mix together raspberry jam with lemon zest. Set aside. Roll out pie crust into a 12-inch circle. Take a 2 1/2 inch biscuit cutter and cut out 16 circles. Place 8 of the circles on a baking sheet lined with parchment paper. Place 1/2 teaspoon of Nutella and raspberry lemon mixture on top of the 8 circles. Gently place 8 lollipop sticks in the center of the circles. Whisk together egg white and water, and brush edges of circle with the egg wash. Top each pie with the leftover 8 circles. Crimp the sides with the fork and brush top with egg wash. Bake for about 12 minutes, or until golden brown. Cool before handling.
adapted from Cuisine Tonight
All images and text ©