foodie fridays: tart cherry yoghurt chocolate cake trifle with chocolate ganache { + a GIVEAWAY!!!}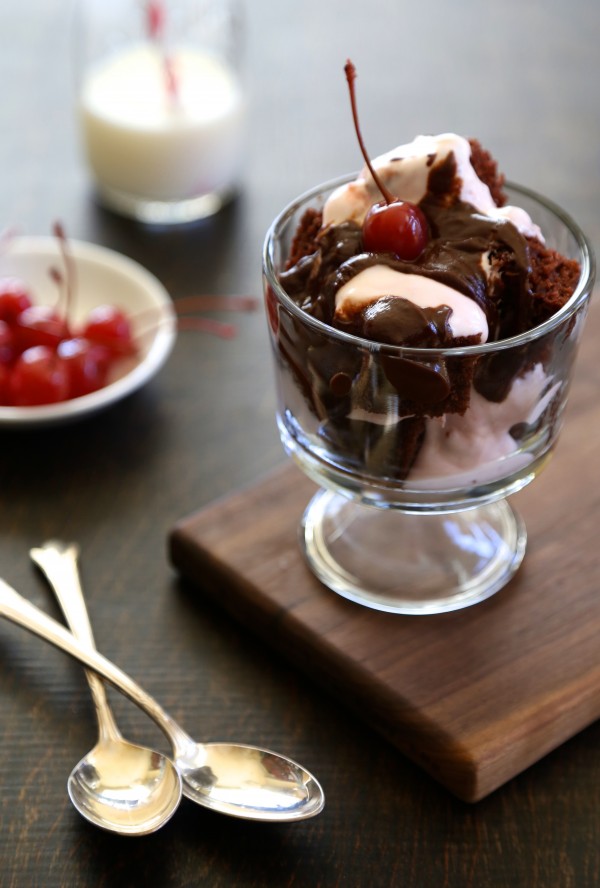 I think Kate Spade said it best, "Eat cake for breakfast."
Shouldn't this be life's slogan?
Or, at least mentioned in a tiny section on the food pyramid as a recommended "throw caution to the wind every once an awhile" option? I mean, you only live once, goverment-al folks!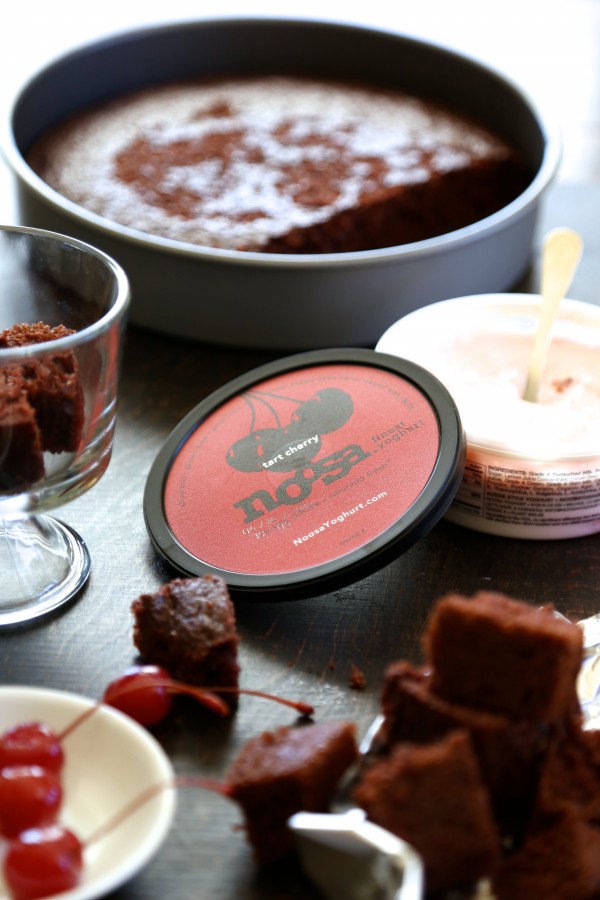 But what if I told you that you could eat cake for breakfast? The secret: Noosa Yoghurt. Have you heard of or tried Noosa Yoghurt? For those of you that haven't, let me fill you in on the smooth yoghurt details. Noosa (Aussie) style yoghurt is made in small batches on a family-owned farm right here in Colorado! They have a wide variety of flavors – blueberry, lemon, passion fruit, honey, and now, a new favorite of mine, tart cherry!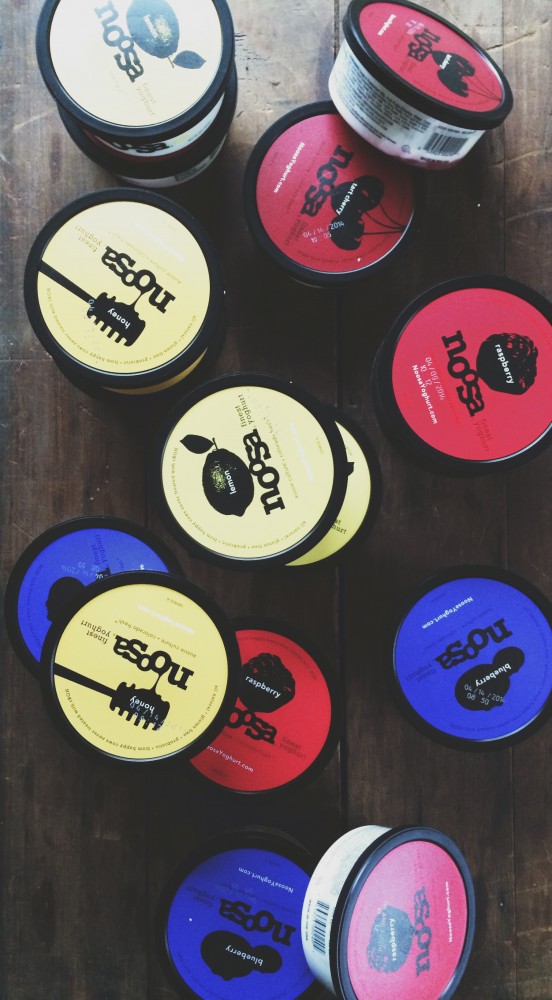 And speaking of tart cherry and eating cake for breakfast, I've created a super, Carlton-dance-worthy recipe for the kind folks over at Noosa!! This Tart Cherry Yoghurt Chocolate Cake Trifle with Chocolate Ganache could definitely pass as a dessert,but more importantly, breakfast! Who wouldn't want to start the day with some chocolate cake covered in a tart cherry yoghurt covered in ganache?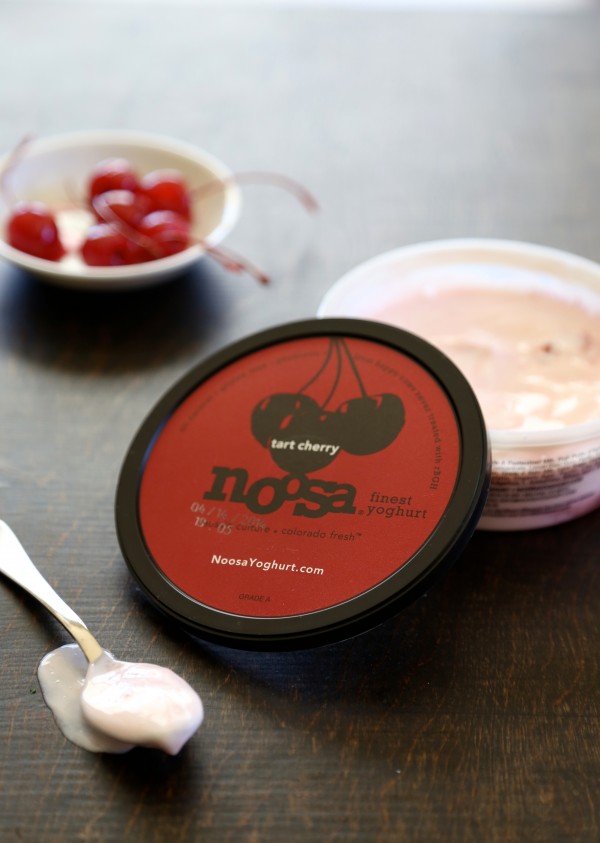 So, if you are on the cake and yogurt band wagon like yours truly, I could use your help! Noosa is running a contest on their Facebook page that starts today and runs until April 13th. A few other bloggers and I created recipes for this contest to help spread the word about Noosa! Not only would I appreciate your vote, but if you do vote, you will get to enter into this fabulous giveaway provided by Bodum!! Because I heart you!!



The Bodum giveaway includes a kitchen package full of all sorts of goodies – mixing bowl set, measuring spoons, and various utensils (including a garlic press, pasta server, whisk, serving spoons and more)!
***THIS GIVEAWAY IS CLOSED! Congrats to, Geri Wurth!!***To enter the giveaway, leave me a comment below telling me you voted! That's it!
Vote here —–> Noosa Facebook
***Giveaway details: this giveaway will run from Friday April 5th to Friday April 11th 11:59pm MST and only open to US residents. One winner will be chosen using the random generator. The winner will be emailed and will have 48 hours to respond. If the winner doesn't respond within that time frame another winner will be chosen.***
***I was not compensated for this post. As always, all opinions expressed are 100% my own***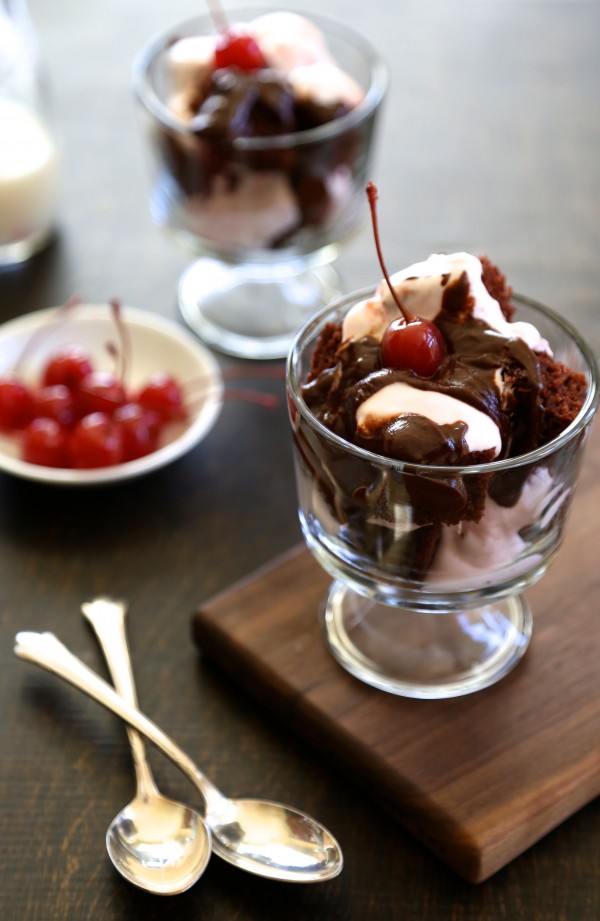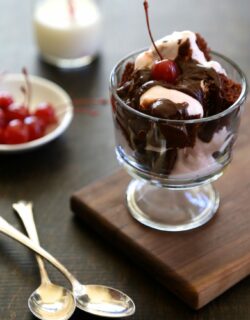 Tart Cherry Yoghurt Chocolate Cake Trifle with Chocolate Ganache
Ingredients:
1 3/4 cups all-purpose flour
2 cups granulated sugar
3/4 cup unsweetened coca powder
1 1/2 teaspoons baking powder
1 1/2 teaspoons baking soda
1 teaspoon kosher salt
2 eggs, room temperature
1 cup whole milk
1/2 cup vegetable oil
2 teaspoons vanilla extract
1 cup boiling water
1 container Noosa Yoghurt Tart Cherry
3/4 cup semi-sweet chocolate chips
1/2 cup heavy cream
Cherries with stems, garnish
Directions:
Preheat oven to 350 degrees.
Spray two 9-inch cake pans with non-stick cooking spray. In a large bowl, mix sugar, flour, cocoa powder, baking powder, baking soda, and salt. In another large bowl, combine eggs, milk, vegetable oil, and vanilla extract. Pour the wet ingredients into the dry ingredients in thirds, until well combined. Lastly, add the boiling water. Pour the batter evenly between the two pans. Bake for about 30 minutes or until a toothpick inserted in the middle comes out clean. Remove from oven to cool before slicing into one-inch cubes.
To make the ganache, melt chocolate in a saucepan over medium heat. Add the cream and stir to combine, careful not to burn.
To make the trifle, place 3 or 4 one-inch cake cubes in the bottom of a glass. Spoon some of the tart cherry yogurt over the top. Add more cake cubes on top followed by more tart cherry yogurt. The last layer should be more cake cubes topped with the chocolate ganache and a cherry on top.
All images and text ©