shrimp and grit naan pizza with cajun remoulade sauce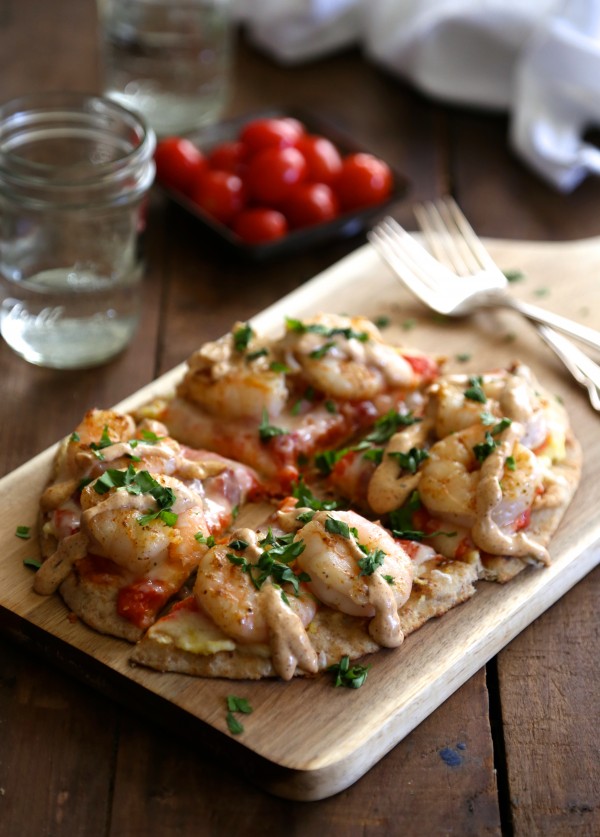 Well, this is odd.
Wait.
Actually, not quite as odd as the gentleman standing next to me on the street corner the other day watching the cars zoom by and turning to me to say, "Where did the horse and buggy go?" My immediate thought, where's this homeslice's straight jacket? Surely, the white station wagon will be arriving any minute to take him back to Sunny Acres.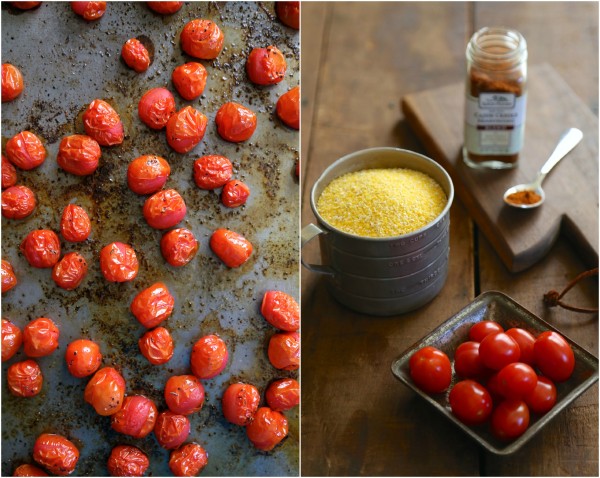 Even though this guy was probably a major wack-a-doo, I will give him props because for the entire minute as we waited for the walk signal, I thought long and hard about bringing back the horse and buggy. Would it improve traffic? Should I invest in the manure shoveling business? Should I change my name to Mrs. Biff Tanner? Could I order horses off Amazon with GPS?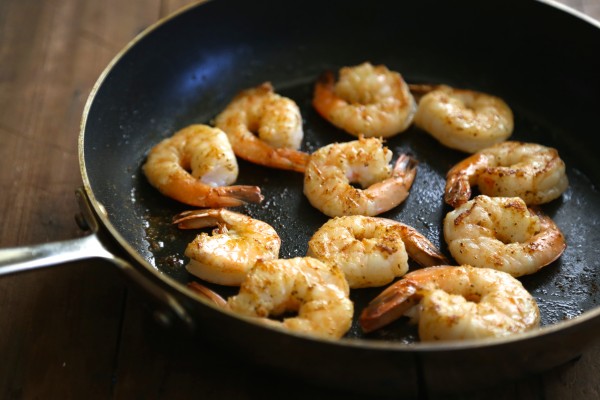 Soon I heard beeping and the green approved walk signal guy appeared. I turned to respond, but the gentleman had vanished. So rude. I didn't even get to pitch him my horse and buggy hoverboard idea!
Omygersh….where was I? Oh, right, odd.
Who puts shrimp and grits on a pizza? Don't worry, I haven't gone full on wack-a-doo yet. But since this is #PizzaWeek hosted by NoshOn.It, I had to go off the grid for a bit. And let me tell you this pizza is too-legit-to-quit.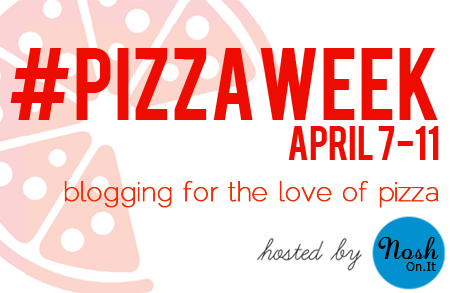 Buttery Naan topped with jalapeno grits, roasted Cajun tomatoes, crispy bacon, melted mozzarella and spiced shrimp. What more could a girl want? Besides Bobby Flay whipping this up for weekend brunch and feeding your face. Do wha?
Anyways, make sure and check out today's and the rest of Pizza Week's recipes! It's full of gooey, cheesy goodness!
Annalise @ Completely Delicious –> Raspberry Brie Dessert Pizza with Rosemary & Candied Pecans
Stephanie @ Girl Versus Dough –> Caramelized Spring Onion & Fennel Pizza with Beer Crust
Kelli @ The Corner Kitchen — Kale and Artichoke Pizza with Roasted Garlic Ricotta
Becky @ The Vintage Mixer — Spinach Artichoke Pizza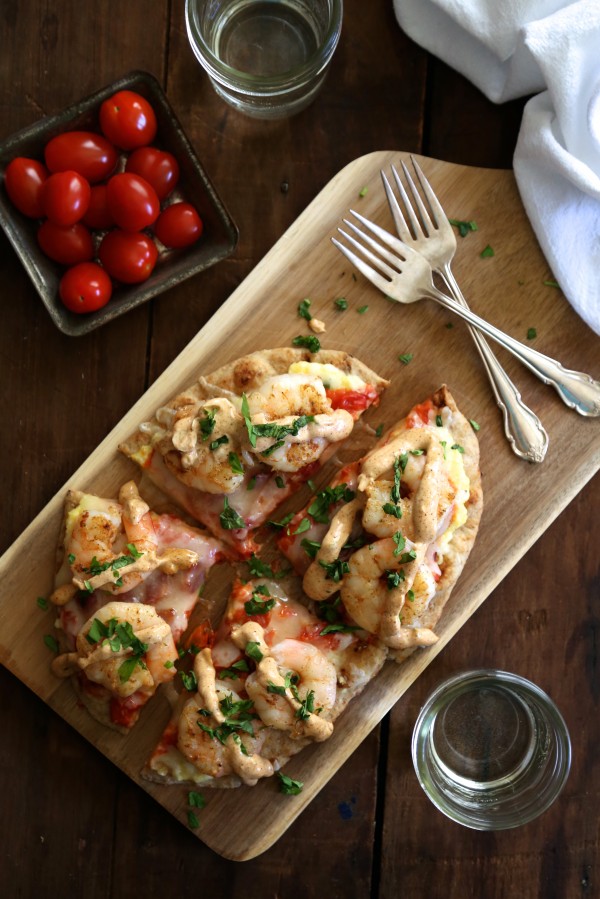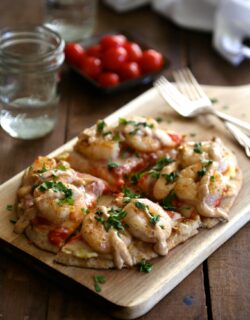 Shrimp and Grit Naan Pizza with Cajun Remoulade Sauce
Ingredients:
for the pizza:
2 containers grape tomatoes
2 tablespoons Cajun seasoning
3 tablespoons Olive oil
4 pieces whole wheat Naan
2 cups mozzarella cheese
5 pieces bacon, chopped, cooked
10 large shrimp, peeled, devein
2 tablespoons Old Bay Seasoning
Tarragon, garnish
salt and pepper to taste
for the grits:
3 cups water
1 cup yellow grits
1 cup white cheddar cheese, grated
1 tablespoon butter
1 jalapeno, seeded, diced
1/4 cup heavy cream
salt and pepper
for the cajun remoulade sauce:
1/2 cup mayonnaise
2 tablespoons chili sauce or powder
2 teaspoons spicy mustard
1 teaspoon Worcestershire sauce
1 scallion, sliced
pinch of cayenne pepper
2 teaspoons lemon juice
1 teaspoon horseradish
1 garlic glove, minced
pinch of paprika
1/2 teaspoon Cajun seasoning
salt and pepper to taste
Directions:
Preheat oven to 400 degrees.
for the pizza:
Spray a baking sheet with non-stick cooking spray. In a bowl, toss together tomatoes, Cajun seasoning, 2 tablespoons of olive oil, and s&p. Put the tomatoes on baking sheet and roast for about 15 to 20 minutes. Remove from oven and let them cool slightly. Once cooled, places tomatoes into a food processor and pulse until slightly pureed.
Spray two more baking sheets with non stick cooking spray. Place two pieces of Naan on a baking sheet. Take the grits and spread about 1/4 cup on each Naan piece. Take about 1/4 cup of tomato puree and spread it on top of the grits. Don't put too much because you don't want the Naan to become soggy. Top the tomato puree with some chopped pieces of bacon followed by 1/2 cup mozzarella. Bake Naan pieces for about 10 to 15 minutes or until the cheese has melted and golden brown.
In a skillet preheated to medium high heat, add one tablespoon of olive oil. Season the shrimp with Old Bay Seasoning and place in skillet. Cook for about a minute, flip, and continue to cook for another minute. Remove shrimp from skillet and top the Naan pieces with shrimp. Dollop or drizzle the Cajun remoulade sauce on top and garnish with tarragon. Serve immediately!
for the grits:
In large saucepan, bring water to a simmer. Pour in grits and begin to whisk. Simmer until grits begin to thicken. Continue cooking, stir often, and if need be add 1/4 cup of water to keep from getting to thick. Probably will take about an 1 hour to cook. Stir in cheese, butter, jalapeno, and cream. Season with salt and pepper. Keep warm.
for the cajun remoulade sauce:
Mix all ingredients in a bowl. Refrigerate for at least 30 minutes to let the flavors combine.
grits recipe adapted from Bon Appetit
remoulade sauce adapted from All Recipes
All images and text ©