neapolitan baked doughnuts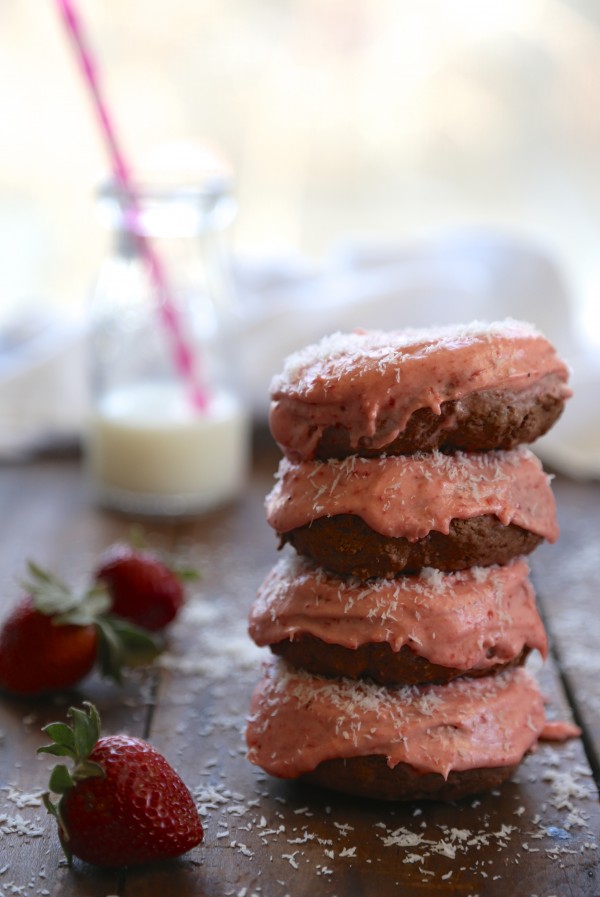 Surprise!!! Happy Baby Shower, Stephanie!!
I am super stoked today to celebrate Stephanie and her soon-to-be bundle of joy. Stephanie is the talented author behind the gorgeous and delicious food blog, Girl Versus Dough. Stephanie is an absolute gem. I haven't had the pleasure yet of meeting Stephanie in real life, but let me tell you, if you read her blog you will feel as if you've known her for years.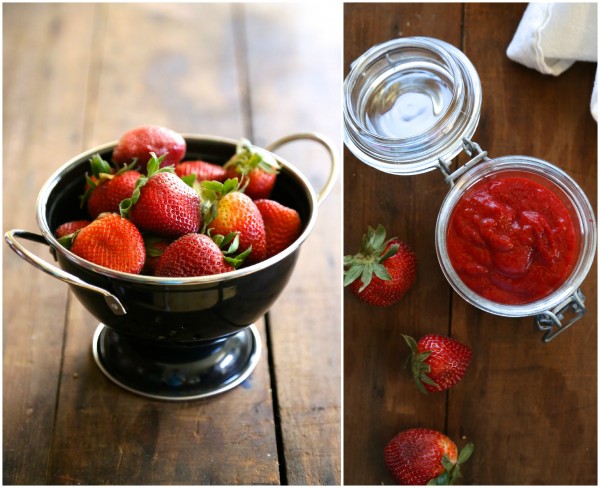 Not only is Stephanie a two-snaps-up, raise-the-roof type of gal, she is one heck of a baker. My black yeast thumb has major envy. Some of my favorite recipes are dark pistachio ice cream, loaded mashed potato stuffed biscuits, and morning glory scones. My stomach is growling just thinking about them. Plus, her photography is simply stunning and inspiring!
So today, a bunch of food bloggers and I are throwing Stephanie a virtual baby shower filled with all sorts of treats. Stephanie is having a baby girl so naturally my mind went insta-pink! Not quite full on Lisa Frank with a tutu, but I thought I would show my baking skills and make some pretty doughnuts.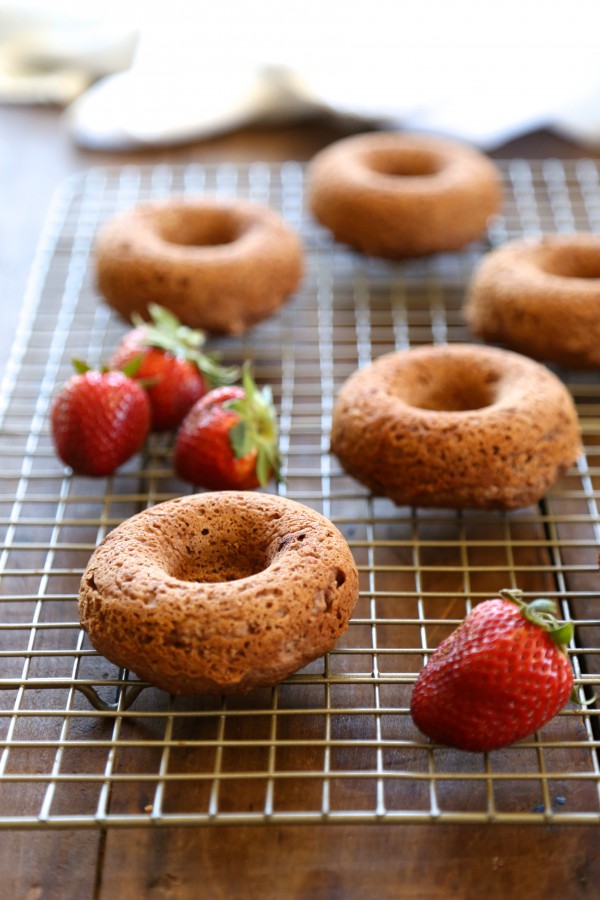 But not just any doughnuts, Neapolitan baked doughnuts. Chocolate doughnuts covered in fresh strawberry frosting and dusted with coconut flakes. Like any girl, don't you want as many options as possible? You can never have too many doughnut choices.
Happy Baby Shower, Stephanie! We love you!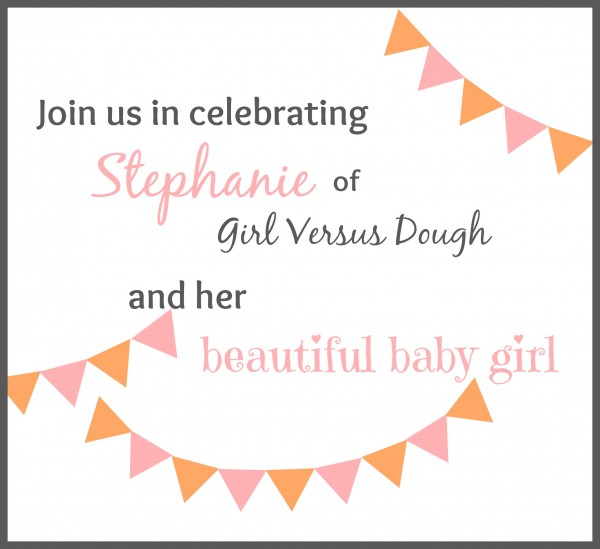 Make sure and check out the rest of the baby shower catering crew:
Mini Strawberry Cheesecakes from Sarcastic Cooking
Lemon Blueberry Coffee Cake with Lemon Drizzle from Greens & Chocolate
Super Chewy M&M Blondies from The Realistic Nutritionist
Strawberry Cinnamon Twist Knots from A Kitchen Addiction
Lemon Shortbread with Salted Chocolate Drizzle from The Lemon Bowl
Chocolate Cherry Ice Cream from A Zesty Bite
Blackberry and Mango Curd Pie from Joanne Eats Well With Others
Pecan Sticky Buns from Warm Vanilla Sugar
Strawberry Rhubarb Muffins from Garnish with Lemon
Chocolate Chip Pancakes from Susie Freaking Homemaker
Super Simple Sugar Cookies from Espresso and Cream
Raspberry Acai Frozen Margarita from Nutmeg Nanny
Berry Coconut Frozen Yogurt from The Law Student's Wife
Pretty in Pink Buttercream Cups from Keep it Sweet Desserts
Broccoli Salad with Honey Toasted Walnuts from The Roasted Root
Neapolitan Baked Doughnuts from Climbing Grier Mountain
Giant Pink M&M and Raisinette Cookies from Steph's Bite by Bite
No-Bake Rhubarb Cheesecake Parfait Cups from Hungry Girl Por Vida
Strawberry Rhubarb Crisp from A Cedar Spoon
Freckled Strawberry Rhubarb Lemonade from Take a Megabite
Vanilla Anise Cupcakes from Blahnik Baker
Mini Vanilla Bean Layer Cakes from The Baker Chick
Mini Blackberry Hazelnut Meringue Cakes from Eat Your Heart Out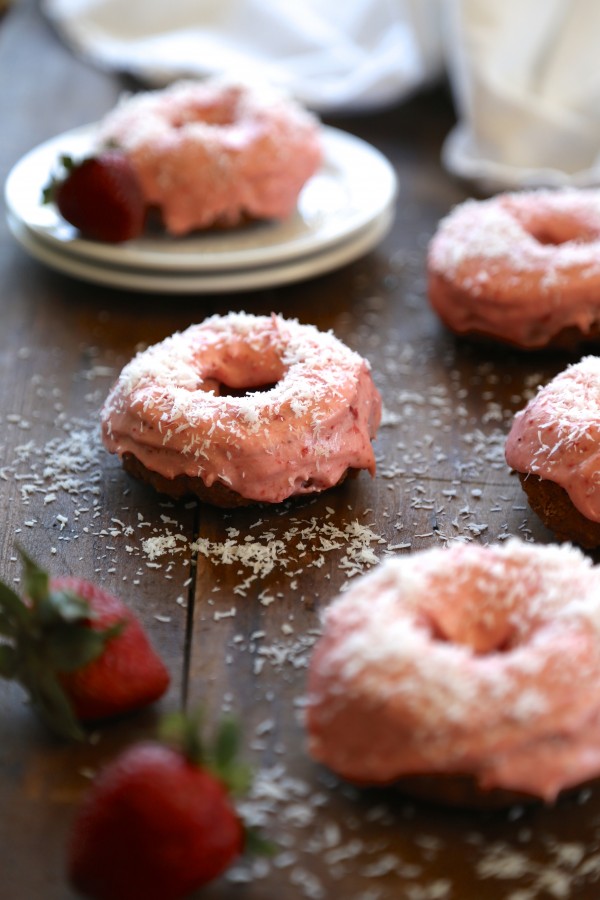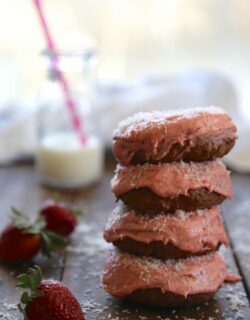 Neapolitan Baked Doughnuts
Ingredients:
for the doughnuts:
2 cups cake flour
3/4 cup granulated sugar
2 teaspoons baking powder
1/4 cup unsweetened cocoa powder
1/2 teaspoon nutmeg
1 teaspoon kosher salt
3/4 cup buttermilk
2 eggs
2 tablespoons unsalted butter, melted, cooled
1/2 cup coconut flakes
for the strawberry frosting:
1 cup fresh strawberries, halved, tops removed
1 cup unsalted butter
2 cups confectioners sugar
1 teaspoon vanilla extract
Directions:
for the doughnuts:
Preheat oven to 425 degrees. Spray doughnut pan with nonstick cooking spray. In large mixing bowl, sift together cake flour, sugar, baking powder, nutmeg, cocoa powder, and salt. Add buttermilk, eggs, and butter. Beat until just combined. Fill each doughnut cup approximately 2/3 full.
Bake 10 to 12 minutes or until the top of the doughnuts spring back when touched. Let cool in pan for 4 to 5 minutes before removing. Spread strawberry frosting on each doughnut and sprinkle tops with coconut flakes.
for the strawberry frosting:
Place strawberries in a food processor and puree until smooth. Pour strawberry puree into a small saucepan. Turn saucepan over medium heat and simmer puree until reduced by half. Remove from heat to cool completely.
In a mixer fitted with a paddle attachment, cream butter and 1 cup confectioners sugar. Add the vanilla extract and 2 tablespoons strawberry puree. Add the last cup of confections sugar and two more tablespoons of strawberry puree. You will have some puree leftover. Add more confectioners sugar if too runny.
All images and text ©