Fredericksburg, Texas: Where to Stay, Eat, and Visit!
Fredericksburg, Texas: Where to Stay, Eat, and Visit! Nestled in Hill Country of centrally-located Texas is a charming city bursting with a vibrant culinary scene, boutique bed & breakfasts and a booming wine industry. I'll show you what do, what eat, and where to stay!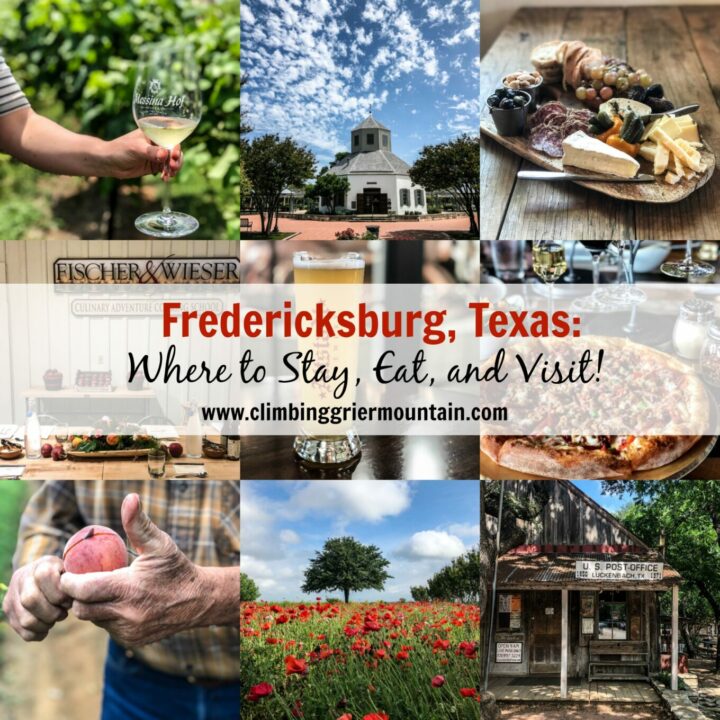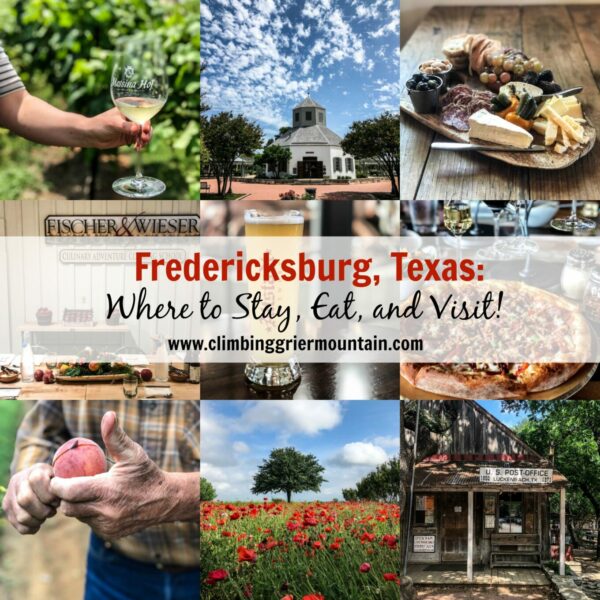 Texas Hill Country.
This part of the Lone Star state once flew under the radar, but thanks to a charming city located between San Antonio and Austin, Fredericksburg has made Hill Country a popular destination.
This quaint city of German heritage has so much to offer: a booming wine industry, vibrant culinary scene, and nearly 1,200 Sunday houses (or bed & breakfasts). My time in Fredericksburg was a whirlwind. I tasted, strolled, and toured my way through it in just three days.
So, why would you want to travel to Fredericksburg? Well, take a look at my travel guide below. One look and I promise you'll be packing your cowboy boots.
WHERE TO STAY:
Lodging and Transportation
Fredericksburg is located one hour north of San Antonio or one hour west of Austin. Austin and San Antonio have a large airports with multiple carriers. Once you've chosen your landing destination, just rent a car and drive to Fredericksburg.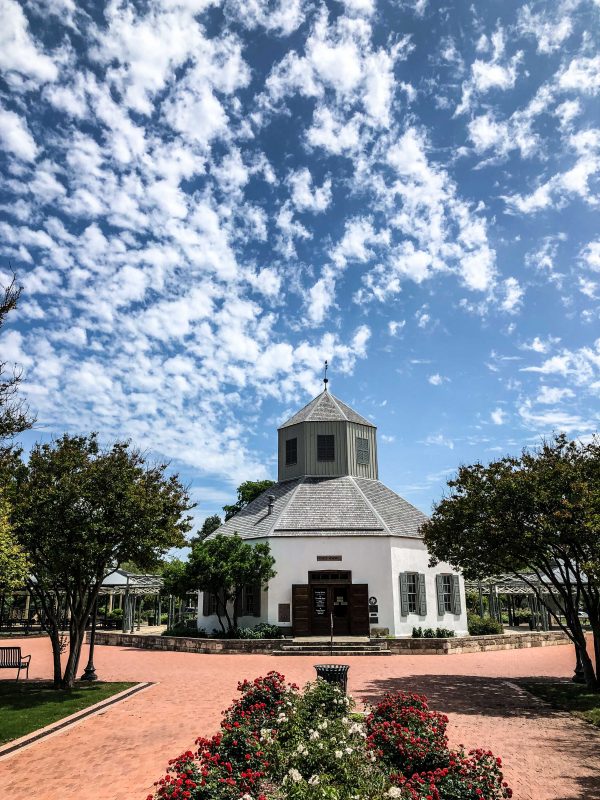 The 60 minute drive to this Bavarian town is rather beautiful. Rolling hills full of trees span the horizon, while wildflowers of all colors line the highways. The drive alone is worth the trek to this centrally located city.
My home for the week was at The Lodge Above Town Creek. Located in downtown Fredericksburg, this charming bed-and-breakfast is comprised of 16 guest suites. The suites are furnished with a big fluffy bed (you might want a running start to climb in), a gorgeous walk-in spa like shower, and views off the balcony that overlook the pool and creek.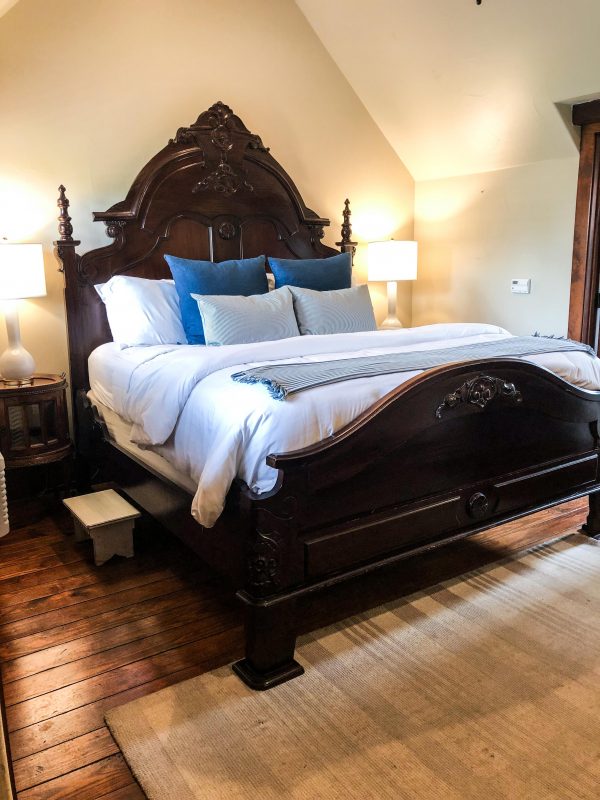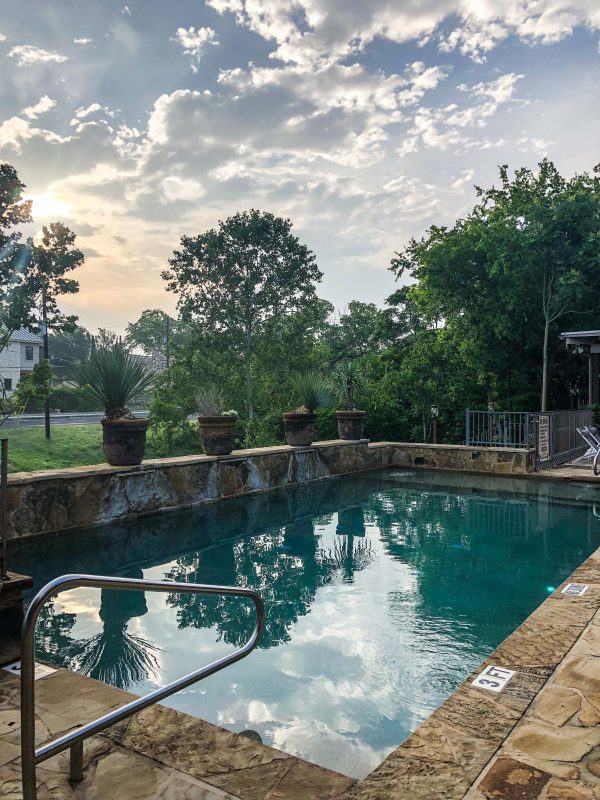 Every morning you will have a breakfast basket delivered to your door. Inside is an assortment of treats – eggs, croissant, fruit and orange juice.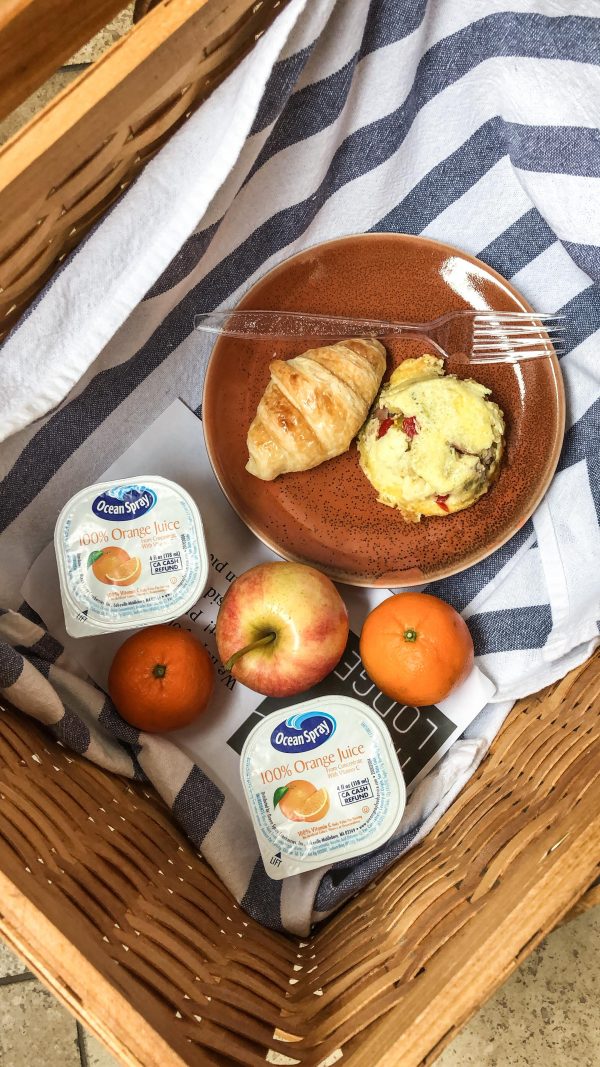 WHERE TO EAT:
Coffee:
Java Ranch Espresso Bar & Cafe is located in downtown Fredericksburg. About a 12-minute walk from The Lodge on The Creek. The establishment offers a real local atmosphere with freshly brewed coffee and pastries.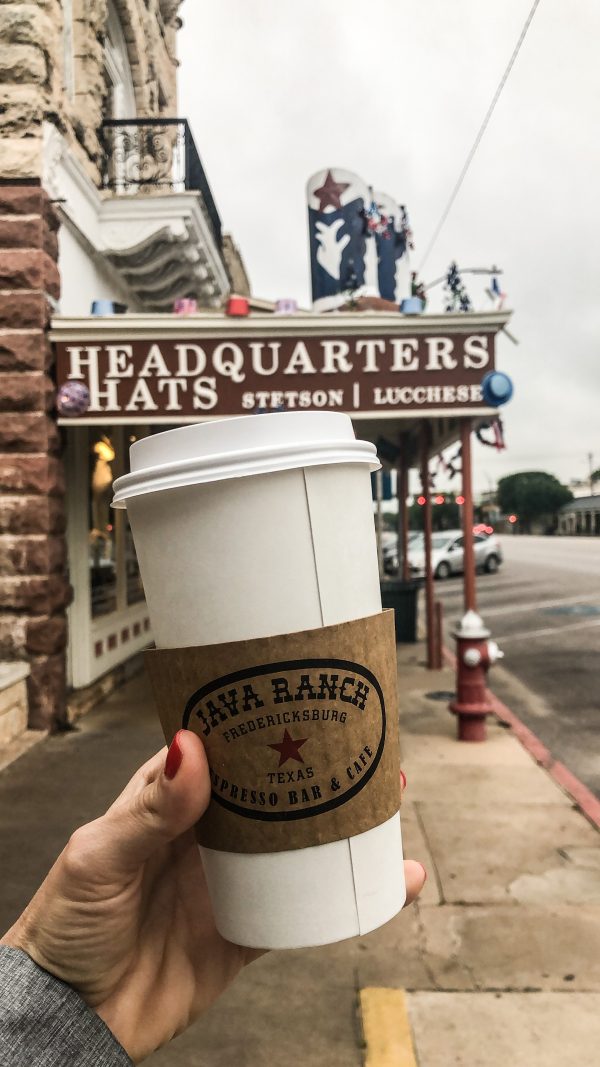 Twisted Sisters is also located in downtown Fredericksburg, about two blocks south of The Lodge Above Town Creek. This festive little gem offers coffee, smoothies, pastries, breakfast tacos and sandwiches. I ordered a coffee to go, but highly recommend their scones!
Lunch:
The Woerner Cafe is tucked down the street from the main Fredericksburg drag. A large antique furnished room gives a home-style feel to this cafe. Take a seat and order a fresh gourmet salad, sandwich or pizza. As you wait for your order peruse the store to shop some of the home furnishings available.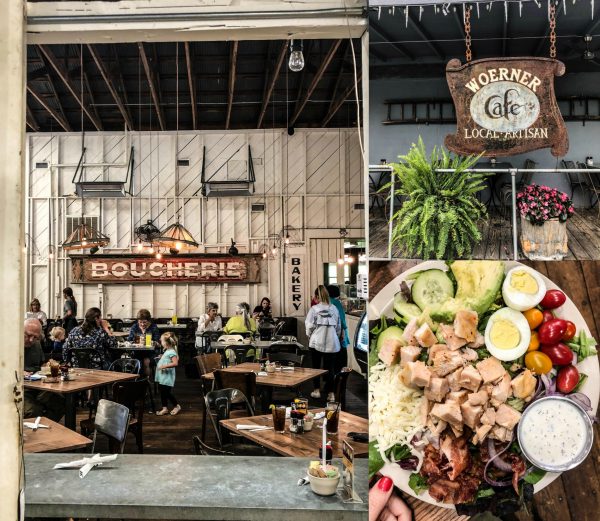 Stouts Trattoria is located at the stunning Tuscany inspired winery of Grape Creek Vineyard. As you sip a glass of vino made from Montepulciano, take in the panoramic views, whether on the patio or inside the restaurant. This intimately appointed restaurant boasts delicious salads, meatballs, sandwiches and their house special is the pizza. Definitely order the wine country special!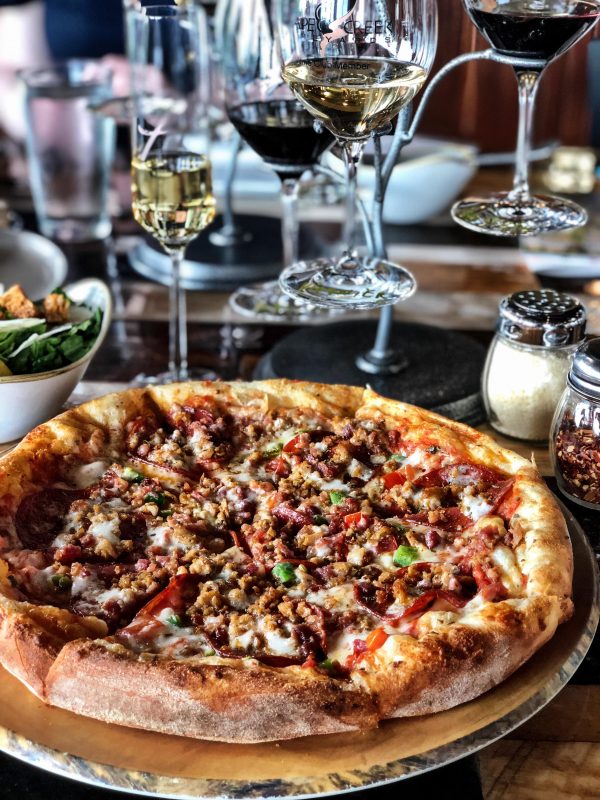 La Bergerie is a beautiful artisanal wine bar specializing in wine, cheese and in-house charcuterie. With a old world charm feel, La Bergerie is a great place to gather for happy hour on the patio, or to pick up freshly baked breads, charcuterie and gifts for your next gathering.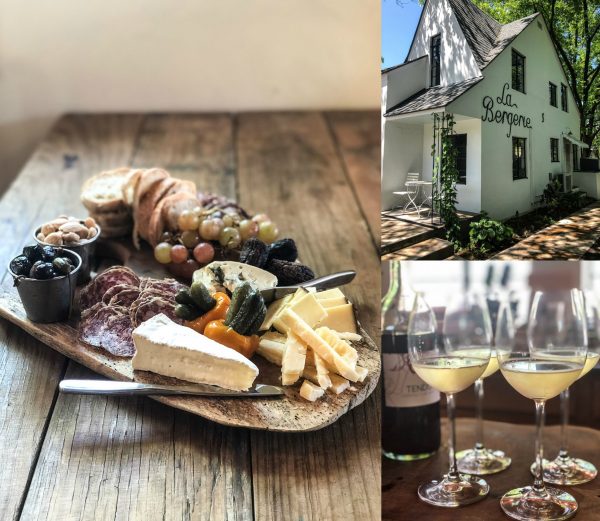 Vaudeville is nothing short of grand. Below the luxurious shop is the Bistro. Open for breakfast, lunch and dinner, this European inspired atmosphere serves American comfort food. Try the burrata salad or the gourmet roasted chicken sandwich. Every single ingredient is fresh and flavorful. If you want something a little more upscale try making a reservation for one of their Supper Clubs. Note that Clubs are open only on Friday, Saturday and Monday. This club will make you feel like a VIP especially with it's own entrance and new menu served every Monday.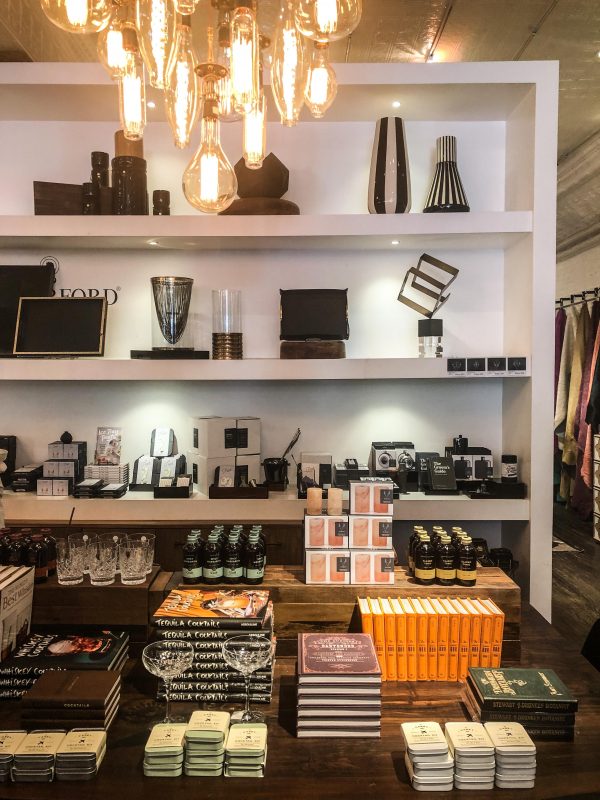 Emma + Ollie is a tried and true restaurant of Fredericksburg. This pastry/brunch/lunch gathering spot believes in from-scratch only food. In addition, they also believe food should not be fussy – when you go make sure to order the fried oyster nachos, pimento cheese burger and a slice of key lime pie.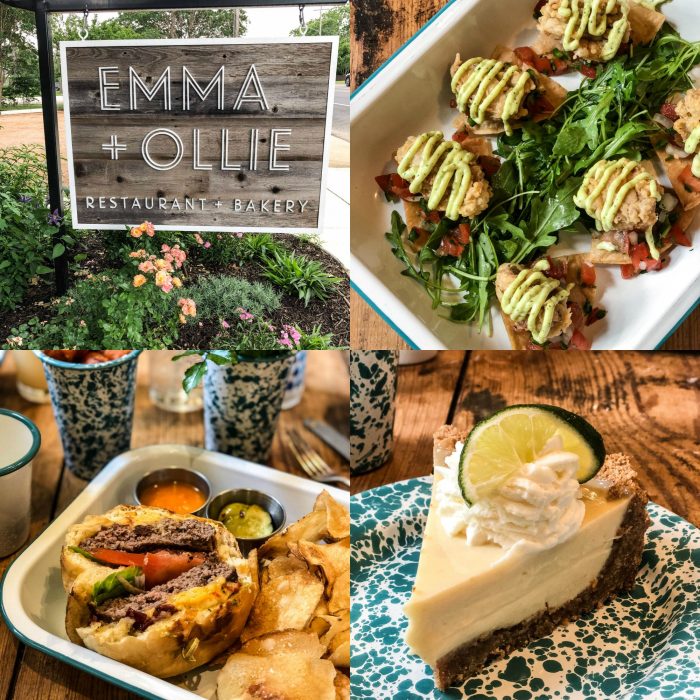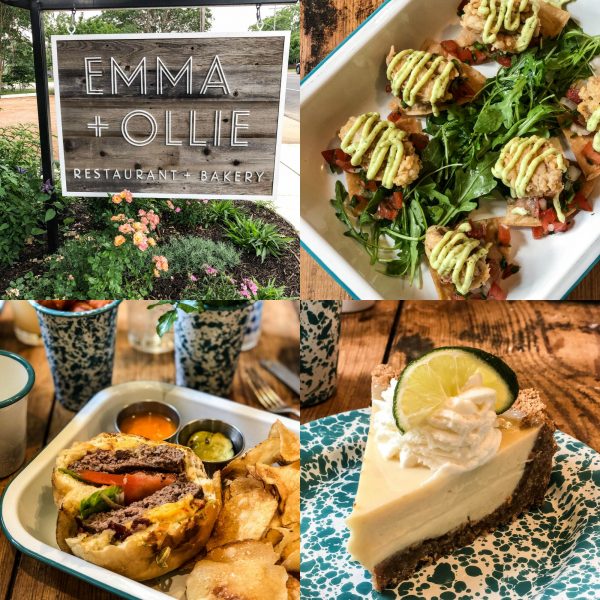 Dinner:
During my stay in Fredericksburg I had a chance to sample Otto's dinner menu off -site at the Hoffman Haus. A large main hall that used to be a tobacco farm made for the perfect setting to dine for the evening. Our menu comprised of fresh local greens with goat cheese, a Bison schnitzel with ancho chili sauce, and a refreshing homemade strawberry galette. If you are looking to dine at Otto's, it's right across the street from the Pacific War Museum and is definitely worth a pop-in because (word on the street!) they have duck schnitzel on the menu.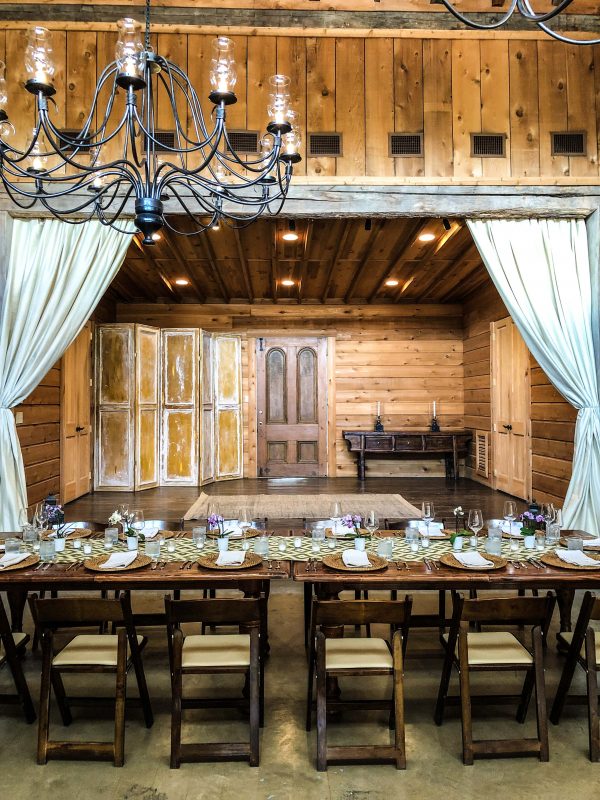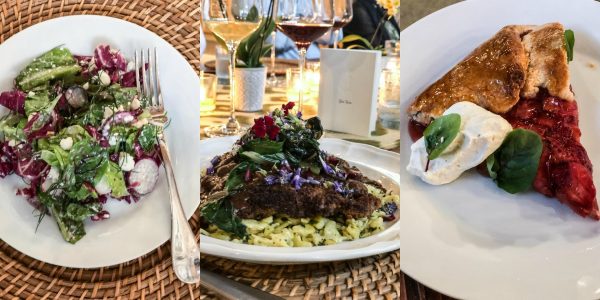 Cabernet Grill is the hallmark for Hill Country Cuisine. With a menu that boasts an extraordinary wine selection, it's no wonder this restaurant was included as one of the top 100 restaurants for wine in 2018 by Wine Thrillist. We had chance to sample a smorgasbord of courses: pecan crusted crab cake, a Texas twinkie (bacon wrapped jalapeno), roasted quail and a decadent German chocolate pudding.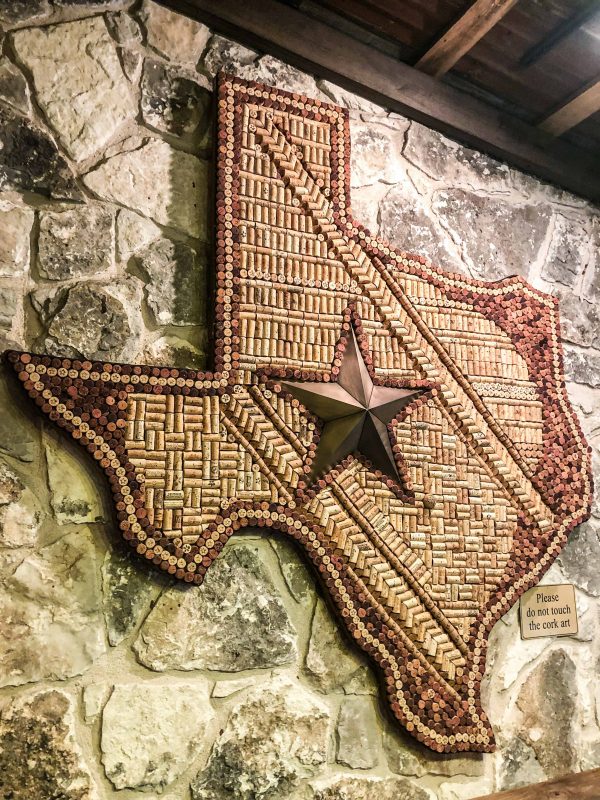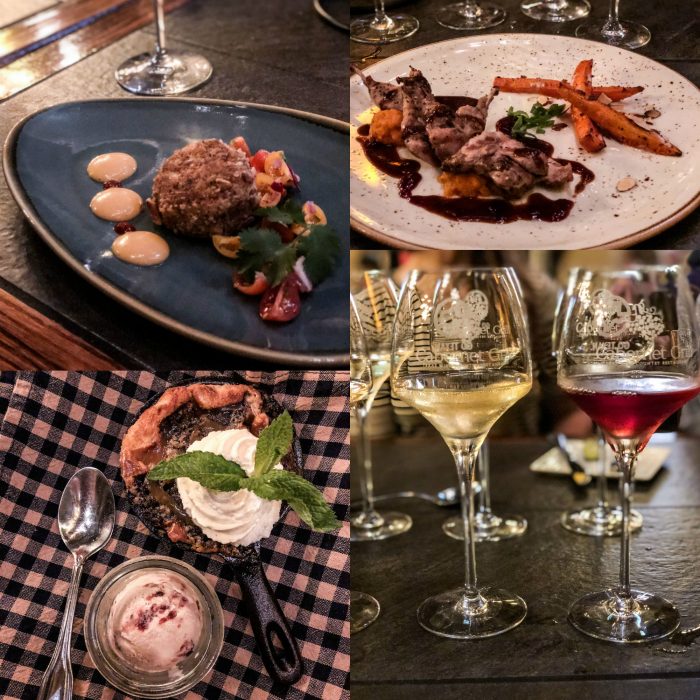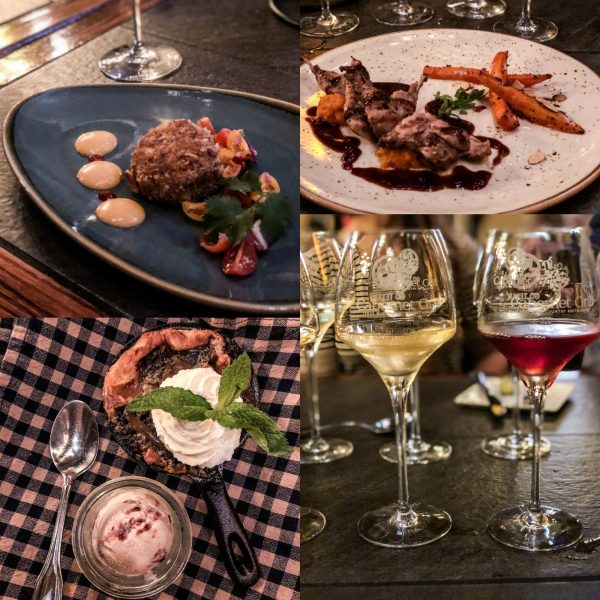 Altstadt Brewery is home to a grand adventure while consuming German Beer. This castle -like brewery opened in 2018 and is growing in popularity. All the ingredients used to make the beer are sourced from Germany. Even the water has been sourced to hold just right amount of minerals as the Fatherland. To accompany your tasty beverage you must step over to the restaurant to try a Bavarian pretzel with mustard, house sausages and sauerkraut, and the chicken schnitzel. Also, watching the sunset from the back patio isn't too shabby.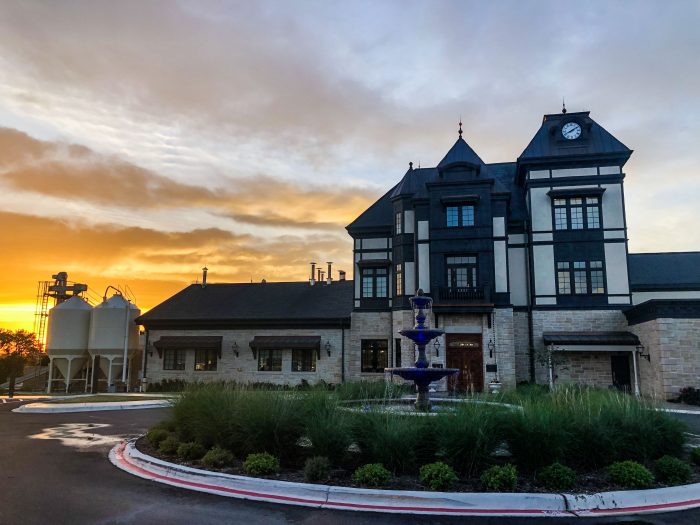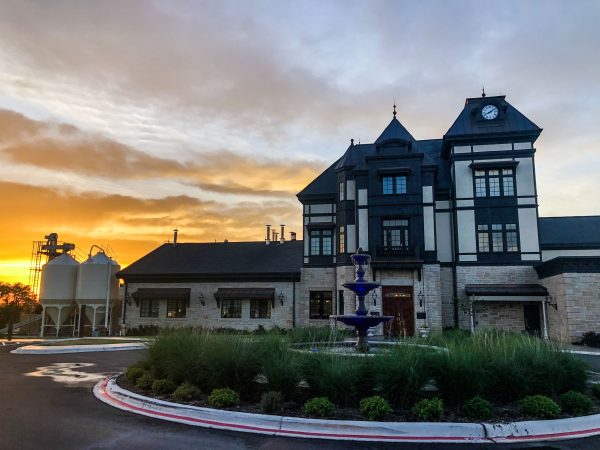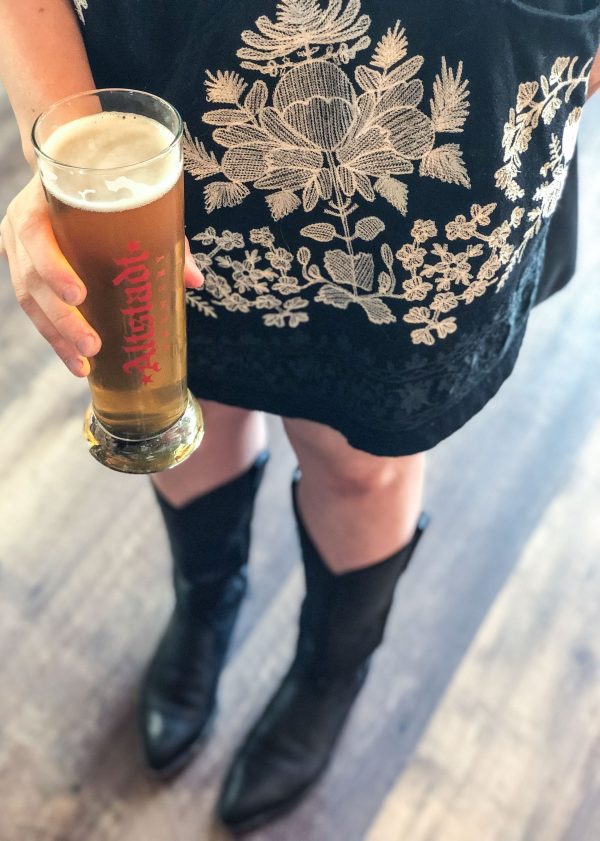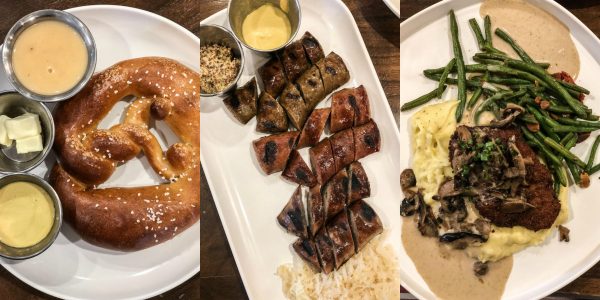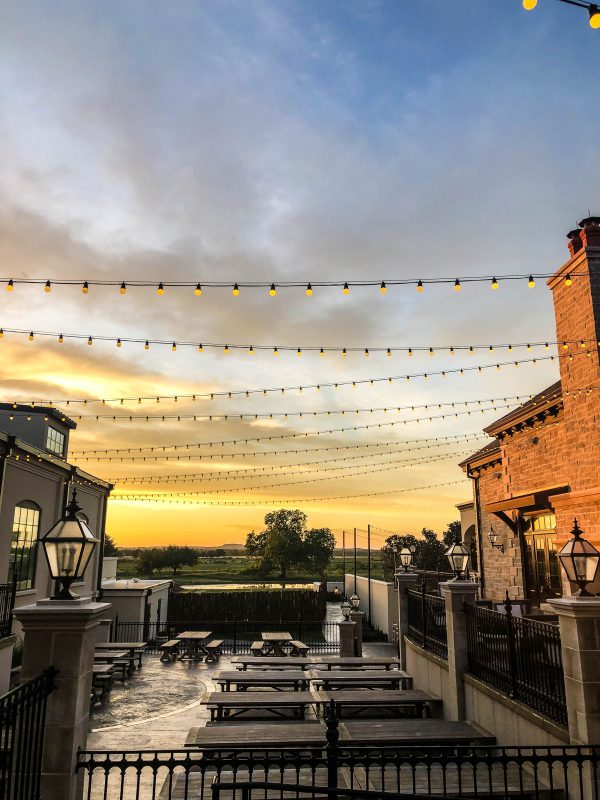 WHAT TO VISIT:
Wineries:
Pontotoc Vineyard is located just outside of Fredericksburg. This family owned vineyard is bursting with charm. The tasting room, however, where we were introduced to Pontotoc wine, is located right in the heart of downtown Fredericksburg. Nestled behind old, limestone walls is the establishment built in 1846, is still standing and complete with a cellar for optimal wine and cheese storing. Make sure to sample their temperanillo wines because they were the first in the state to plant these kinds of grapes. Also, don't pass up on the picnic spread that includes the BEST pimento cheese I've ever tasted.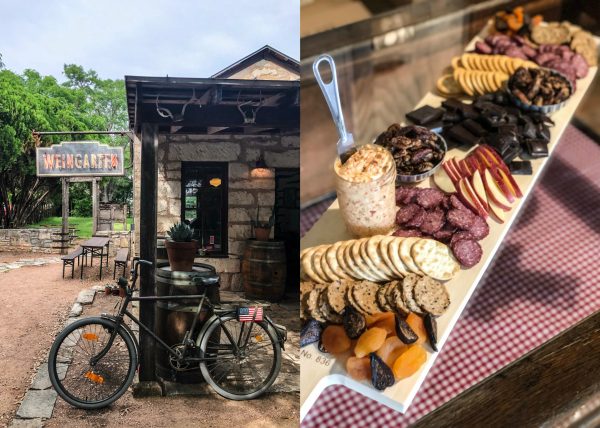 Grape Creek Vineyards is a Tuscany oasis. Okay, it may not be located in the rolling hills of Italy but this vineyard is jaw-dropping beautiful. With endless rows of different varietals of grapes it's hard to choose a favorite. A worthy note, Heath Sparkling Wines will be opening this summer. Stop by for a closer look at this modern, gorgeous facility that will take your tasting to a whole new level.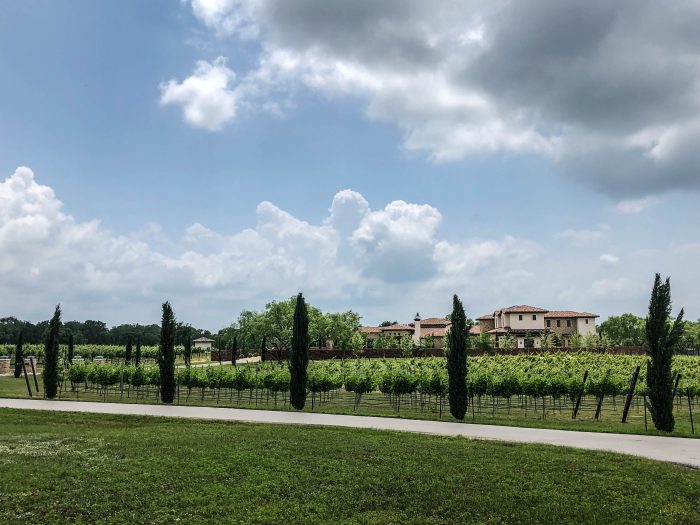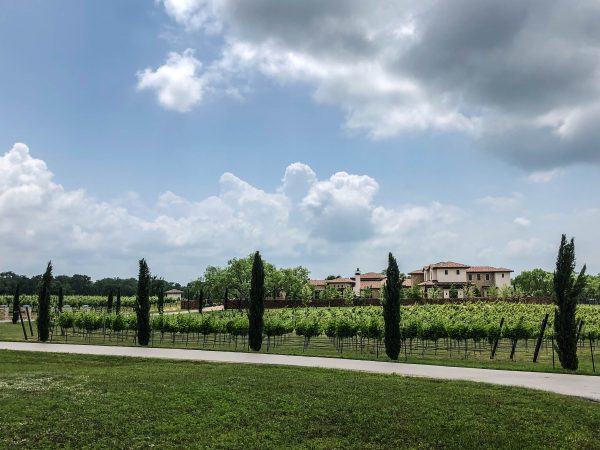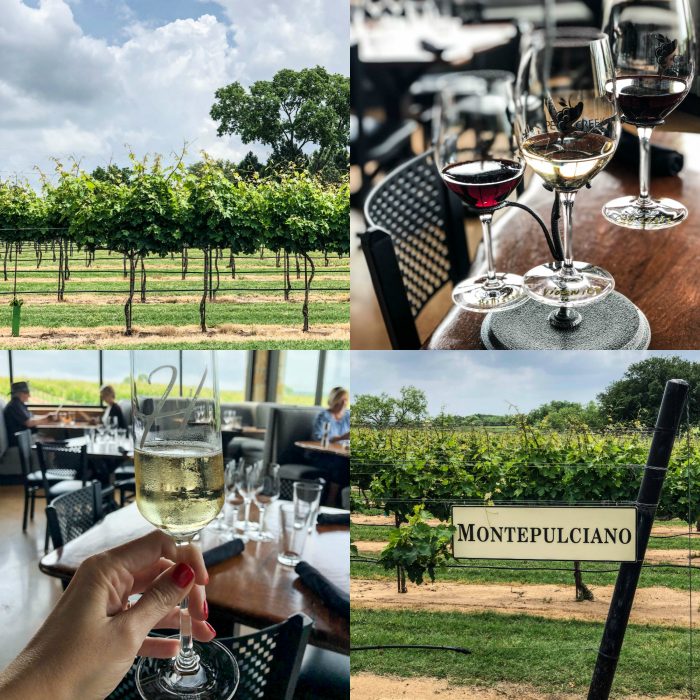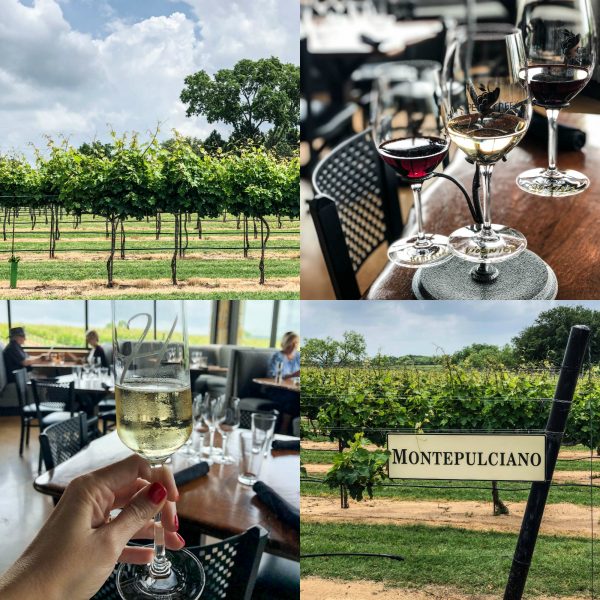 Messina Hof is a family-owned business that brings together Italian and German influence. With over 40 years of wine-making history, Messina Hof was the first Texas wine to score a 90 in the Wine Spectator!
Peach Orchards:
Jenschke Orchards is the last of the pick your own fruit locations. Hitch a ride on the tractor and find your way down rows and rows of peach trees. Pick a few, and on the way back stop to grab yourself some fresh strawberries too.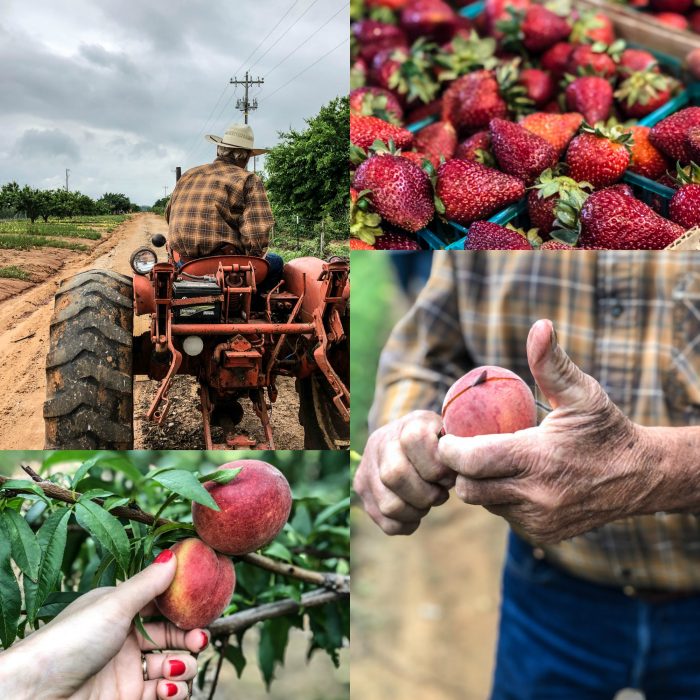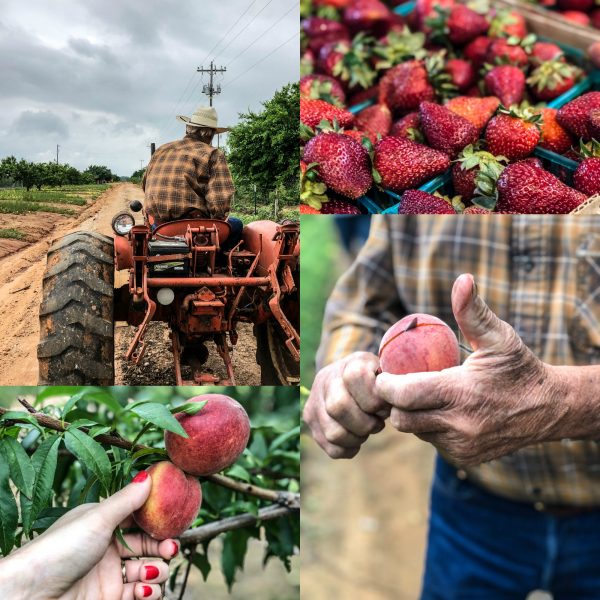 Vogel Orchard is fifth generation family owned peach farm. Located just outside Fredericksburg, this farm is stand pick-up only, which means you find them in the grocery store. You can find peaches from the Vogel stand from late June to early August. But definitely stay for a slice of their delicious peach cobbler.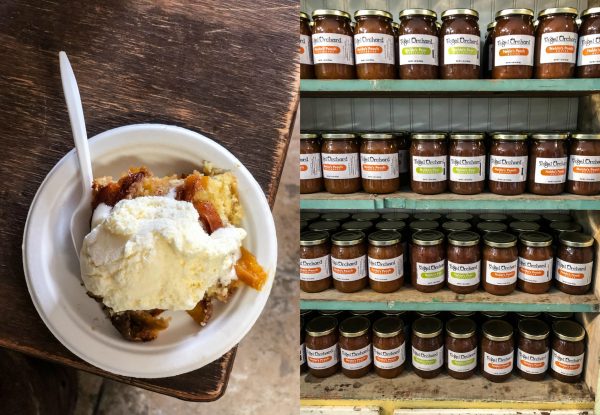 Burg's Corner is a family owned business that generates Texas Hill Country peaches and peach products. You can purchase peaches by the basket, bag or bushel. Harvested daily, this Hill Country harvest has many different varietals of peaches. Most common are the Freestone peaches that make for a sweet treat with over ice cream.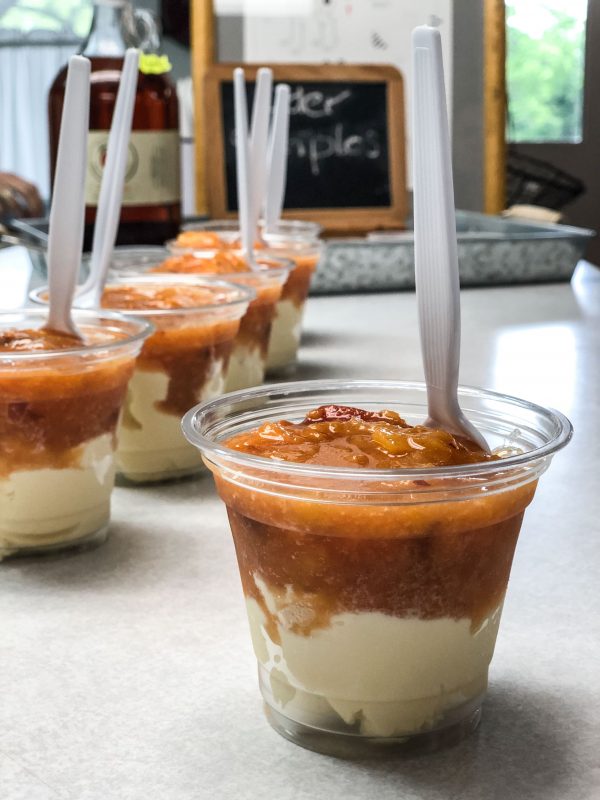 Other Viewings Around Town:
Wildseed Farms is a must visit destination especially when the wildflowers are in bloom. With over 200 acres of wildflowers, it's actually the largest working wildflower farm in the US. Make sure to stroll through the nursery, but don't miss the fields of poppies in the back!
Luckenbach, Texas is just 10 miles southeast of Fredericksburg. This make shift town was built in 1877 and was made famous by Waylon Jennings and Willie Nelson. Comprised of a post office, a few bars and a dance hall, this world famous gathering spot is a hit all year round. Grab your cowboy boots and hit the dance floor.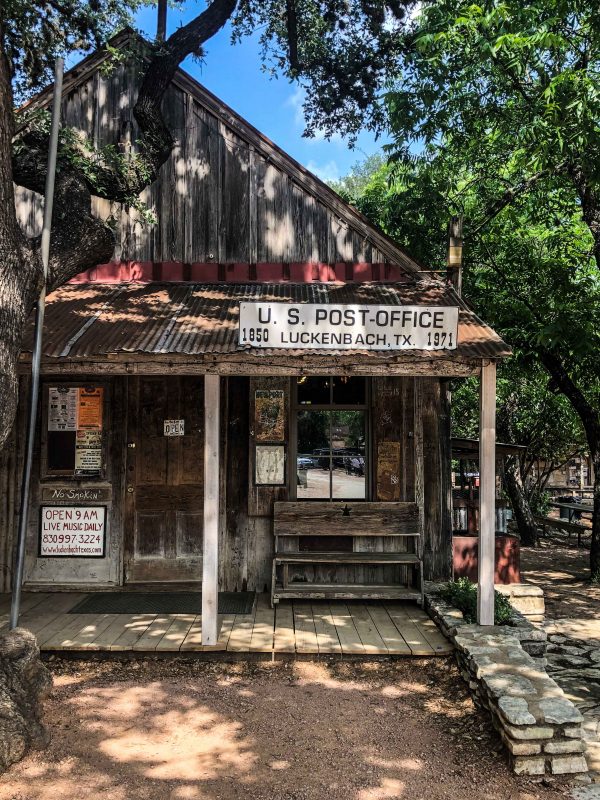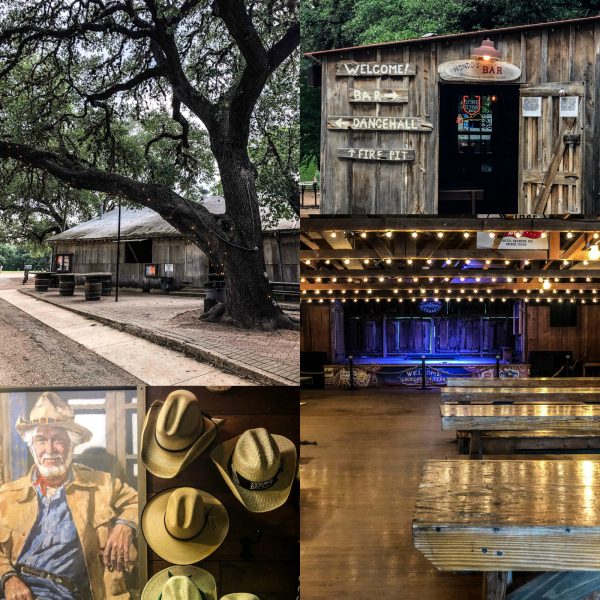 Quintessentials Chocolates is the first creator of European-style, liquid-centered chocolate in the U.S. Made possible by Lecia Duke, this chocolate shop boasts wine and spirit filled chocolates. Try the cabernet sauvignon or the tequila rose chocolate! They also have non-alcoholic ones too!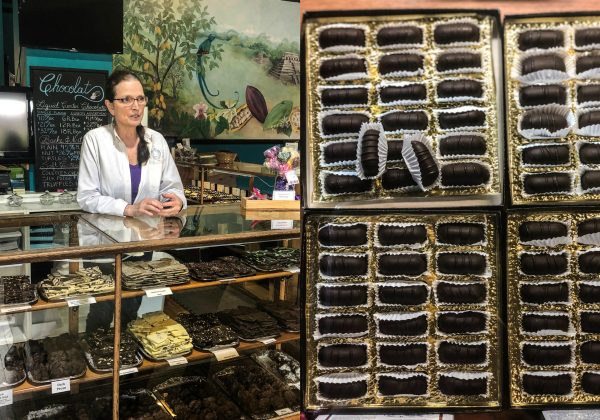 Fredericksburg Pie Company is like stepping into your grandmother's kitchen. Located just off the main street of downtown Fredericksburg, this husband and wife team makes over a dozen pies daily. Always selling out some of my favorites were the German Chocolate and Blackberry-Peach Pie!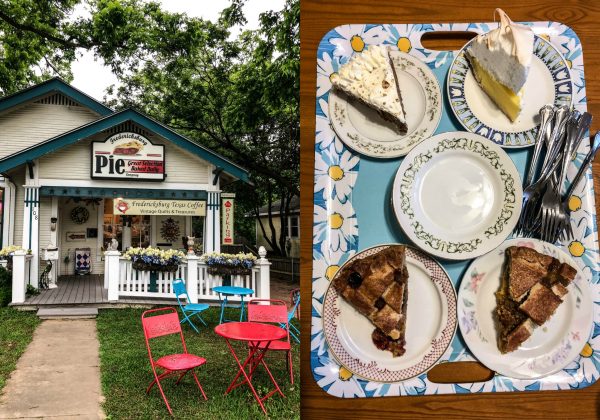 Fischer & Wieser is a family-owned business that has been around since 1913. The original store still stands and now is home to over 175 products including a cooking school. You may have recognized their most famous product – Chipotle Raspberry on your grocery shelves!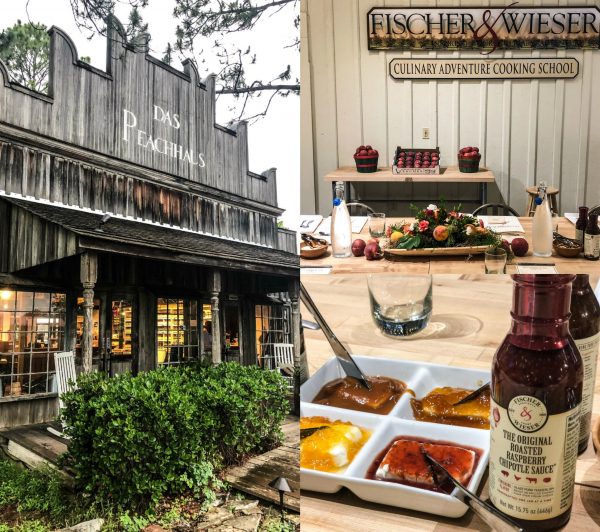 Shopping Downtown Fredericksburg is a wonderful experience, named by Jetsetter.com as one of "America's Most Beautiful Main Streets" in September 2017. Downtown boasts over 150 specialty shops, from antiques, to clothing, to a sea of cowboy boots. You won't go home empty handed.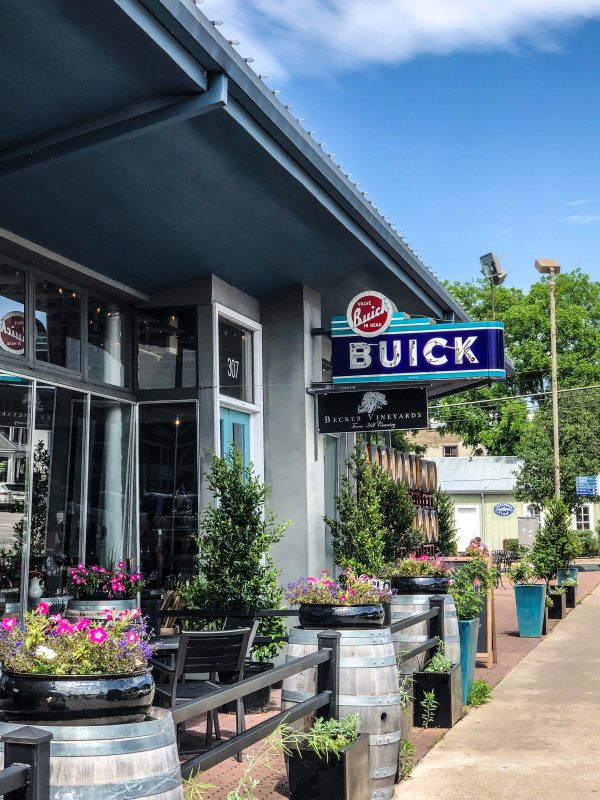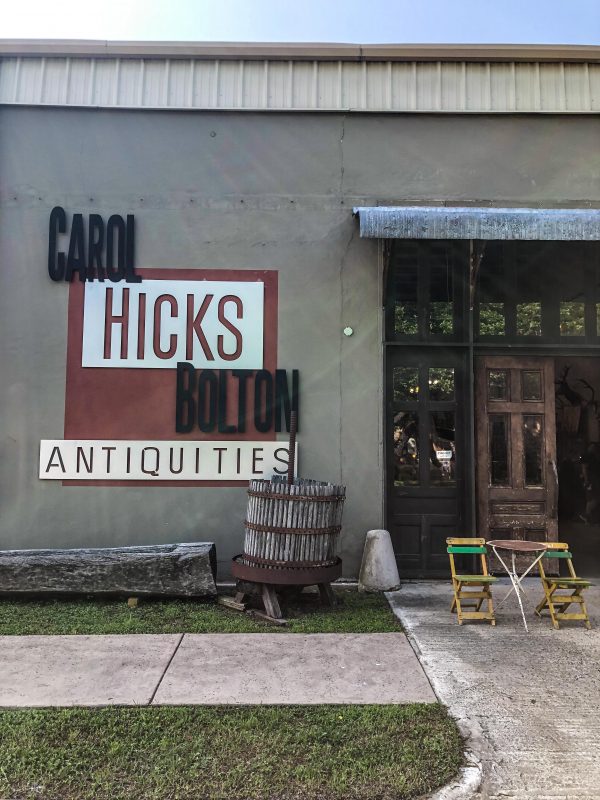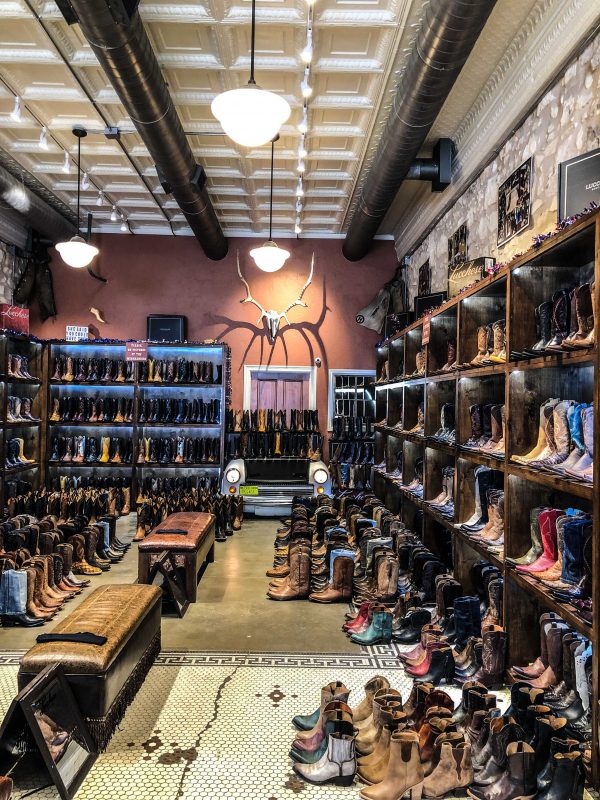 And that's a wrap on my time in Fredericksburg, Texas! A big thanks to the CVB of Fredericksburg for making our stay so warm and inviting. Thanks also to Geiger and Associates for making our journey as stress-free as possible. And, especially thanks to all the business owners, farmers, and ranchers of Fredericksburg who made us want to come back for seconds! Until next time!