Frozen Apple Cinnamon Yogurt Cups
**Disclosure: This post is written in partnership with Stonyfield. As always all my opinions are 100% my own!***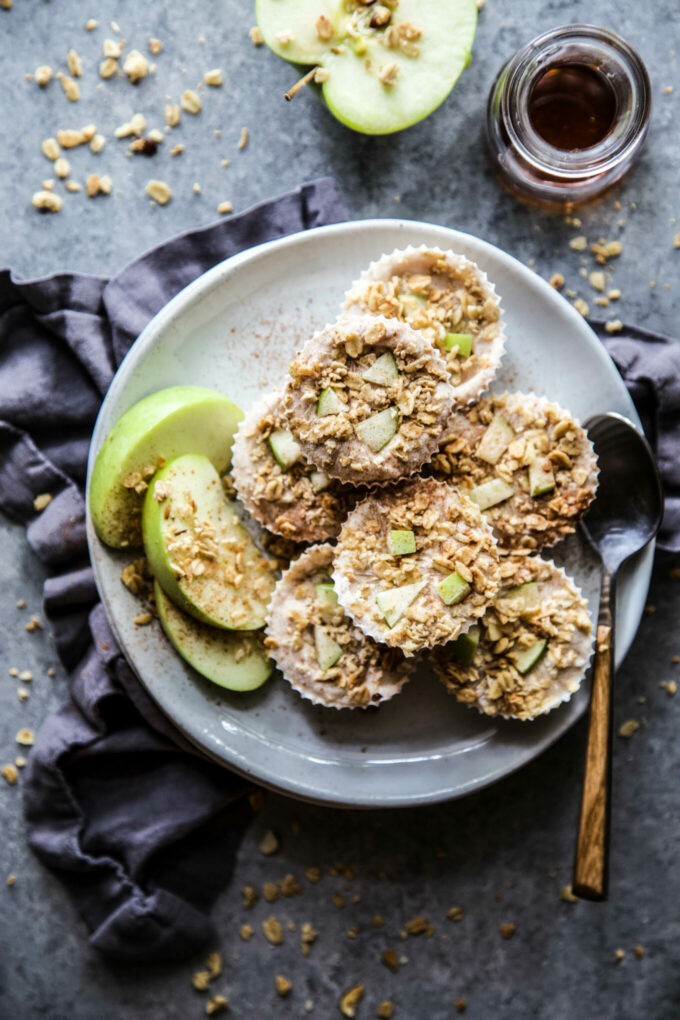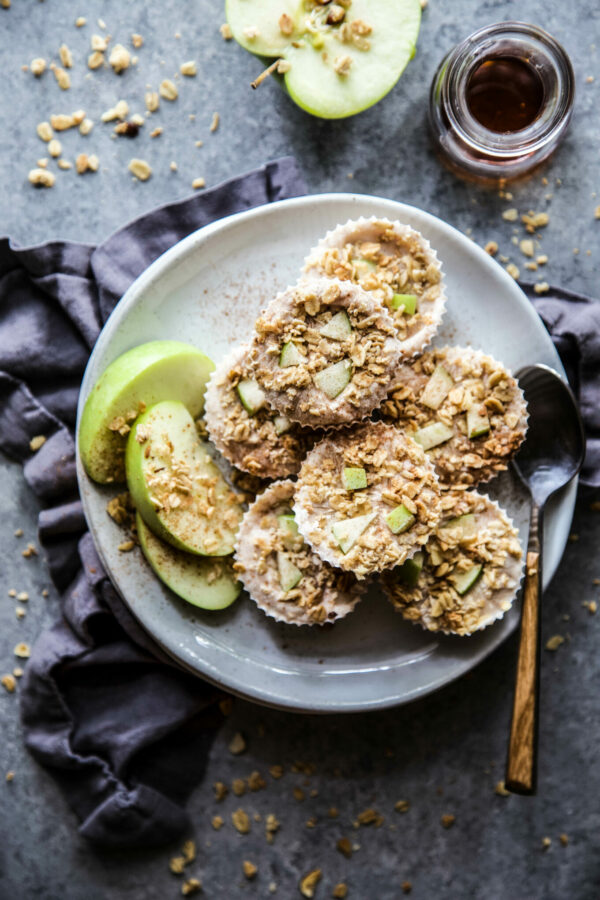 Raise your hand if you like Greek yogurt?
**Raises both hands!**
In our household, we consume a lot of Greek yogurt. Now that Charlie is eating three square meals a day, I'd say we go through a couple tubs a week.
Between our smoothies in the morning, making muffins, and Charlie taking a big spoonful at lunch, we're pretty much eating it 24/7.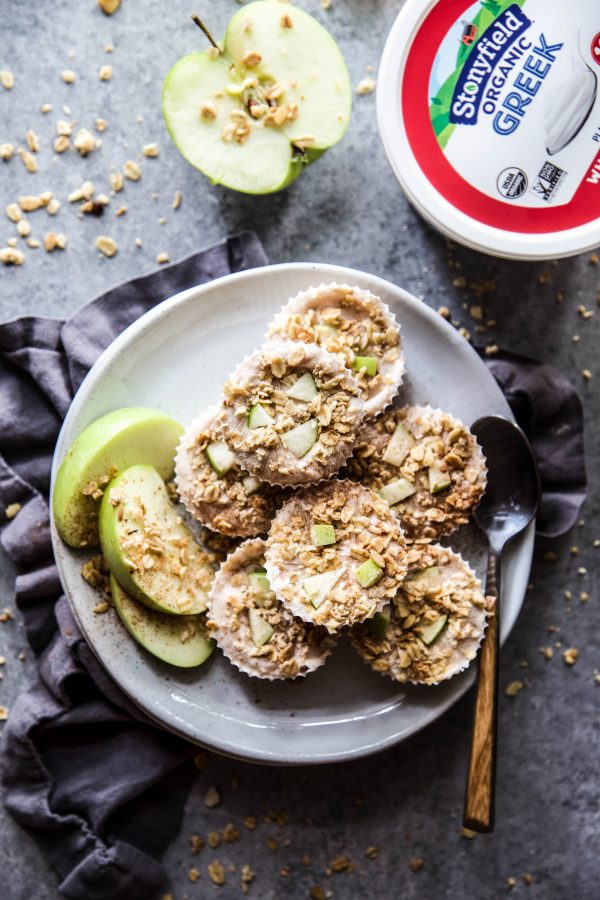 Now, when I say we're eating Greek yogurt 24/7 there is only one brand I trust to provide the best and that's Stonyfield. We have been huge fans of Stonyfield for a very long time. Not only is their product amazing, but from soup to nuts in terms of organic farming they reign supreme.
As Charlie grows up I think it's so important for her to understand where her food comes from. Farming is hard work. Which is why I love that at Stonyfield you can Have a Cow. Okay, not an actual cow of your own, but you can go to the Stonyfield website, meet a cow, and follow their journey on the farm. How cool is that? Especially for kids to check-in see how the cow is fed and raised on an organic farm. I find that so empowering and educational.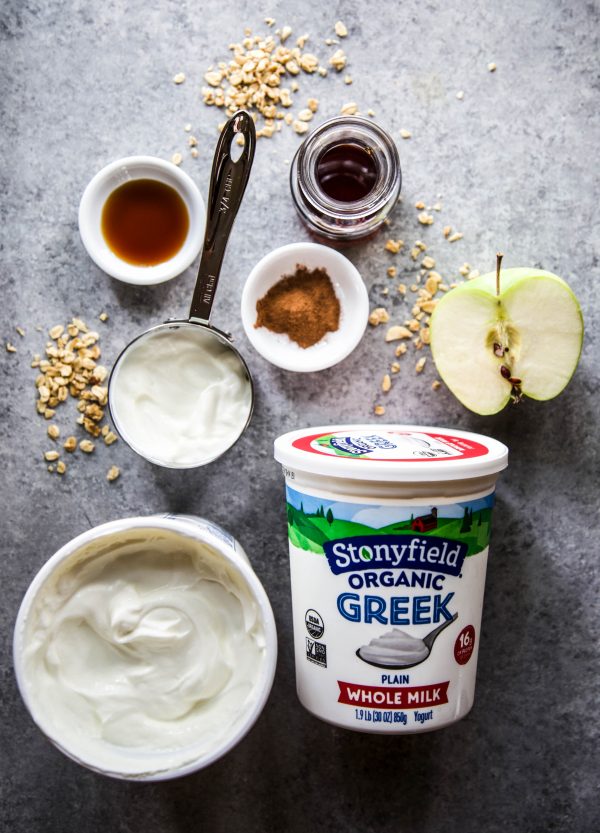 And speaking of educational, I know a lot of folks are entering into homeschooling or heading back to the classroom. This time of year can be tricky because we start seeing ads for PSL, but it's still 100 degrees outside. Today's recipe I wanted to bridge that gap between summer and fall with something very refreshing and tasty – Frozen Apple Cinnamon Yogurt Cups.
What are Frozen Yogurt Cups?
Exactly what it says! Yogurt that has been frozen in muffin sized cups. These Frozen Apple Cinnamon Yogurt Cups are super simple to make and are great for meal prep too. You can mix whatever flavors you have in the cupboard or fridge.
For today's recipe I mixed together Stonyfield's Whole Milk Greek Yogurt with maple syrup, cinnamon, and vanilla extract. Tastes just like an apple pie! Once you've got your mixture together, scoop the mixture into a lined muffin pan, top with granola + chopped apples, and freeze for a few hours.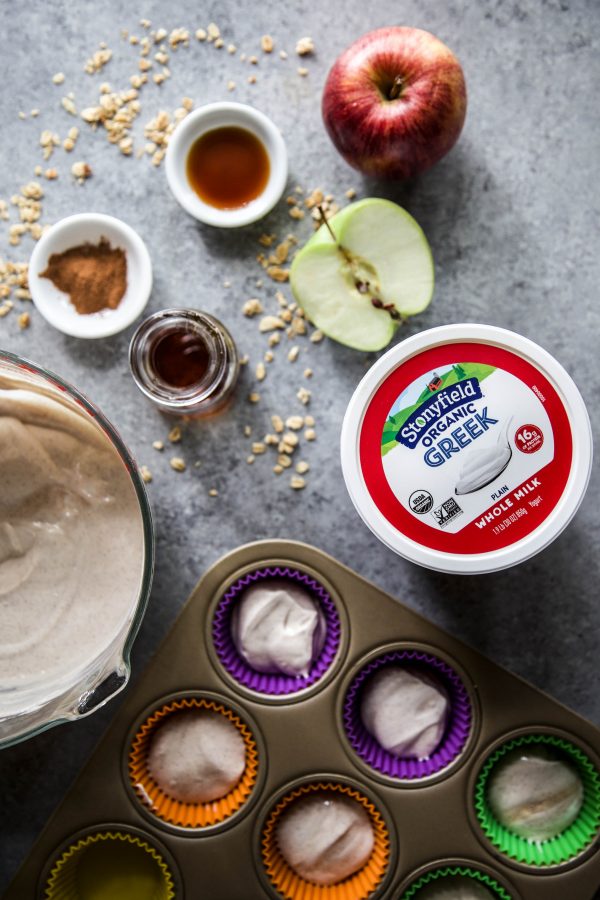 Tip to Making Frozen Yogurt Cups:
Use silicone baking cups instead of paper. Not a must, but I would highly recommend using them because it's easier to peel off the silicone versus the paper! Plus, they are reusable!
Can I Substitute Flavors?
You bet! If you want something more of summer vibe try Stonyfield's Probiotic Vanilla Whole Yogurt with peaches and basil! The combination is outstanding! Or blueberry and lemon would be delightful as well!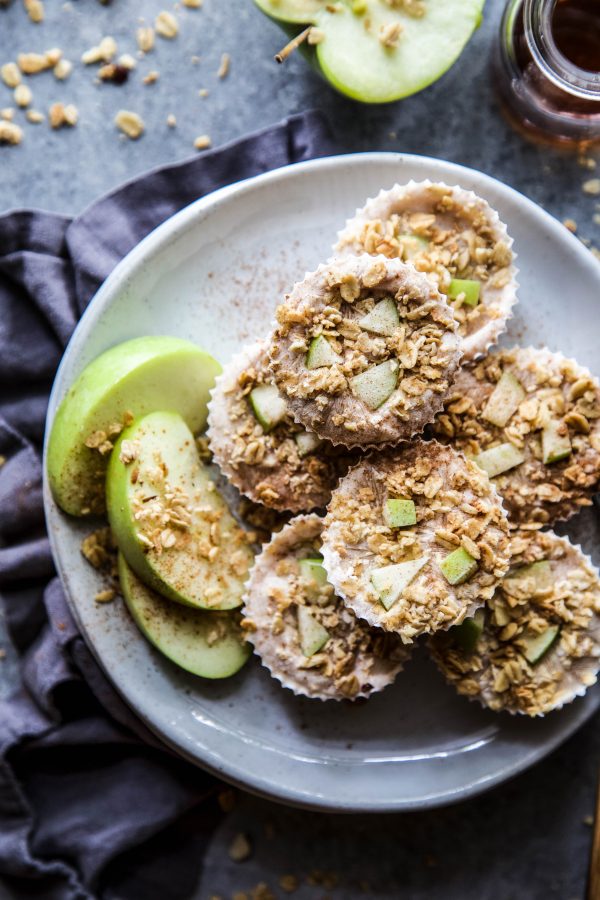 If you are looking for more ways to incorporate Stonyfield in your life make sure to check out their website for more recipe and farming inspiration!
More Healthy Breakfast or Snack Treats: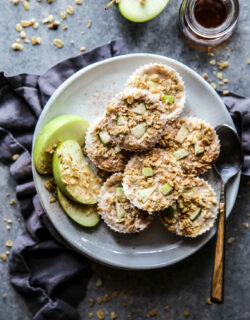 Frozen Apple Cinnamon Yogurt Cups
Ingredients:
1 tbsp ground cinnamon
2/3 cup organic maple syrup
2 tsp vanilla extract
Granola, for garnish
Chopped apple, for garnish
Directions:
In a large mixing bowl combine the Greek yogurt, cinnamon, maple syrup, and vanilla extract. Line a muffin pan with silicone cupcake liners.
Using an ice cream scooper, scoop the Greek yogurt mixture into each muffin liner. Use the back of the spoon to make sure you have a flat smooth top. Garnish the tops with granola and chopped apples. Freeze for at least 2 hours before serving!
All images and text ©