Easy Guacamole Toast with Thai Roasted Tomatoes
Easy Guacamole Toast with Thai Roasted Tomatoes is a simple and healthy breakfast or snack that is full of flavor! Garden veggie guacamole topped with Thai roasted tomatoes and burrata makes this toast a go-to in the morning!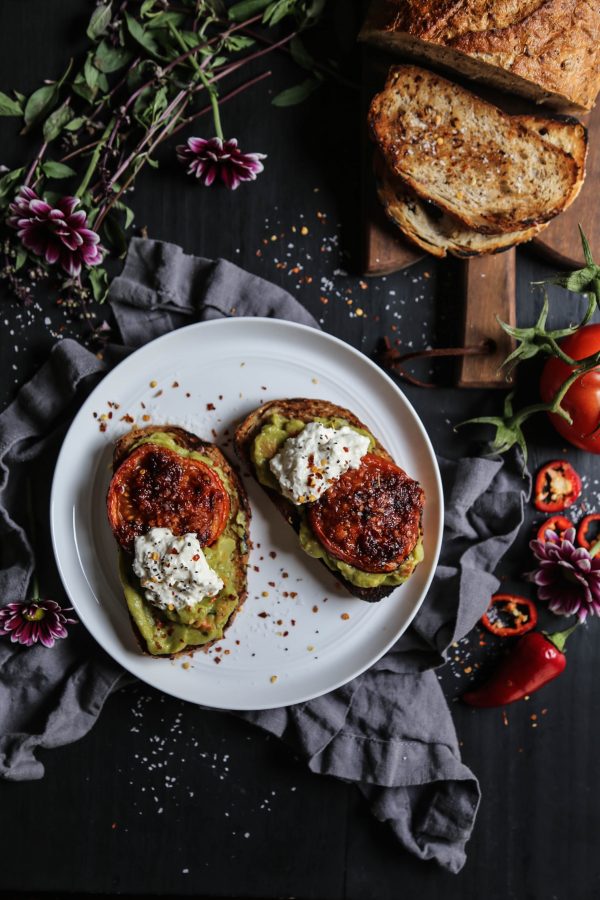 I have a theory.
Do you remember back in the mid 90's when everyone was bonkers over bagels with cream cheese? I'm talking lines out the door to get your mitts on an Einstein Brothers 'everything' bagel topped with onion and chive shmear. Fun factoid: their headquarters is actually in Colorado. People could not get enough of these doughnut looking, carbalious treats.
Unfortunately, the bagel craze didn't last very long because Sir Atkins shortly came out with the whole – if you eat carbs you will die campaign. So, the bagel business soon exited stage left and what we were left with was Atkins shakes and granola bars. It was a dark period in the breakfast food industry.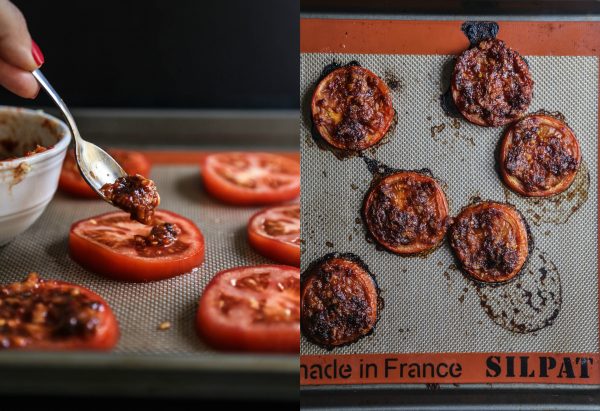 Thankfully the whole food revolution took place and folks realized that we should probably not have such a knee-jerk reaction when it comes to adding and subtracting things to our diets. Which is why my theory of avocado toast is a modern, allbeit, better version of bagel with cream cheese. Am I right? Same carb vehicle with different shmears.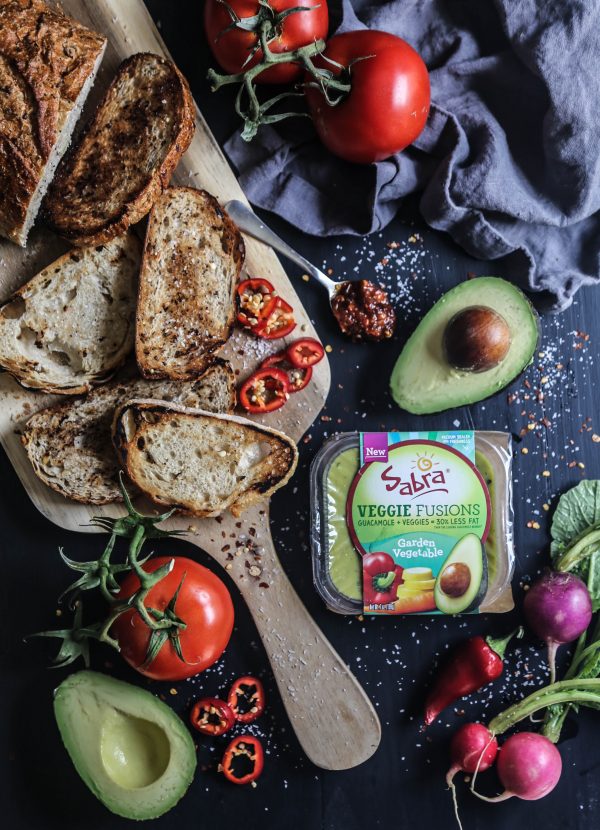 And can I state for the record how flipping excited I am that carbs are back. Seriously, WTF was Atikins thinking? Anyways, I am glad we have progressed because I am all over veggie toasts in the morning particularly when you can add guacamole as a shmear. BUT! Not just any ol' guacamole, Sabra is at it again with a new line of Guacamole Veggie Fusions. OH YES. These fusions are made with Hass avocados mixed with real crisp vegetables rich in antioxidants, vitamins, and fiber. The fusions come in three flavors – Garden Vegetable, Mango Lime and South Western.
For my guacamole toast inspiration, I smeared some of the garden vegetable on top of a multi-grain slice of toast and topped that with some roasted thai tomatoes and burrata. DEW WHAT? This Easy Guacamole Toast with Thai Roasted Tomatoes will make your morning. Simple, healthy, delicious, and making Sir Atikin's jelly at the moment.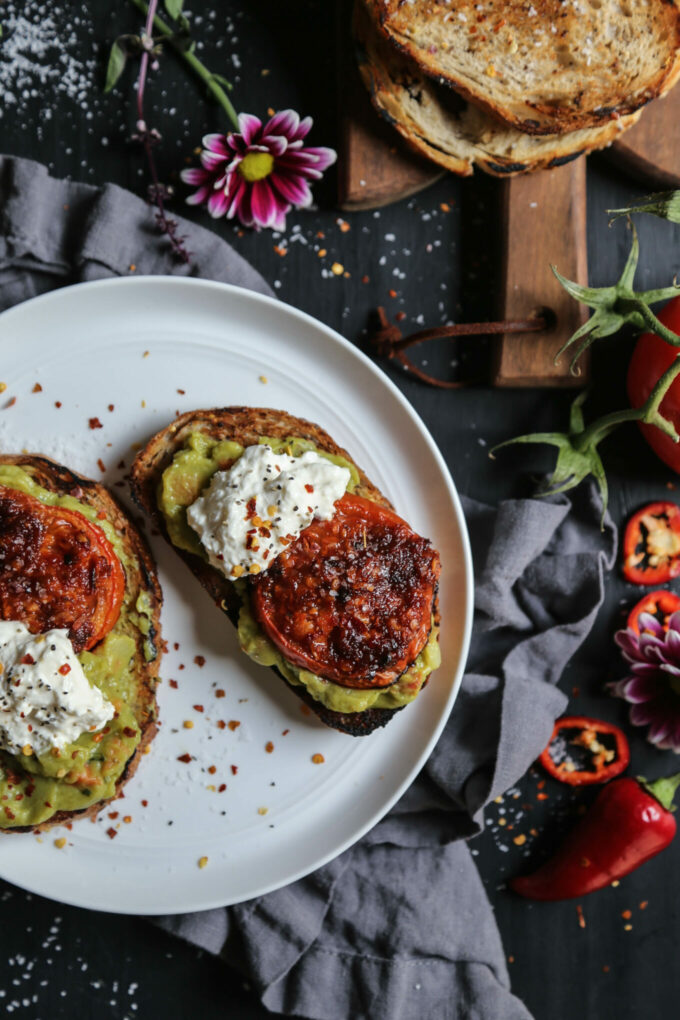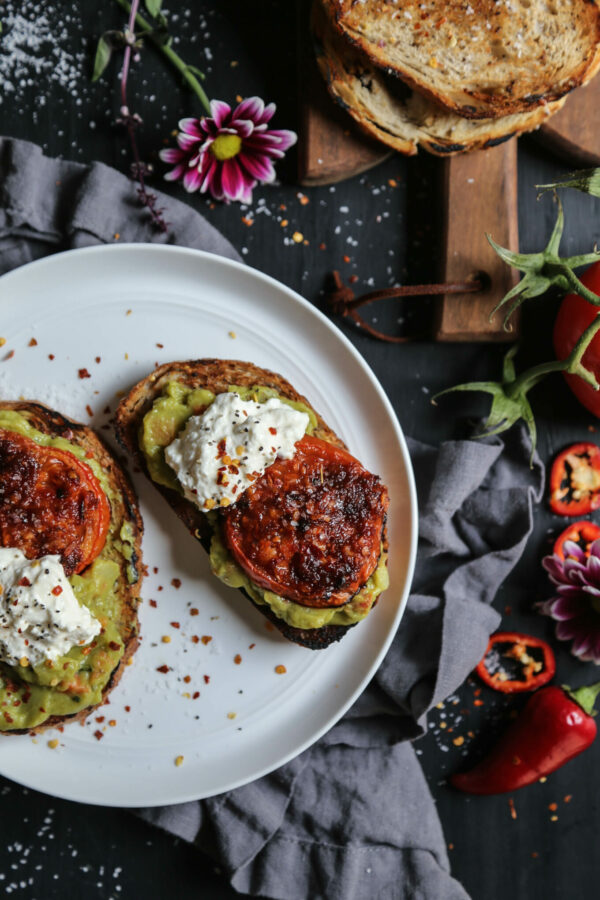 ***This post was sponsored by Sabra. As always all opinions expressed are 100% my own.***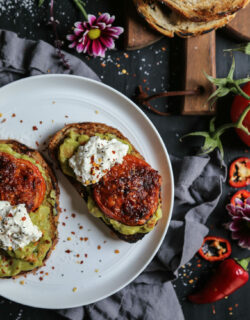 Easy Guacamole Toast with Thai Roasted Tomatoes
Ingredients:
for the thai tomatoes:
16 tomato slices
2 tablespoons red curry paste
2 tablespoons chili garlic sauce
2 tablespoons fresh ginger, grated
2 garlic cloves, grated
for the toast:
1/2 cup burrata
1/4 cup fresh basil
red pepper flakes, garnish
8 slices multi-grain bread
salt and pepper to taste
Directions:
for the tomatoes:
Preheat oven to 400 degrees. Spray two baking sheets with non-stick cooking spray. Dived tomato slices between the two baking sheets (should fit 8 slices to a sheet). In a bowl, combine curry paste, garlic sauce, fresh ginger, and garlic cloves. Brush some of the Thai mixture on top of each tomato slice. Place the baking sheets into the oven and roast tomatoes for about 30 minutes. Once roasted, remove and let the tomatoes cool slightly.
To make the toast: Take a slice of bread and toast it in a toaster. Spread a tablespoon of the guacamole on top followed by two slices of tomato, 1 tablespoon burrata, fresh basil, and red pepper flakes. Repeat process until all toasts have been covered. Enjoy!
All images and text ©