Grilled Citrus Lamb Skewers
Grilled Citrus Lamb Skewers are a refreshing and delicious meal made with American Lamb right on the grill!
***This post is sponsored by American Lamb Board. As always all opinions expressed are 100% my own.***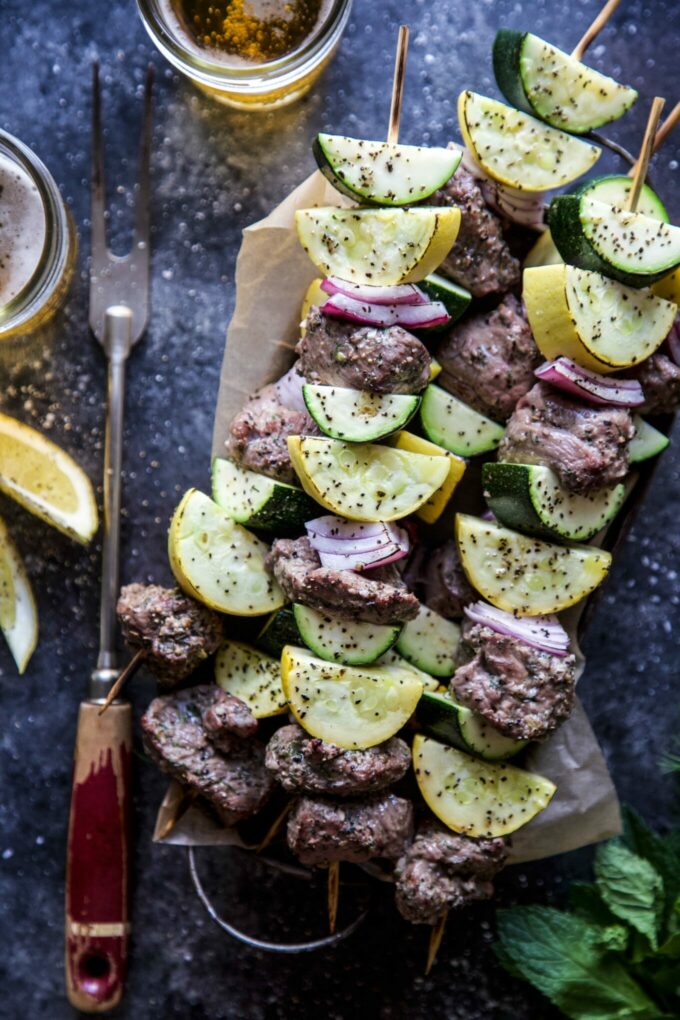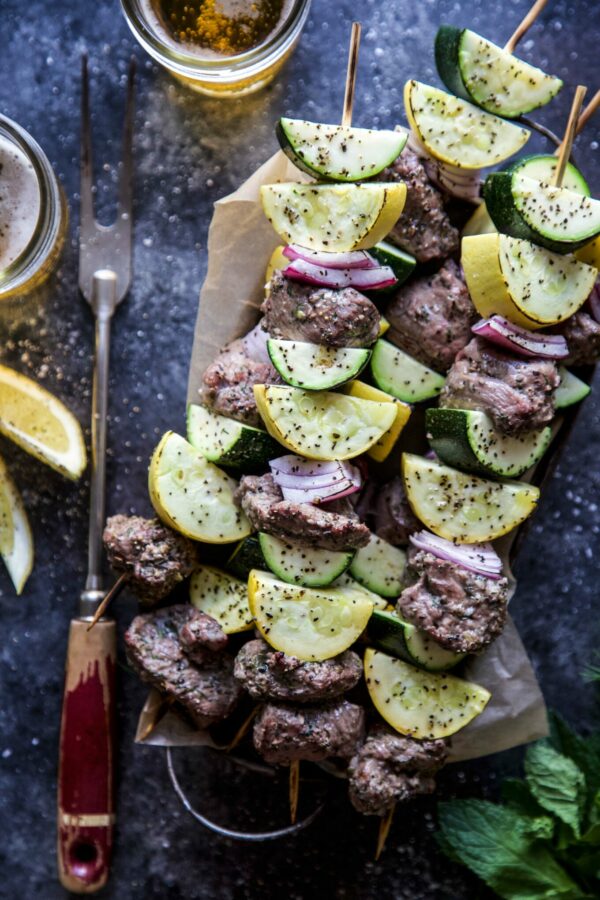 Hello July!
Fancy meeting you here.
It finally feels like summer around the Mile High City and with the Fourth of July five minutes away, I've been spending every minute outside.
Speaking of the Fourth of July, what are your plans? Staying home? Watching the fireworks with friends and family? Eating copious amounts of ice cream? Well, whatever your plans are to celebrate America's birthday, I hope it includes firing up the grill.
Today I've got a few recipes that will not only rock your taste buds, but will make any impromptu summer gathering feel like a breeze. To start, this Persian Spiced Ground Lamb with Mint Couscous is bursting with flavor. I always have American ground lamb within arms reach because not only is it very versatile, juicy, but also gives the recipe a little somethin', somethin'.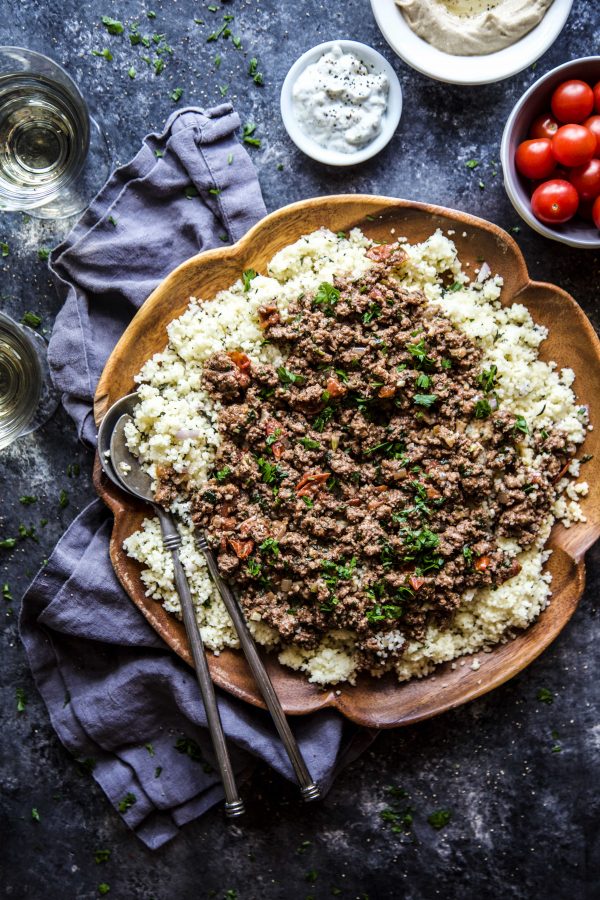 You can easily make this Persian Spiced Ground Lamb with Mint Couscous ahead of time and reheat when guests arrive. But whatever you do don't forget to serve these Grilled Citrus Lamb Skewers. A simple marinade of citrus and herbs is all you need to make the boneless leg of lamb cubes shine.
Boneless leg of lamb is a fantastic cut of meat that can be slow roasted whole or sliced into cubes for easy grilling like these skewers. If you can't find it in the meat section, ask the butcher to cut you some for you. I promise the flavor and texture will having doing the happy dance.
Now, who's ready to fire up that grill?
Also, the American Lamb Board selected 9 consumers across the country to host their own party with lamb cuts. With that, if you vote on your favorite party you'll be entered for a chance to win a $500 gift card to Lululemon, Target or REI. In addition if you enter on Instagram and tag a friend you could win a lamb summer grilling prize pack! Click HERE to enter for a chance to win! Good luck!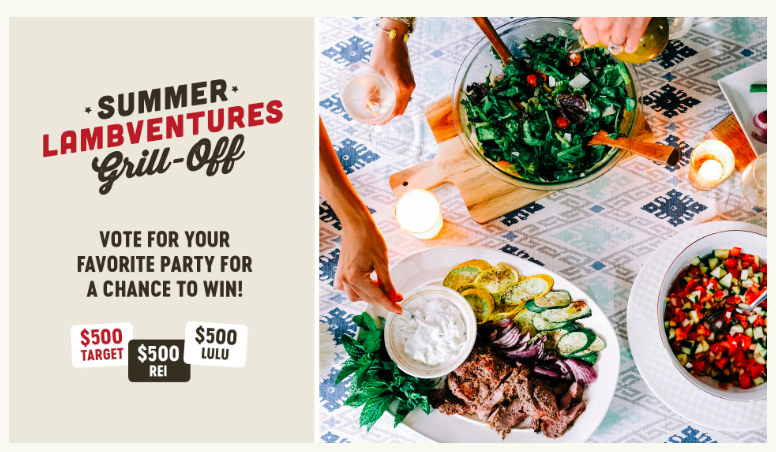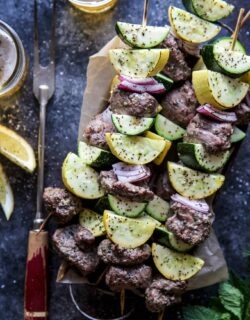 Grilled Citrus Lamb Skewers
Ingredients:
for the grilled citrus lamb skewers: 
1/4 cup olive oil
1/2 yellow onion, chopped
2 garlic cloves
4 dill sprigs
2 tbsp lemon juice
1 tsp lemon zest
1 tsp dried oregano
salt and pepper to taste
2.5 lbs boneless leg of lamb cut into 2-inch cubes
2 large zucchini, cut into 2-inch squares
2 large yellow squash, cut into 2-inch squares
2 red onions, cut into 2-inch squares
for the persian spiced ground lamb:
2 tsp ground cumin
2 tsp ground coriander
1/2 tsp ground cloves
1/2 tsp ground nutmeg
1/4 tsp ground cinnamon
1/4 tsp ground cardamom
2 tbsp olive oil
1 garlic clove, minced
1 shallot, minced
1 tbsp fresh ginger, grated
1/2 cup cherry tomatoes, halved
1 lb ground lamb
1/2 cup chicken stock
1/2 cup chopped cilantro
salt and pepper to taste
for the couscous:
2 cups boiling water
1 cup couscous
1 tbsp olive oil
1 shallot, minced
1/4 cup chopped fresh mint
salt and pepper to taste
Directions:
for the grilled citrus lamb skewers: 
In a food processor add olive oil, yellow onion, garlic, dill, lemon juice, lemon zest, oregano, salt and pepper. Pulse until pureed. Next, place the lamb cubes in a Ziploc bag and pour the marinade over the lamb. Place the lamb in the fridge to set for at least 4 hours.
Next, remove the lamb from the fridge and place on the kitchen counter for at least an hour before grilling. If using wooden skewers now would be a good time to soak them in water to keep them from burning on the grill.
Preheat an outdoor grill medium-high heat. To assemble the kabobs, fill skewers, alternating, zucchini, yellow squash, red onion and lamb until all ingredients have been used. Grill the skewers rotating lamb on all sides until cooked to desired doneness, about 7 to 8 minutes for medium-rare. Serve alongside couscous and tzatziki.
for the persian spiced ground lamb:
In a small bowl combine cumin, coriander, cloves, nutmeg, cinnamon, and cardamom. Set aside until ready to use. Preheat a large skillet to medium-high heat. Add the olive oil, garlic, shallot, ginger to the skillet and cook for about 30 seconds or until fragrant. Next, add the Persian spices and cook for another 30 seconds. Add the grape tomatoes, salt and pepper to taste. Stir to combine to make sure everything is cooking evenly. Cook the tomatoes for a few minutes until softened. Next, stir in the ground lamb and cook until no longer pink about five minutes. Add the chicken stock and continue to cook for a few more minutes until most of the liquid has evaporated. Stir in the chopped cilantro and check to see if salt and pepper is needed. Set aside until ready to serve.
Meanwhile in a large heatproof bowl, pour the boiling water over the couscous. Cover the couscous and let it stand for about 15 minutes. Using a fork fluff the couscous. Add the olive oil, shallot and mint. Toss to combine and season with salt and pepper. To serve, spread couscous onto a serving tray. Top the couscous with the ground lamb and garnish top with Greek yogurt or tzatziki.
All images and text ©