Harvest Vegetable Noodle Tart with Quinoa Crust
Harvest Vegetable Noodle Tart with Quinoa Crust is a delightful appetizer or side dish for any holiday occasion! 
Thank you Bob's Red Mill for sponsoring this post! Check out more delicious healthy recipes, snag coupons and find stores near you at BobsRedMill.com!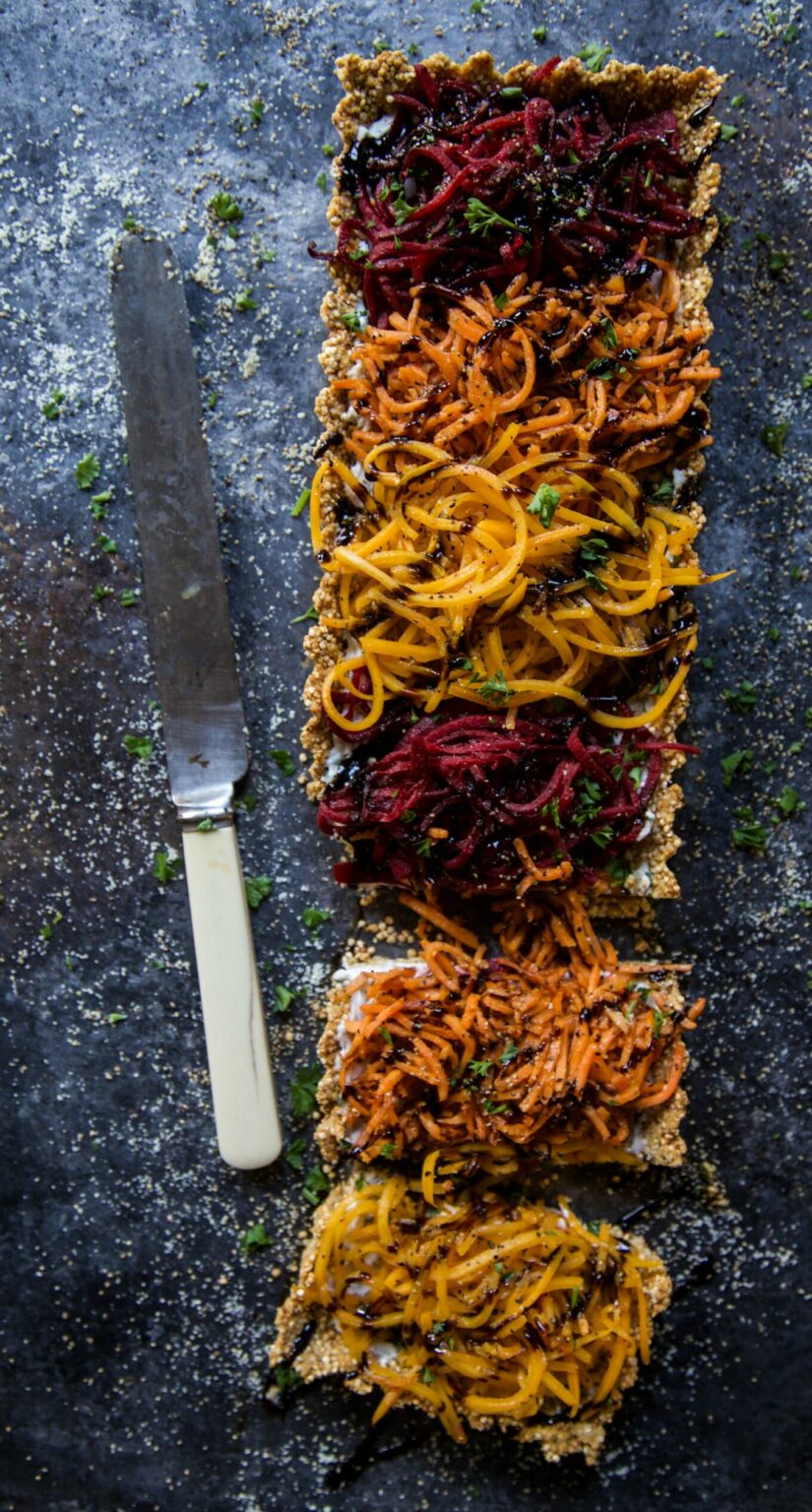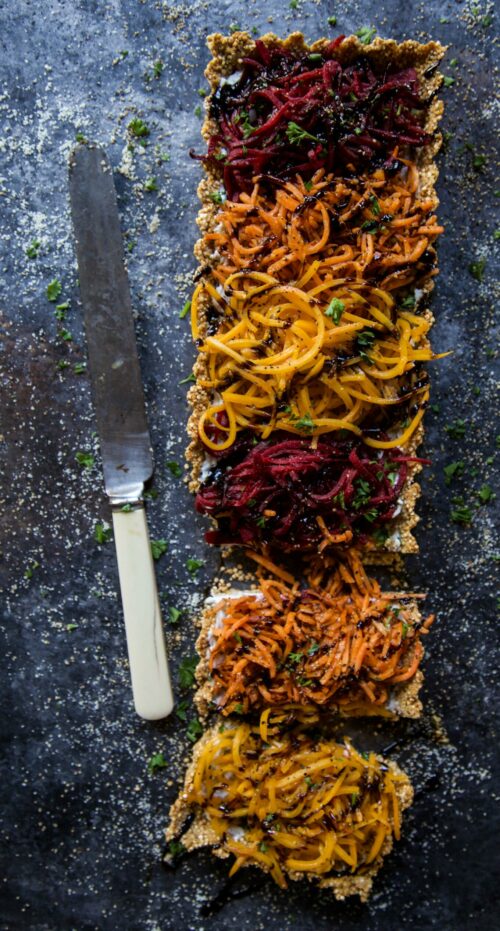 Well, we are t-minus a week away from the big turkey feast!
Are you ready?
If you would have asked me that question last year I might have answered a little differently. I hosted my first official Thanksgiving at our home with my immediate family. To say I was nervous was a complete understatement. But with a little patience, lots of basting, and a Rosie the Riveter attitude, I was able to pull off quite the spread.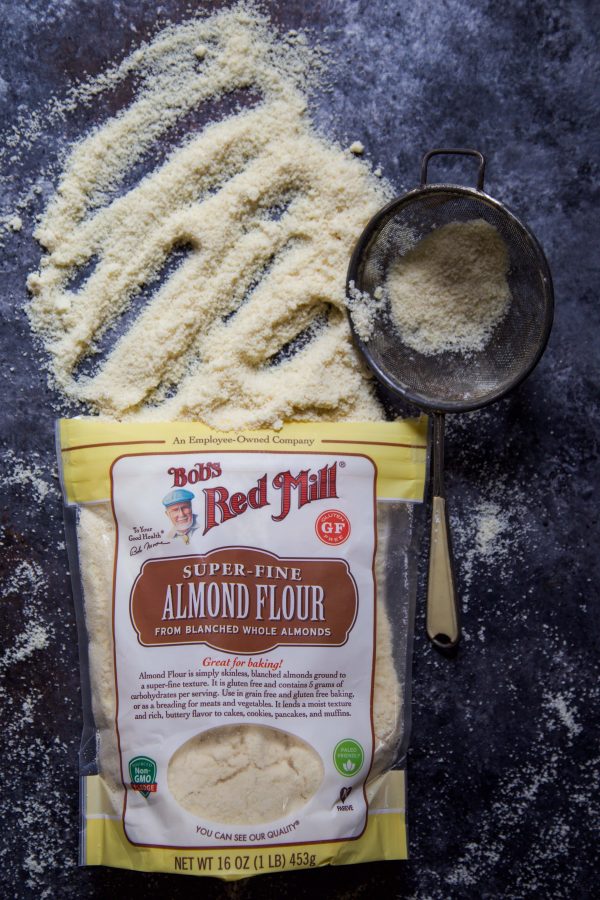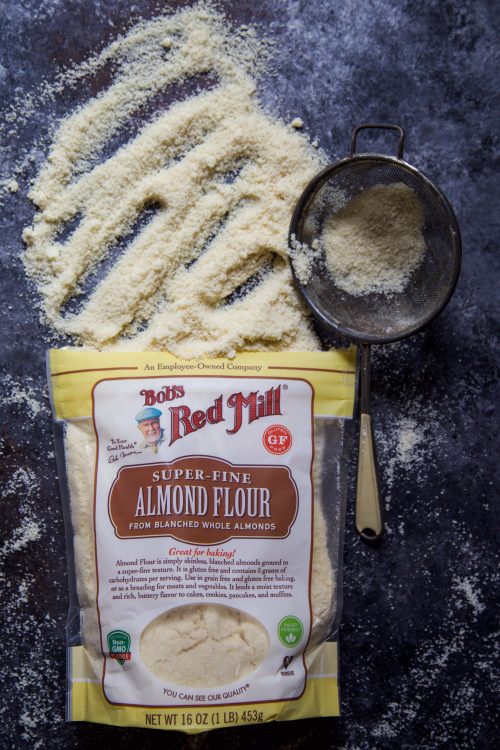 This year we are headed back to Kansas to spend time with Mr.B's side of the family. Don't worry with 18 mouths to feed everyone has a been assigned a kitchen duty. So while Mr. B works his magic on the stuffing, yours truly is bringing something new to the turkey feast. Meet your newest, tastiest appetizer or side: Harvest Vegetable Noodle Tart with Quinoa Crust.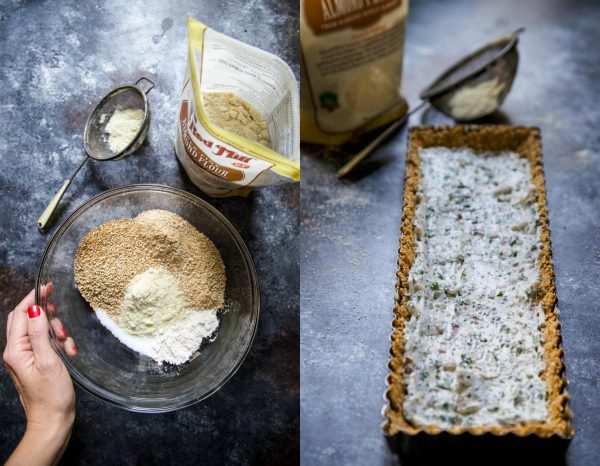 I realize this tart doesn't scream traditional Thanksgiving, but it's 2017 folks, we need to up our turkey feast game! First things first, let's talk real quick about what goes into this delicious tart. What makes this tart so superior is the quinoa and almond flour from Bob's Red Mill. Their almond flour is made from almonds that have been blanched, skins removed, creating this texture which is perfect for baking. Not to mention a go-to ingredient when creating something gluten-free.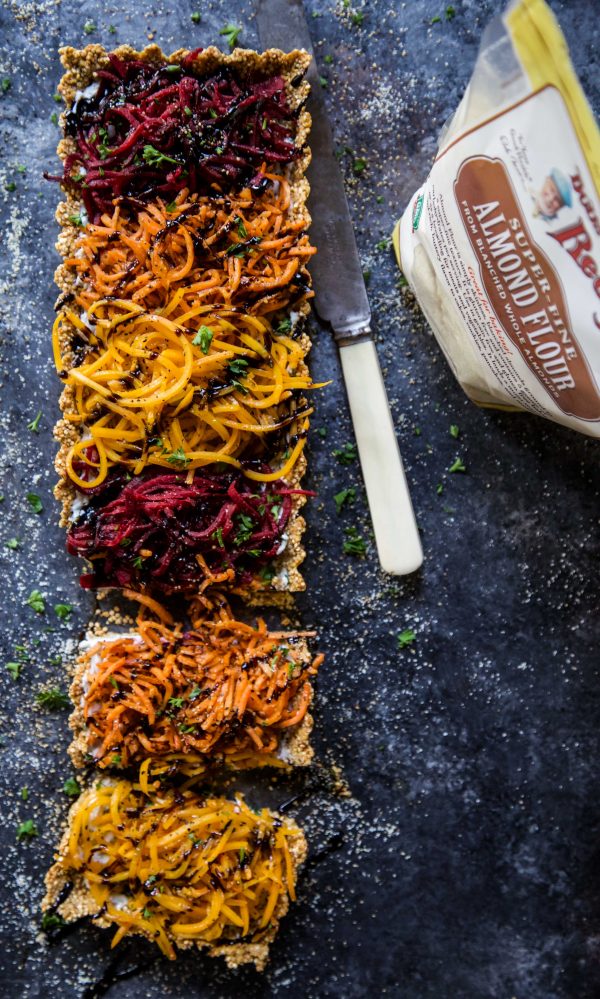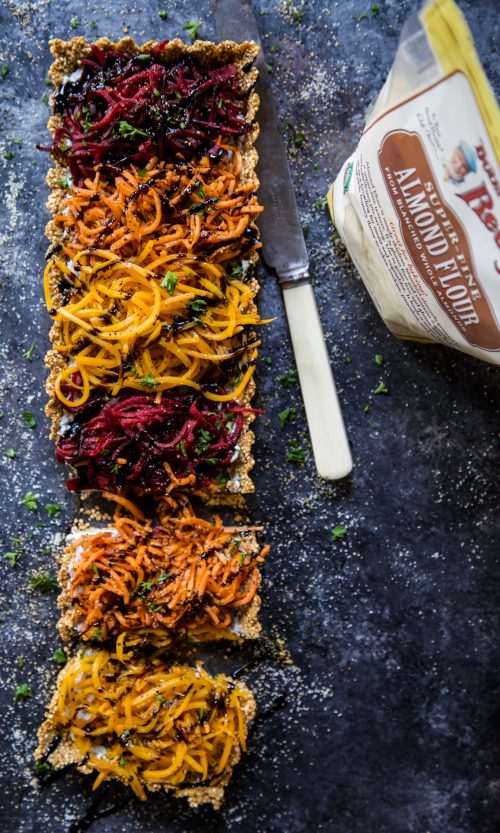 Once you have the tart assembled, bake until golden brown and then add in the filling. The filling is a mixture of cream cheese, goat cheese, shallots, and parsley. Top the filling with sauteed veggie noodles like butternut squash, beets, sweet potatoes, turnips, the options are endless! Just don't forget to garnish with balsamic glaze.
If you are looking to jazz up your Thanksgiving routine, definitely give this Harvest Vegetable Noodle Tart with Quinoa Crust a try!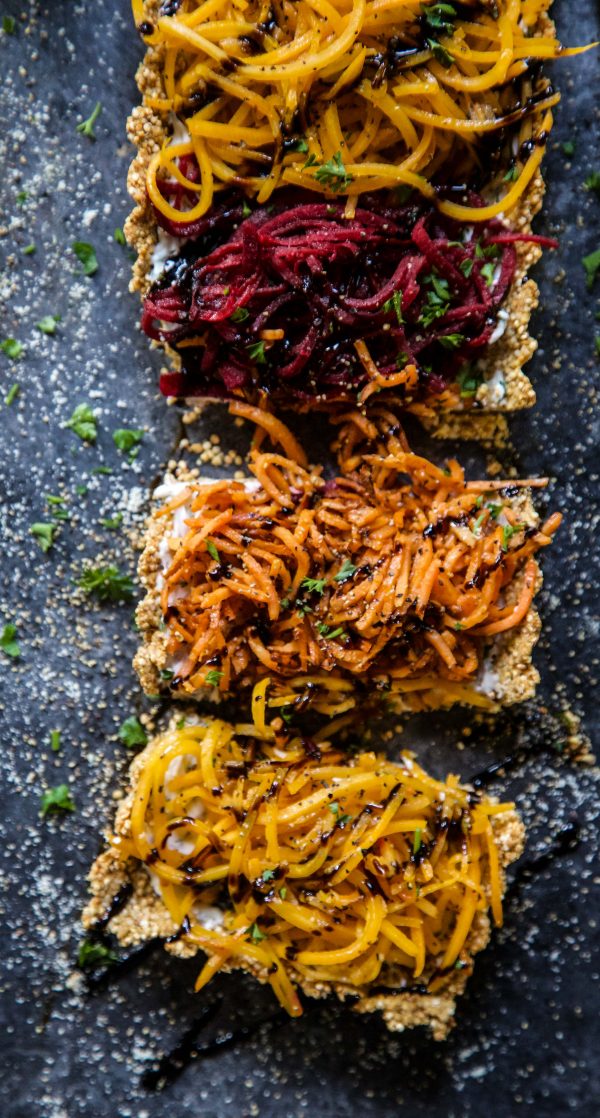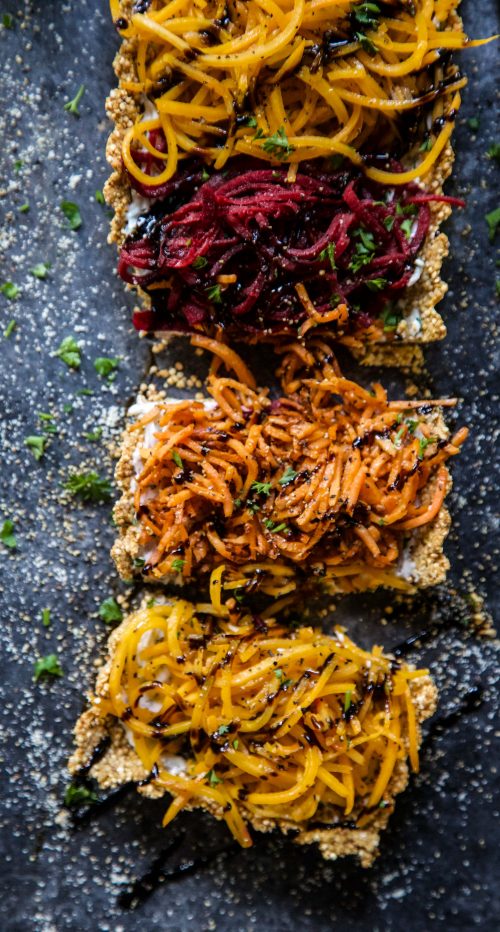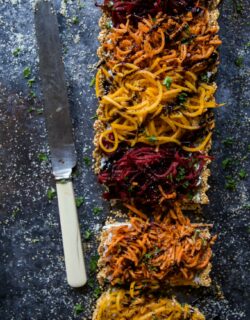 Harvest Vegetable Noodle Tart with Quinoa Crust
Ingredients:
for the quinoa crust:
1 tbsp all-purpose flour
1/4 tsp kosher salt
2 tbsp olive oil
1 large egg
for the filling:
2 tbsp chopped fresh parsley
1 tbsp chopped shallot
1/2 tsp ground pepper
2 ounces cream cheese, room temperature
2 ounces plain goat cheese, room temperature
for the veggie noodles:
3 tbsp olive oil, divided
1 cup butternut squash noodles
1 cup red beet noodles
1 cup sweet potato noodles
salt and pepper to taste
Fresh parsley, for garnish
Balsamic glaze, for garnish
Directions:
for the quinoa crust:
Preheat oven to 350 degrees. On a small baking sheet spread the quinoa into an even layer. Bake the quinoa for about 10 minutes or until golden brown. Remove from the oven and let cool slightly before adding 1/2 cup of the quinoa to a food processor. Pulse the quinoa for about 30 seconds or until most of the quinoa has been crumbled.
In a large bowl, combine the pulsed quinoa, toasted quinoa, almond flour, all-purpose flour, and salt. Next, add in the oil and egg. Stir to combine until the mixture holds together. Spray a 4 X 13-inch removable-bottom with non-stick cooking spray. Press the mixture into the bottom and up the sides. Bake the tart at for about 15 minutes or until golden brown. Remove from the oven and cool completely before adding in the filling.
for the filling: 
In a large bowl combine parsley, shallot, pepper, cream cheese, and goat cheese. Set aside.
for the veggie noodles:
In medium skillet preheated to medium high heat add 1 tbsp olive oil, butternut squash noodles, salt, and pepper. Saute the noodles for about 3 to 5 minutes or until slightly golden brown. Remove the noodles from the skillet with a pair of tongs and place on a plate. Repeat process for remaining noodles.
To assemble: Place the tart on a serving tray. Add the filling inside the tart and smooth using the back of a spoon. Next, divide the noodles using a 1/2 cup at a time and start with beets followed by the sweet potato and then the butternut squash. Repeat until the tart has been covered. Garnish the tops with fresh parsley and balsamic glaze. Serve and enjoy!
All images and text ©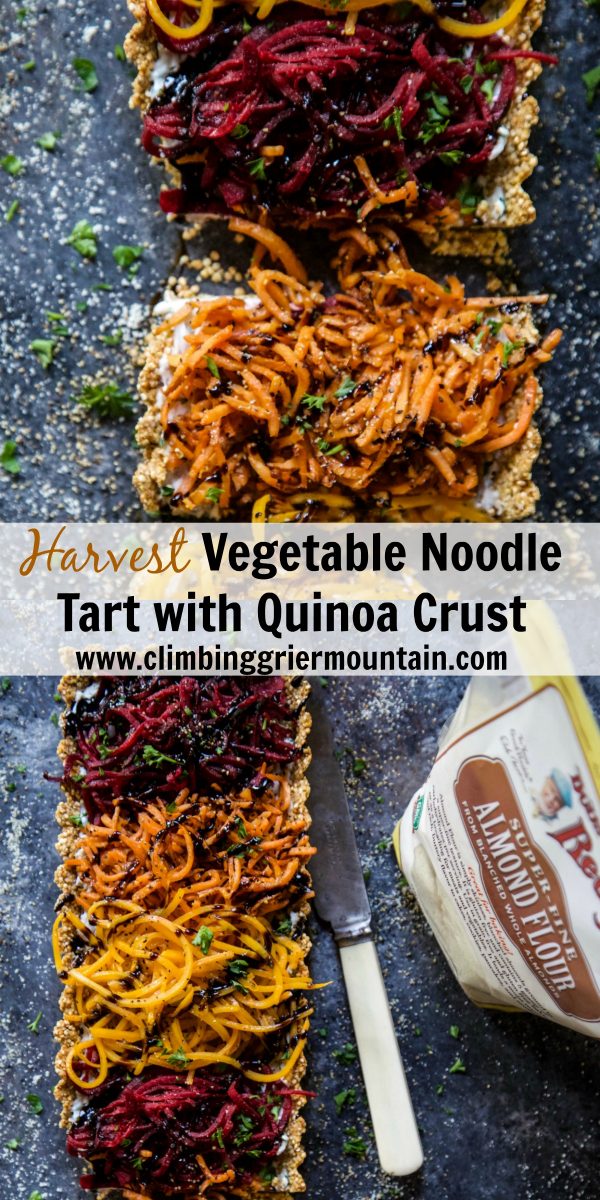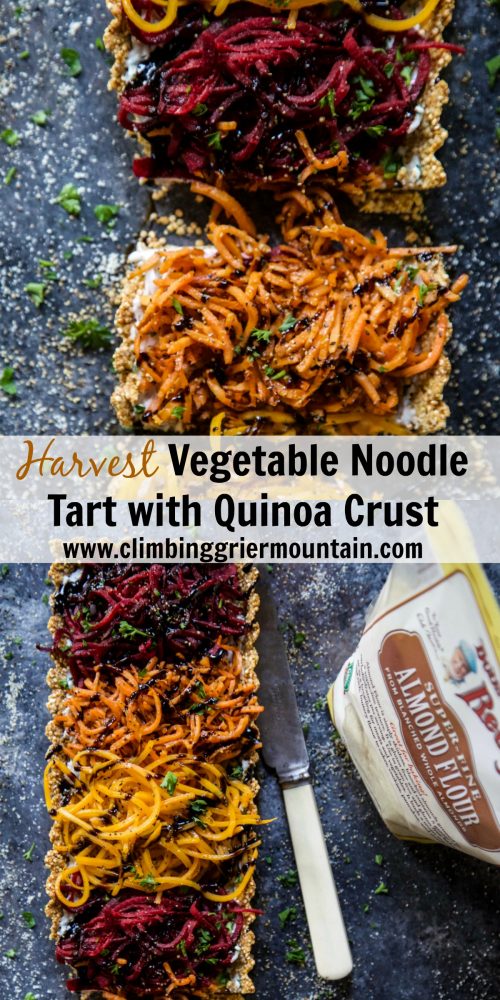 In conclusion, our Harvest Vegetable Noodle Tart with Quinoa Crust is a savory masterpiece that skillfully blends the flavors of autumn vegetables and quinoa to create a delicious meal. Savor the unique combination of tastes and textures in every bite, making it a delightful addition to your culinary repertoire. Enjoy the richness of this vegetable noodle tart as it brings warmth and flavor to your table.