Roasted Baby Potato Brussels Sprout Poutine
Roasted Baby Potato Brussels Sprout Poutine is a delicious side dish perfect for the holidays! Roasted baby potatoes topped with sauteed brussels sprouts, cheese curds, and gravy! Grab a fork and dive in!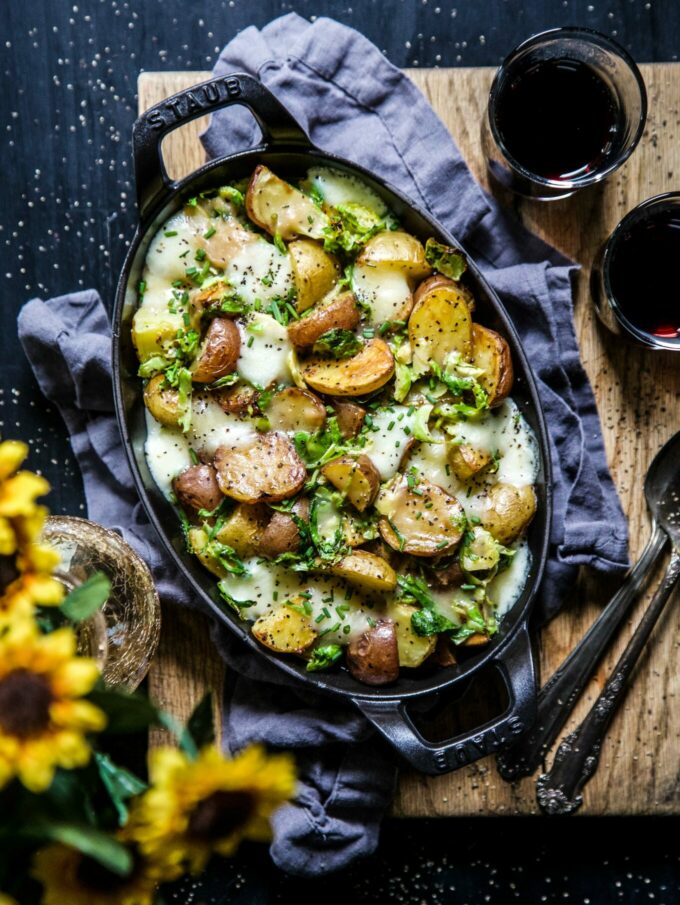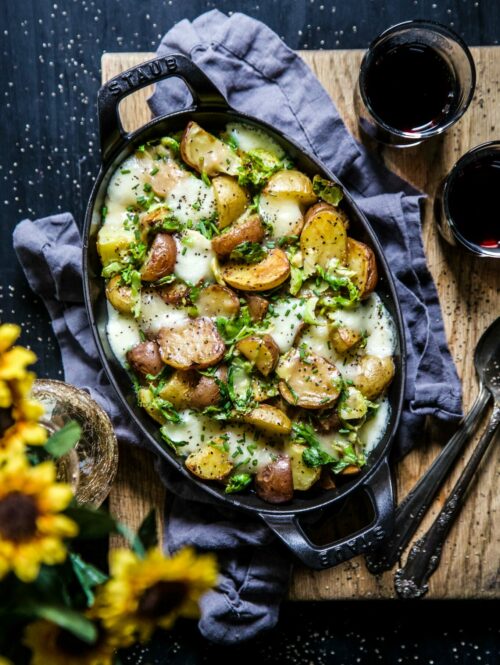 Today, lets talk sides.
As in Thanksgiving sides. Wait. Is there really anything else to talk about when it comes to Thanksgiving? Imagine for a second that there was no turkey or pumpkin pie. Only a table full of mashed potatoes, sweet potato casserole, stuffing, and cranberry sauce. It doesn't really sound that bad, right?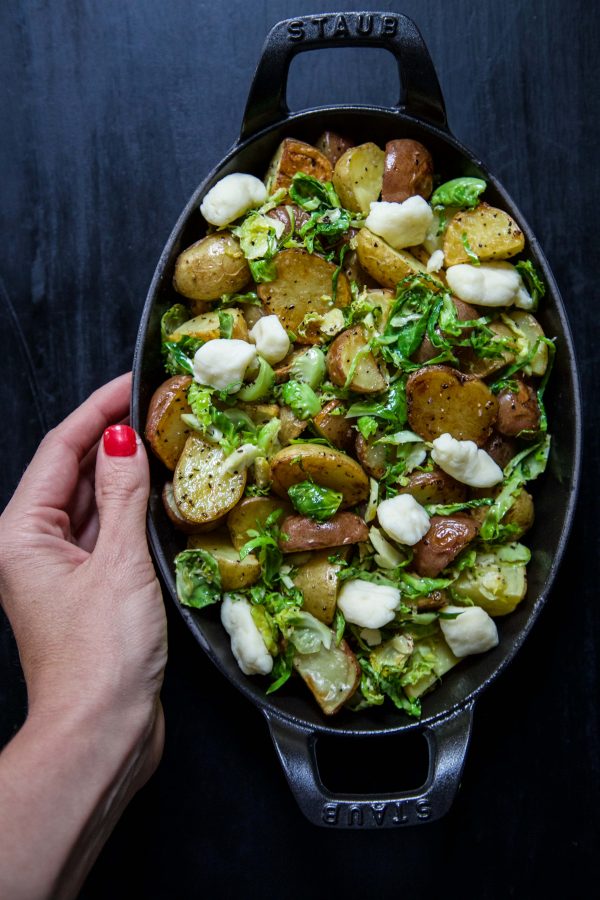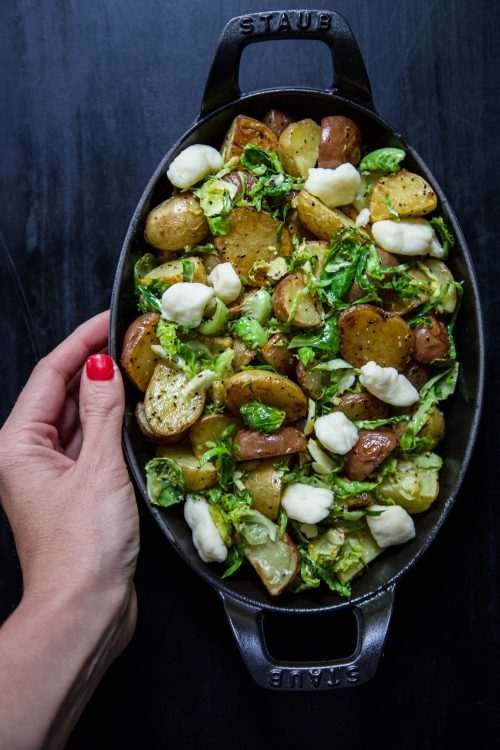 Now, imagine if that table only had turkey and pumpkin pie. Sad Town US of A. The sides make Thanksgiving, well, Thanksgiving and today I'm sharing the effing ultimate side to add to your holiday feast. Meet: Roasted Baby Potato Brussels Sprout Poutine. This side is kind of like a three-fer. Is that a thing? Eff it is now.
Basically this dish is the combination of three sides – potatoes, brussels sprouts and gravy. Which reminds me, Thanksgiving wouldn't even happen if gravy wasn't part of the equation. No one wants uncoated mashed potatoes. For reals. Anyways, back to the three-fer. I wanted to make a side dish that would hold its own at the dinner table.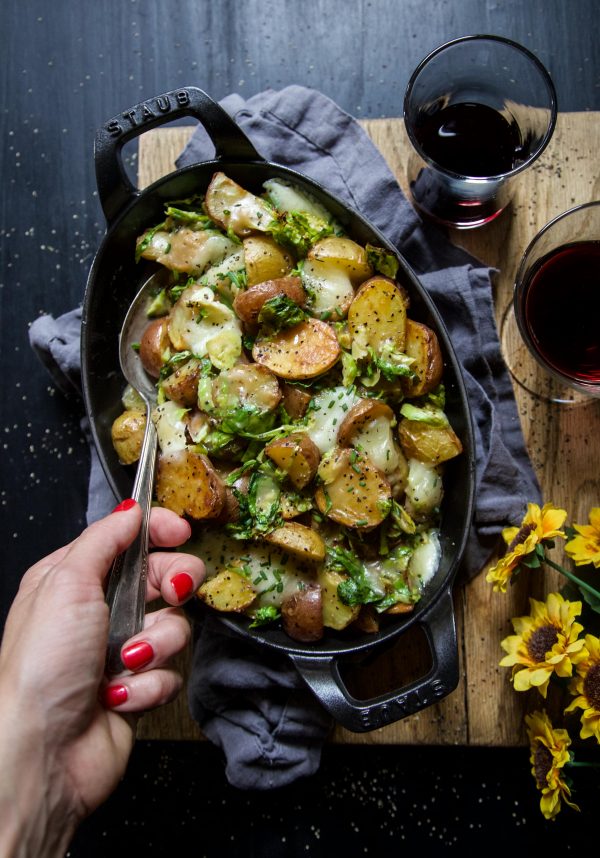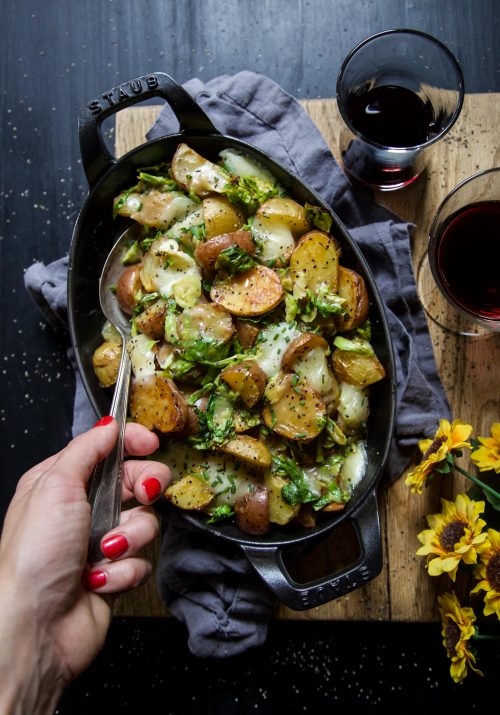 Roasted baby potatoes are my jam and great way to side step from stuffing if that's not your thing. Add in some brussels sprouts because Sir B. Sprout is the shizzzzzz. Well, and don't forget to bring everyone together with a killer poutine which is basically a dark gravy. Top with some cheese curds and what you have is a decadent side dish that is worthy of its own table.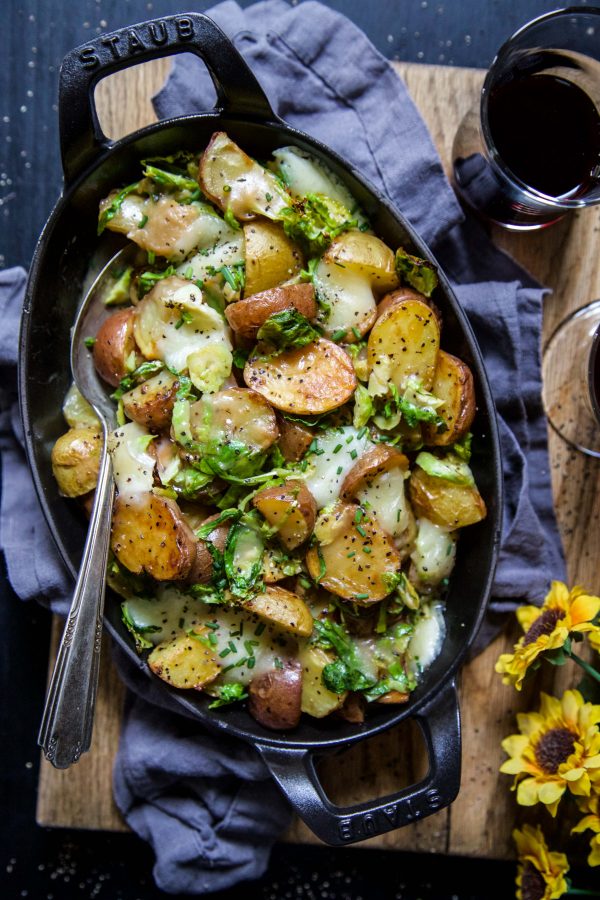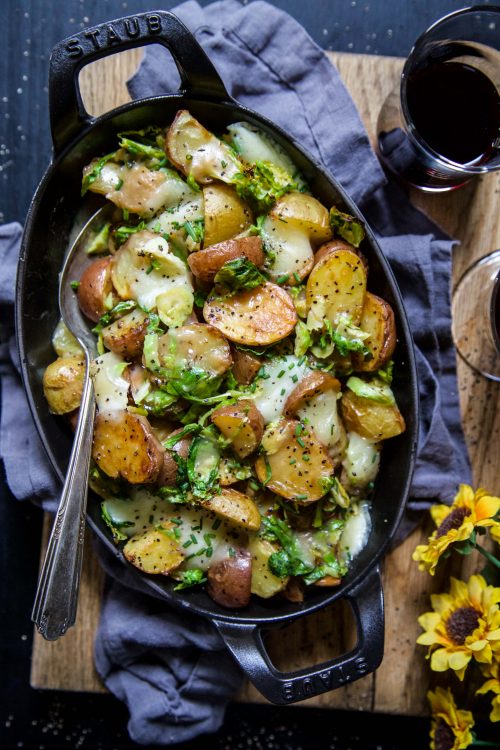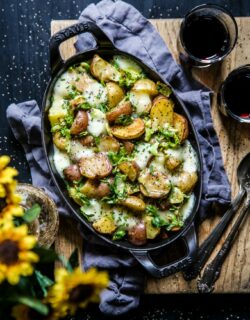 Roasted Baby Potato Brussels Sprout Poutine
Ingredients:
3 lbs mixed small potatoes, halved
3 tbsp olive oil, divided
1 1/2 cups shredded brussels sprouts
3 tbsp unsalted butter
3 tbsp all-purpose flour
2 cups beef broth
1/2 tsp Worcestershire sauce
1 cup white cheddar cheese curds broken into pieces
Fresh chives, for garnish
salt and pepper to taste
Directions:
Preheat oven to 400 degrees. Spray a large baking sheet with non-stick cooking spray. In a large bowl combine potatoes, 2 tbsp olive oil, salt and pepper. Place the potatoes on the baking sheet and spread into an even layer. Cook the potatoes for about 30 minutes or until golden brown. Remove from oven and set aside.
While the potatoes cook make the gravy. Preheat a medium saucepan to medium heat. Melt the butter and then add in the flour. Continue to stir cooking out the flour for about a minute. Next, gently pour in the beef broth. Continue to whisk until the gravy comes together about 7 to 10 minutes. Season the gravy with salt, pepper and Worcestershire sauce. Set aside.
In a medium skillet preheated to medium high heat add remaining tablespoon of olive oil. Add the brussels sprouts, salt and pepper. Stir to combine. Saute the brussels for a few minutes or until soften. Remove the skillet from the heat and set aside.
To assemble: place some of the potatoes into a bottom of a baking dish sprayed with non-stick cooking spray. Next, add some of the shredded brussels sprouts on top followed by a few cheese curds and gravy. Repeat process until all the ingredients have been used. Place the baking dish back into the oven to let the cheese melt about five minutes. Remove from oven and garnish with fresh chives.
All images and text ©