Pumpkin Coffee Danish with Chocolate Maple Icing
Pumpkin Coffee Danish with Chocolate Maple Icing is a delightful treat to eat morning, noon, or night! Pumpkin coffee flavored filling piled-high on golden brown puff pastry and then drizzled with chocolate maple icing. It's great as a dessert or enjoyed with your morning cup of joe. 
***This post is sponsored by Harry and David. As always all opinions expressed are 100% my own.***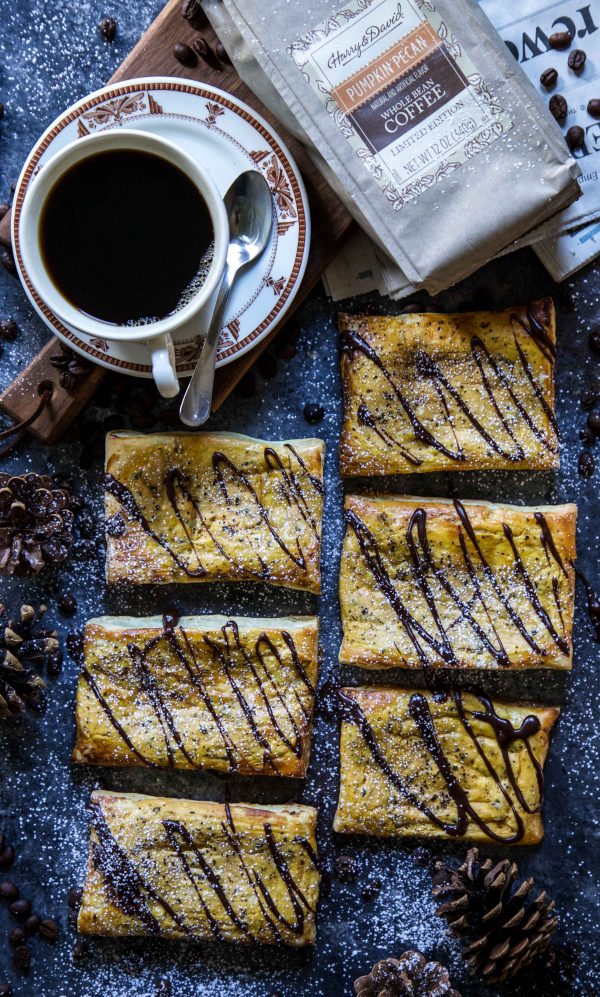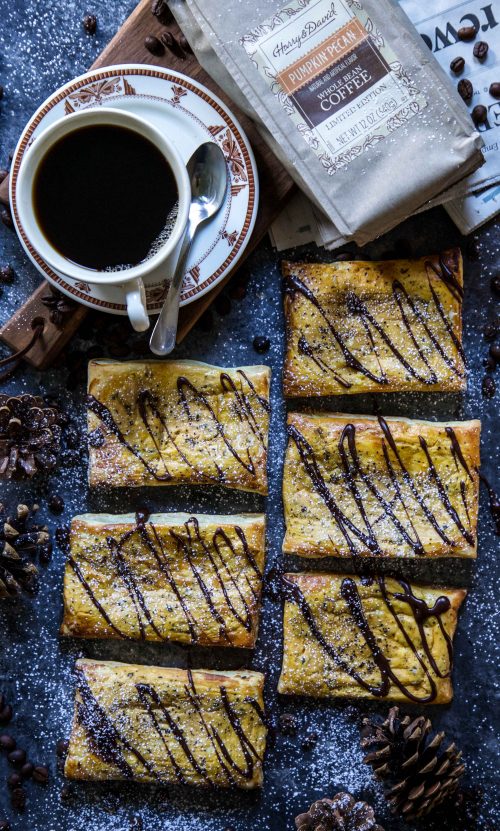 Let's chat.
About the ceremony of making Thanksgiving day breakfast.
I am a firm believer that "dinner" whether served at noon or later should be the main attraction for the day. I realize breakfast is the most important meal of day during normal working hours, but I am not about to put out a Martha Stewart spread just so someone can get full and eat half a scoop of stuffing.
Nod your head if this makes sense? "Bueller….Bueller…."
Which is why when it comes to making breakfast on Thanksgiving morning I keep it simple. But, um…..delicious too. I have a weakness for buttery baked goods. Truth: I have a weakness for puff pastry and this Pumpkin Coffee Danish with Chocolate Maple Icing is an 11/10 situation.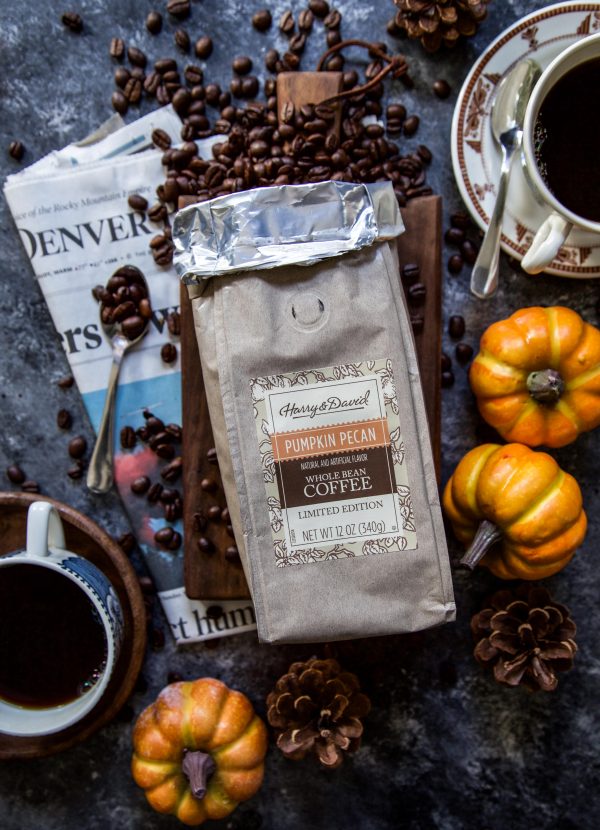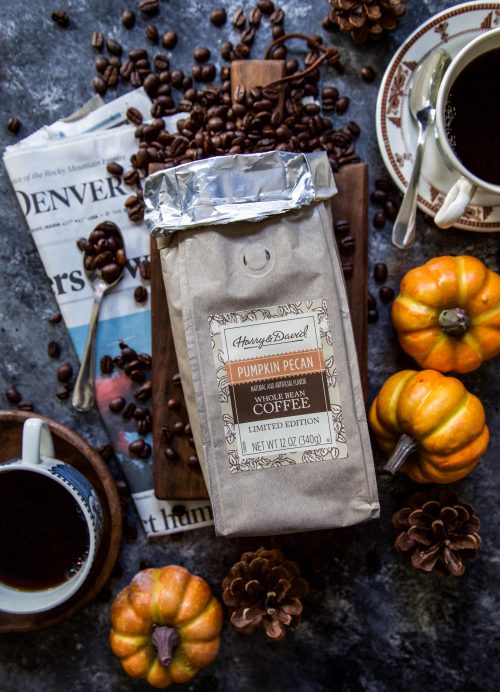 Not only are these danishes super simple to make, but you can prepare the filling the night before. The filling is made with pumpkin puree, cream cheese, maple syrup, vanilla extract, and Harry and David Pumpkin Pecan Coffee. It's a smorgasboard of autumn flavors that dare I say is worthy of finger dipping and licking?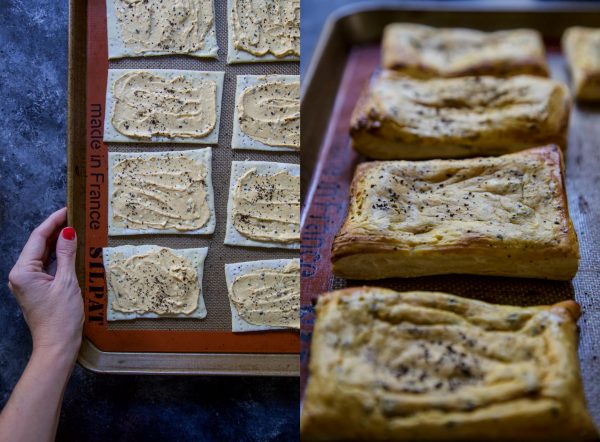 The Harry and David Pumpkin Pecan Coffee really kicks the filling up a notch with accents of pumpkin spice and nutty pecan. Basically tastes like a pumpkin pie! Can you say winning? Once you have the filling ready to go, simply smother it on top of some puff pastry rectangles, bake, and BOOM! Breakfast in 20 minutes or less.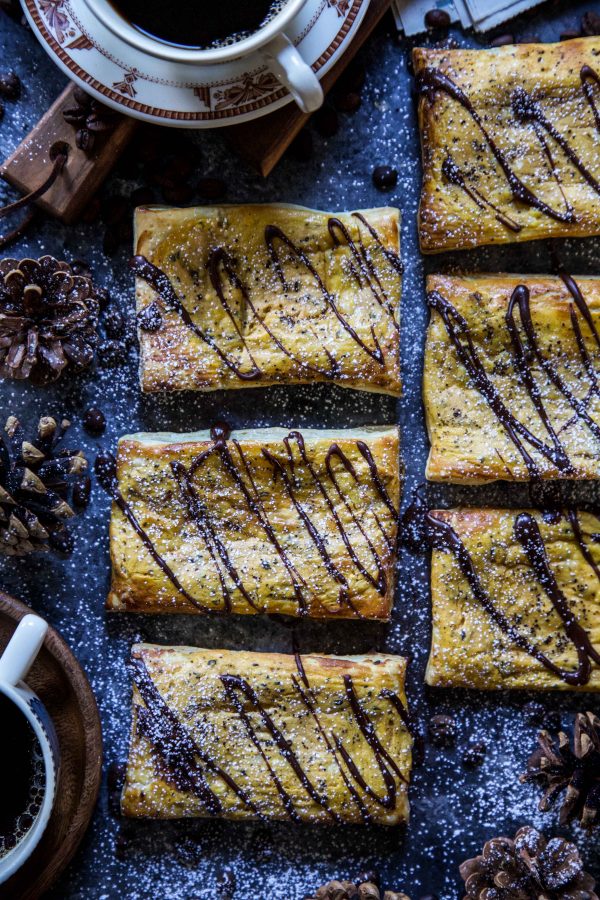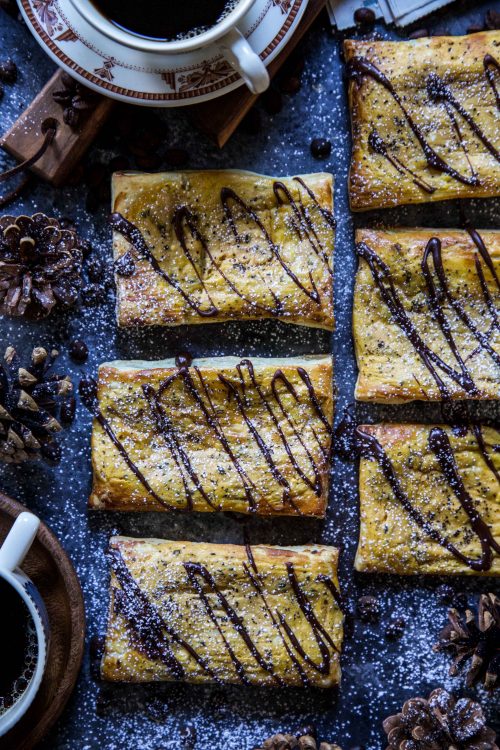 Just don't forget to drizzle the tops with the chocolate maple icing. Double bonus if you brew a cup of Harry and David Pumpkin Pecan Coffee and dip the danish into the hot cup of joe. Don't judge. You'll thank me later when you have room for an extra round of stuffing.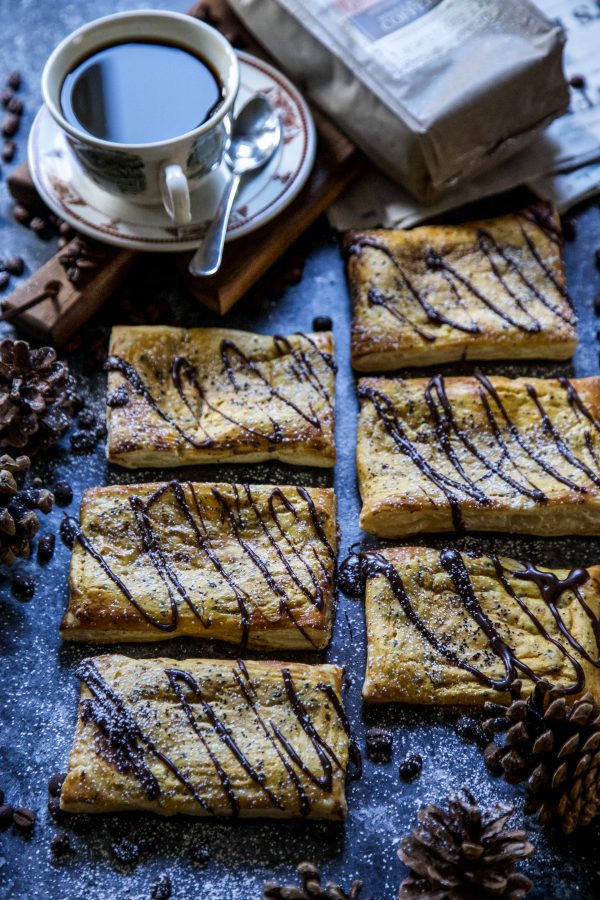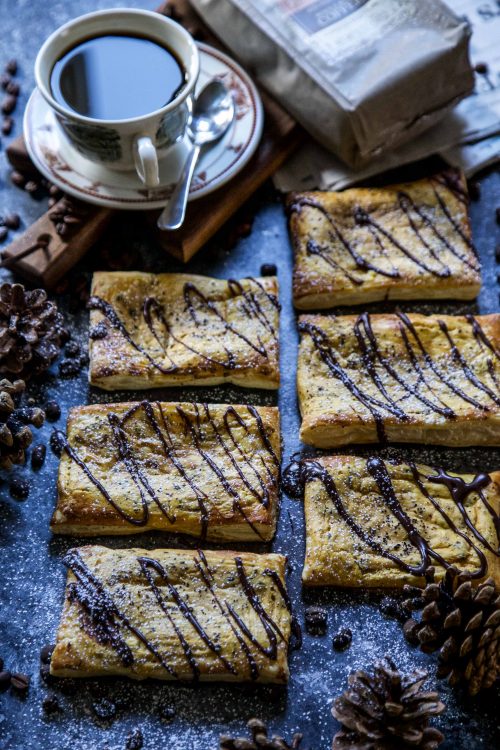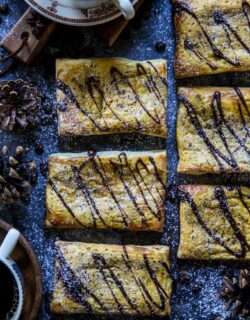 Pumpkin Coffee Danish with Chocolate Maple Icing
Ingredients:
3/4 cup pumpkin puree
8oz plain cream cheese, room temperature
1 tsp vanilla extract
1/2 cup maple syrup, divided
1/4 tsp kosher salt
2 sheets puff pastry thawed
1 egg, whisked
1 cup milk chocolate chips
Directions:
Preheat your oven to 400 degrees.
Place a silicone mat on a baking sheet and set aside. In a stand mixer fitted with a paddle attachment add the pumpkin puree and cream cheese. Cream the pumpkin puree and cream cheese together for about a minute or until smooth. Next, add in the coffee, vanilla extract, 1/4 cup maple syrup, and salt. Continue to cream until smooth.
Next, lightly flour your counter top. Take a sheet of puff pastry and using a rolling pin gently flatten the puff pastry to ensure a flat surface. Using a pizza cutter, cut out six rectangle sized danishes. Make them big or small! Whatever your heart desires! Place the six rectangles on the lined baking sheet. Next, take a fork and prick the puff pastry rectangles. This will help ensure the dough doesn't rise. Using a pastry brush dip the brush into the whisked egg and brush the top of each rectangle.
Next, take the pumpkin puree mixture and spread it on the top of each rectangle leaving a small border. Place the baking sheet into the oven and bake for about 20 minutes or until golden brown. Meanwhile make the chocolate maple drizzle. In a medium saucepan preheated to medium low heat add the chocolate chips and 1/4 cup maple syrup. Stir to combine. Continue to stir until the chocolate has melted and everything is well combined. Turn off heat and set aside.
Remove from the danishes from the oven and drizzle the tops with chocolate maple. Repeat process with remaining puff pastry sheet. Enjoy!!!
All images and text ©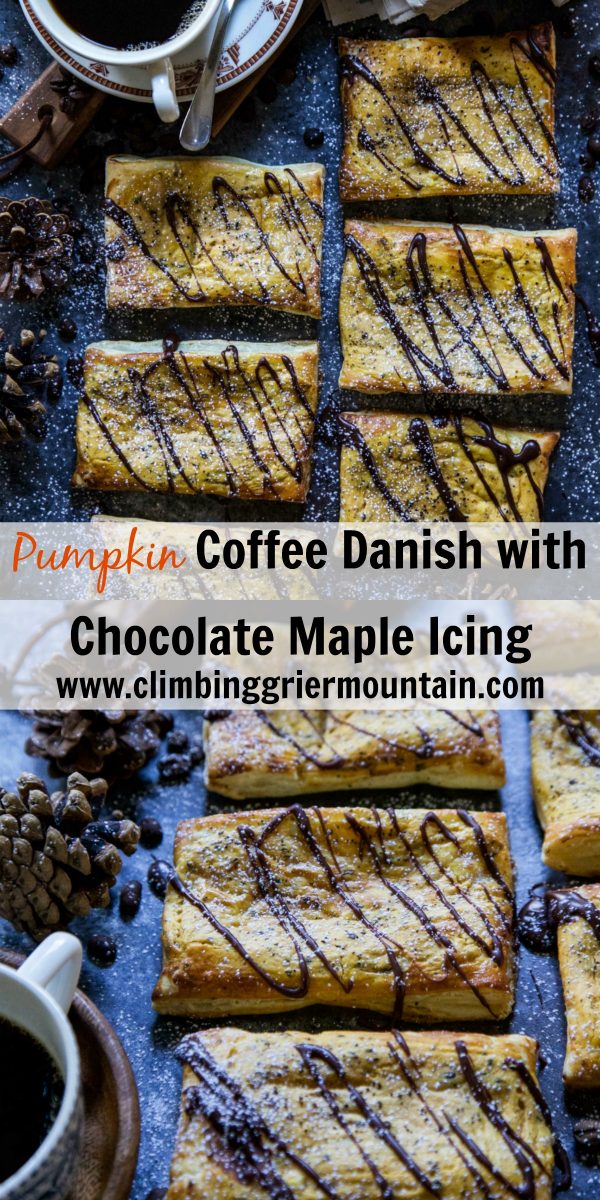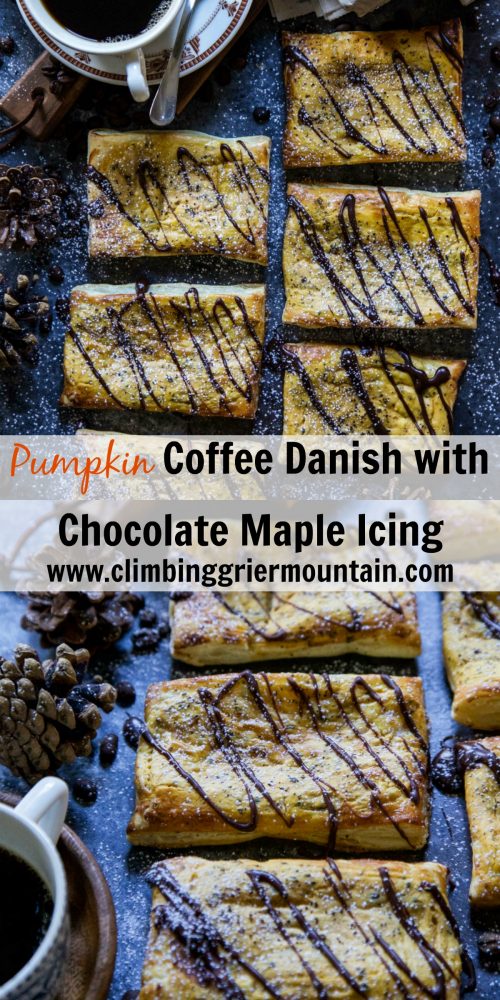 In conclusion, our Pumpkin Coffee Danish with Chocolate Maple Icing is a decadent treat that beautifully fuses the flavors of pumpkin and chocolate, creating a delightful pastry. Enjoy the richness and sweetness of this dessert, a perfect choice for any occasion. Savor the pastry experience it brings to your table!