Honey Cake with Citrus Vanilla Frosting
Honey Cake with Citrus Vanilla Frosting is a delightful and citrusy cake that's perfect for any occasion!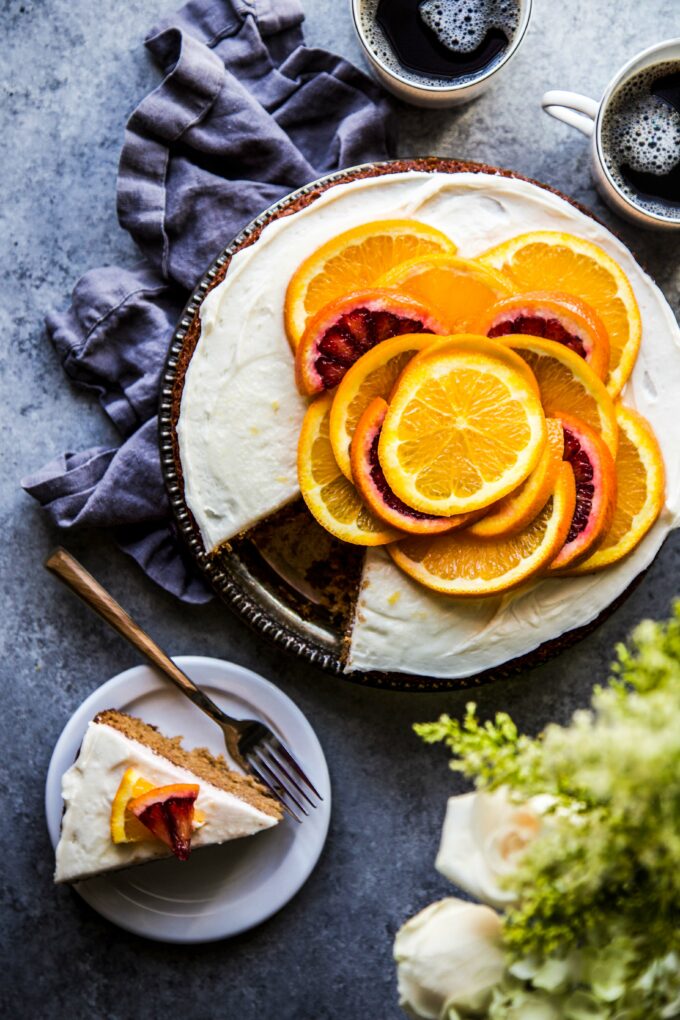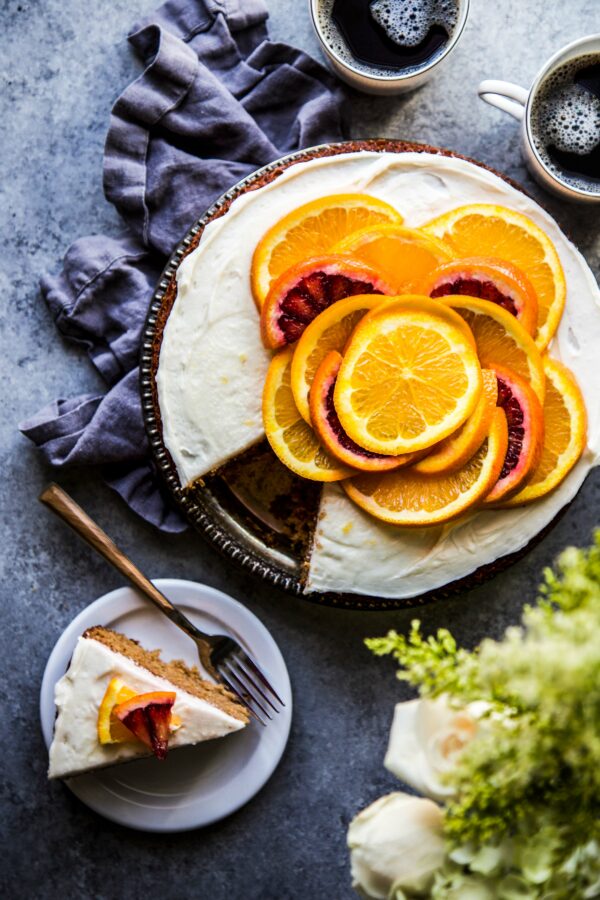 Is there ever a wrong time for a slice of cake?
I think not.
Especially if said cake can be consumed in the morning alongside a hot cup of coffee. I often make my famous banana cake because it just hits all the right notes in the morning. Well, today, I wanted to share with y'all a new-ish cake that can be consumed morning, noon, or night.
This Honey Cake with Citrus Vanilla Frosting is delicate, delightful, and darn right delicious. A moist, fluffy batter comes together quickly, baked, and then topped with an unforgettable citrus vanilla frosting. I'm telling ya, one slice and you'll start your day off on the right foot.
Okay, I say we dive in and make this irresistible cake!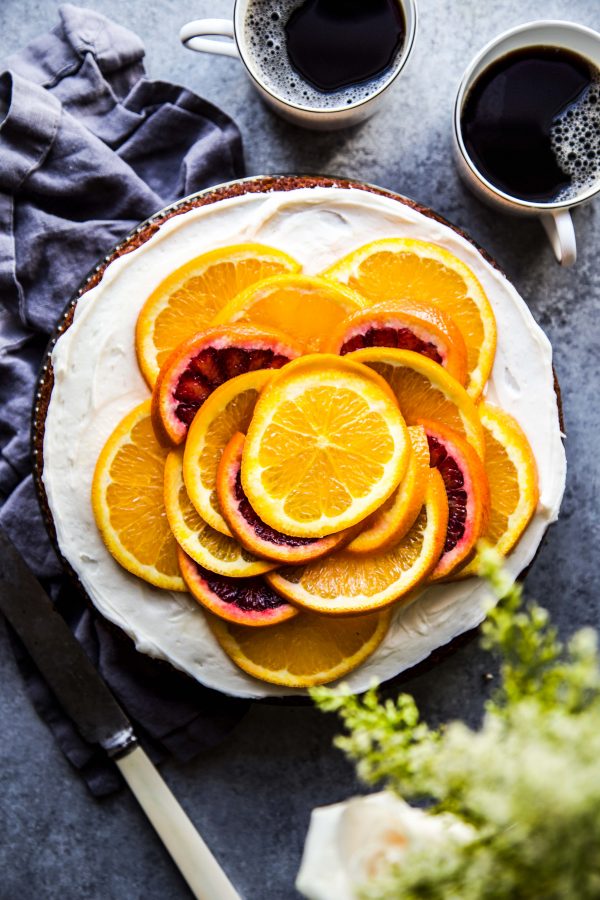 What's in this Honey Cake with Citrus Vanilla Frosting?
This cake has a few extra ingredients than your standard cake. Not to fear….the extra ingredients are some that you can find in your pantry. For this cake you will need:
All-purpose flour
Brown sugar
Granulated Sugar
Ginger
Allspice
Cinnamon
Ground Cloves
Honey
Vegetable oil
Brewed Coffee
Orange Juice
Once you've got your dry and wet ingredients lined up all you have to do is mix, pour the batter into a prepared cake pan, and bake. Your whole house will smell like French bakery.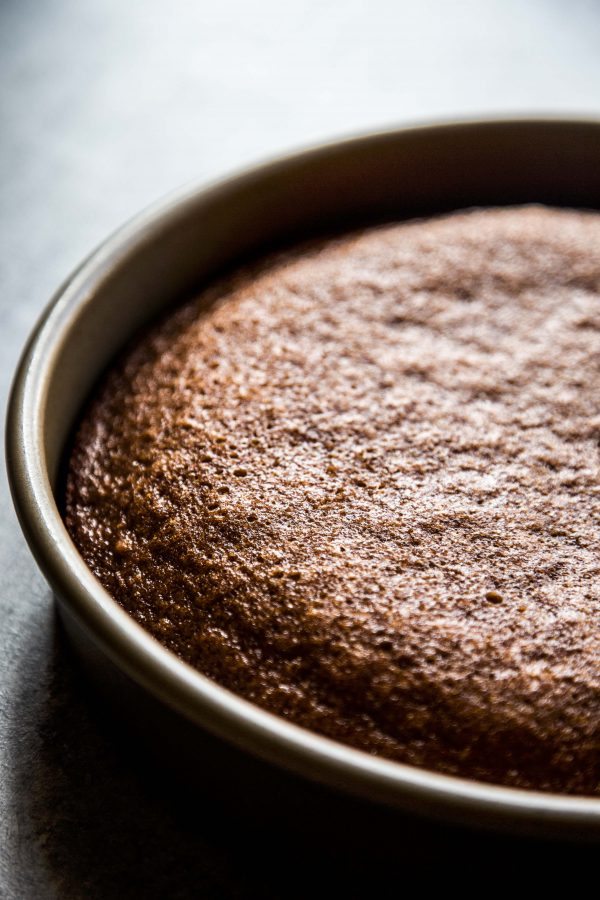 Tips for Making this Honey Cake with Citrus Vanilla Frosting:
1) Coffee. This recipe calls for about 1/2 cup of brewed, hot coffee. Whenever I make this cake I always brew a little extra just so I don't have to back track!
2) Orange Juice. Freshly squeezed will always reign supreme. However, store-bought orange juice works wonderfully too!
3) Vegetable oil. Since this cake has no butter oil is the fat that is used to help bind everything together. If you don't want to use vegetable oil you can try avocado, sunflower, or olive.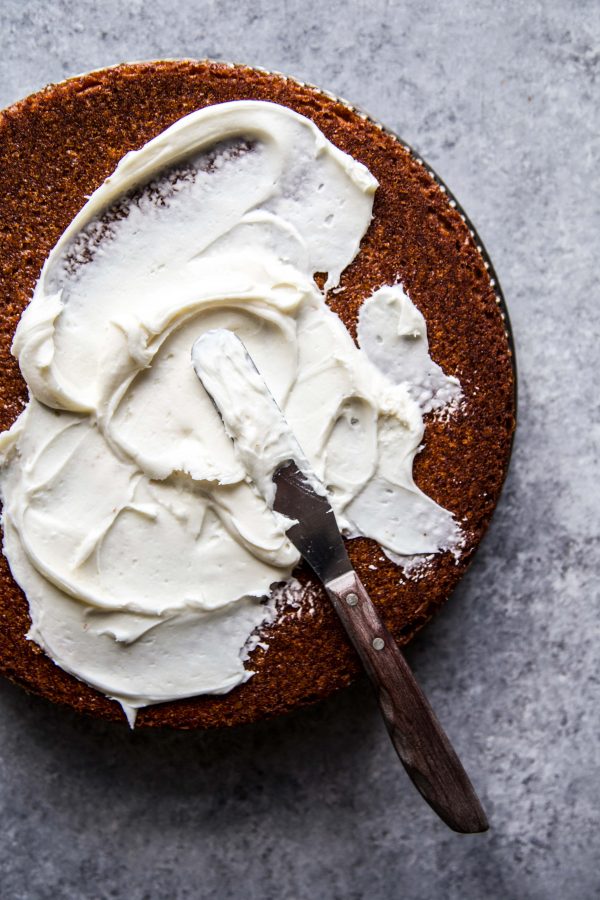 Tell me about the Citrus Vanilla Frosting!
Definitely one to keep in the dessert arsenal. Quickly combine butter, powdered sugar, citrus zest, and milk. That's it! The taste is incredible!
Can I freeze this cake?
You betcha! Just bake as is and then store in an air-tight container in the freezer for up to a month. Defrost and then top with citrus vanilla frosting!
Do I need to top the cake with orange slices?
Nope! You can leave the orange slices off. Edible flowers would be a lovely option for spring!
Well, are you ready to make this cake? If you please let me know if you did in the comments below! Love hearing from you!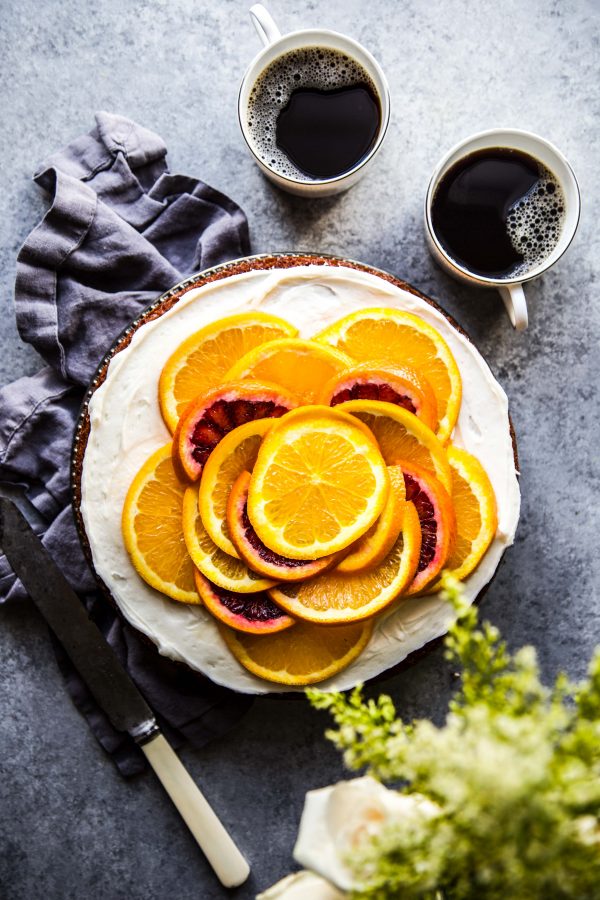 More Delicious Cake Recipes to Enjoy: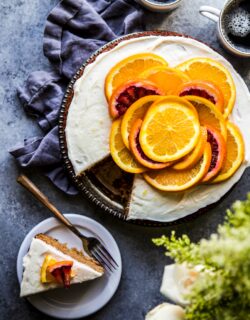 Honey Cake with Citrus Vanilla Frosting
Ingredients:
for the cake: 
1 3/4 cups all-purpose flour
1 3/4 tsp ground cinnamon
1/2 tsp baking powder
1/2 tsp baking soda
1/4 tsp kosher salt
1/4 tsp ground cloves
1/4 tsp ground allspice
1/8 tsp ground ginger
1/2 cup vegetable oil
1/2 cup honey
2 large eggs
1/2 cup granulated sugar
1/2 cup brown sugar
1/2 cup + 2 tbsp hot brewed coffee
2 tbsp orange juice
1/2 tsp vanilla extract
for the frosting:
4 tbsp unsalted butter, room temperature
2 cups confectioners sugar
2 tbsp whole milk
1/4 tsp kosher salt
1 tsp vanilla extract
1 tsp grated orange zest
Orange slices, for garnish
Directions:
Preheat an oven to 350 degrees. Spray an 8-inch springform pan or cake pan with non-stick cooking spray.
In a large bow combine the flour, cinnamon, baking powder, baking soda, kosher salt, cloves, allspice, and ground ginger. In another large mixing bowl whisk together the vegetable oil and honey.
In a mixer fitted with a whisk attachment, beat the large eggs with granulated and brown sugar. Slowly add in the oil-honey mixture until well combined.
Next, add in the coffee, orange juice, and vanilla extract until combined. Add in the dry ingredients and combine to whisk until everything is well combined. Pour the batter into the prepared cake pan.
Bake the cake for about 40 to 50 minutes or until toothpick inserted into the middle comes out clean. Transfer the cake to a cool rack and let cool for about 1 hour before frosting.
To make the frosting cream butter with 1 cup of confectioners sugar. Stir in vanilla extract, orange zest and kosher salt. Frosting will be thick. Add in the milk. Stir well. Frosting will be runny, now stir in the other cup of confectioners sugar. If too thick, add more milk or confectioners sugar to desired spreadable frosting consistency.
All images and text ©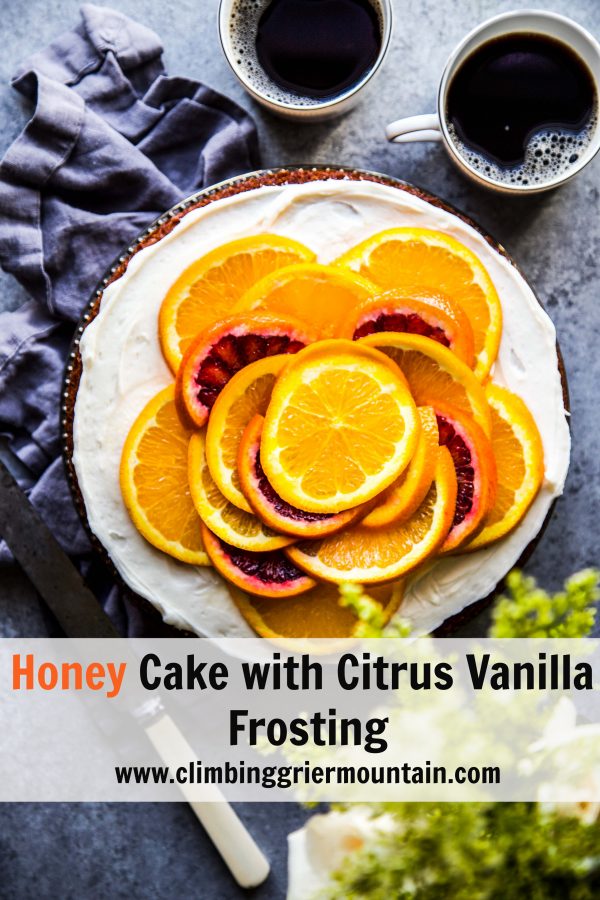 In conclusion, Honey Cake with Citrus Vanilla Frosting is a delightful masterpiece that captures the essence of sweetness and zest. With its harmonious blend of flavors, it's the perfect shot of joy for any occasion. Savor every moment of this delectable treat!