Hummingbird Doughnuts with Citrus Frosting
Hummingbird Doughnuts with Citrus Frosting is a delightful breakfast treat to enjoy any morning! Fluffy baked doughnuts topped with a citrus frosting makes these doughnuts an 11/10 situation.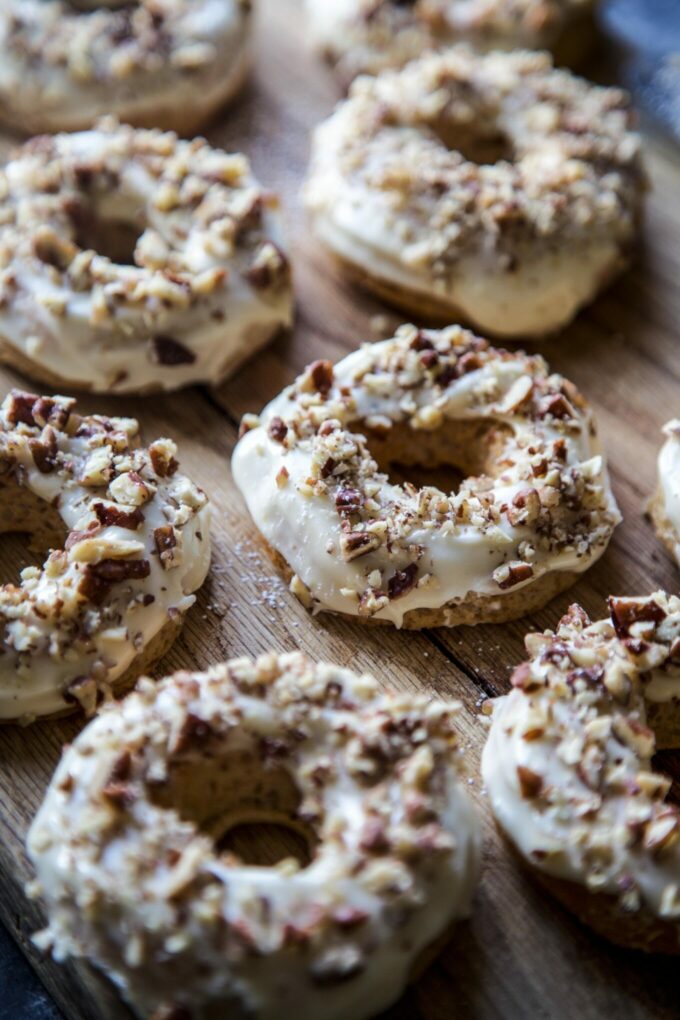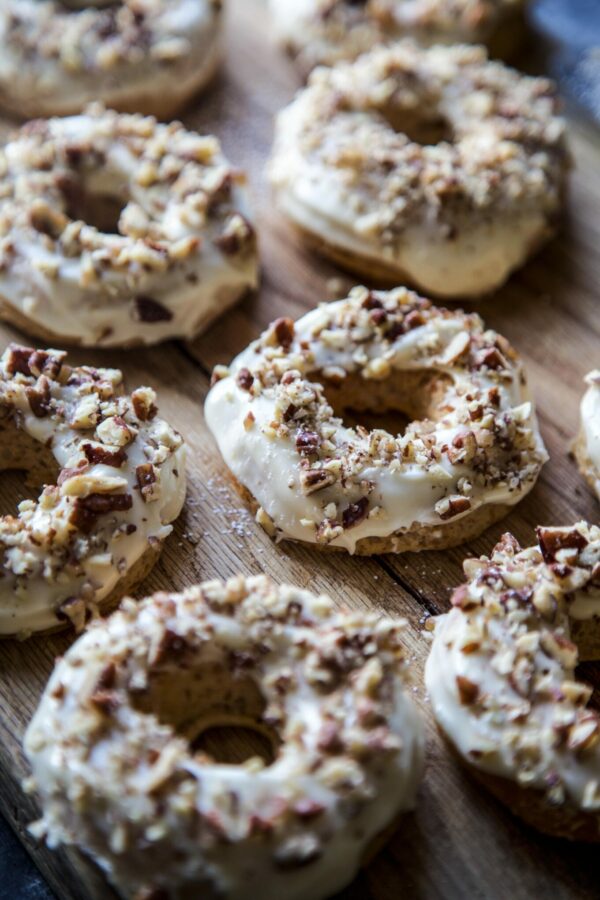 Whoa.

We are in the home stretch.

Can you believe May 1st is this Wednesday? Um, that means the baby will be here in five months!! I'm trying not to freak out. BUT! Seriously, I know summer will go by super fast!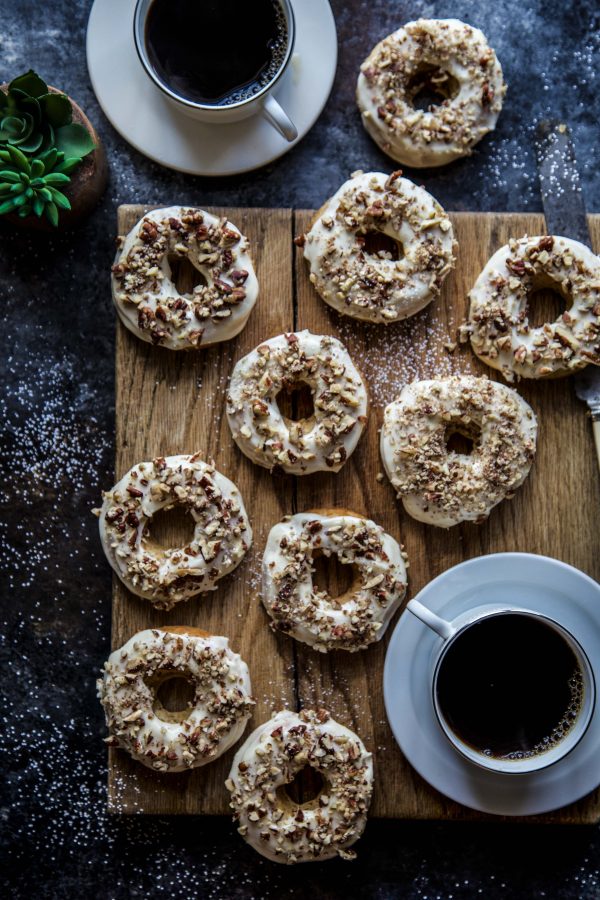 Well, speaking of May, do any of you celebrate May day? I remember as a kid taking flowers and leaving them on my neighbors front porch. I would ring the doorbell, runaway, and grin from ear-to-ear because in my mind I just performed the action of a saint. Come to think of it, I probably should have just stayed and said, "Happy May Day." I wonder if the neighbors saw the bouquet and thought, "Crap. Stalker Steve is back again."

Even if you don't celebrate May Day, we do have a very special holiday on the horizon, Mother's Day! Is it weird that this time next year I will be an actual mother? Kind of scary. So far I've kept Juniper alive as a fur mama, but knowing that I will be in charge of a human is a tad overwhelming. But like anything, it takes baby steps and I hope Baby G will be super excited to have me as a mama!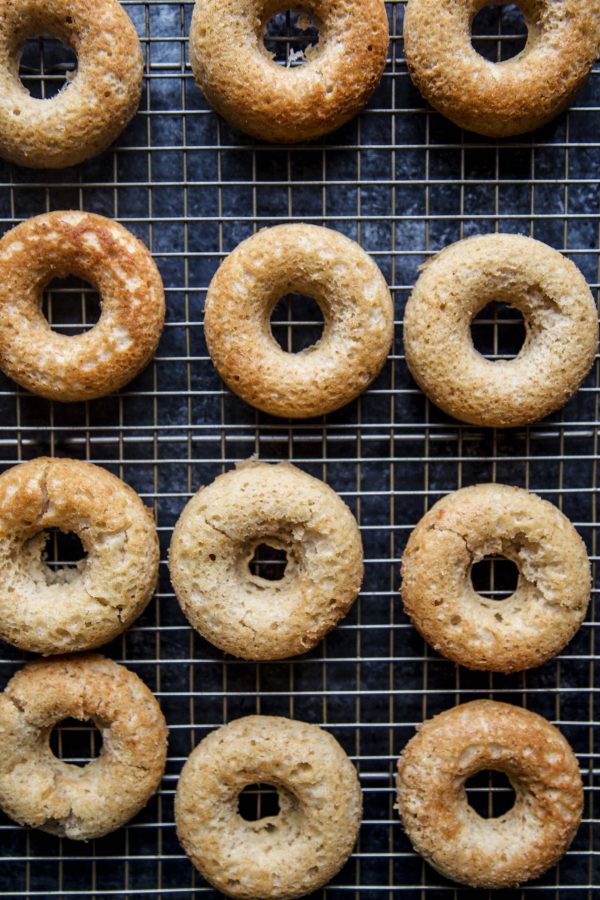 So, to celebrate all soon-to-be moms and already mamas we need to make these Hummingbird Doughnuts with Citrus Frosting. I'm a huge fan of baked doughnuts. Don't get me wrong I love traditional fried glazed doughnuts, but I always feel like you end up wearing half the doughnut.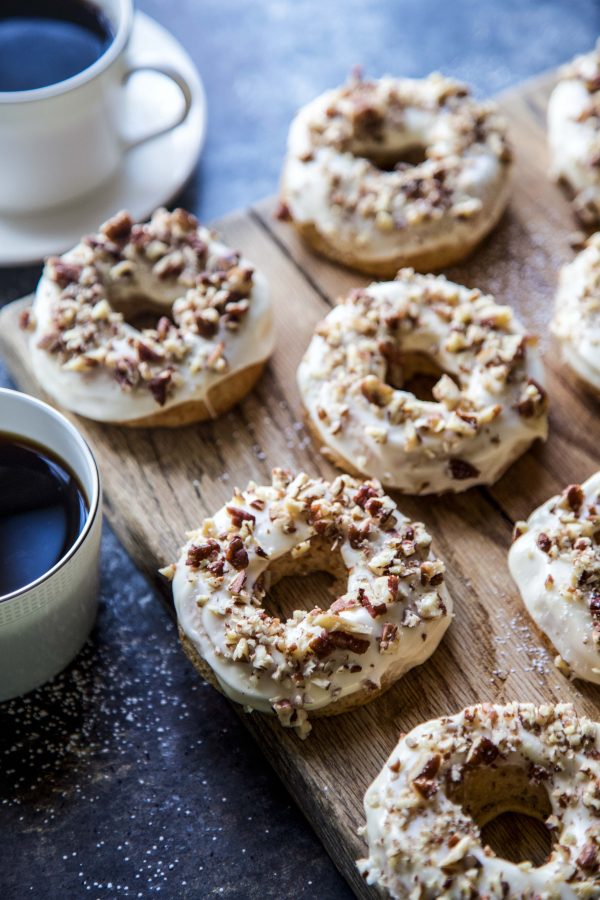 These Hummingbird Doughnuts with Citrus Frosting are light, fluffy and the perfect treat to make for that special lady in your life. Plus, since they are baked you can have at least a dozen. #saysthepregnantlady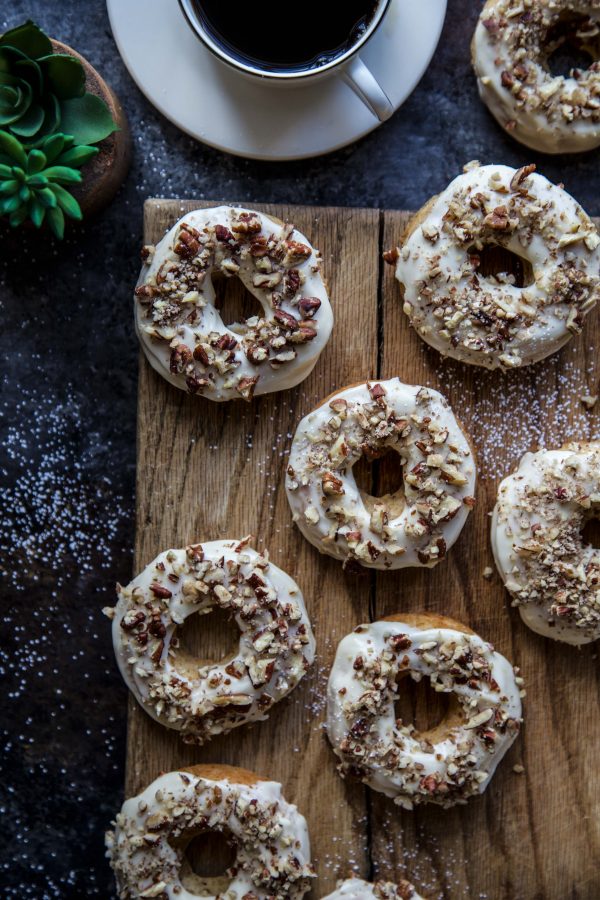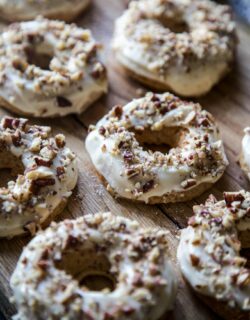 Hummingbird Doughnuts with Citrus Frosting
Ingredients:
2 cups all-purpose flour
1 1/2 cups granulated sugar
2 tsp baking powder
1/2 tsp ground cinnamon 
1/8 tsp nutmeg
1/2 tsp kosher salt
1 large egg, whisked
1 1/4 cups half-n-half
3 tbsp unsalted butter, melted, divided
3 tsp vanilla extract, divided
1 medium ripe banana
1/2 cup crushed canned pineapple, drained
4 ounces plain cream cheese, room temperature
2 cups confectioners sugar
1 tbsp lemon zest
1 cup chopped pecans
Directions:
Preheat your oven to 350 degrees. Spray a six doughnut pan with non-stick cooking spray and set aside.
In a large bowl combine flour, sugar, baking powder, cinnamon, nutmeg and salt. In another large bowl combine the egg, 2 tsp vanilla extract, 2 tbsp melted unsalted butter and half-n-half. 
In a medium food processor add the banana and crushed pineapple. Pulse to combine until smooth. Take this mixture and add it to the egg mixture. Stir to combine. 
Next, take the wet ingredients and add them to the dry ingredients. It's okay if the batter is a smidge lumpy. 
Take the batter and fill the prepared doughnut pan cups about 3/4 of the way full. Bake the doughnuts for about 15 minutes checking midway to make sure they are golden and cooked through. Remove the doughnut pan from the oven and let the doughnuts cool for about five minutes before placing them on a wire rack. 
Repeat process with remaining batter. 
To make the frosting add the confectioners sugar, 1 tsp vanilla extra, cream cheese, lemon zest and 1 tbsp melted unsalted butter to a large bowl. Beat the ingredients until smooth. If the frosting is too thick add some milk or half-n-half to thin it out. 
Take a doughnut and tip the top into the citrus frosting. Garnish the tops with chopped pecans. Repeat process until all doughnuts have been covered. 
All images and text ©