lamb burgers with homemade mint ketchup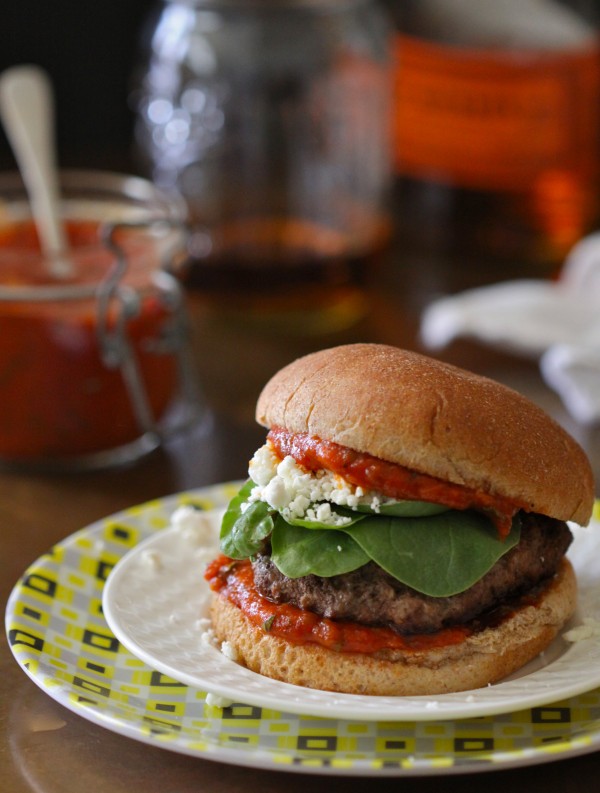 What is it about a delicious burger that makes us go weak in the knees?
Is it the euphoric feeling of biting into a perfectly grilled, juicy piece of meat? Is it the gooey cheese that sends a shock wave of flavor to our taste buds? Or, is it the licking of each finger to savor every bite that keeps us combing back for more?
Wait.
My bad.
Sorry! Wrong word document. Jeez. That's my Carl's Junior copy I've been working on for the past week.
Instead of Heidi Klum or Padma eating an over-sized burger, I'm picturing Ryan Gosling sitting on the front steps of an old plantation home with a mason jar of bourbon next to him while he eats a decadent, juicy burger. Clearly, this should have been a scene in The Notebook. Forget going for ice cream or boat rides down the river, tasty burgers are the way to a girl's heart.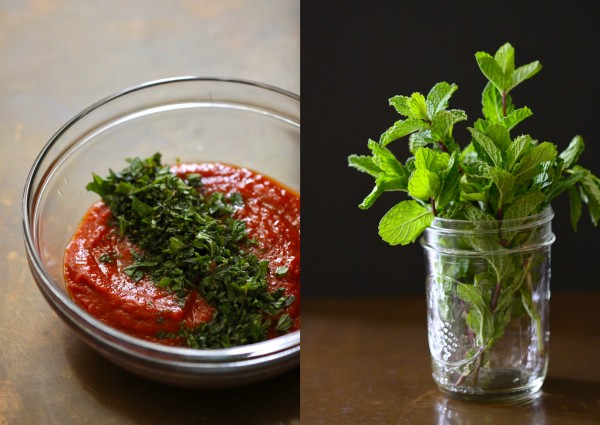 Okay, all this talk about sexy burgers has me craving a burger (and a make-out session with Ryan Gosling…do wha?). Even though I don't hail myself as the Queen of Burgers, (as does the lady with the certain initials R & R), I do have high expectations when it comes to burgers. Yes, you can go out all out and order a burger with foie gras, bacon, and jalapeno cream cheese. You can also stick to the classic with just cheese, lettuce, and tomato (my personal fav). But sometimes it feels good to be right smack in the middle of the burger spectrum.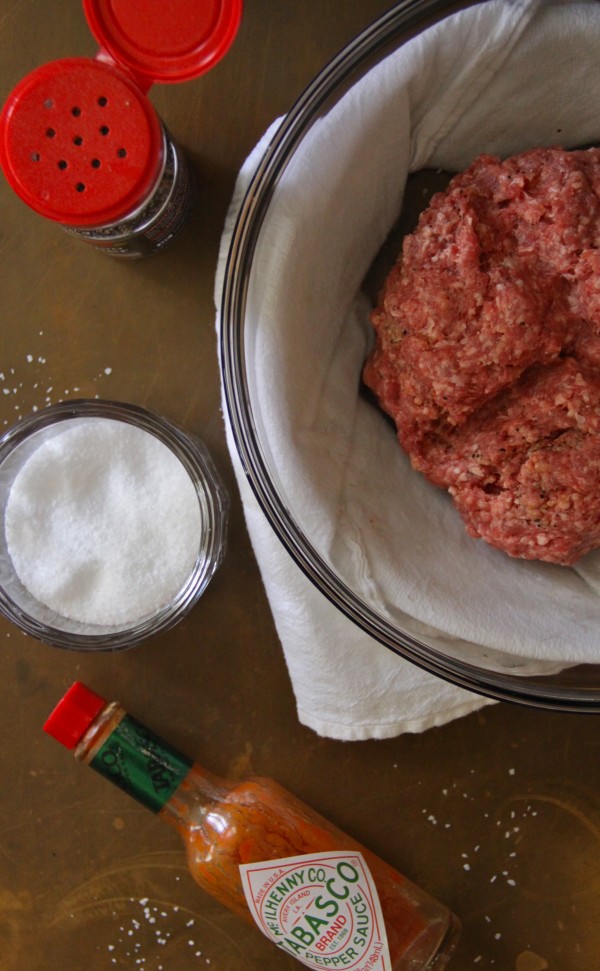 Since Colorado has a lamb fetish, seriously, what is with all the Colorado lamb dishes? I have yet to see a lamb strolling the streets of Denver. Anyways, I thought it would be fun to mix up the standard ground beef, but not go quite as far as ground brisket, enter, the lamb burger. Some of you might be thinking, lamb burger, that's really not all that spectacular. True. But! What if you added mint ketchup on top of the burger? Fireworks. Go head. Light it up.
Mint ketchup sounds a little bonkers. You'd think Heinz would have been all over that flavor combo already. Even though mint ketchup hasn't been bottled, YET, it works brilliantly in terms of flavor combo with the lamb burger. Slap some feta on top and you have one tasty Colorado Greek burger.
Wait. Does that even make sense? Someone send me out to pasture.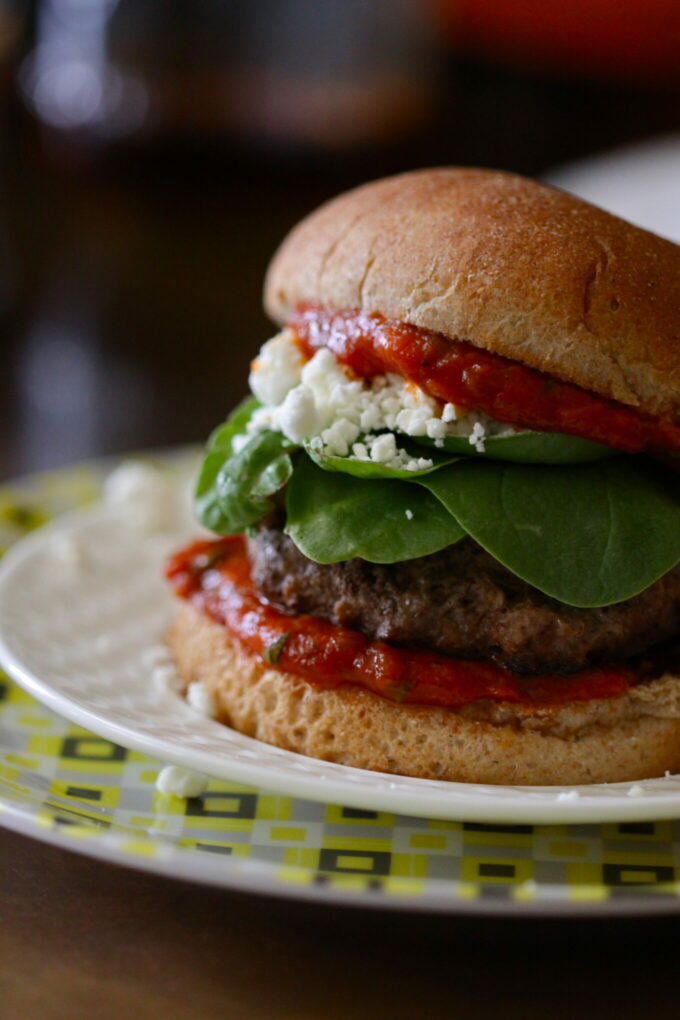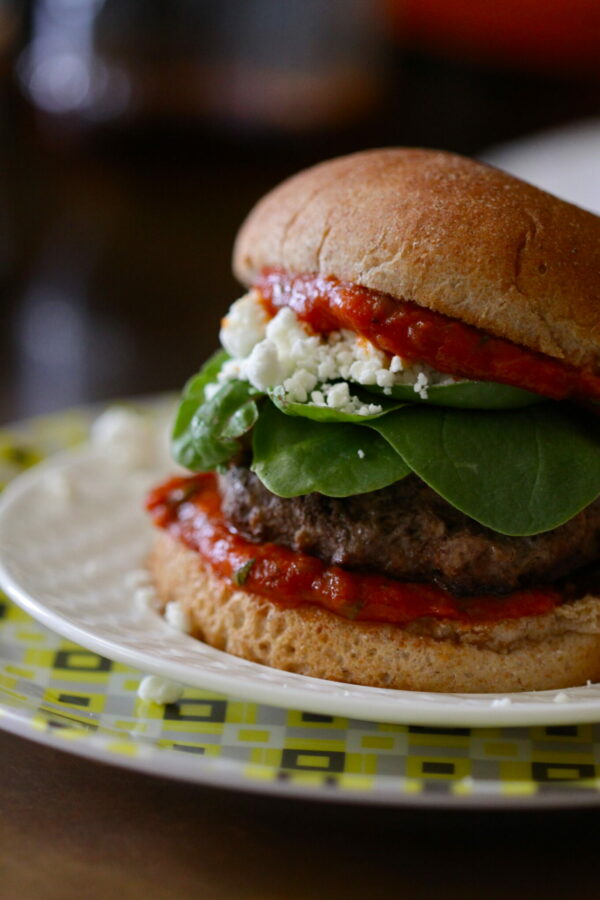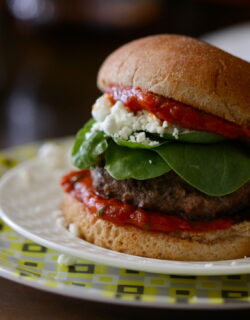 Lamb Burgers with Homemade Mint Ketchup
Ingredients:
for the burgers:
1.5 lbs ground lamb
couple dashes of Tabasco
salt and pepper
for the mint ketchup:
2 tablespoons olive oil
1/4 cup yellow onion, chopped
1.5 cloves garlic, minced
1/2 teaspoon celery salt
1/2 teaspoon paprika
1/2 teaspoon sea salt
1/2 teaspoon black pepper
1 15oz. can pureed tomatoes
1/4 cup brown sugar
1/4 cup apple cider vinegar
1/4 cup fresh mint, chopped
1 tablespoon lemon juice
salt and pepper
4 whole wheat buns
1 cup crumbled feta
Lettuce
Directions:
for the burgers:
In a large bowl, mix ground lamb, salt/pepper and Tabasco. Form into four patties. Preheat a skillet or grill to medium-high heat. Add about two tablespoons of olive oil to the pan. Cook patties for about 5 minutes on each side. Set aside to rest before eating.
for the mint ketchup:
In a medium saucepan preheated to medium heat, add olive oil and saute onion and garlic. Add the spices and saute for another minute. Then add tomato and brown sugar. Stir to combine. Add apple cider vinegar. Reduce heat to simmer and let ketchup thicken, takes about 10 minutes. Remove from heat. Let it cool slightly. Pour ketchup mixture into a food processor and pulse a few times until smooth. Place ketchup mixture into a small bowl. Add the mint and lemon juice and salt and pepper to taste.
to serve: Take whole wheat bun, smear mint ketchup on bottom and top. Place one patty on top of bottom bun. Add piece of lettuce, crumbled feta, and top with other bun. Enjoy with a big ol' beer!
homemade mint ketchup recipe from Ger-Nis.com
All images and text ©