Lamb Za'atar Panzanella Salad
Lamb Za'atar Panzanella Salad is a delicious and flavorful salad! Grilled American Lamb tossed with crispy bread, peas, fresh herbs and a zingy dressing!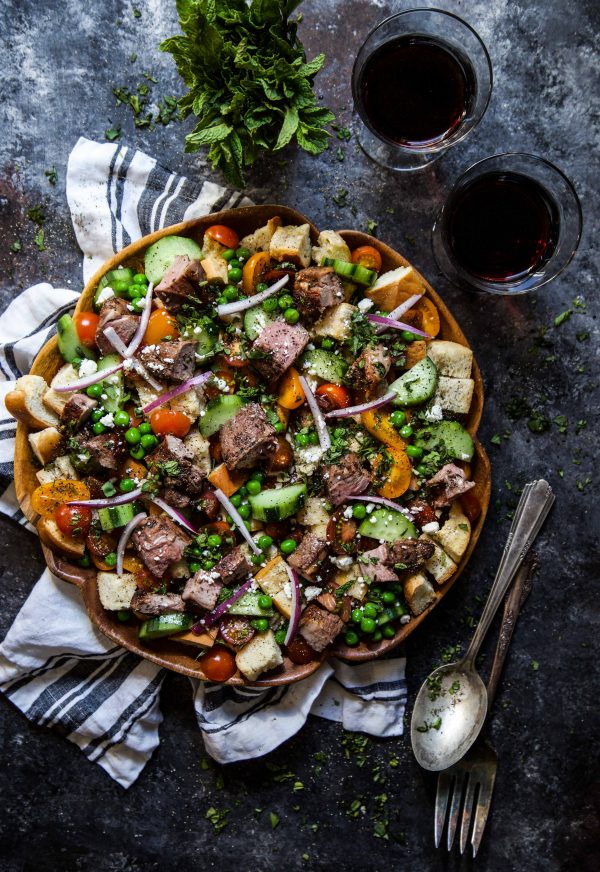 Spring is just around the corner.
I can practically taste it.
Spring has a wild array of flavors, don't you think? We've got chocolate and stout pairings. We've got baskets full of random collections of rabbit themed candy. And we've got produce that is on the verge of bursting into a glorious green bouquet.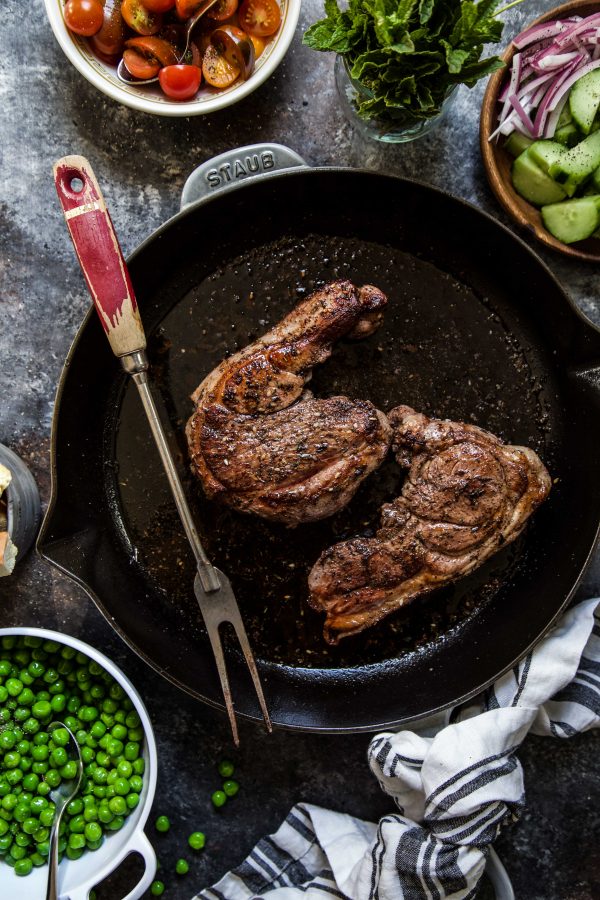 Much like the weather one must be adventurous this time of year when it comes to making a meal. When I think of a dish that would hold up to Mother Natures swings, I knew this Lamb Za'atar Panzanella Salad would do the trick.
Besides being off the charts delicious this salad quickly comes together thanks to American lamb cubes. Simply cut a few lamb steaks into one-inch cubes. Season the lamb with Za'atar spices and grill. Lamb cooks quickly and provides this rich, yet flavorful texture to this salad.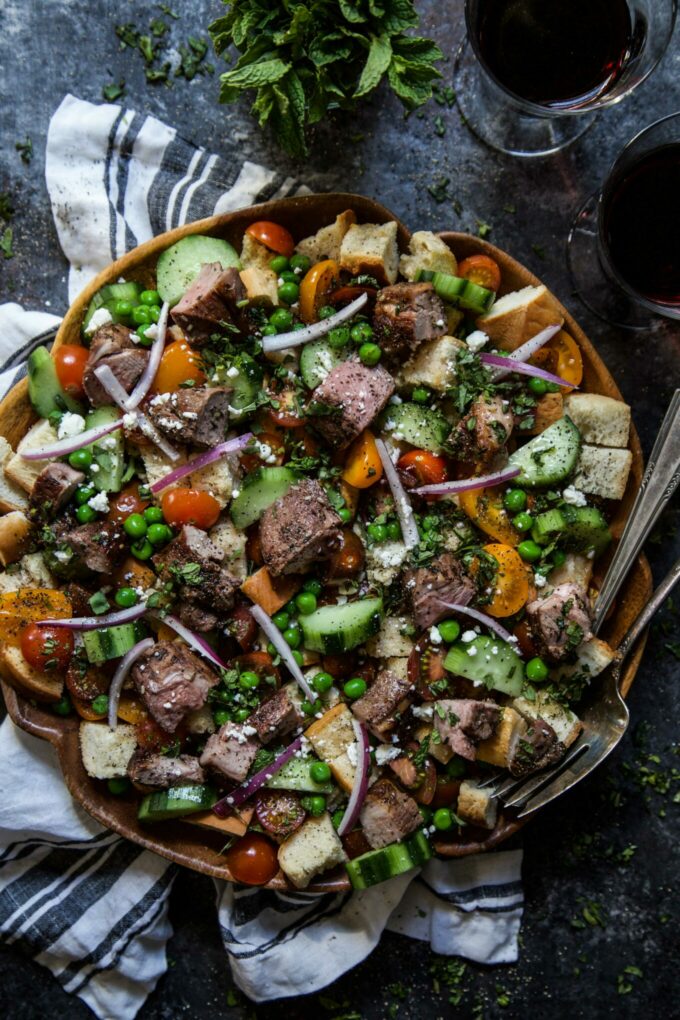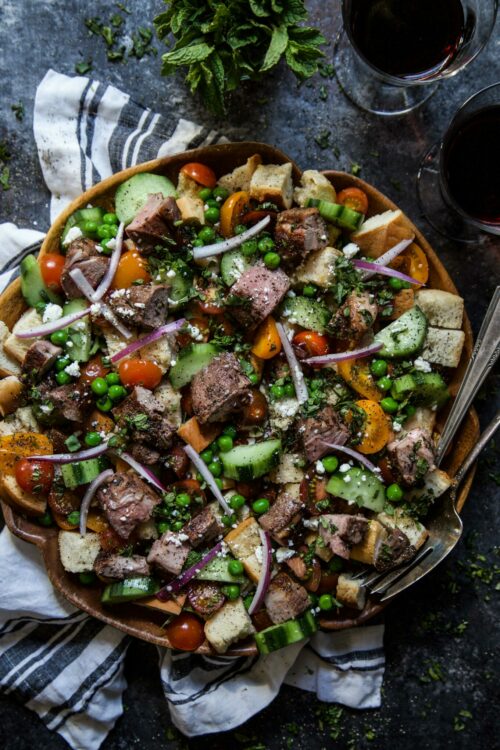 Once you've grilled the lamb toss it with the bread cubes, cucumbers, tomatoes, peas, mint and basil. What you get is a fully loaded, spring approved salad ready in 30 minutes or less!
Need more lamb inspiration? Make sure to try these recipes for your next gathering:
– Spiced Lamb Tamale Bowls
– Lamb Shawarma Lasagna Cups
– Turkish Lamb Galette
– Slow Cooker Spiced Lamb Gyros
To learn more about lamb make sure to check out the American Lamb Board. You'll find locations on where to get local lamb and more recipes to boot!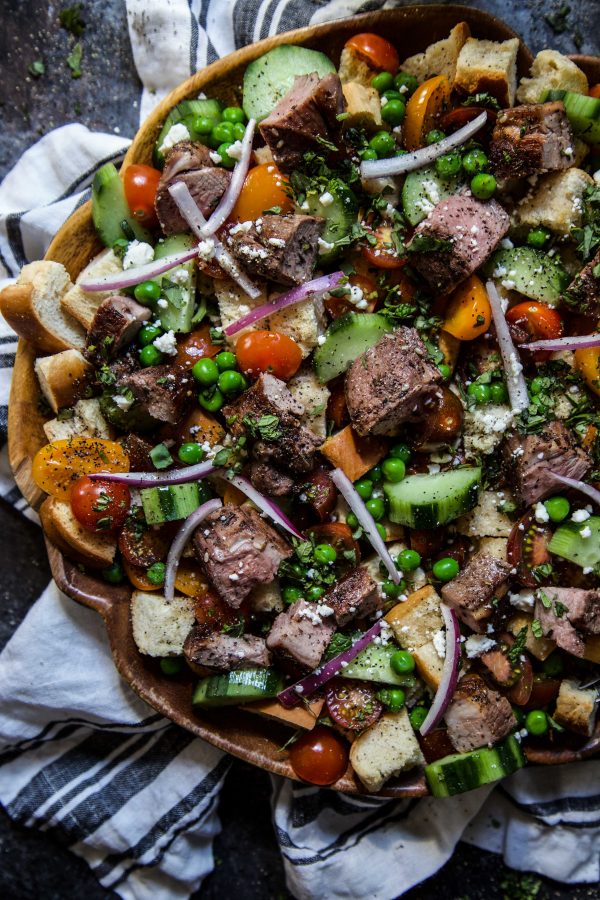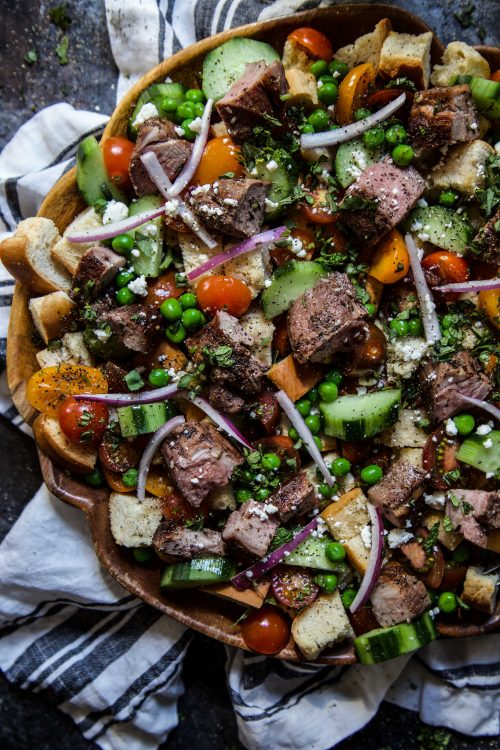 ***This post is sponsored by the American Lamb Board. As alway, all opinions expressed are 100% my own. ***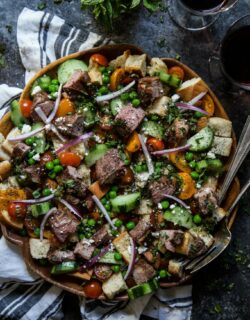 Lamb Za'atar Panzanella Salad
Ingredients:
1 large baguette, cut into 3/4-inch cubes
1/4 cup olive oil (plus more for drizzle)
1 tbsp red wine vinegar
2 half pound boneless American lamb steaks
2 tsp Za'atar seasoning
1 cup sliced cucumber
2 cups grape tomatoes, halved
2 tbsp red onion, sliced thinly
1/2 cup fresh peas
2 tbsp chopped fresh basil
2 tbsp chopped fresh mint
Crumbled feta, for garnish
salt and pepper to taste
Directions:
Preheat an oven to 275 degrees. Spray a large baking sheet with non-stick cooking spray. Place the baguette cubes on the baking sheet and drizzle tops with oil olive, salt, and pepper. Bake the cubes for about 20 to 25 minutes until slightly golden brown. Remove the cubes from the oven and set aside and turn the oven temperature to 400 degrees.
Next, seasoning each side of the lamb steak with 1/2 tsp Za'atar seasoning, salt, and pepper. Preheat a large cast-iron skillet to medium-high heat. Add a little olive oil to the skillet if needed. Sear the lamb steaks for about 2 to 3 minutes on each side or until a nice crust has appeared. Turn off the heat and place the skillet into the oven to continue to cook for about seven minutes or until a thermometer reads 160(F) degrees for medium.
Remove the skillet from the oven and place the steaks on a cutting board to rest before slicing. While the steak rests assemble the salad. In a large bowl combine baguette cubes, cucumbers, tomatoes, red onion, peas, basil, and mint. In a small bowl combine 1/4 olive oil, red wine vinegar, salt and pepper. Pour the dressing over the salad and toss. Pour the salad on a serving tray.
Next, take the cooled lamb steaks and cut them into one-inch cubes. Place the cubes on the salad along with a feta. Serve and enjoy!
All images and text ©