Life with Charlie: One Year!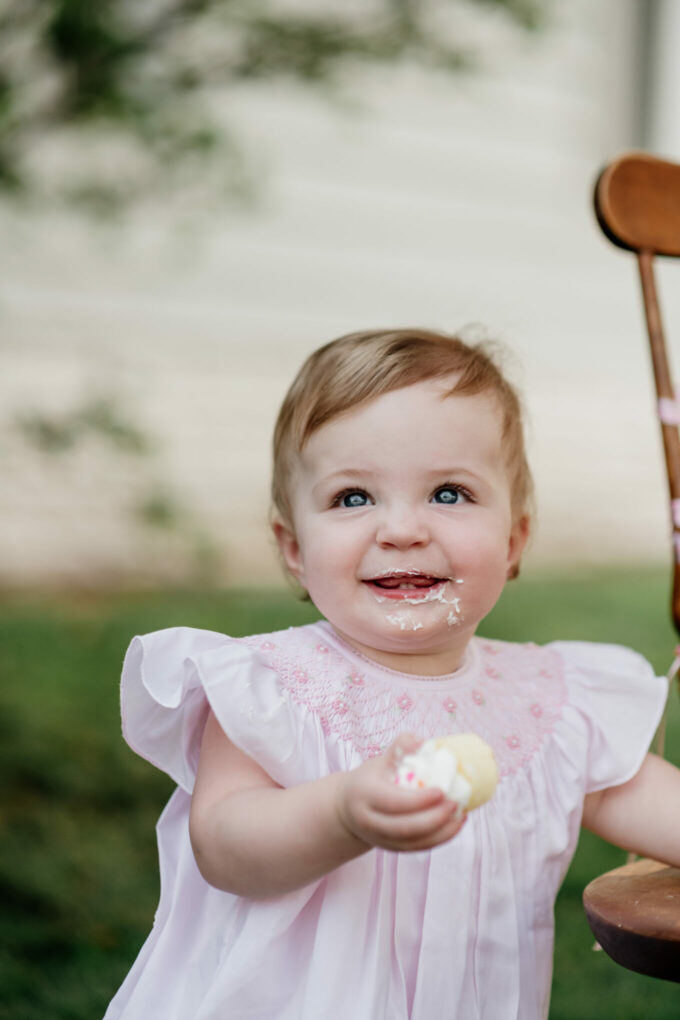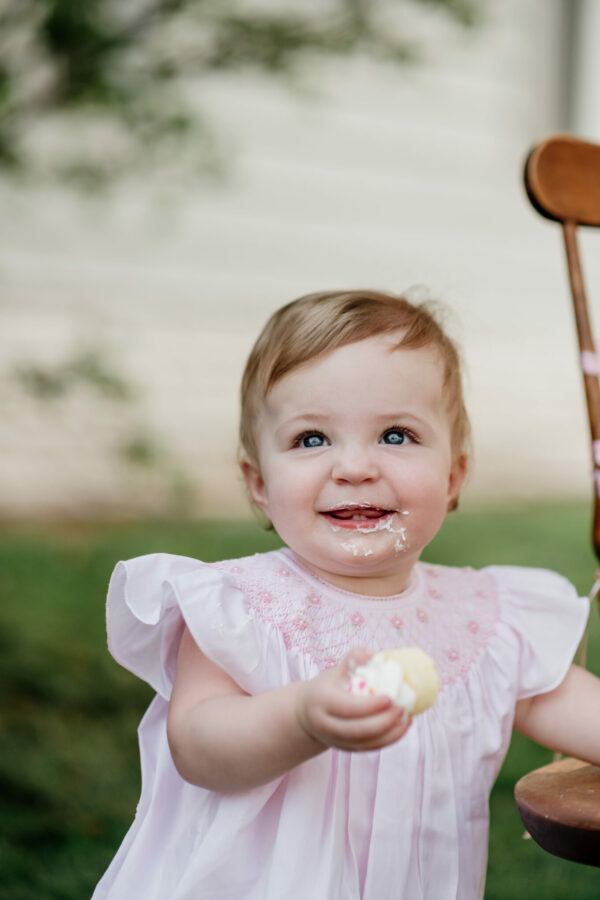 Oh, HI!
I realize it's December and I'm writing a recap of Charlie's first birthday. BUT! Better late than never?
Keeping up with a one year-old, planning a first birthday party, and doing all the fall things was a lot. Phew. I will be honest raising a kid is definitely a young person's game.
Anyway, once we got back from Labor Day in the mountains it was an all out sprint. I swear Charlie changed so much in the month of September particularly after her birthday. We'll get to that later!
Okay, so let's dive in and see what happened in September with a sprinkle of what's been going on these past few months.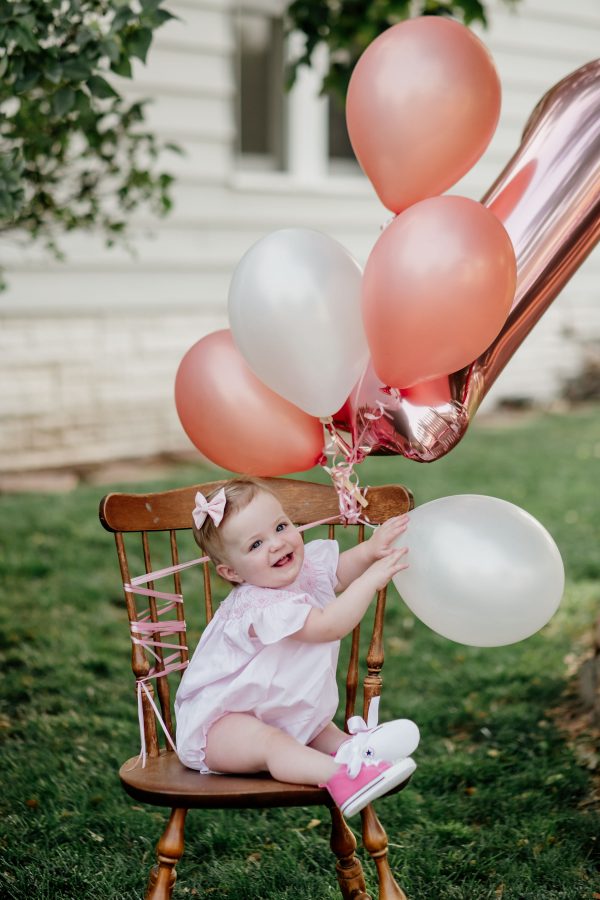 Changes with Charlie…..
Once Charlie turned one we knew she would no longer need formula. With that, she has a very big attachment to her morning and evening bottle. She was cool with getting rid of the other three bottles: one mid-morning, one pre-afternoon nap, and post afternoon nap. So to help make the adjustment mentally and physically, we mixed the formula with whole milk and gave it to her only in the morning and evening.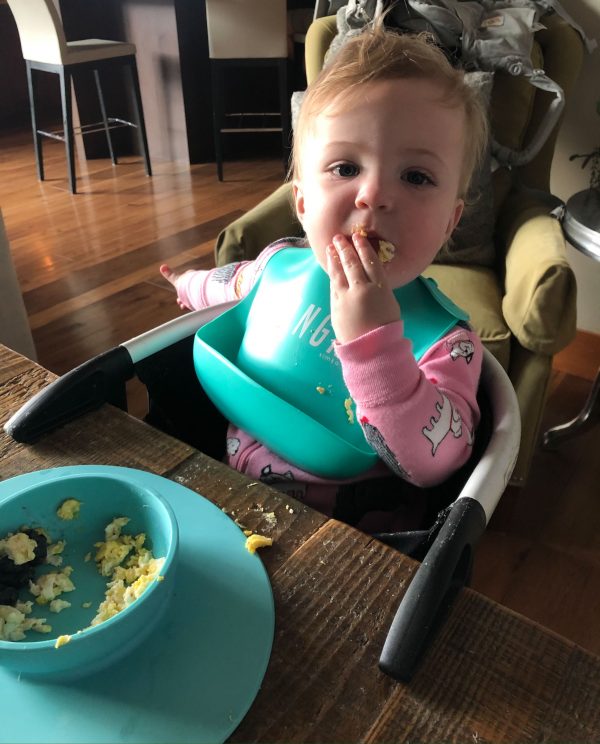 Now, I would love to say it was a smooth transition, but it wasn't. It took about a month for her to understand that the food she was eating was how she was getting her nourishment. Not the bottle. I just kept at it by offering food, snacks when appropriate, etc. Charlie eventually sorted it out and now we are completely off formula. Next, phase is no more bottles. Wish us luck.
POOP. Always a hot topic in our household. With the change of formula to milk + eating more solid foods, Charlie's system was like WTF? I did all the prune juice, water, etc. and she just kept having that clay poop. Thankfully a food blogging friend recommended Miralax. I put a 1/2 teaspoon in her water bottle a day to help keep her regular. Praise Jesus it works because clay poop is the worst!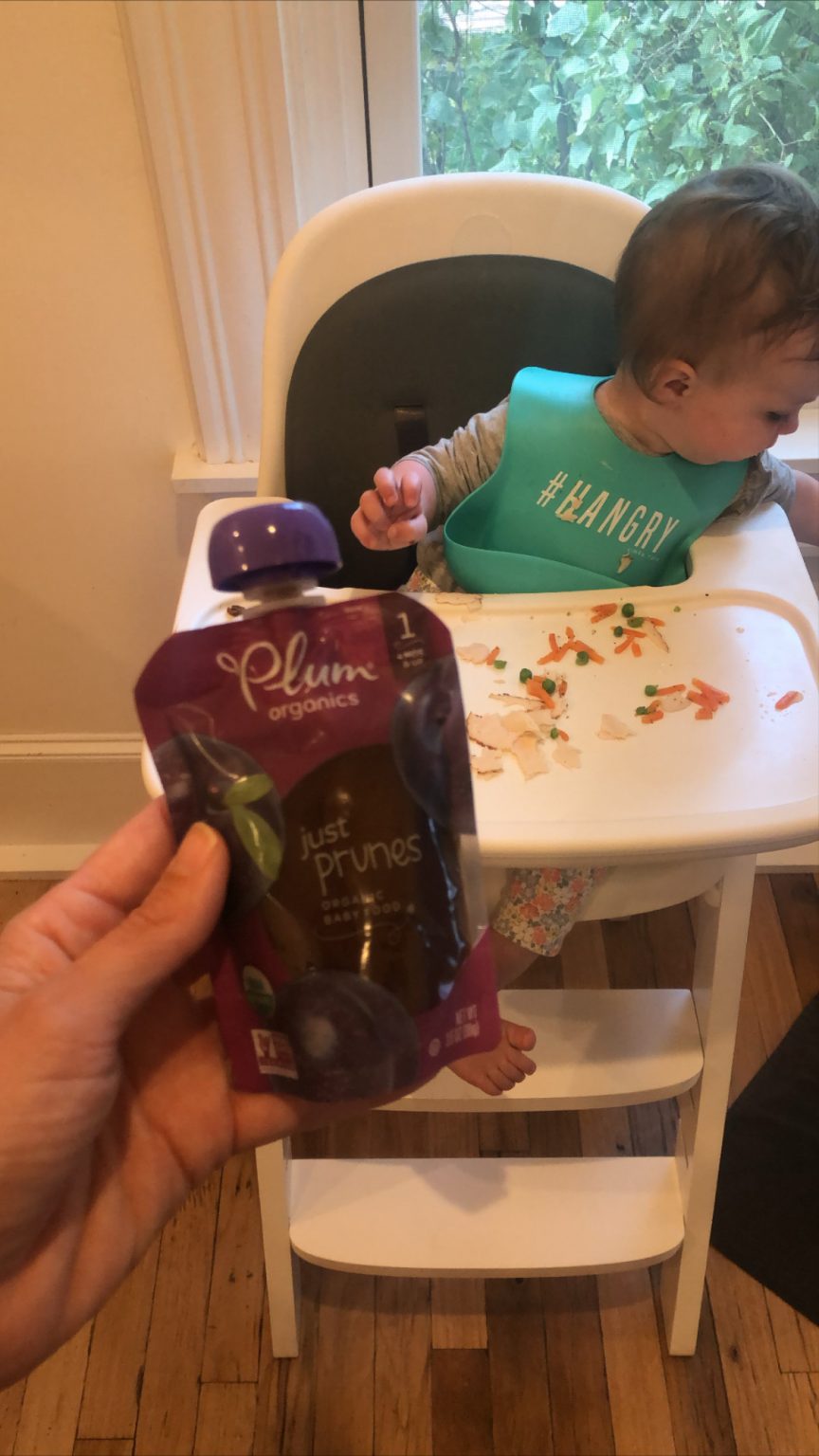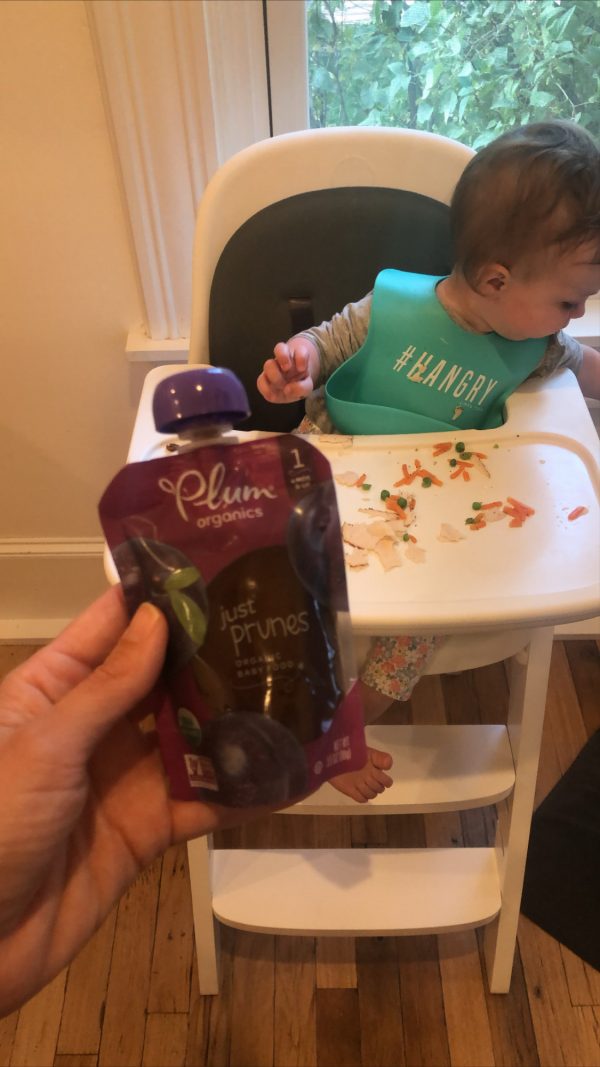 The couple of weeks leading up to Charlie's first birthday she would not sit in her stroller. Would have nothing to do with it. I think we just wanted to crawl and move as much as possible. Not going to lie, it was annoying AF. So, to get us out of the house I would just carry in the Ergo baby. Problem semi-solved.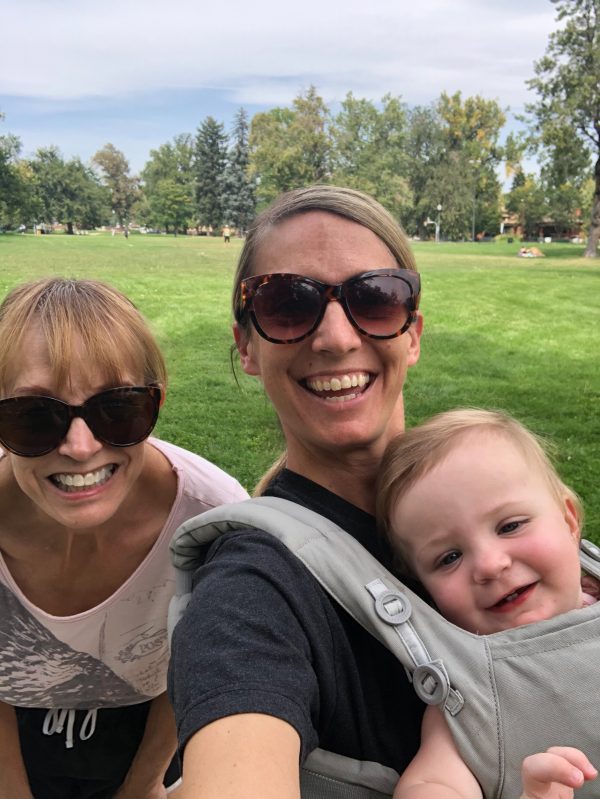 I am very thankful that Charlie is still taking her morning nap. I've heard a lot of moms say that the morning nap drops around this time. Charlie takes two naps: 10am to 11am in the morning and 2pm to 4pm in the afternoon. Still trying to figure out daycare once she goes down to one nap a day because I won't be able to get SHIT done once what happens.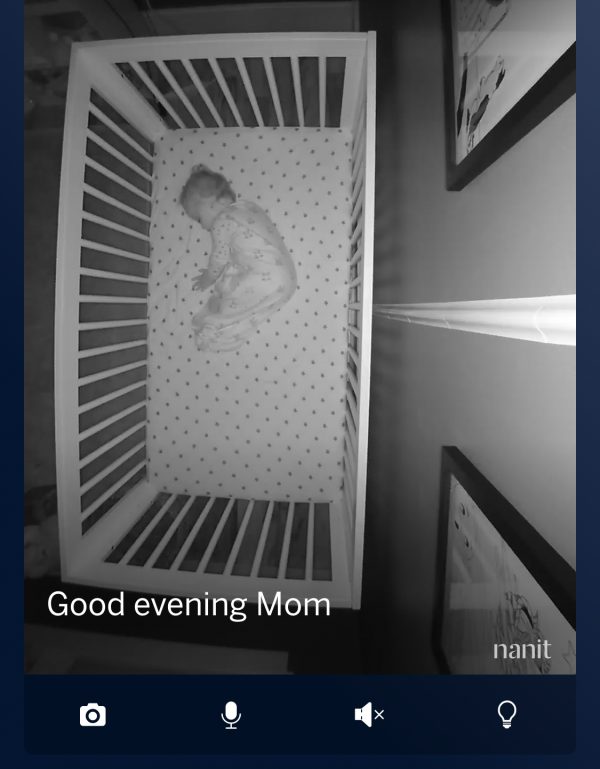 Our trash can is currently living on our kitchen island because Charlie loves to get into everything. Yes, it is annoying, but the girl is curious! Also, still in love with toilet paper and now has found water in the toilet. Splish-Splash.
I will say one of my highlights during September was her rocking a ponytail the first time. Also, I'm dying to paint her nails and toes.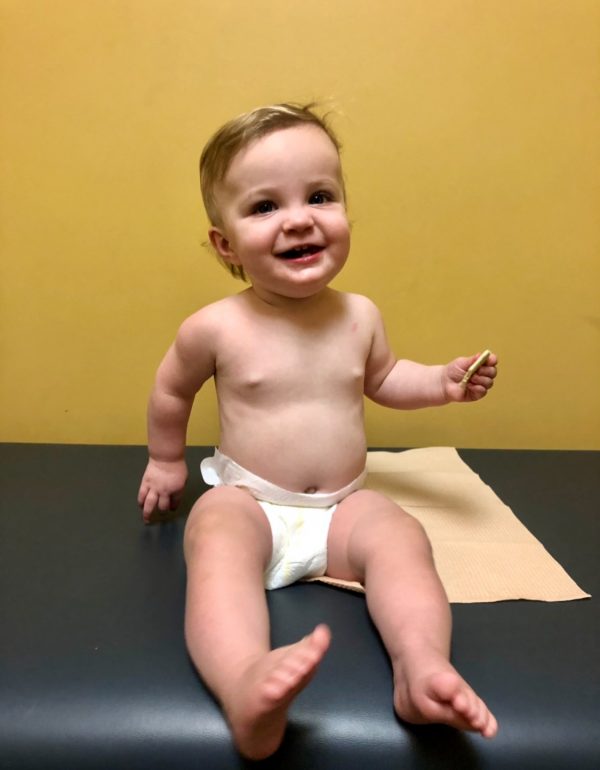 Charlie did pretty well with her 12 month shots. She passed all the checklists which was great. HOWEVER. Parents, be warned about the MMR delay. The doctor told me that she could feel some delayed pain from that shot about four days later and it totally happened. Charlie was a terror and felt miserable. Good news…..it does go away just go into those shots knowing there could be some delayed pain.
First Birthday Things!
For her actual first birthday photos I decided to get some balloons from Party City (hooray for curbside), tie them to a chair and have Charlie eat some mini cupcakes. My photographer Jenna took the photos and they turned out amazing. Seriously, the cupcakes were way easier to pick up and eat!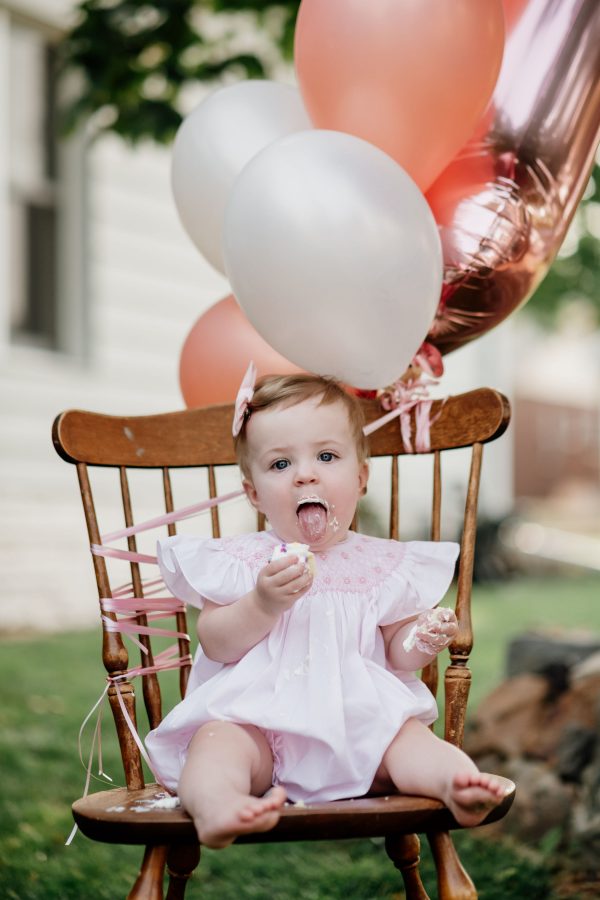 Links to items for Her Birthday:
A majority of her stuff I got off Etsy. I did order early because I was worried about delayed shipping. But overall I wanted her theme to be soft pinks, burgundy, and gold. Late September is tricky for a theme because it's "fall", but still 90 degrees outside!
Outfit:
Pink Hair Bow: https://www.etsy.com/shop/EmmaBeanBowtique
Pink Smock Dress: https://feltmanbrothers.com/baby-girl-clothes/
Converse Sparkle Shoes: https://www.etsy.com/shop/SparkleMeBaby2u
Decorations: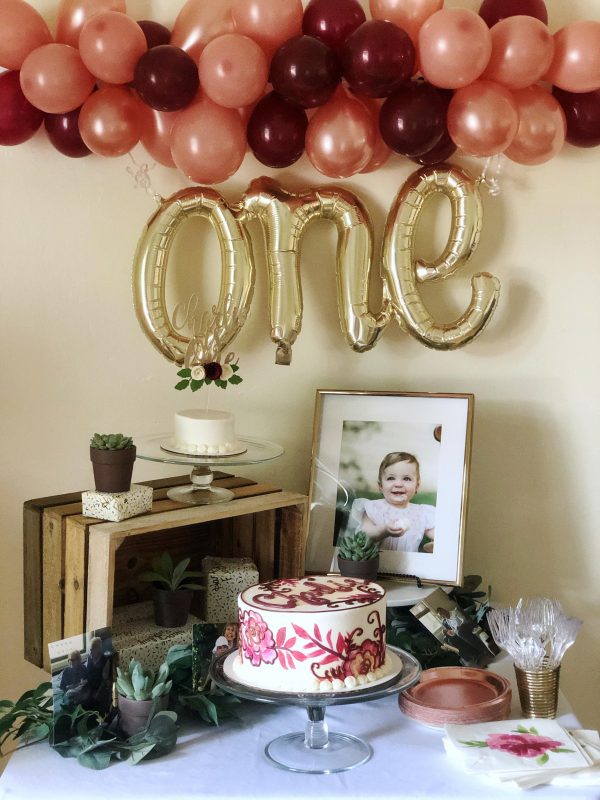 Balloon banner: https://www.etsy.com/shop/OhhHowCharming
One balloon: https://www.etsy.com/shop/OhhHowCharming
Regular balloons: https://www.etsy.com/shop/OhhHowCharming
Cake + smash cake: www.mulberriescakes.com (*if you order a regular cake they give a smash cake to you for free!)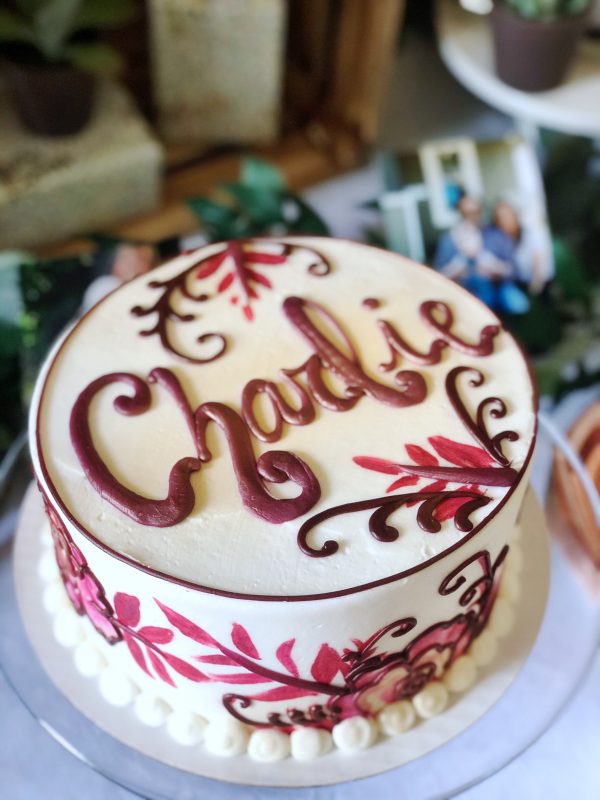 Cake topper: https://www.etsy.com/shop/TheFestiveStudioCA
One Year Banner: https://www.etsy.com/shop/TheFestiveStudioCA
Monthly Gold Timeline: https://www.etsy.com/shop/PomChickShop
Pictures Printed for Timeline: www.walgreens.com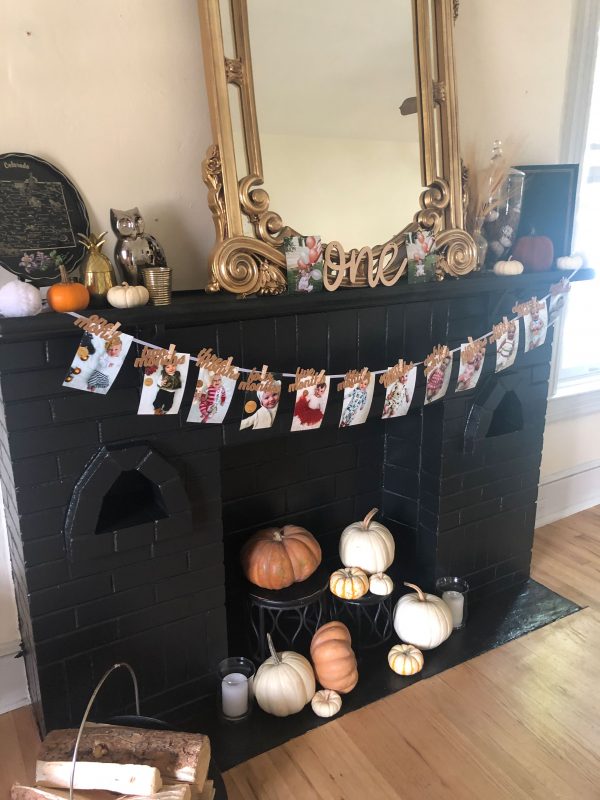 Misc:
Taco Bar: http://www.elcaminotavern.com/
Succulents: Trader Joes!
Rose Gold plates: Target!
Burgundy flower napkins: Target!
Charlie's birthday was so much fun! I will say go into a kids birthday with low expectations. They get so over-stimulated. I literally didn't care if we didn't get a single photo because we had so many gorgeous ones from Jenna. Took the pressure off and we just had fun which I think made Charlie have fun too!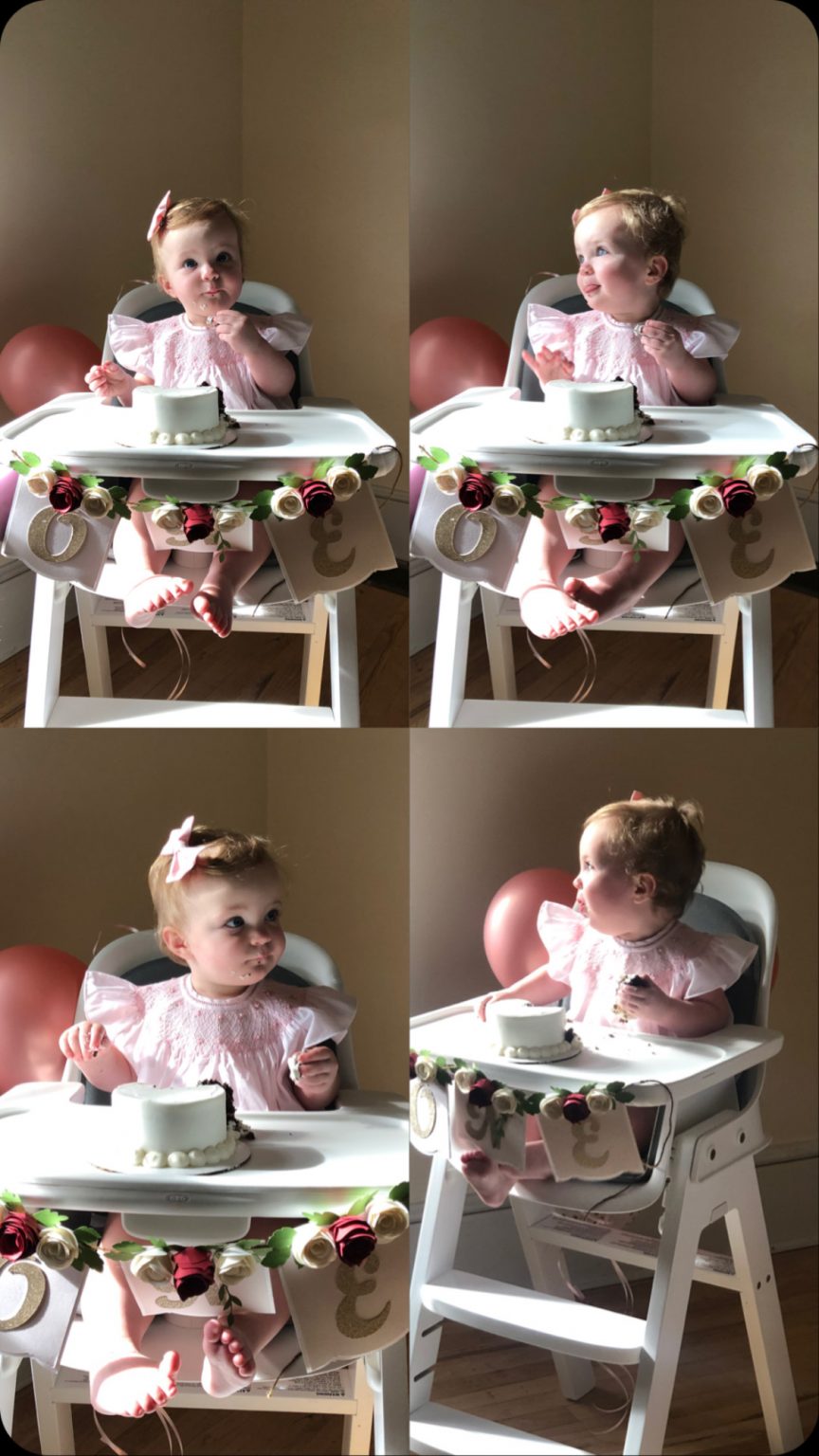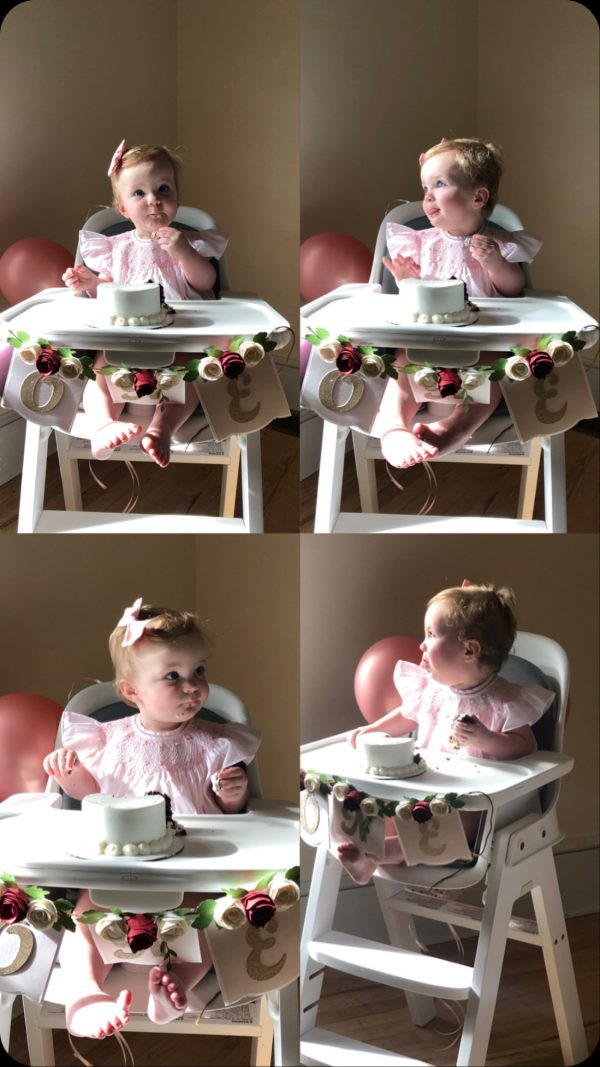 Fall Activities!
Even though 2020 has been odd we tried to keep busy and show Charlie that life does continue on! Starting with…..
Steamboat to do some leaf peeping. This is Bret and my happy place so to be able to bring Charlie (with family) to SB was so fun! Also, the leaves were on point this year!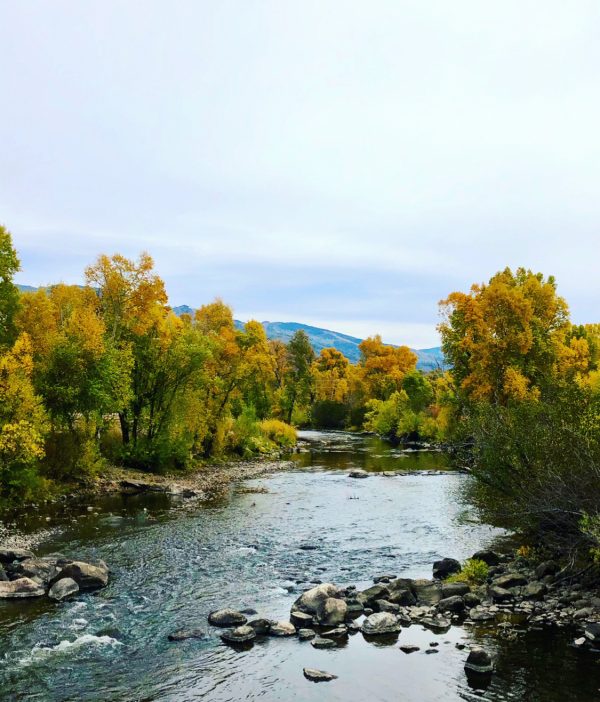 Pumpkin Patch. OMG. We went with a few friends on the most blustery day EVER! We still managed to have fun, ride a tractor, and snag a family pic for the gram.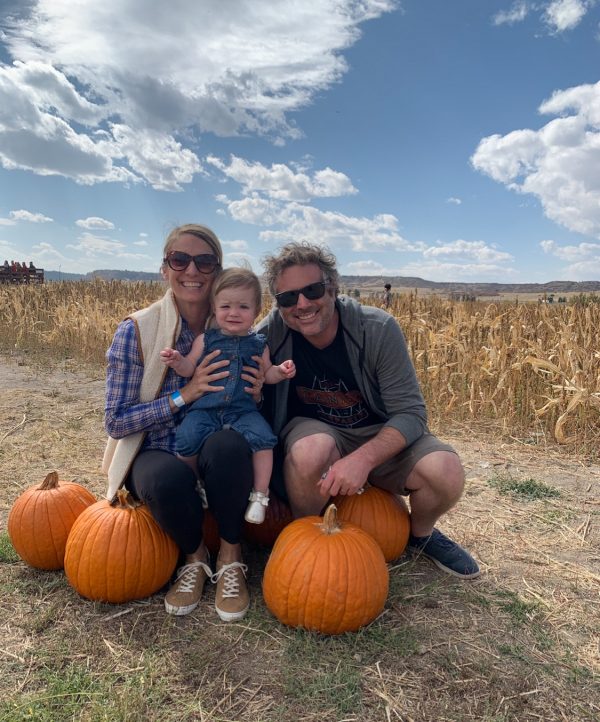 Walked a lot around the neighborhood and ate leaves + pinecones. Charlie loved looking at all the colors!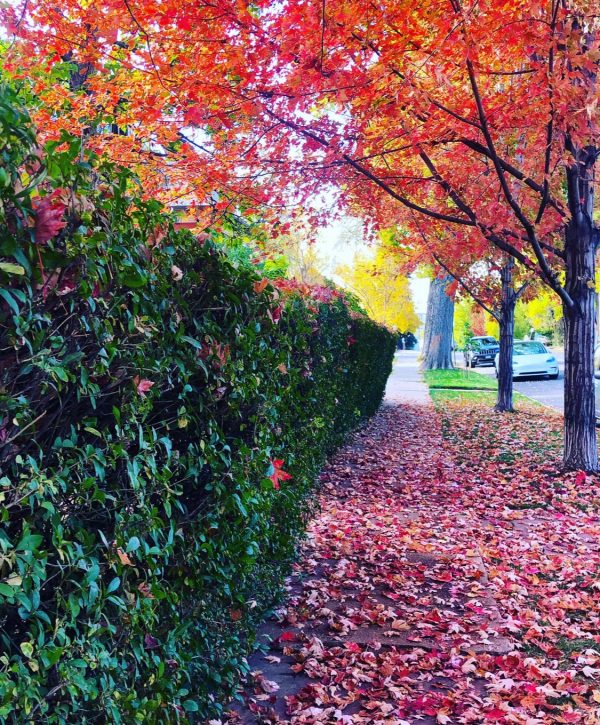 Started to "lounge" on the couch with us. This picture of her in my "weekend" sweatshirt is my favorite.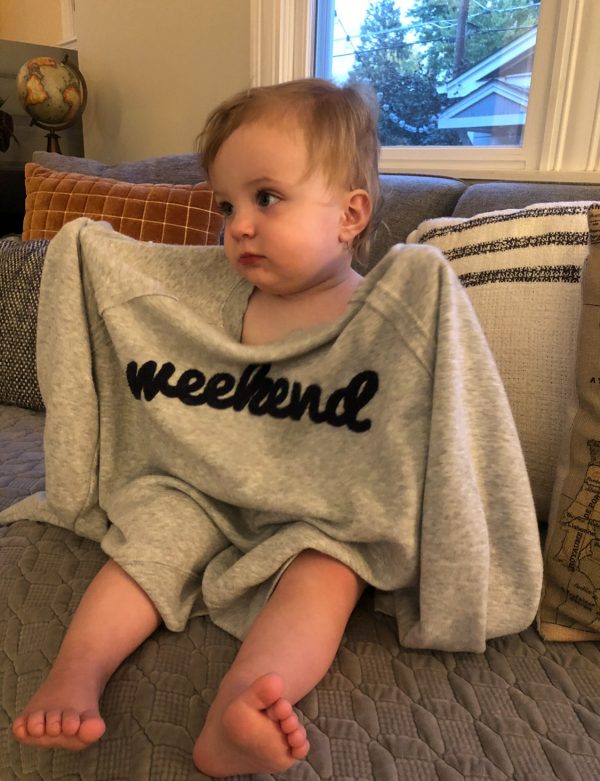 Aquarium. Such an easy outing for kids and families to do. I think the best part was watching Charlie pet the stingrays at the end!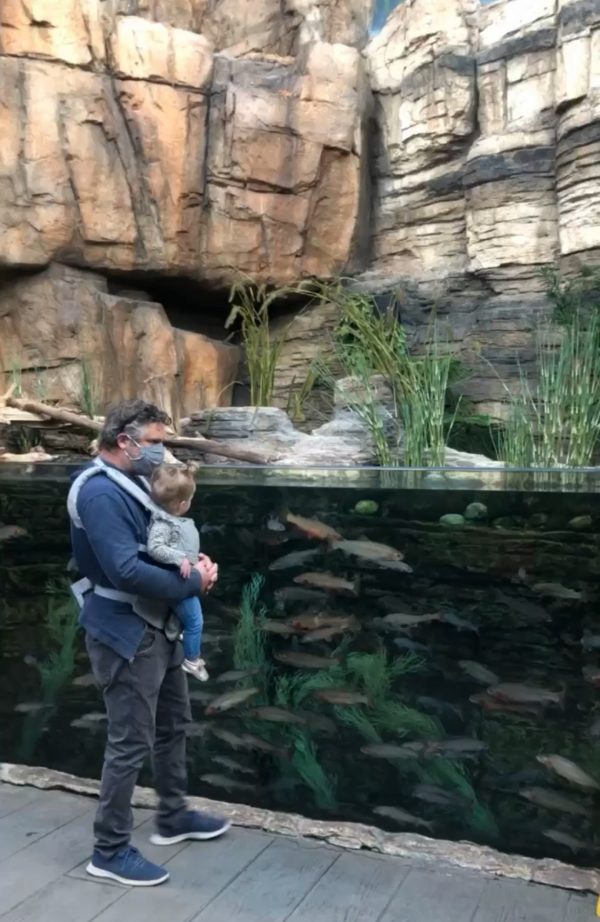 Celebrated Halloween. We managed to have our family photo taken prior to Halloween which again took the pressure off for the actual day. Bill and Ted's Excellent Adventure was fun to do and we even got Charlie to leave her Napoleon hat for 1.2 seconds! I'll be curious to see what she will want to be next year!
And that's a wrap on the first 12 months! Man, it's been so fun to write these posts. I won't be doing monthly going forward, but hopefully I will jump in with a life update here and there. Thank you so much for reading about our family, Charlie, and crazy experiences! Life is truly a blessing.