Lisbon, Portugal – Where to Stay, Eat, and Visit!
Lisbon, Portugal – Where to Stay, Eat, and Visit! Lisbon, Portugal is a vibrant, coastal metropolis located in Western Europe. This is city has many boutique hotels, delicious restaurants, and world-class wine. Check out my  three-day travel guide of this amazing city!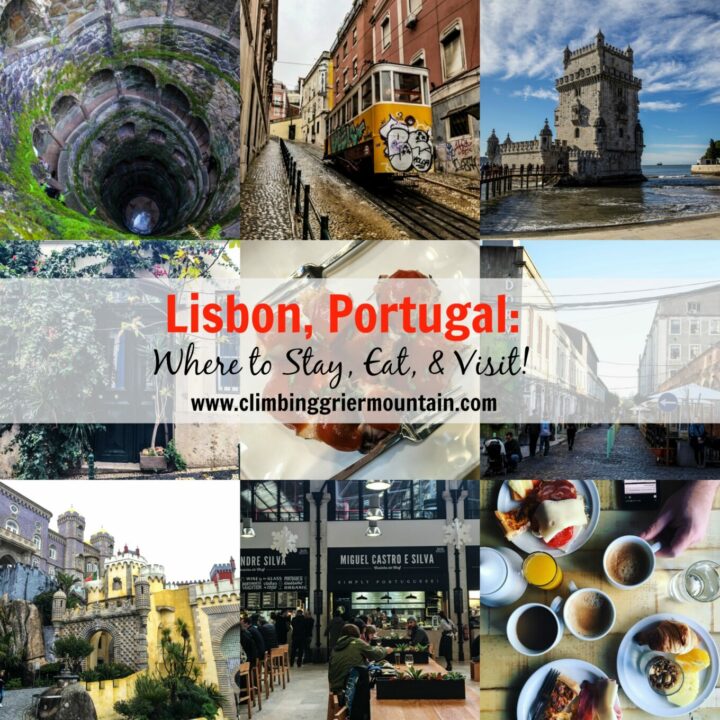 Pack your bags because now is the time to go.
Lisbon is a vibrant coastal metropolis that blends traditional heritage with striking, modern progressive thinking. I didn't know what to expect when I set foot on Portuguese soil. I knew they were neighbors with Spain, and like most traditional Western Europe countries, had a rich royal lineage of kings and queens.
What uniquely sets Portugal apart from the rest of the European Union are its people. The Portuguese are bursting with energy, curiosity, and want to know everything about you. They remind me of a long lost friend that you haven't seen for twenty some odd years, and as soon as you start talking, you pick up right were you left off.
After spending only three days in Portugal, I'm already plotting my return. Below is my guide of Where to Stay, Eat, and Visit while in Lisbon. Get ready because you won't be able to resist the Portuguese charm.
WHERE TO STAY:
Lodging and Transportation
Once you arrive at Humberto Delgado Airport you can either take an Uber, taxi, or easily access city center via the Metra. A couple things to note: 1) have cash handy to purchase a ticket (I believe it was five euros for both Mr. B and I) because many of the automated ticket platforms don't accept credit cards 2) be prepared to squeeze in like sardines once on the Metra.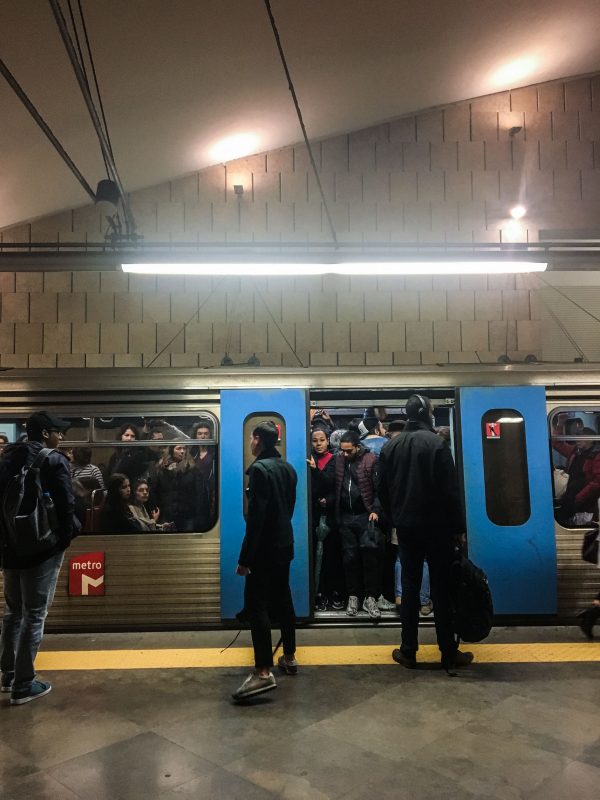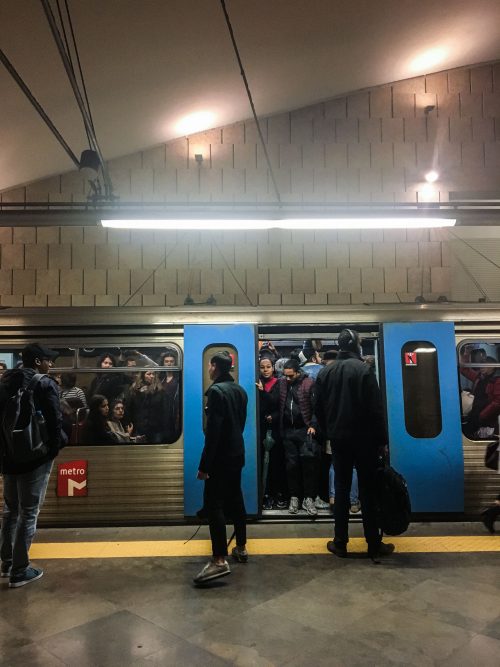 The ride from the airpot to Rossio Square in the Baixa district is about 20 minutes. The one thing I loved about the Metra is there are only four subway lines to choose from – red, blue, green or yellow. Even though I can't find my way out of a paper bag, navigating was super easy!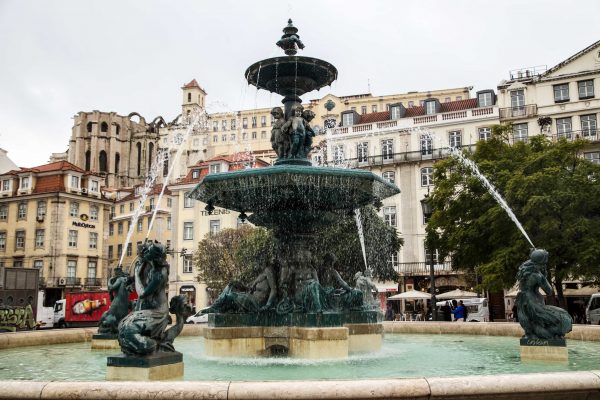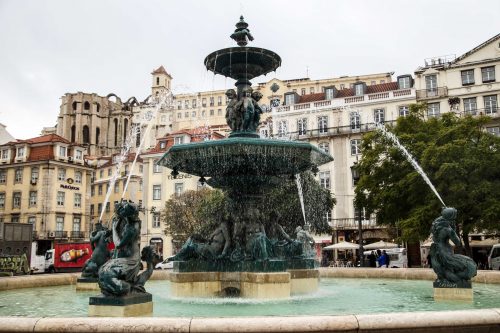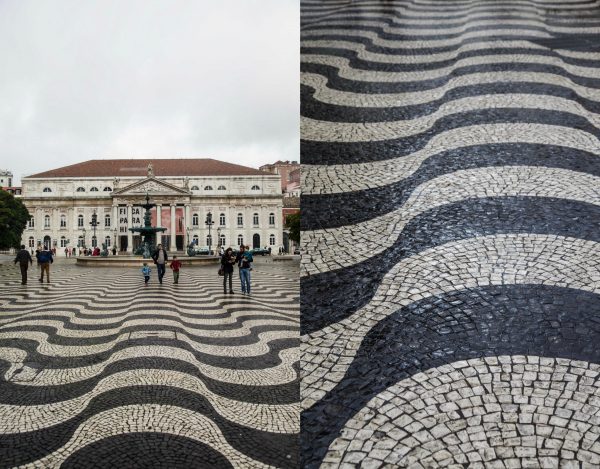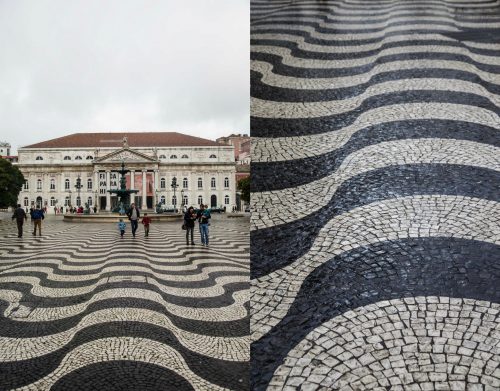 Our hotel was located in Rossio Square which has access to everything we needed for our three-day weekend. Our sanctuary, Internacional Design Hotel. A small, cosmopolitain boutique hotel with 55 rooms and featured four design elements to chose from: Urban, Tribal, Zen, and Pop. I naturally selected Zen. The room was small (typical for Europe), but met our slumber needs. Complete with a complimentary Nespresso coffee machine, fluffy pillows, and rain shower, we found the Zen room, well, to be just that.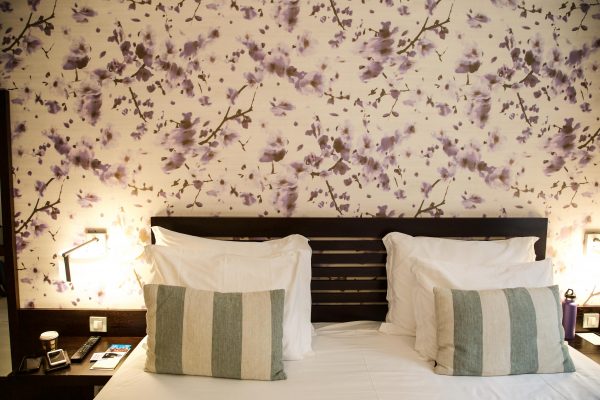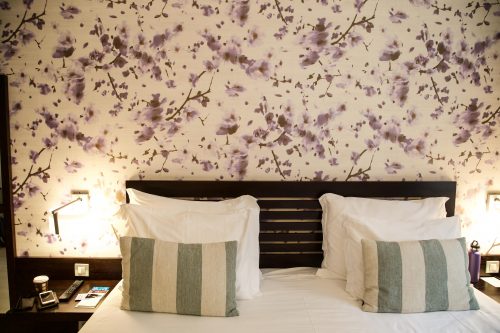 WHERE TO EAT:
The Bastardo – Hotel Internacional Design
I rarely recommend eating at a hotel restaurant because I believe you should immerse yourself in the local culture. But! I found the breakfast buffet at The Bastardo to be off the charts and lucky for us only steps away to continue our zen-like experience. Sample a meze of Portuguese foods like the infamous egg custard tart, followed by locally sourced meat quiches, fresh lox, granola, and, to wash it all down a glass from the DIY champagne bar.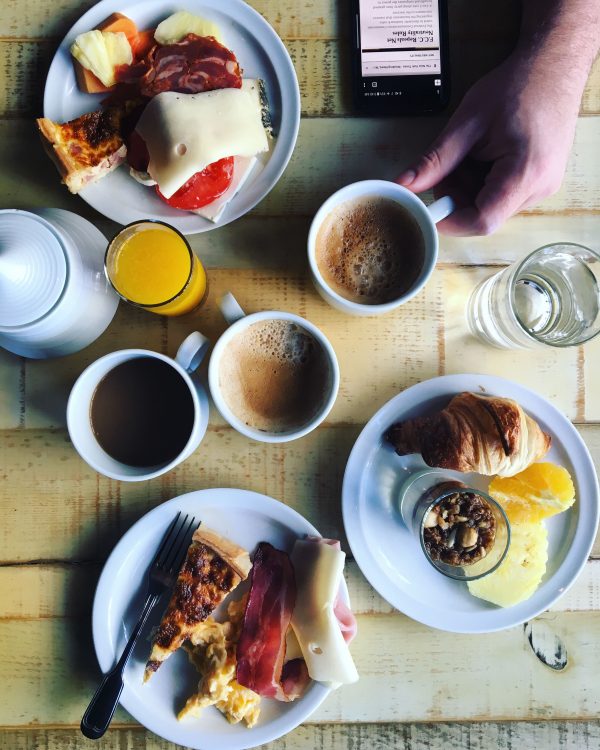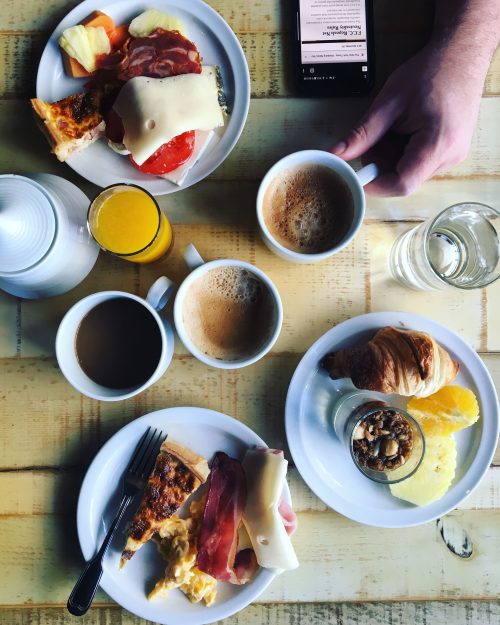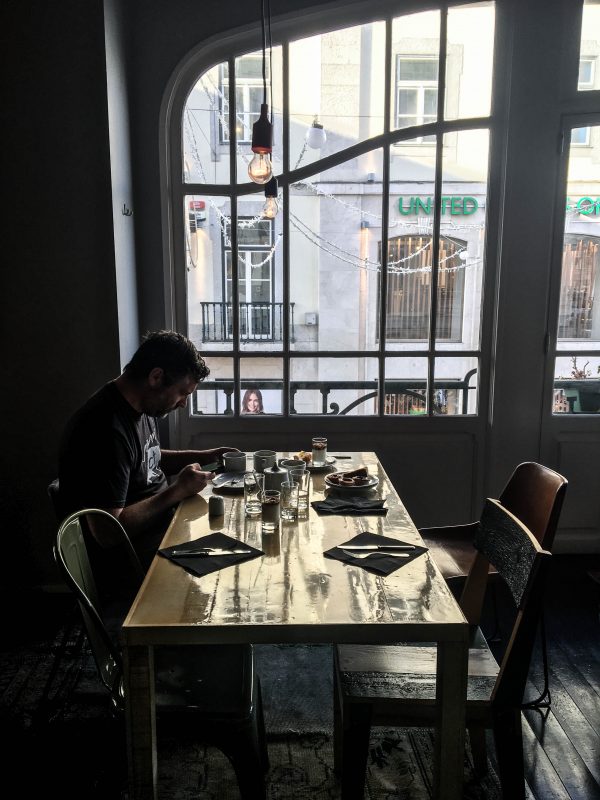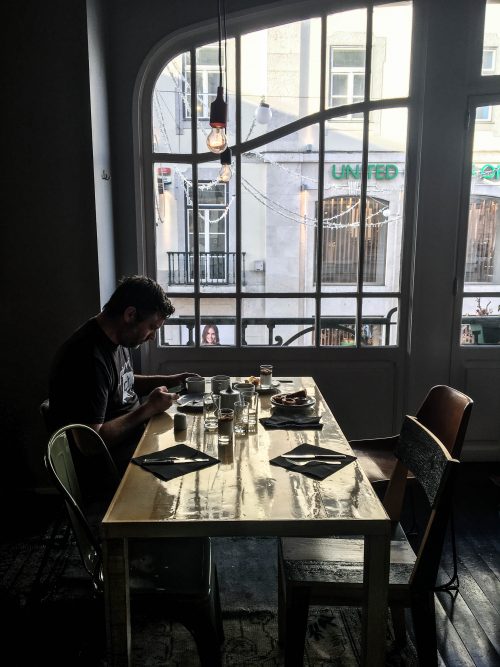 Picture this – a giant food hall that offers fine dining or street food that should rate a Michelin star, and put it all under one roof. That's what the Time Out Market is all about. Besides the year around farmers market where you can purchase lemons the size of your head, this one-stop market has everything you need from beer, wine, fresh seafood, and of course, those egg tarts. Time Out Market is a must visit while in Lisbon. Grab a seat at one of the communal tables while you sip and chat the afternoon away.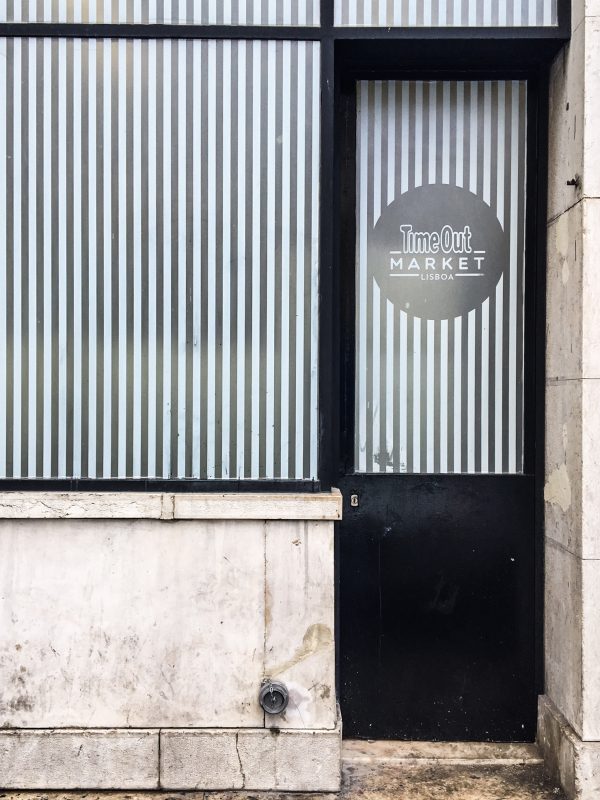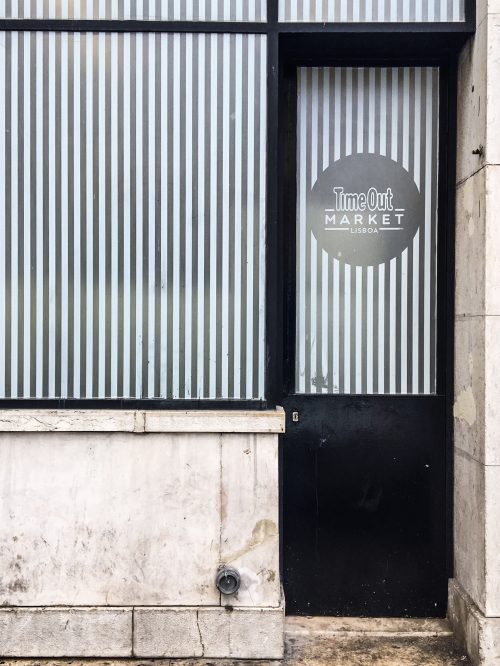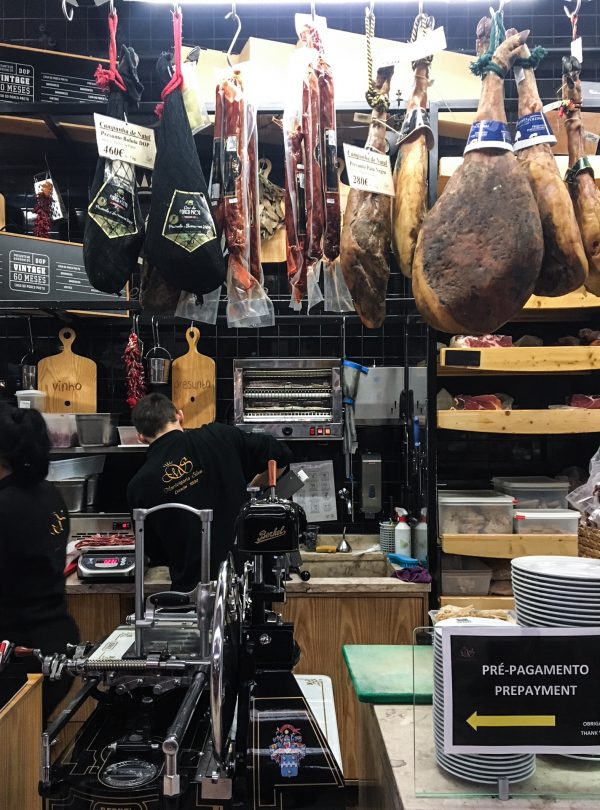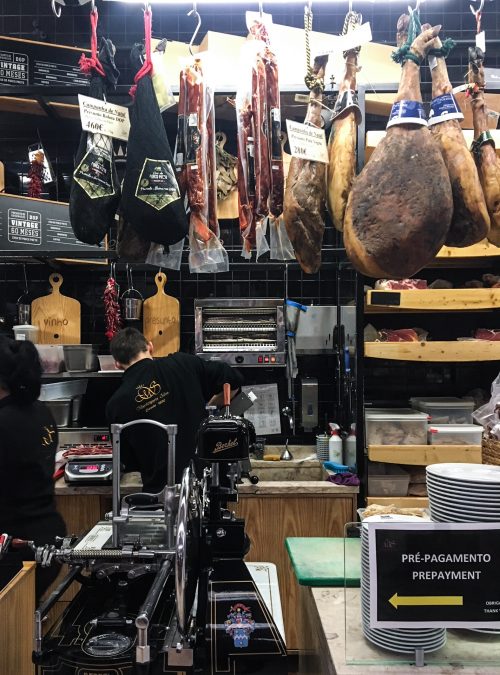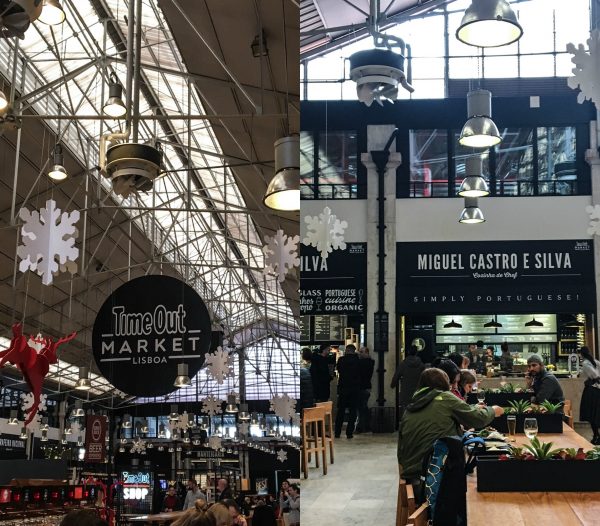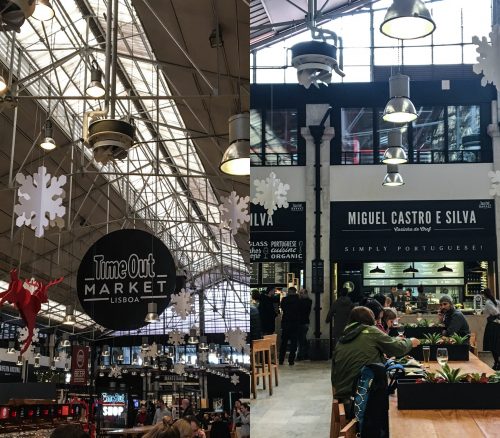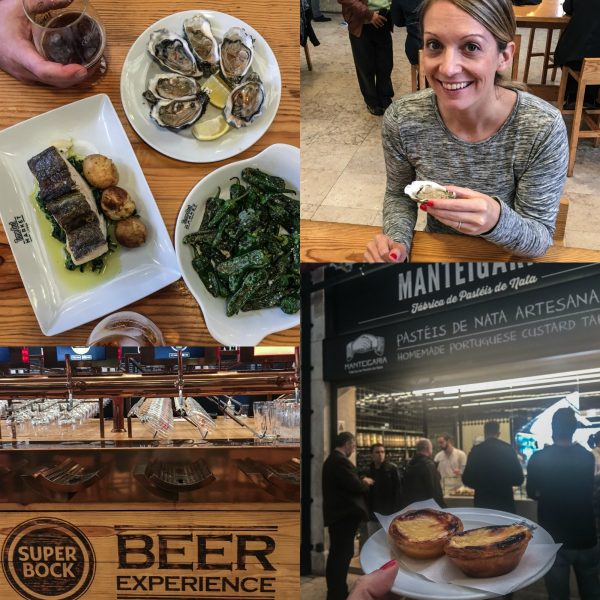 Cantinho do Avillez is located in Chiado (about a 10 minute walk from Rossio Square). This restaurant is one of seven for local celebrity Chef José Avillez. Cantinho offers a mixture of Portuguese gastronomy that includes a wide range of snacks, steak sandwiches, desserts, and wine in a friendly and informal environment. Mr. B and I sampled an array of different dishes including the 21st Century Professor Style Eggs with chorizo,, Pork from Alentejo (neck fillet), and Homemade Tuna Preserve with Ginger and Lime Mayonnaise. The best? The wine. Portuguese wine is not to be messed with. Even their generic, table wine is better than a $100 cab from California. This restaurant is worthy of pit stop!
Restaurante "O Zé do Cozido" Cervejaria
If you're feeling a little adventurous and want an authentic Portuguese meal then take a 25-minute Uber ride to Restaurante "O Zé do Cozido" Cervejaria. Dinner at this 40-seat family diner was hands down my favorite dining experience of our trip. Mr. B and I were in search of "cozido à portuguesa" a famous local stew. We were told this place was the place to grab a big bowl of this hearty stew. Well, after a few lost in translation moments, come to find out they only serve this stew on Sundays. We arrived 10 hours too early. Dang it! But somehow the table next to us overheard our dilemma and gave us a few servings of their cozido à portuguesa. They were celebrating a company party and had pre-ordered the stew!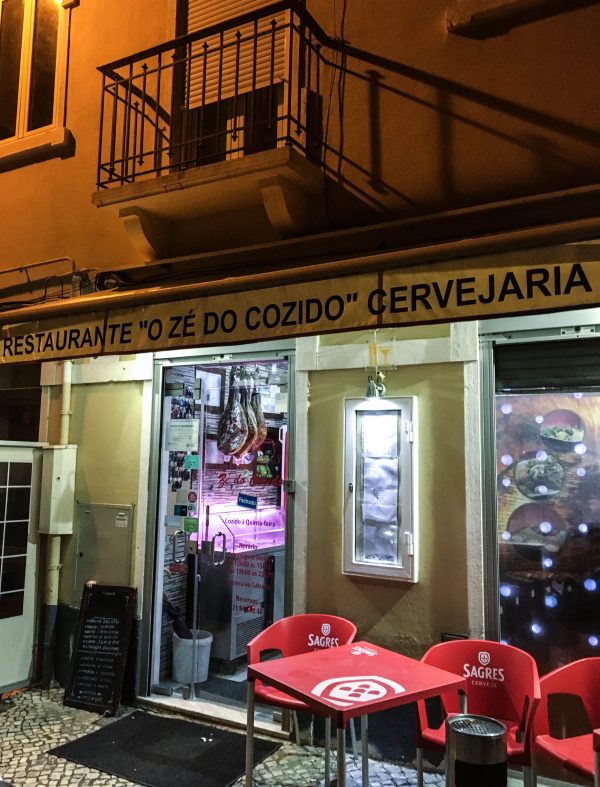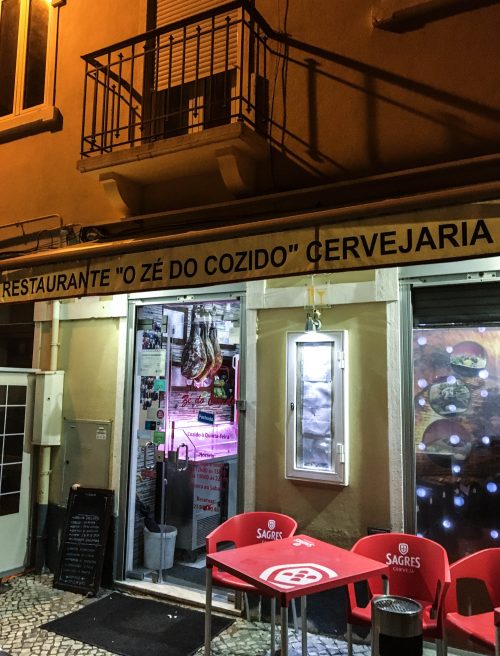 Not only did I fall deeper in love with the Portuguese people, I fell head over heals in love with stew. Combined this with fried sardines, a tower of shrimp, steak & eggs, and more wine excellent table wine, and your's truly was never leaving.
This modern tapas influenced restaurant was located in a hipster neighborhood called LX Factory. Nestled along the main cobblestone drag, Central da Avenida boasts a wide selection of beer and wine. It's the perfect pit stop for happy hour and a must order is the chorizo stuffed squids and Alheira de Caca No Forno (game sausage).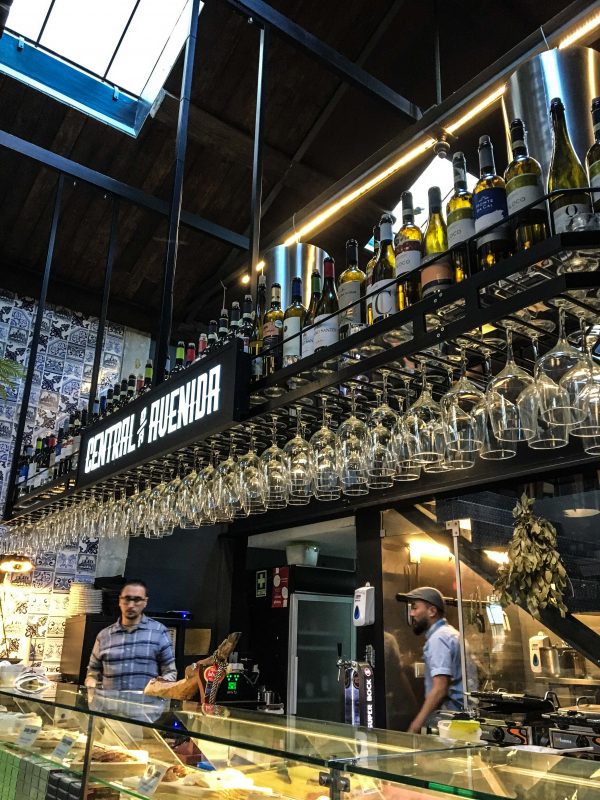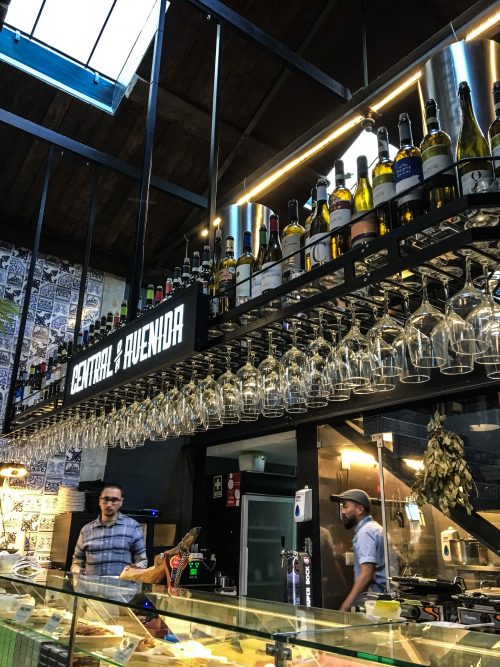 Now, if you are wanting to let loose after a long day, head on over to Pink Street. The name is iconic because all the establishments sit along a pink street! Located a few blocks north of the Time Out Market, this street is full of all the nightclubs and disco bars you'll ever need. Make sure to take a rest before you head here because you won't spot anyone until after 11pm. I recommend grabbing a traditional Portuguese Caipirinhas cocktail made of Brasilian Cachaca, lime juice, and brown sugar while you wait to shake your tail feather.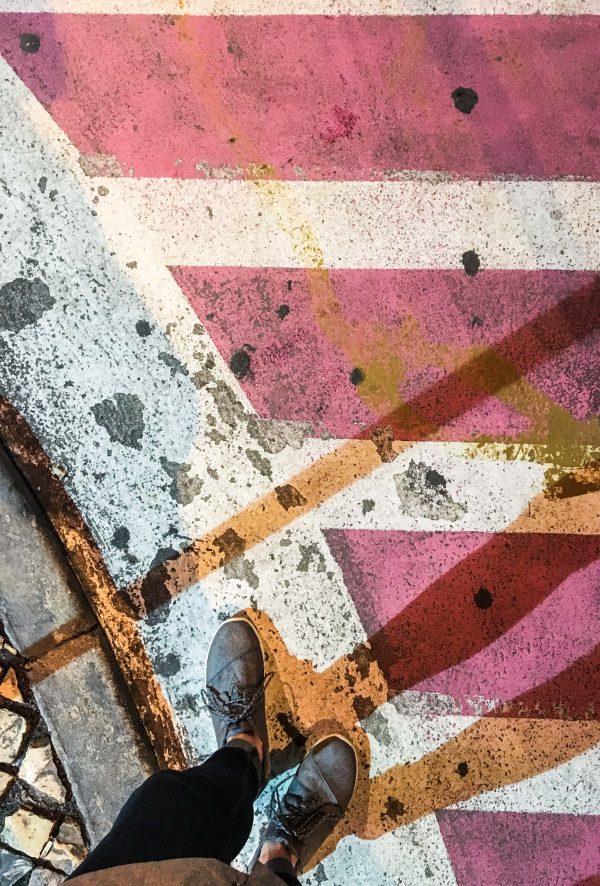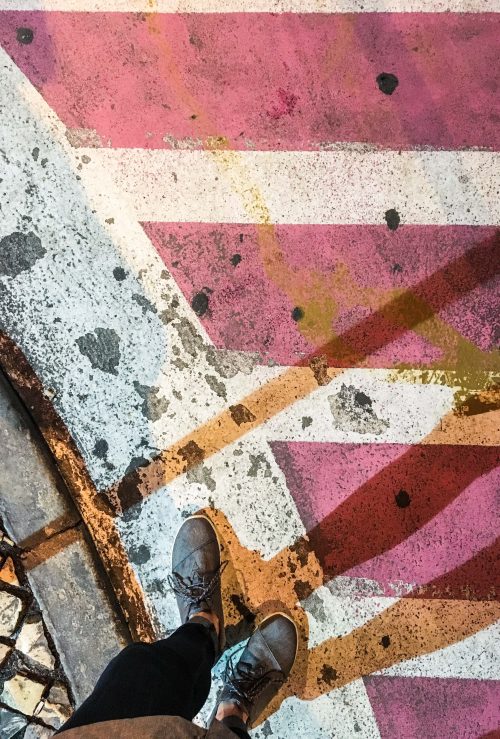 WHAT TO VISIT:
Start your day early and venture off to Belém Tower located in the civil parish of Santa Maria de Belém. The tower is about a 20-minute Uber ride from the International Design Hotel. One thing I will quickly note is that Lisbon is very hilly. In a typical city, it takes about twenty minutes to walk a mile. In Lisbon, a mile might take you an hour and a half to walk. So, if you don't want to walk that much take a tram, taxi, or Uber.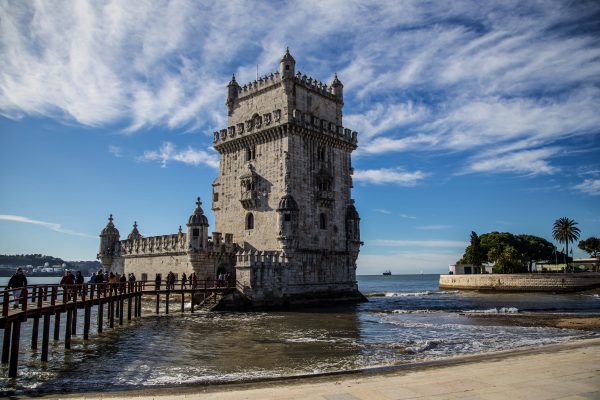 Arrive early at the tower because queuing starts early even in the off-season. This four-story tower was built in 16th century AD and is entirely composed of limestone. It played a significant role in Portuguese maritime discoveries, and was part of a defense system as it lays at the gateway of Lisbon. You can walk up to the top of the UNSECO World Heritage tower. The views are breathtaking and you can gaze upon all sorts of folks sailing on the Atlantic Ocean.
Walk Along the Boardwalk
Once you have toured Belém Tower start walking west on the boardwalk. Feel the ocean breeze on your skin, and stop and grab up a cup of coffee at one of the local bistros. Take time to bask in the sun and watch the ships sail in and out of the harbor. Also, stop and admire all the beautiful boats in port as you stroll pass the marinara. Finally, make a pit stop at Padrão dos Descobriment. This monument was built in 1940 and is massive!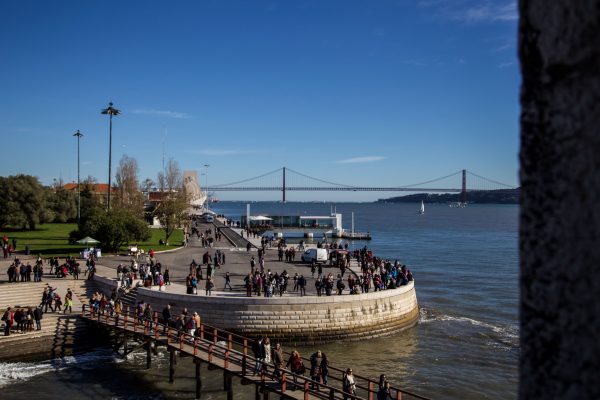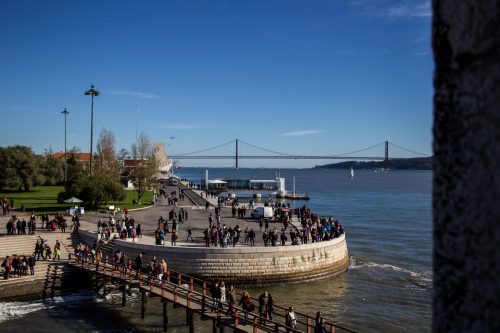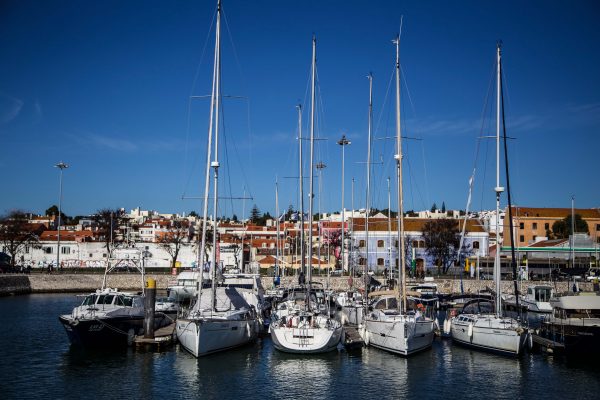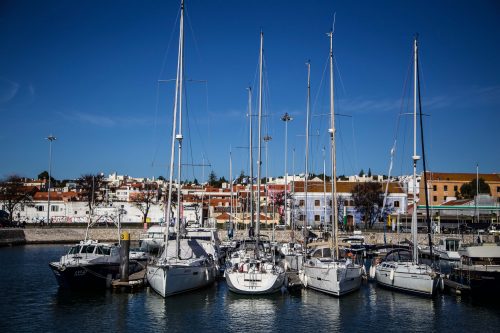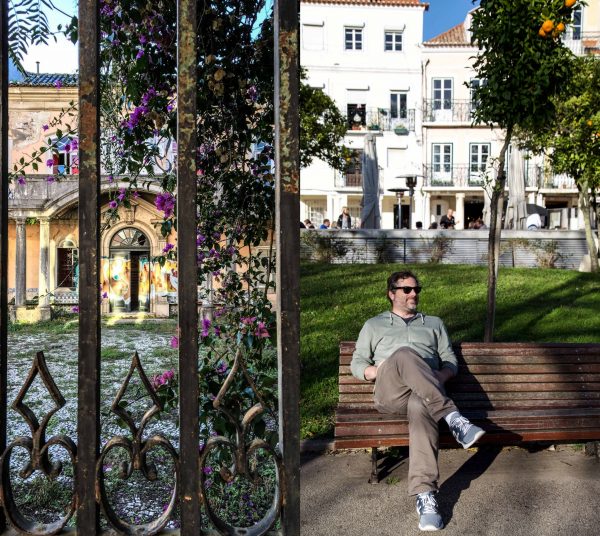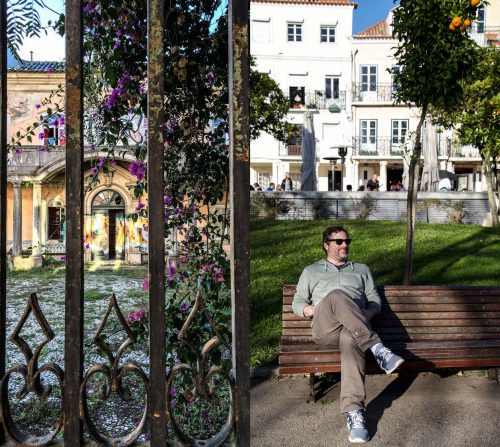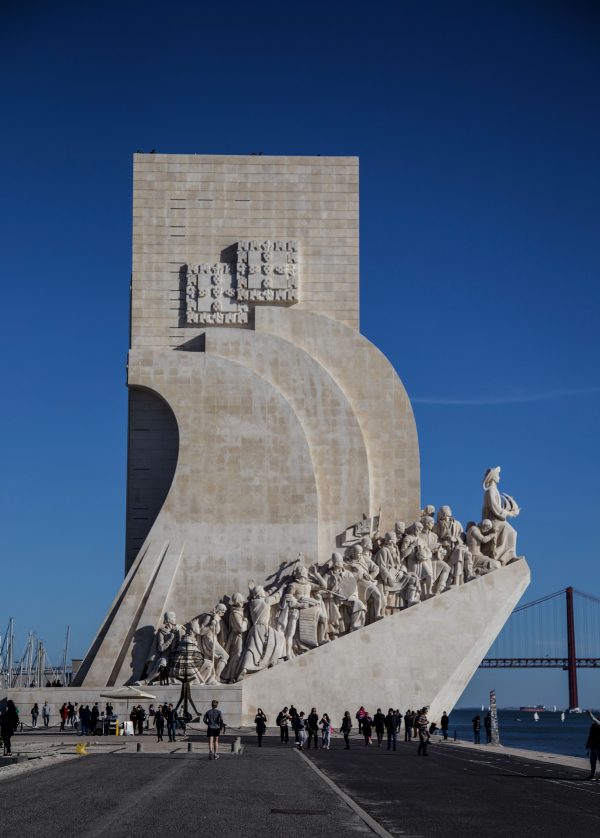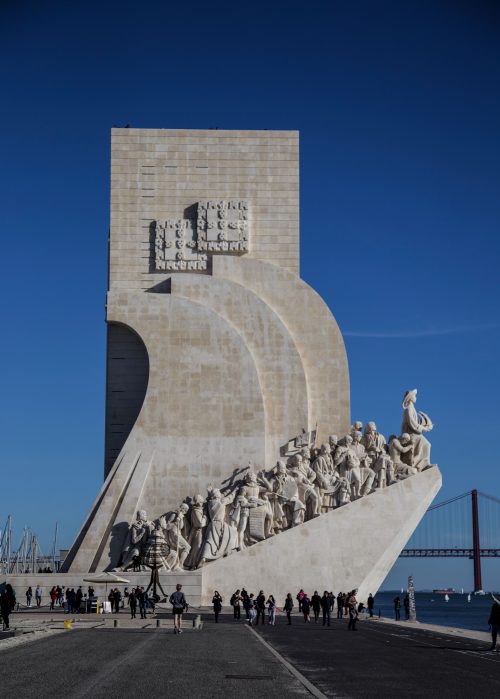 Like I mentioned above Lisbon is hilly and you might tire quickly. Therefore, to get the most bang for your buck check out riding one of the trams – specifically, the Number 28. This tram connects  Martim Moniz with Campo Ourique, and passes through the popular tourist districts of Graca, Alfama, Baixa and Estrela. It's fun way to see the sights and rest your feet! Just make sure to stop and grab an orange off one of the many fruit trees in the city!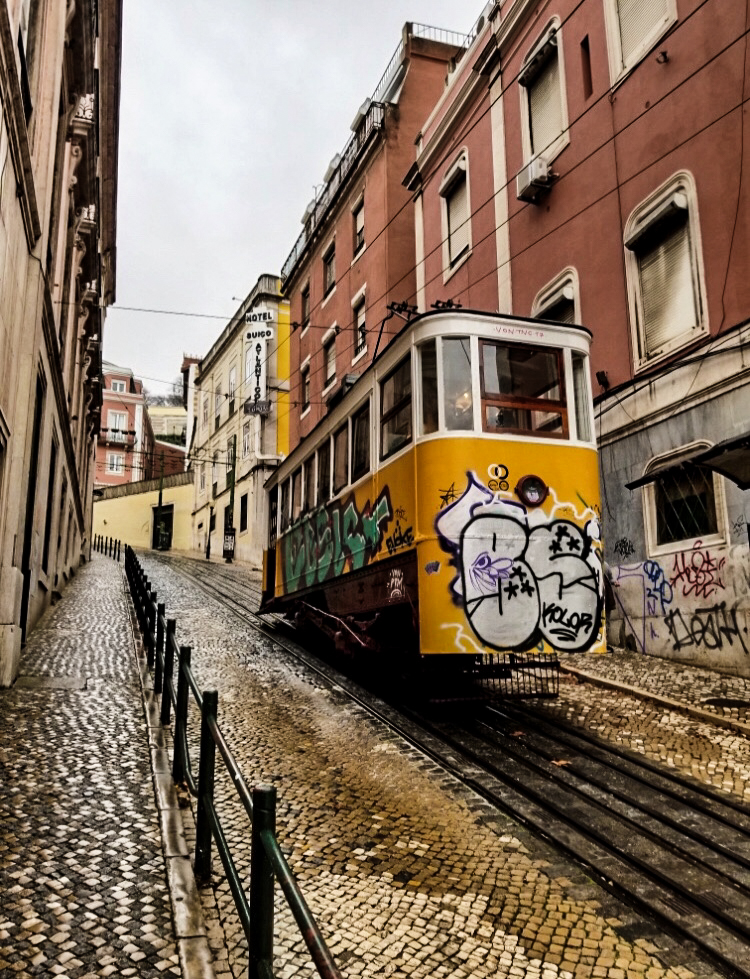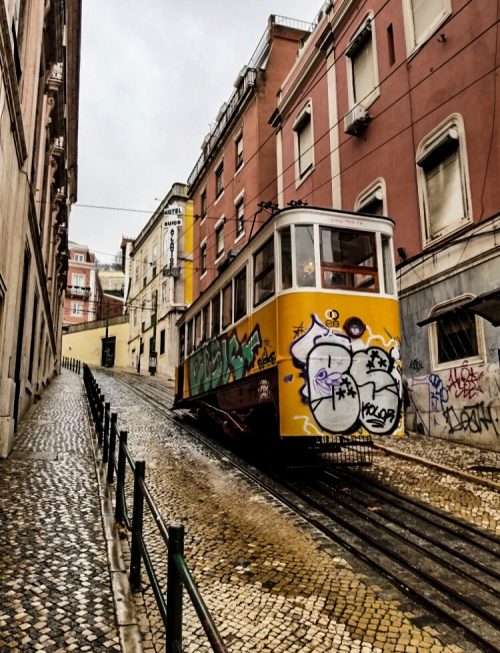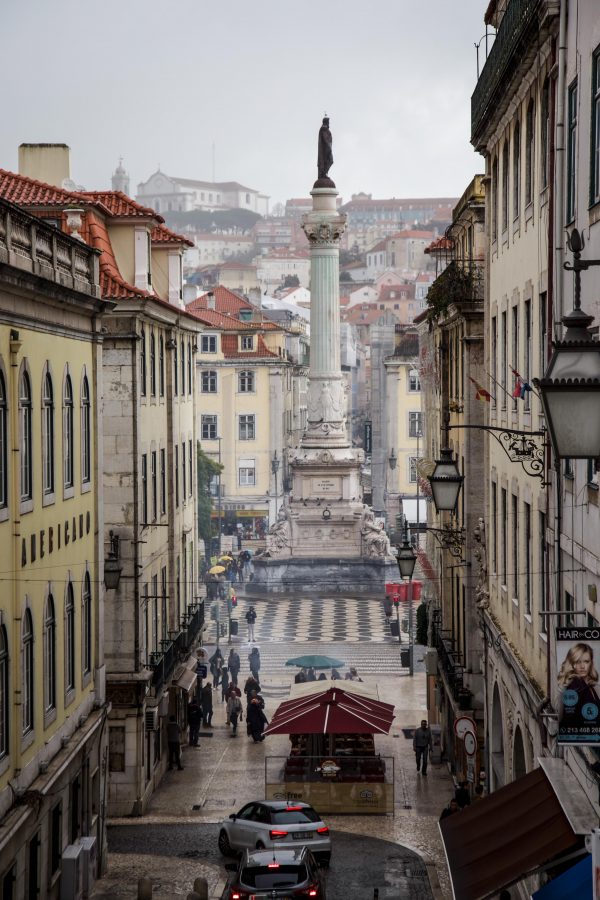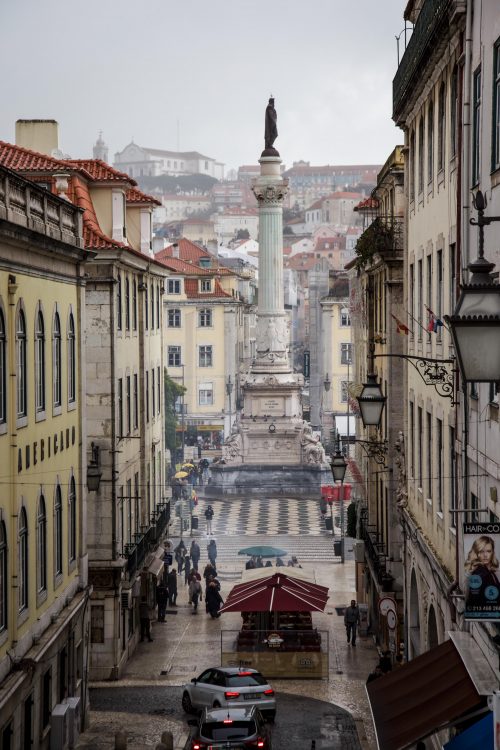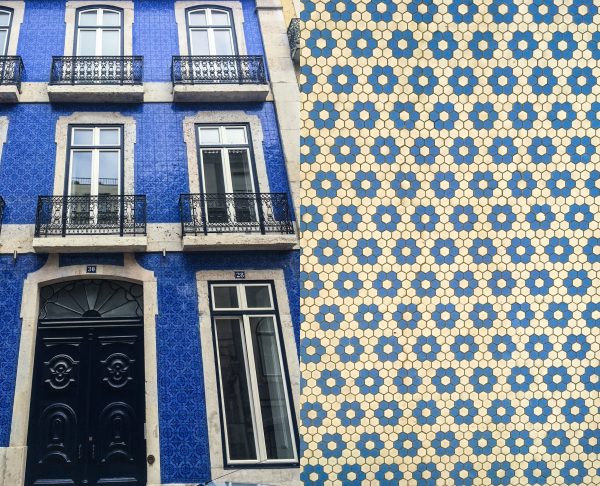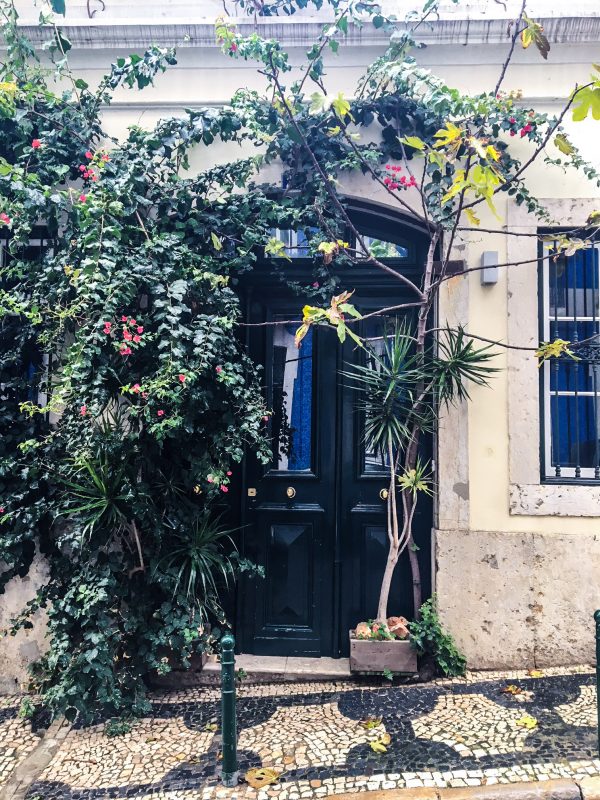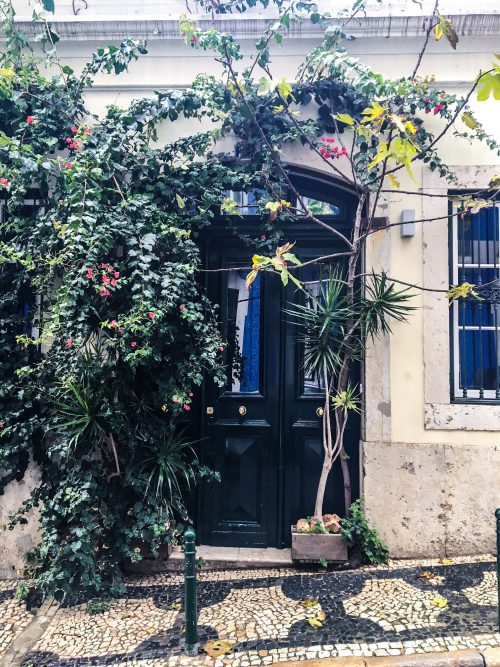 If you are looking to for a place to relax and do some boutique shopping while out and about check out the LX Factory. This hipster oasis has some fantastic local art galleries, vintage clothing, and books. Live music starts at 4pm.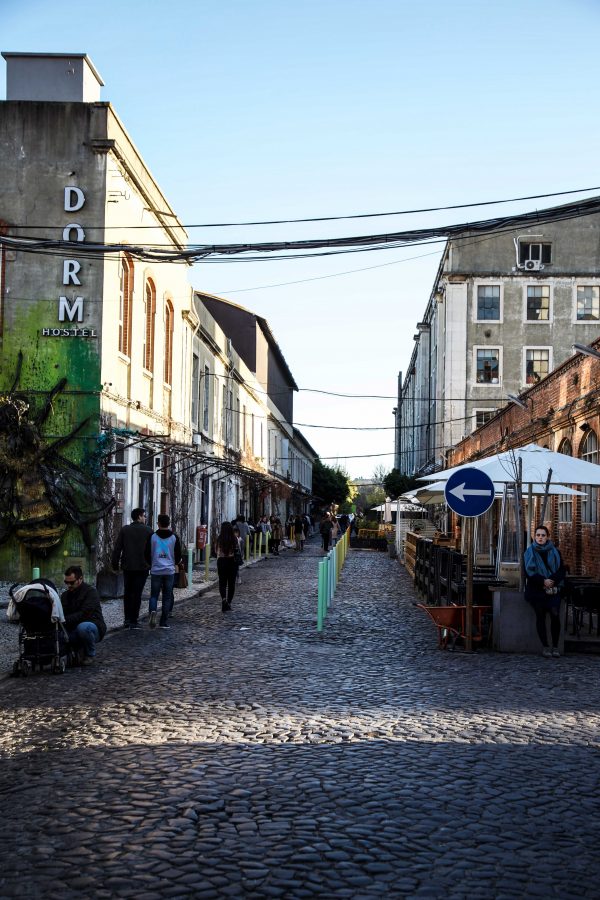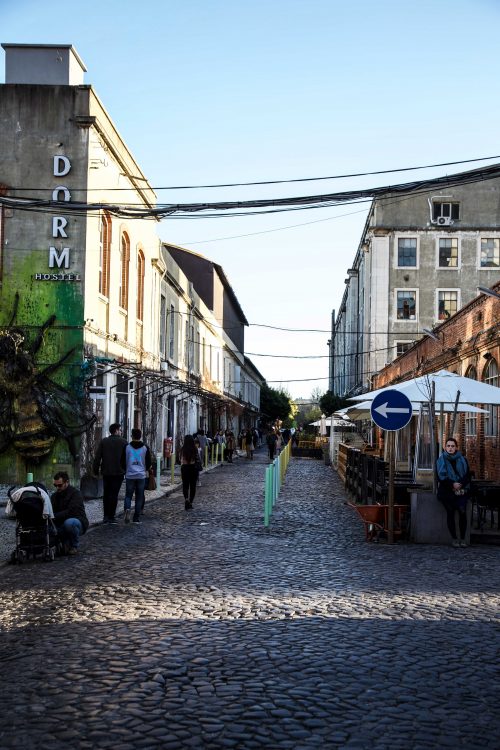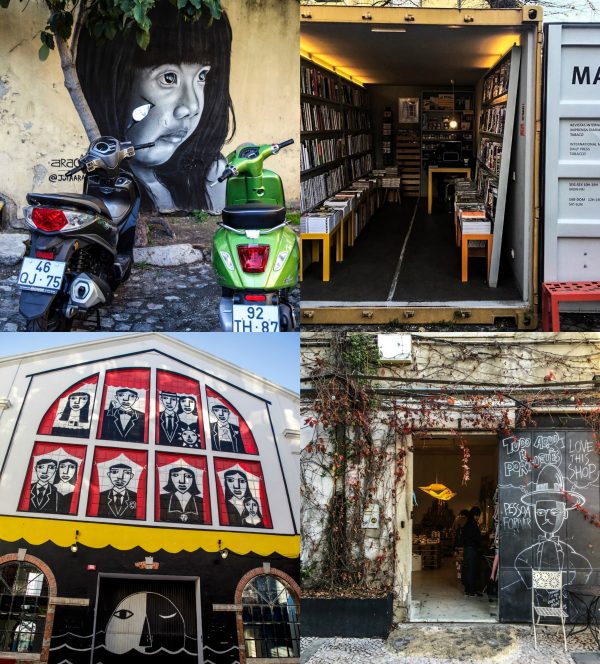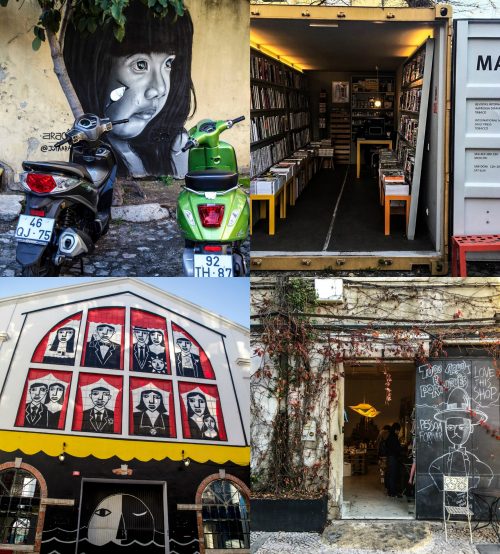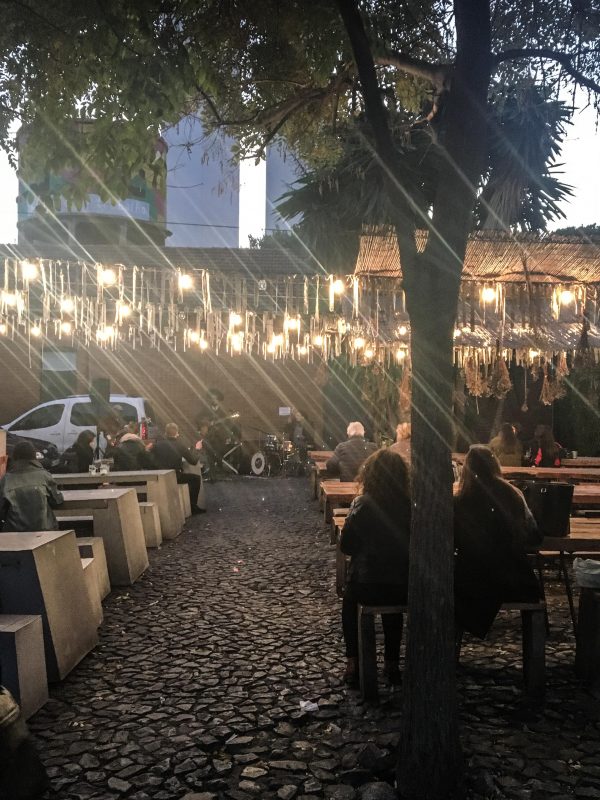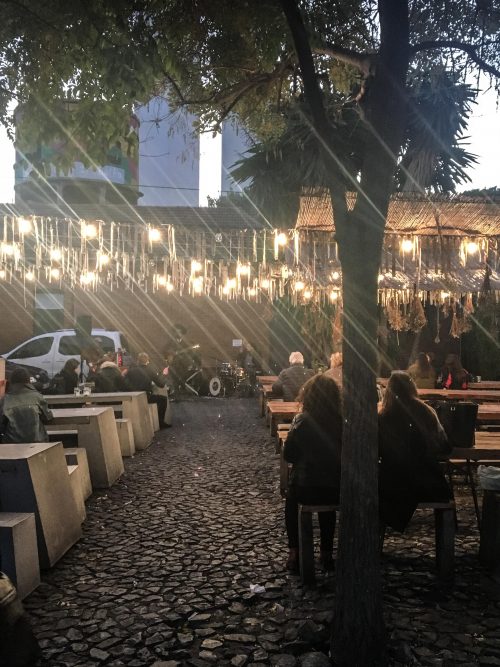 Last but not least, take a day-trip to Sintra. The train ride to Sintra from Rossio Square is about 30 to 40 minutes. Trains depart Lisbon and return back every 20 minutes.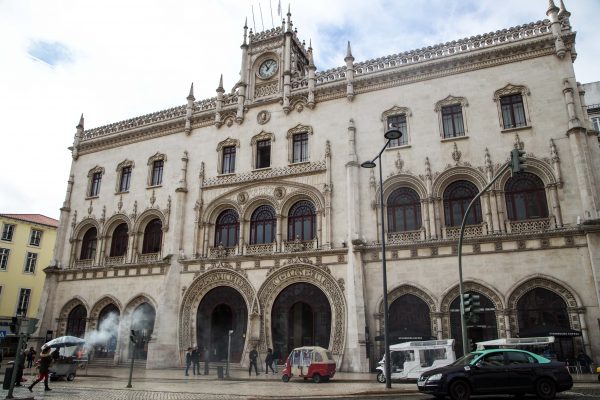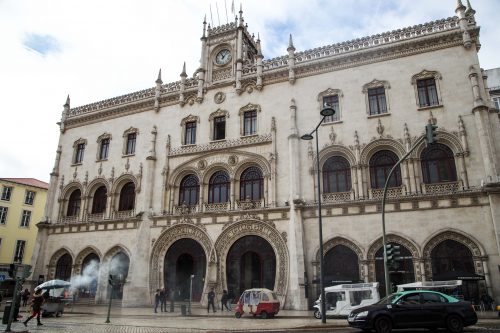 When you arrive at the Sintra train station there will be a million tourist companies shouting if you want a tour. My gut was like, no I don't want a stupid tour guide. But since it was raining and cloudy we decided to bite the bullet and hire a guide. And looking back it was the best decision we made!
Sintra is a town located in the pine-covered hills of the Serra de Sintra. It's a very hilly town with cooler temperatures and was the getaway haven for the nobility and elite of Portugal. These folks constructed exquisite places, gardens, and residences that remain perfectly intact today. We had an excellent guide that drove us to each site, so we were able to knock out Pena Palace, Moors Castle, and Quinta Regaleira of Sintra in a day. Another perk of having a tour guide is they can walk you to the popular sites you want to see quickly. You have to remember that these points-of -interest are geographically far apart and take time to tour.
Our first stop was the Quinta Regaleira of Sintra.  This stately home is worth a peek inside, but it's the elaborate garden grounds that make this place truly magnificent. The gardens are filled with hidden features like secret tunnels, towers, and the famous well.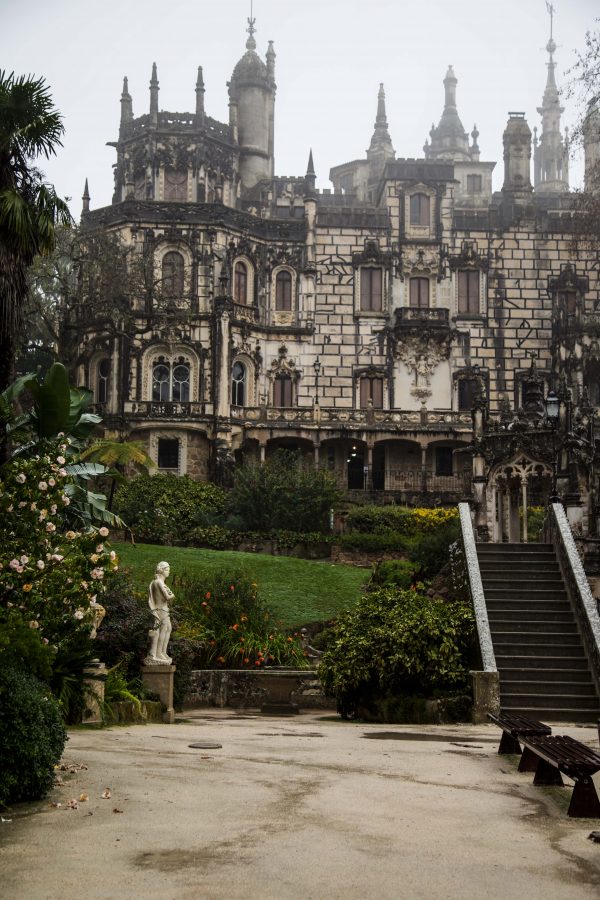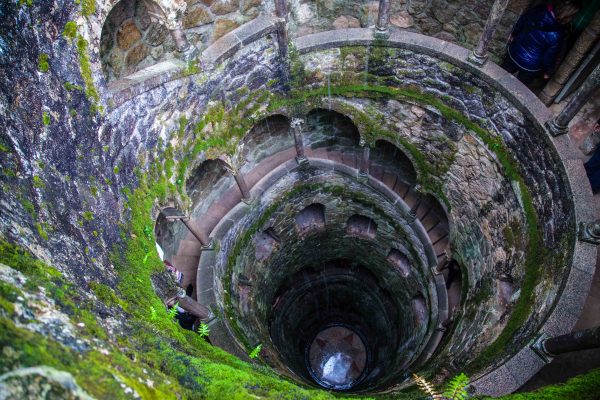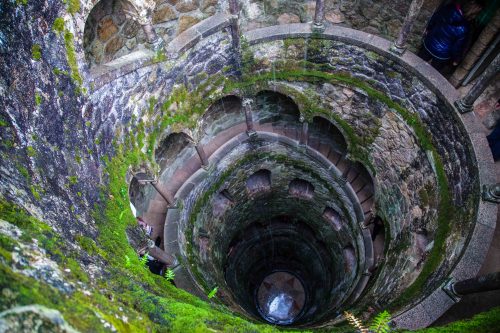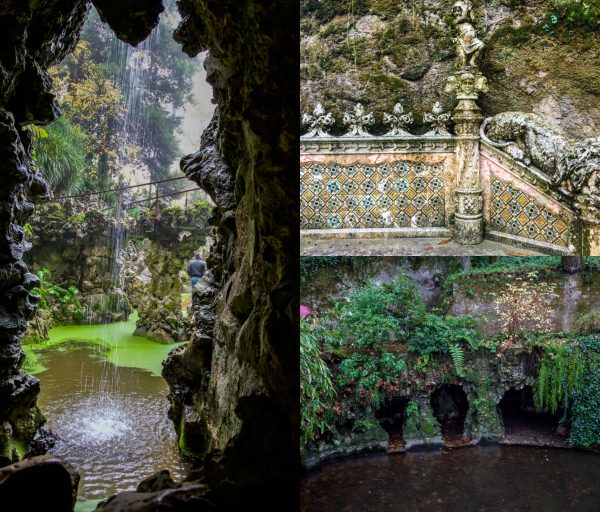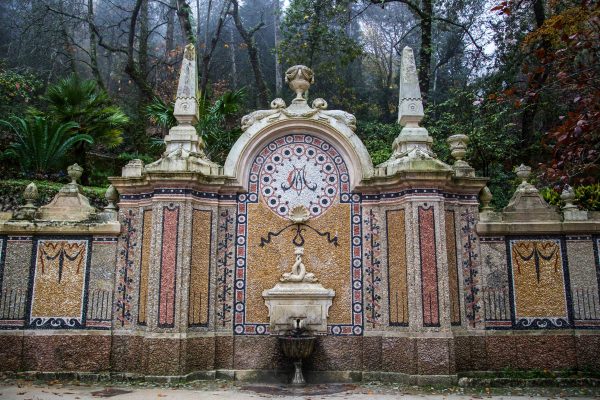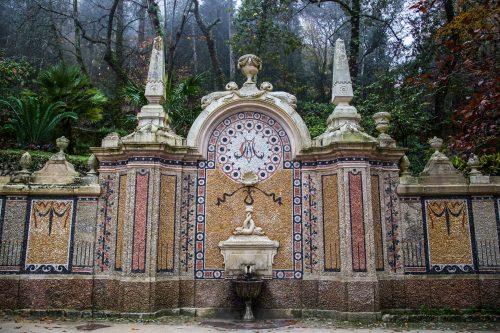 Our second stop was the Moors Castle, which is a ruined castle, settled deep into the dense forest. Built around the 9th century, it was built as defense stronghold due to it's panoramic views of Atlantic Ocean. The day we went was fogged-over so we didn't get to see the sprawling views. But the fog gave the castle this mysterious vibe that made it come to life.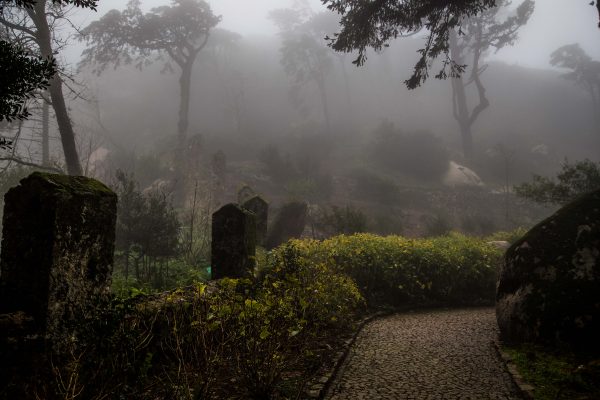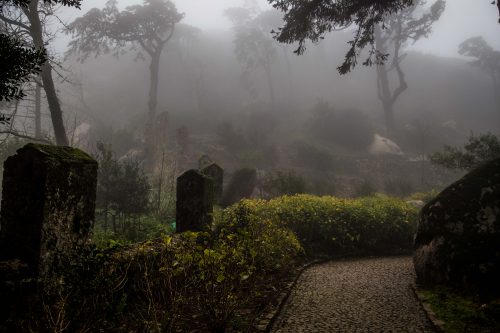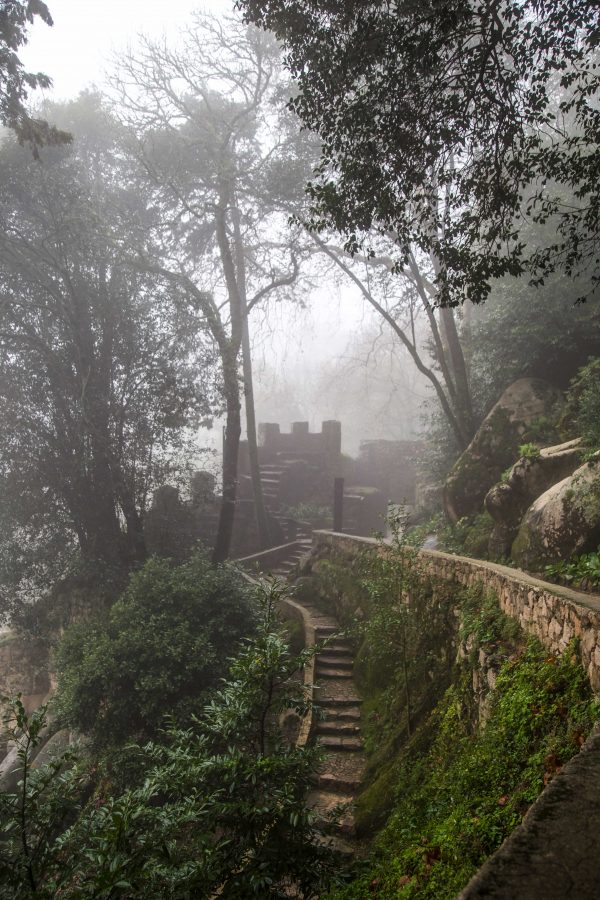 The final stop on our Sintra tour was the Pena Palace. It's one of the most popular attractions and is an magnificent example of Romanticism-style architecture. The outside is painted with vivid colors and you can walk along the high palace wall. Pena Palace is where kings and queens stayed and inside there is much to see. Grand chandeliers, colorful tiles to swoon over, priceless art, and the best collection of copper pots and pans. I could have easily moved in.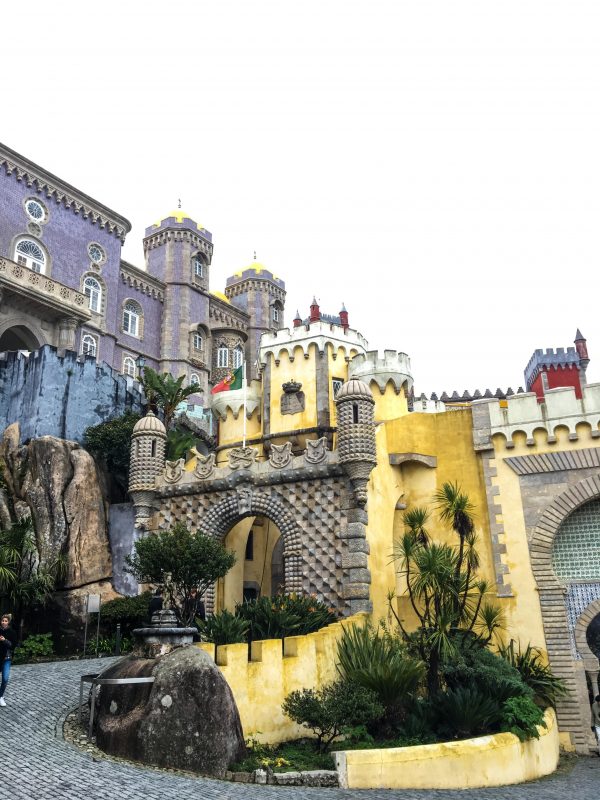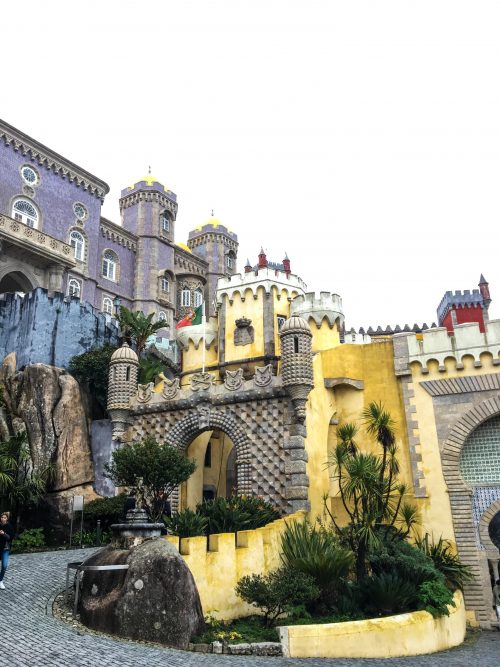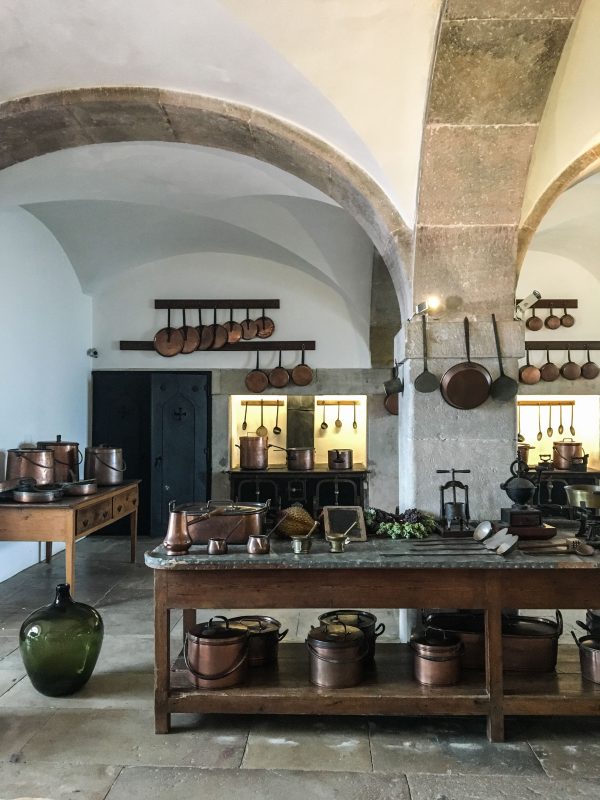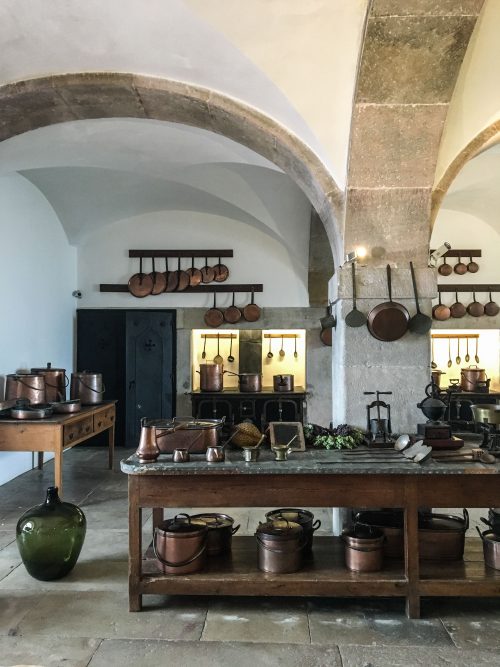 And that's a wrap on Lisbon, Portugal! I can't recommend this city enough for a long weekend. So much to do, see, and eat. I'm already plotting my return. Until next time, Portugal!