mexican spiced crispy-oven wings with avocado crema
Jazz up your Cinco de Mayo spread with these easy and delicious Mexican Spiced Crispy-Oven Wings with Avocado Crema!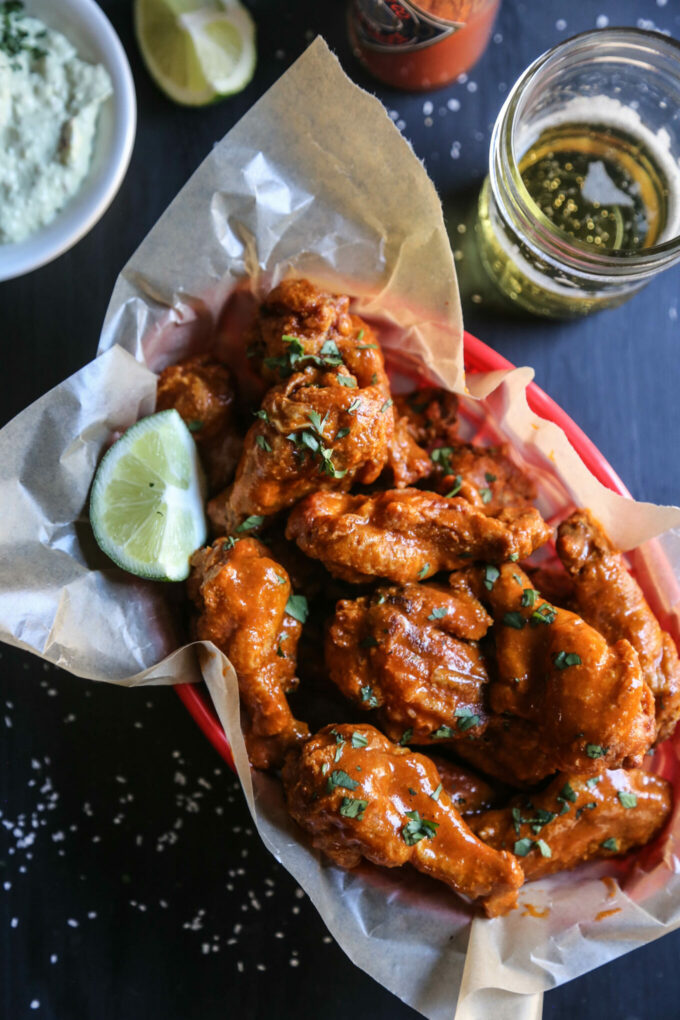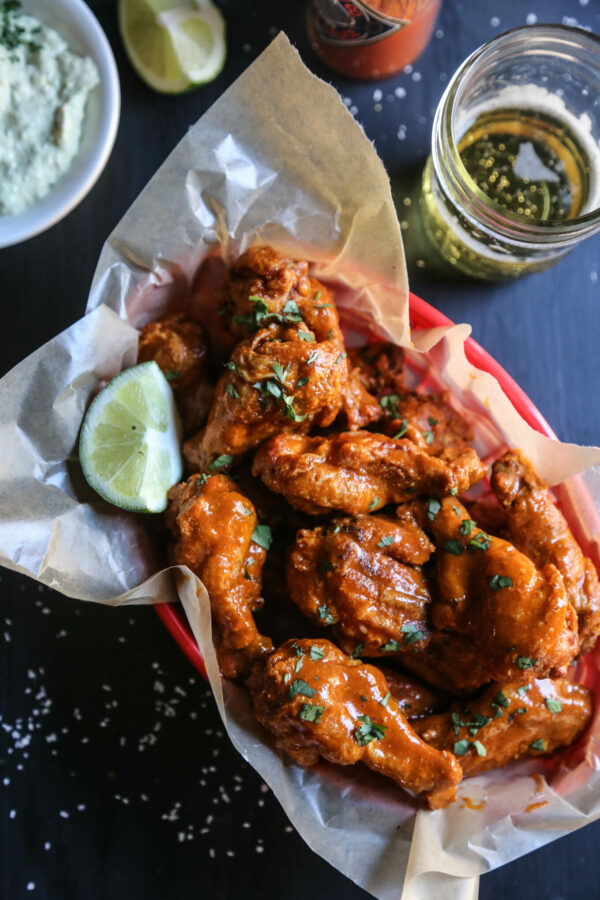 Is it me, or does buffalo sauce get all the attention?
Not that there is anything wrong with buffalo sauce. In fact, I would bathe in the stuff if society gave the action a thumbs up. But we are days, minutes, and seconds away from the best food holiday on the planet, and I say buffalo sauce can take a seat and play Candy Crush for a hot second.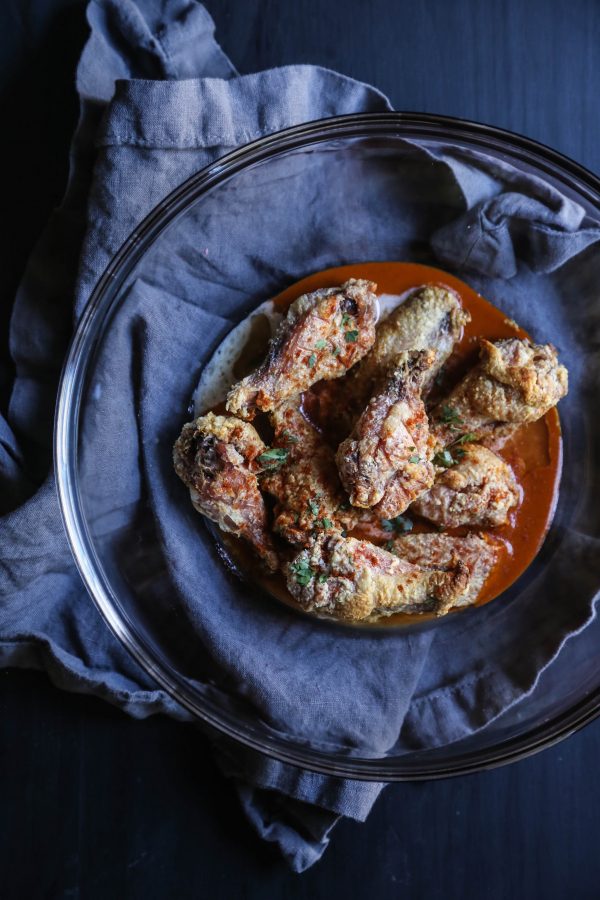 Every year I have grand plans to celebrate Cinco de Mayo with a killer spread of tacos, enchiladas, nachos, and a tequila bar. But somehow, my bonkers schedule brings those plans to a screeching halt and I end up making a Chipotle run and drinking a Pacifico at home.#thestruggleisreal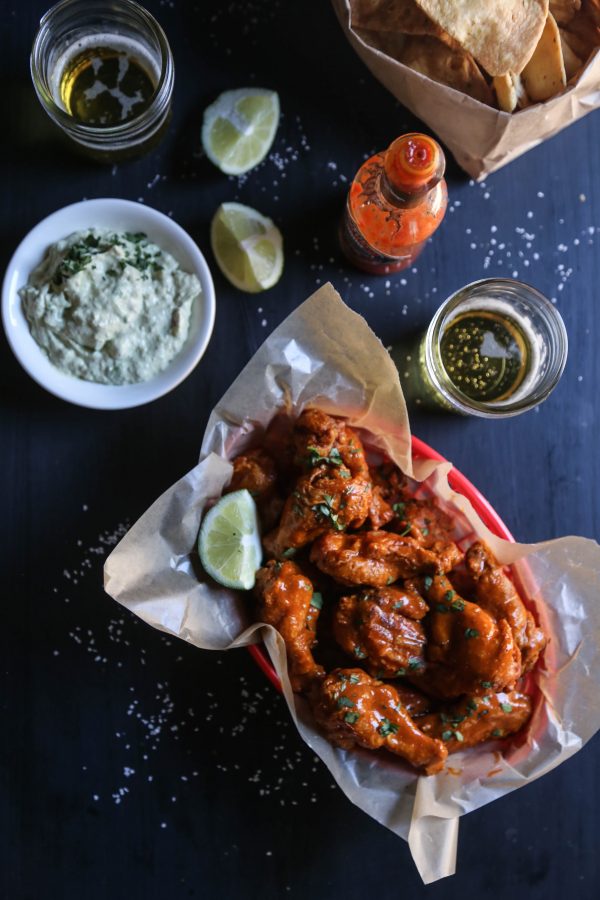 So, this year I am forcing myself to make something easy and delicious. That's how these Mexican Spiced Crispy-Oven Wings with Avocado Crema came to fruition. I LOVE wings. Any flavor will do. But with my corazon set on stepping up my Cinco de Mayo game, I decided to make some killer baked wings, toss them in a buttered enchilada sauce, and dip the suckers in some avocado crema. Even the buffalo sauce is applauding!!
You guys, these wings are killer. Not to mention so easy to make that you can whip them up in between your tequila tasting. Grab a wing, dunk it into the avocado crema, and slide right into this Cinco de Mayo holiday. Ole!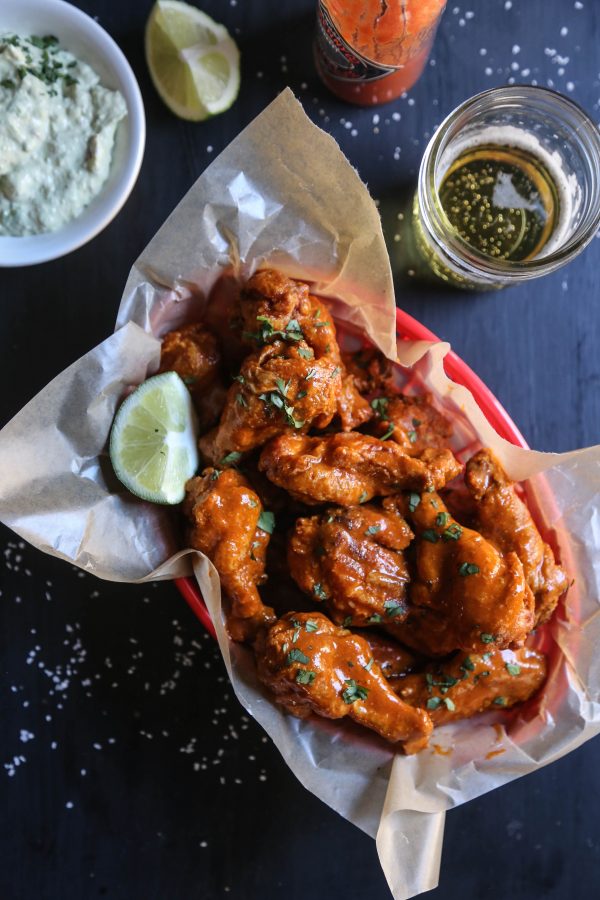 Mexican Spiced Crispy-Oven Wings with Avocado Crema
Ingredients:
for the wings:
1.5 lbs chicken wings
1 tablespoon baking powder
1/4 teaspoon salt
1 1/2 cups red enchilada sauce
2 tablespoons unsalted butter melted
1 teaspoon lime juice
Cilantro, garnish
for the avocado crema:
1 Haas avocado, pit removed, diced
1/2 cup sour cream
1 tablespoon salsa
salt and pepper to taste
Directions:
for the wings:
Preheat oven to 250 degrees. Line a baking sheet with a wire rack. You'll want to pat the wings dry and place them into a large gallon sized Ziploc bag. Add the baking powder and salt to the bag. Zip the bag and toss making sure all the wings have been covered. Remove chicken wings from bag and place on the wire rack. Bake wings for about 30 minutes. The, you will want increase the temperature to 425. Continue to bake the wings for additional 45 minutes turning the baking sheet midway through the baking process. Once the wings have been baked, remove them from the oven and place them in a large bowl that has the enchilada sauce, melted butter, and lime juice combined. Toss the wings in the sauce making sure they are evenly coated. Serve along side with avocado crema.
for the avocado crema:
In a bowl, mix together all the ingredients. Place crema into a serving dish for dipping.
All images and text ©