mini key lime pies with animal cracker crust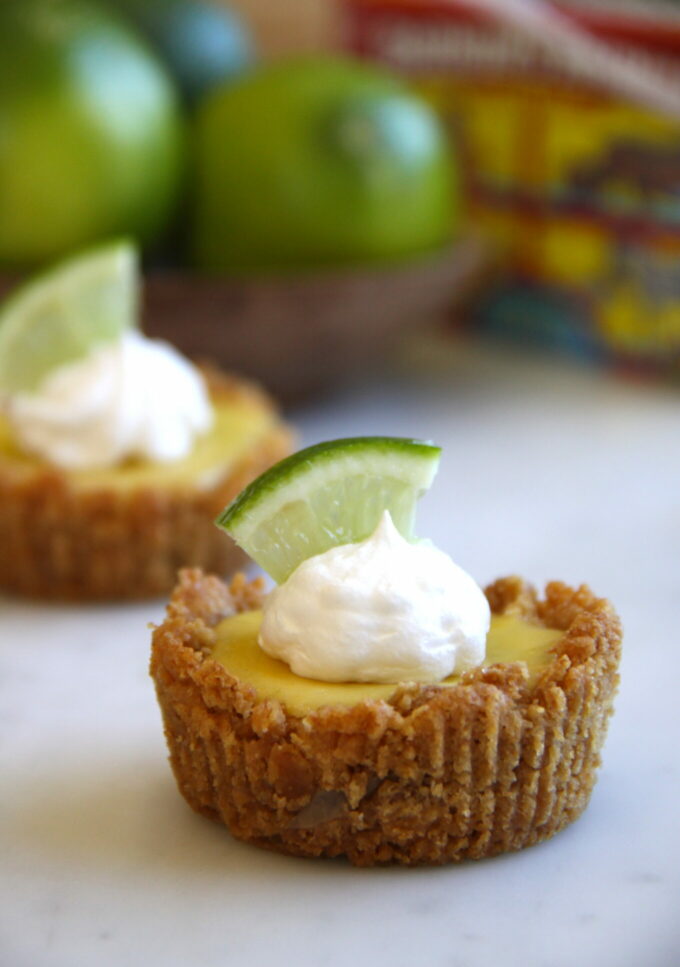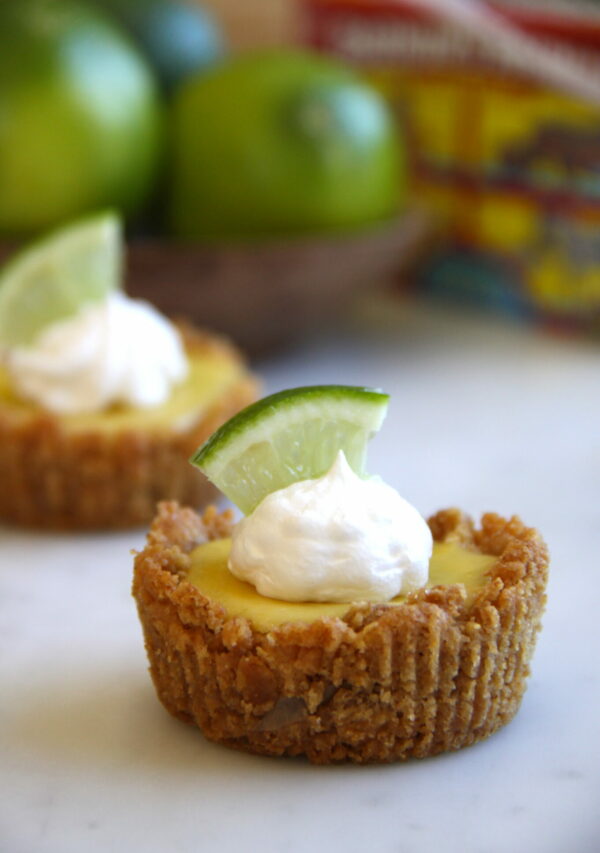 It's time to celebrate, friends!
Grab your party hats, pink boas, and kazoos because today we're surprising, Jeanne, the author of Inside NanaBreads Head, with a virtual birthday party!
Jeanne, who is a true gem, turns the big 5-0 today. So, in honor of this milestone birthday a few other fellow food blogger ladies are celebrating her birthday with a few sweet and savory treats.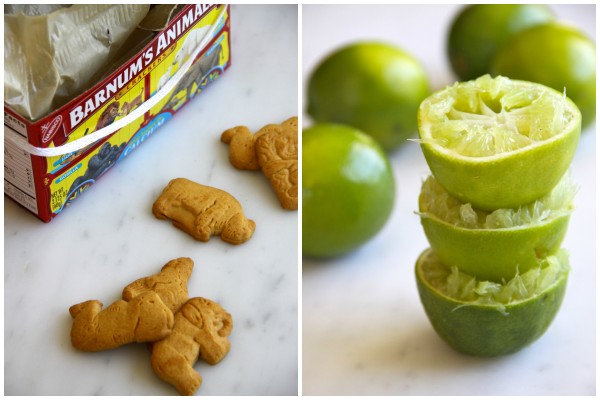 Now, given that Jeanne is a one-of-a-kind-knock-your-aprons-off-full-proof-epic-baker, I felt I needed to pay homage to the sugar queen. I'm always telling Jeanne that she needs to fly to Denver to show me the ways of the baking world.
Well, I decided to put on big girl panties and cowgirl boots and bake something that would truly make her smile. Key lime pie is a classic pie dish that everyone knows because it's always in the turn around pie holder at the local diner. You can never miss it – green glowing custard with cool whip and a giant lime wedge on top.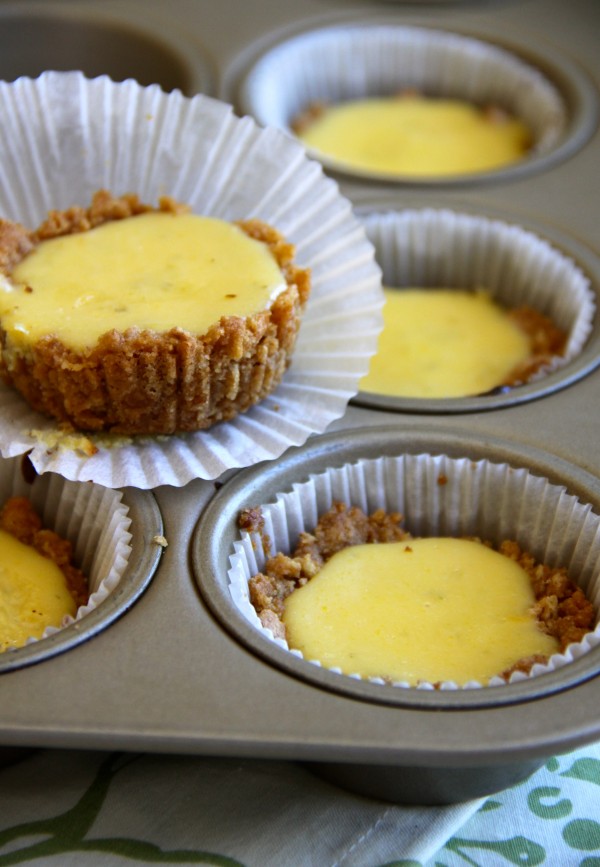 Now, there's nothing wrong with the standard key lime pie, but we are celebrating folks, and that calls for a little boot-scooting boogie. That's why I thought these mini key lime pies with animal cracker crust would be a hoot! I couldn't stop giggling while making these little pies. I remember eating these crackers as a little girl saving the hippo for last because it was my favorite. And you can't forget about the filling. Holy lime heaven!  If lime custard is wrong, I don't want to be right!
Anyways, I hope these mini key lime pies make you smile, Jeanne. You are a wise soul and I am so glad we have become friends.
Happy Birthday, Jeanne!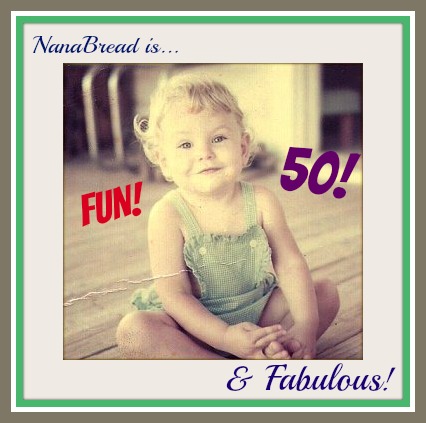 Katie of Hill Country Cook: Chocolate Cake with Cooked Flour Frosting
Kirsten of Comfortably Domestic: Orange Cream Pie 
Madeline of Munching in the Mitten: Fig, Fontina, and Pecan Flatbread 
Mads of La Petite Pancake: Cheesey Chorizo Dip
Yours Truly: Mini Key Lime Pies with Animal Cracker Crust
Megan of Wanna Be A Country Cleaver: Nutella Turnovers
Monica of The GromMom: Tropical Ice Cream
Carrie of Bakeaholic Mama: Coconut Banana Brownie Pie
Kat of Tenaciously Yours: Guacamole
Allison of Decadent Philistines: Coca Cola Cake
Anne of My Sweet Heart: Mexican Vanilla Ice Cream Cones
Beka of Kvetchin' Kitchen: Aged Manhattan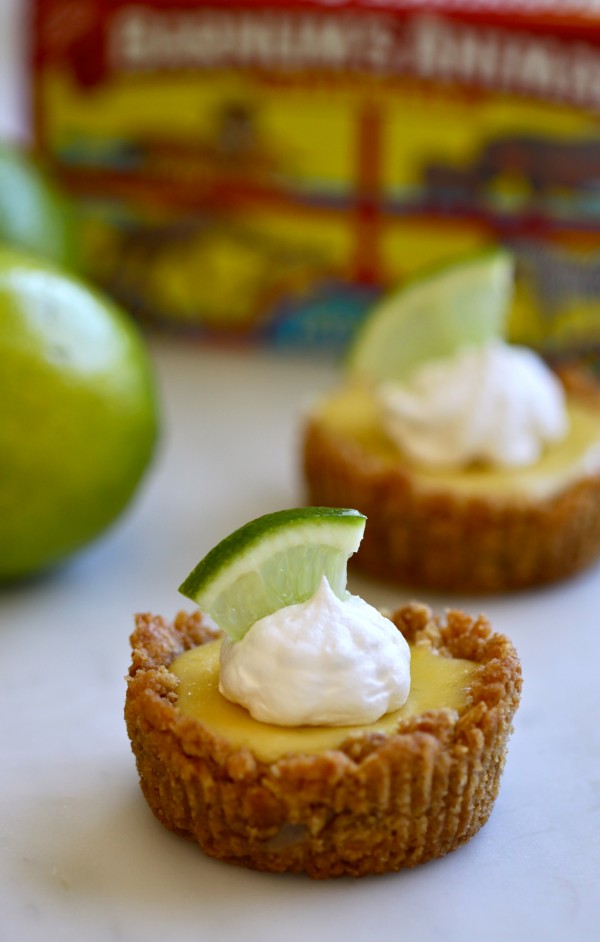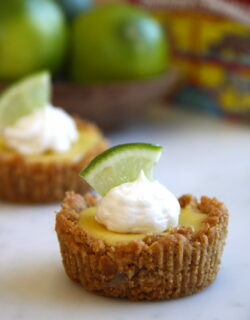 Mini Key Lime Pies with Animal Cracker Crust
Ingredients:
for the crust:
3 cups animal crackers, crushed
12 tablespoons unsalted butter, melted, cooled
2/3 cup granulated sugar
for the key lime filling:
1 14oz. can sweetened condensed milk
2 tablespoons confectioners sugar
1/2 cup lime juice
2 limes zested
4 egg yolks
12 mini lime wedges, garnish
Cool Whip, garnish
Directions:
Preheat oven to 375 degrees.
for the crust:
In a large bowl, mix together animal crackers, butter, and granulated sugar. Line a 12 cup muffin tin with cupcake liners. Gently press animal cracker mixture into each baking cup liner. Only fill up to 3/4 of the way. Bake crust for about 5 minutes to let it set. Remove from oven. Let it cool before adding the filling.
for the key lime filling:
In a large bowl, mix all the ingredients. Pour about a tablespoon of the filling into the cool cracker crust. Don't overfill. Bake the custards for about 12 minutes or until your kitchen smells like a giant key lime pie. Remove pies from the oven. Cool before setting into fridge. You will want to chill the pies in the fridge for at least an hour before serving.
to serve: remove cupcake liners. top mini pies with a dollop of Cool Whip and lime wedge.
key lime filling recipe from Ali of Gimme Some Oven
All images and text ©