foodie fridays: fideous with chicken sausage, shrimp. saffron, and peppers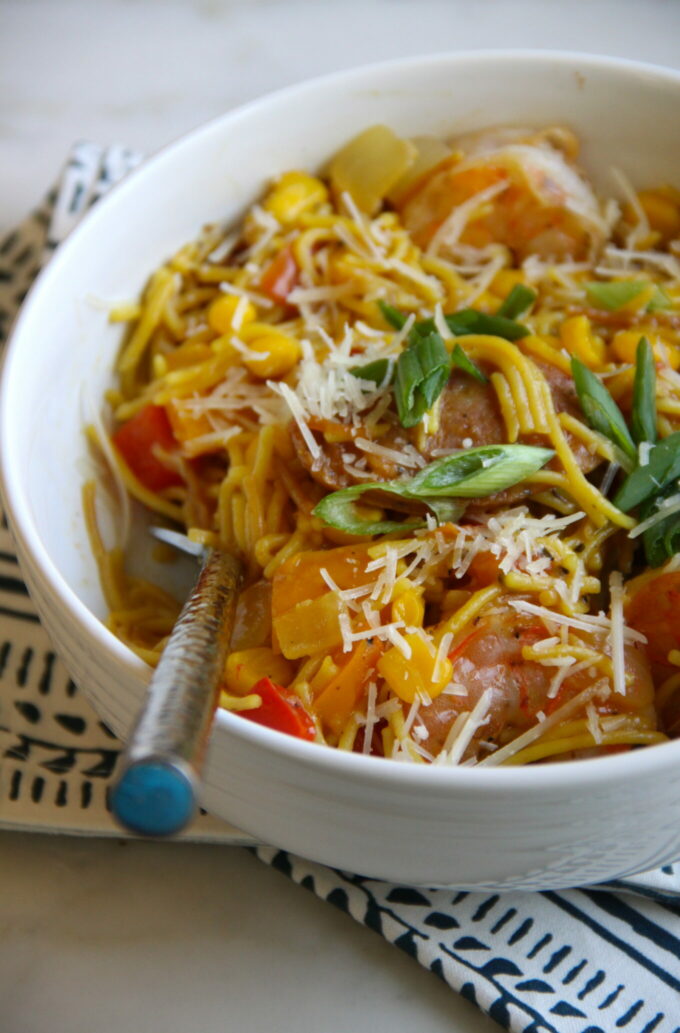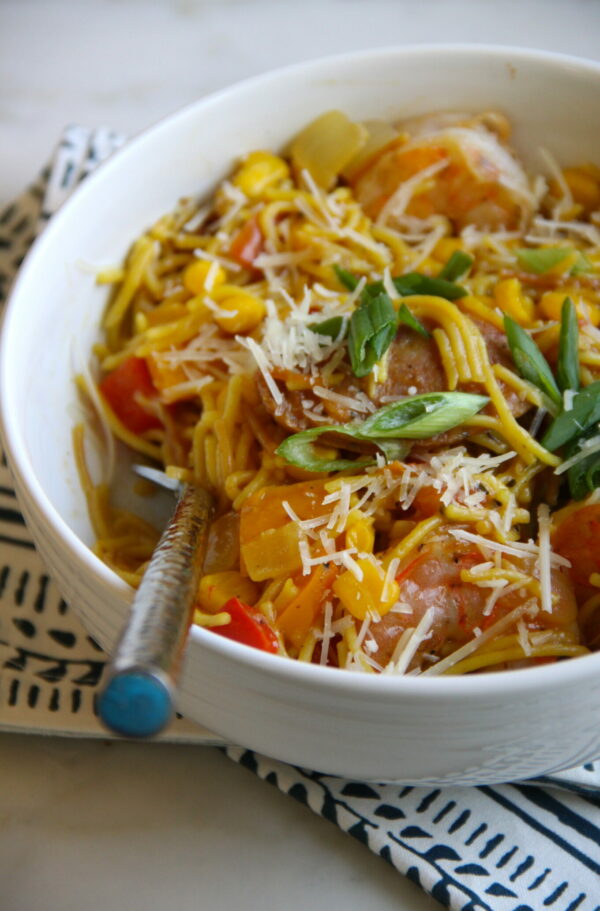 As a food blogger, this coming weekend marks the start of "busy" season.
It's a kick off of sorts.
A time to relish the fact that natural sunlight will be working with us instead of against. No more sprinting home after work to try to cook and shoot in twenty minutes. No more pressure cooker weekends filled with cooking and photographing 17 recipes. And no more forced creativity! OH THE HORROR!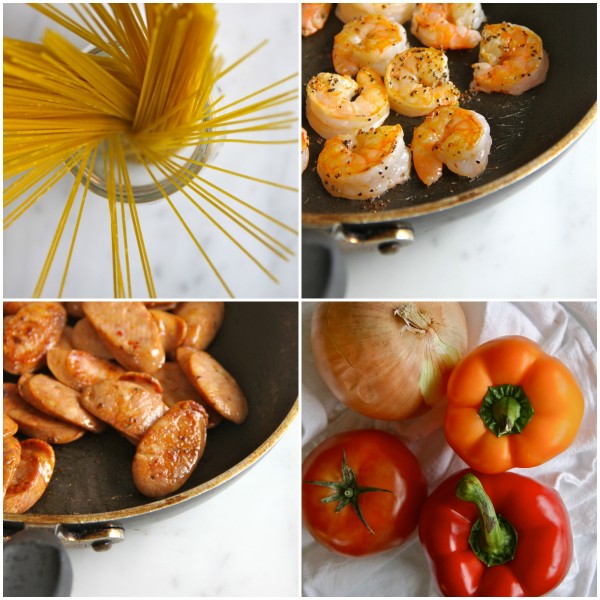 Yep! Daylight savings time is this weekend. Us food bloggers welcome Daylight Savings Time (DST) with wide-open Dutch ovens. I know most people hate the fact you "spring forward" and lose an hour of sleep, but as someone that depends on natural light for the best picture possible, DST is the best thing since sliced bread.
So, as I wait patiently for the sun to go down on Saturday night, I figured I would celebrate this food blogging occasion with a little fiesta. A Spanish fiesta that is.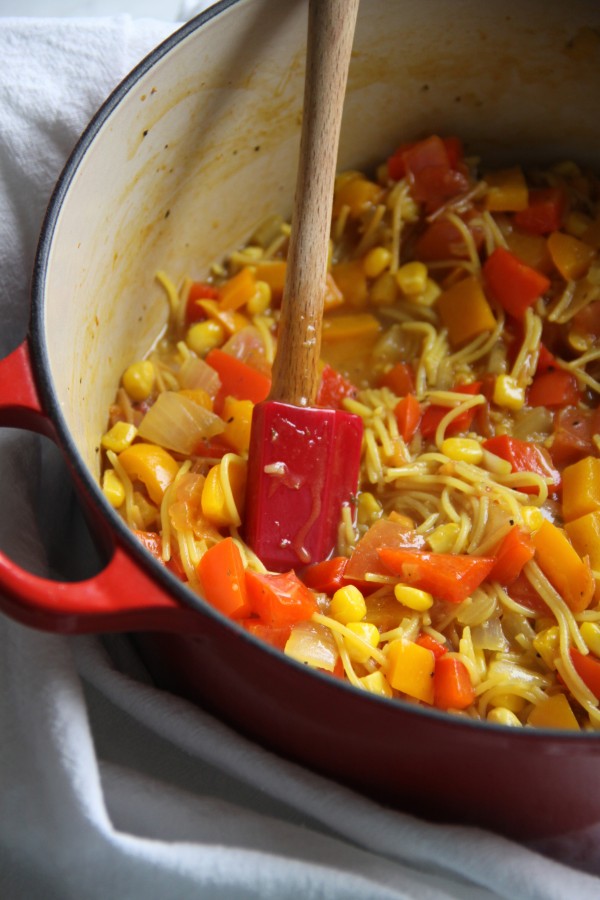 I have yet to venture to Spain (it's on the ol' bucket list), but hopefully with the hubby's new travel schedule, my feet will hit the soil soon. I have a complete infatuation with Spanish food and with one dish in particular, fideus. Fideus is a risotto style dish made with noodles instead of rice. This is one of those dishes that you can put everything but the kitchen sink into. It's like one giant fiesta in a pot!
The key with this dish is to brown the noodles to bring out their nutty flavor. It takes a couple of seconds, but it is worth the extra step. After that, throw in some peppers, onions, tomatoes, chicken sausage, shrimp, and some warm, saffron-infused broth, and you'll be transported right to sunny Spain.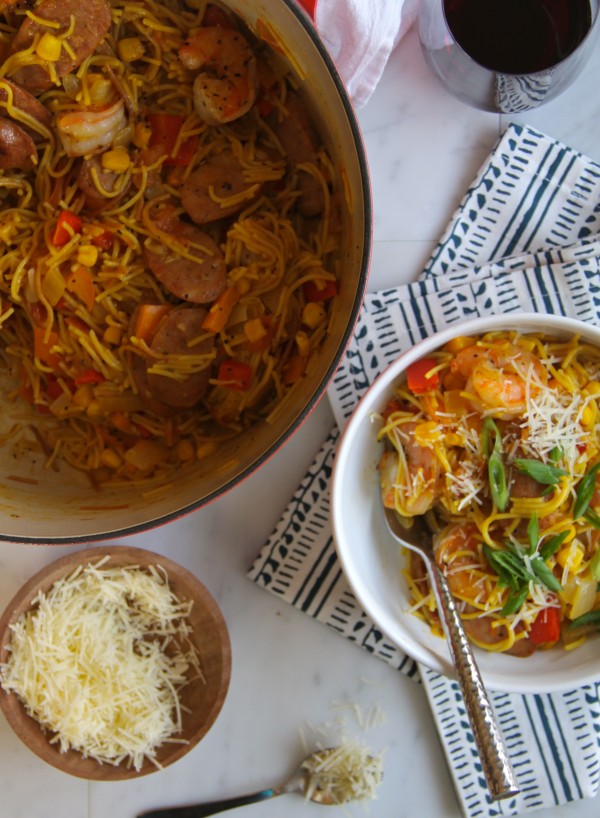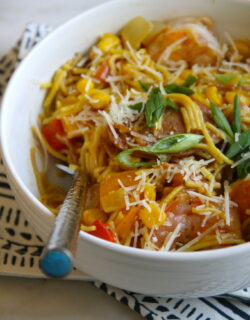 Fideous with Chicken Sausage, Shrimp. Saffron, and Peppers
Ingredients:
4 tablespoons olive oil
3 cups spaghetti, broken into 2-inch pieces
1 red pepper, chopped
1 orange pepper, chopped
½ large yellow onion, chopped
2 medium tomatoes, chopped
2 garlic cloves, chopped
3 cups chicken stock
pinch saffron (any kind of Spanish infused)
1 cup corn kernels, roasted
1 package of chicken Andouille sausage, sliced, cooked
½ pound shrimp, cooked
Parmesan, garnish
scallions, garnish
salt and pepper
Directions:
Preheat a small saucepan to medium-low heat. Add chicken stock to pan with pinch of saffron. Let the saffron steep. Keep warm.
Preheat two tablespoons of olive oil in a large Dutch oven over medium-high heat. Brown spaghetti pieces for a couple of minutes. Remove and set aside when complete.
Add two more tablespoons of olive oil to the Dutch oven and sauté onion, red and orange pepper, and garlic with a little s&p over medium-high heat. Cook for a couple of minutes then add tomatoes, roasted corn. Once the tomatoes have broken down, add the saffron chicken broth to the Dutch oven and bring to a boil. Add the browned spaghetti back in the Dutch oven and cook until softened or until chicken stock has been mostly absorbed.
To serve: Put spaghetti mixture into a bowl. Add a couple pieces of Andouille sausage and shrimp to bowl. Top with Parmesan and scallions.
adapted from Eating Well
All images and text ©