foodie fridays: mini pumpkin pasta bake with crispy bacon and fresh herbs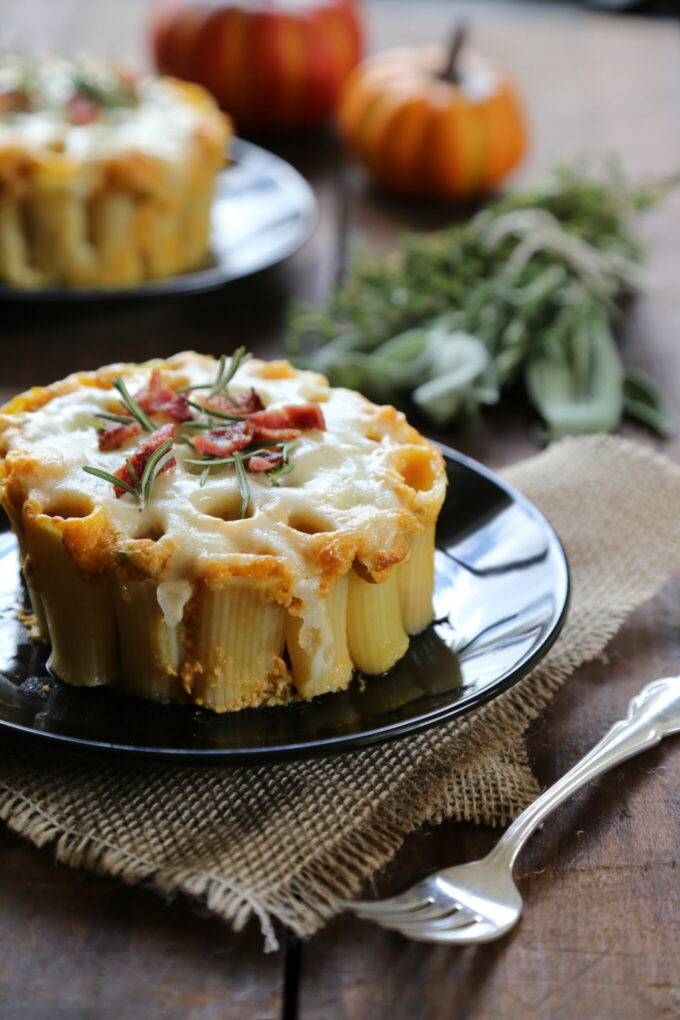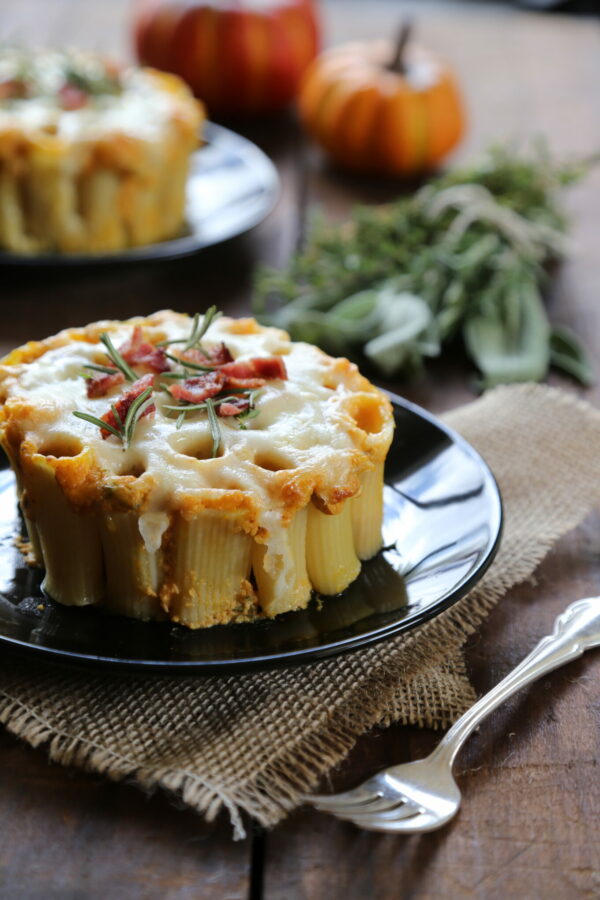 Did I ever tell you that I was in a band?
Okay, not a full-on Guns N' Roses rock band, although I do a mean Axl Rose impersonation, but more of a fifth-grade-try-to-get-first-chair kind of band. In my fifth grade band, there were no tour buses stocked full of giggle juice. No one wore leather pants. There were no smoke machines and laser light shows. There was only a room filled with black chairs, music stands, and chocolate milk waiting for us when we finished.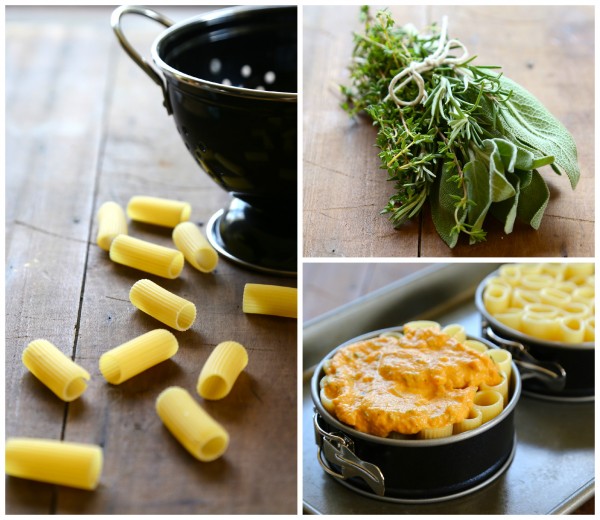 What instrument did I play? Well, I desperately wanted to play the saxophone. But my parents gave me the saxophone-shiv and said I needed to pick a different instrument. So you could imagine my excitement when I had to pick the flute because the clarinet section was full.
From the beginning, the flute and I did not get along whatsoever. I felt awkward holding the long, skinny piece of steel. Plus, I could never jive with the sound of the flute. Granted, the flute can play in any musical key, but I would look at it and think to myself, "Really? Why can't you sound more jazzy?" Sigh.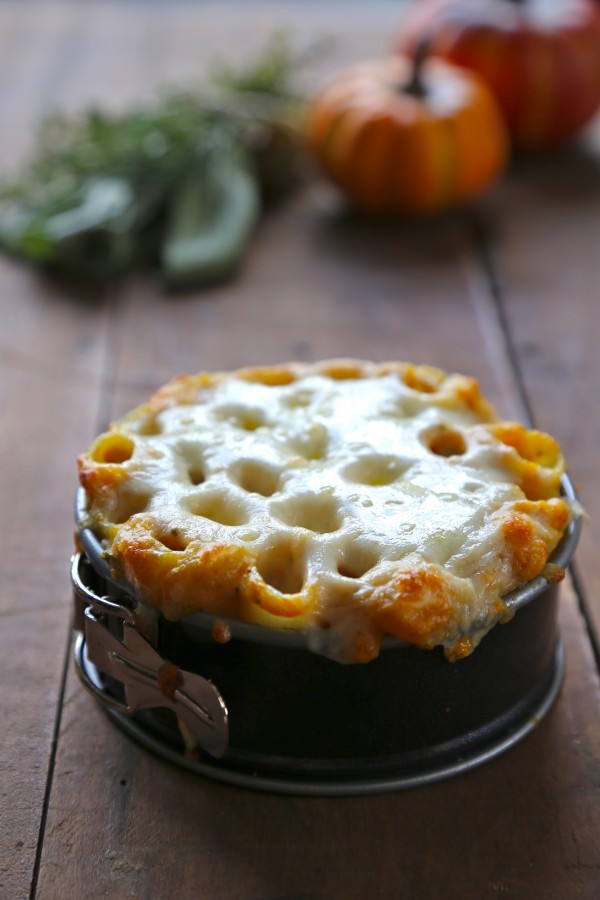 Needless to say my elementary band days were short lived. I dove straight into sports after that and never really thought about musical instruments again. Until college when I tried to play the guitar. Let's just say yours truly is not musically inclined.
So….what does today's pumpkin pasta bake have to do with musical instruments? Not a darn-tooting thing. But, I would say if Guns N' Roses were to ever go back on tour (still keeping my fingers crossed), I think they would get down on some of these mini guys.
Who would say no to creamy pumpkin with crispy bacon and gooey baked cheese? Definitely not a legendary 90's rock band. Slash would probably give these mini pumpkin pasta bakes a solo.
Hey, it could happen.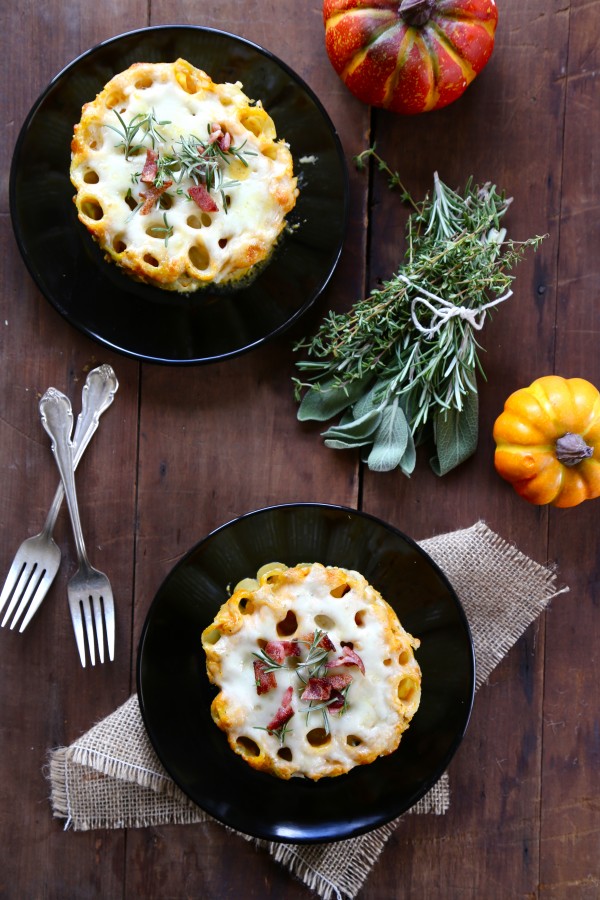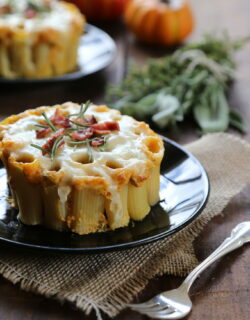 Mini Pumpkin Pasta Bake with Crispy Bacon and Fresh Herbs
Ingredients:
1/2 pound rigatoni pasta
1 large shallot, minced
1 garlic clove, minced
1 tablespoon olive oil
1 cup chicken stock (+more if needed)
1 cup pumpkin puree
3 or 4 sage leaves, chopped
1 tablespoon rosemary, chopped
1 tablespoon thyme, chopped
1 egg
1/2 cup Gruyere cheese, shredded
1/2 cup cream
3/4 cup mozzarella, shredded
2 pieces of bacon, cooked, diced
salt and pepper
Directions:
Preheat oven to 400 degrees. Spray three, four-inch wide mini springform pans with non-stick cooking spray.
Bring a large saucepan filled with water to a boil. Add the rigatoni and cook until slightly al dente. Drain and set aside to cool. Once cool, take the rigatoni and stand them up filling each springform pan.
In a medium bowl, combine pumpkin puree, cream, sage leaves, rosemary, thyme, egg, Gruyere cheese, and a pinch of s&p. Stir to combine. In a medium skillet preheated to medium-high heat, add olive oil. Then add shallots and garlic with a little s&p. Cook and stir for a few minutes until the shallots have softened. Add the pumpkin mixture. Stir and then gradually whisk in the chicken stock. Add more if the sauce is to thick. Once the sauce has cooked for a couple of minutes and is at the desired consistency, pour the mixture over the noodles making sure to fill the cracks.
Add the mozzarella on top (1/4 cup per pan) and bake in the oven for about 10 minutes or until golden brown. Remove from oven and let the pumpkin bake cool. When cool, release the spring and place pasta bake on a plate and garnish with extra herbs and crispy bacon. Repeat with remaining two. Enjoy!!
adapted from Half Baked Harvest
All images and text ©