elvis waffle stacks with marshmallow frosting & caramelized bananas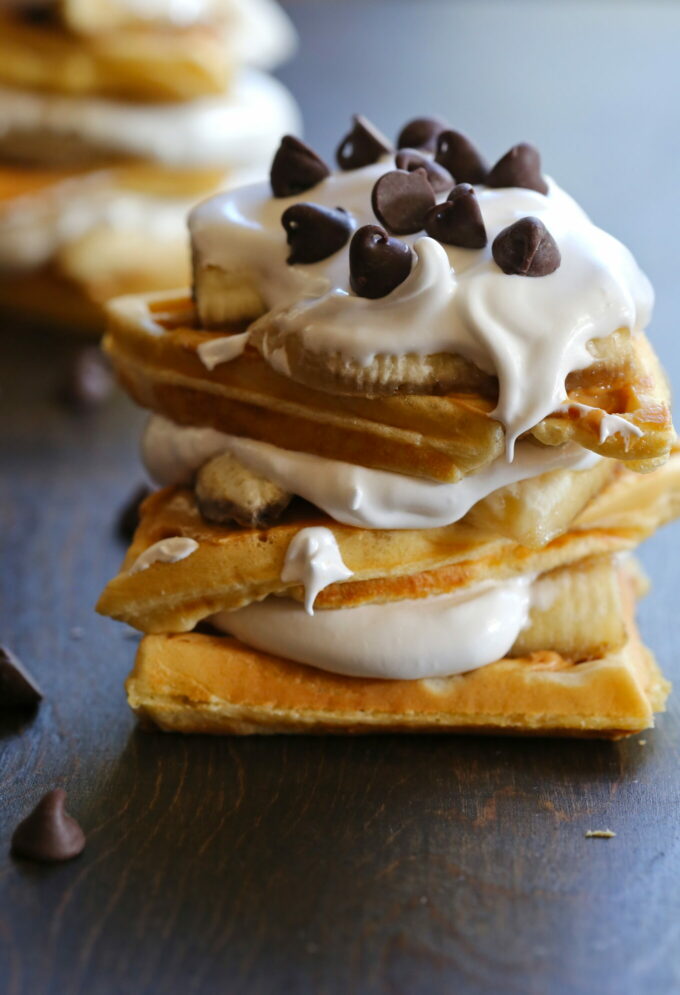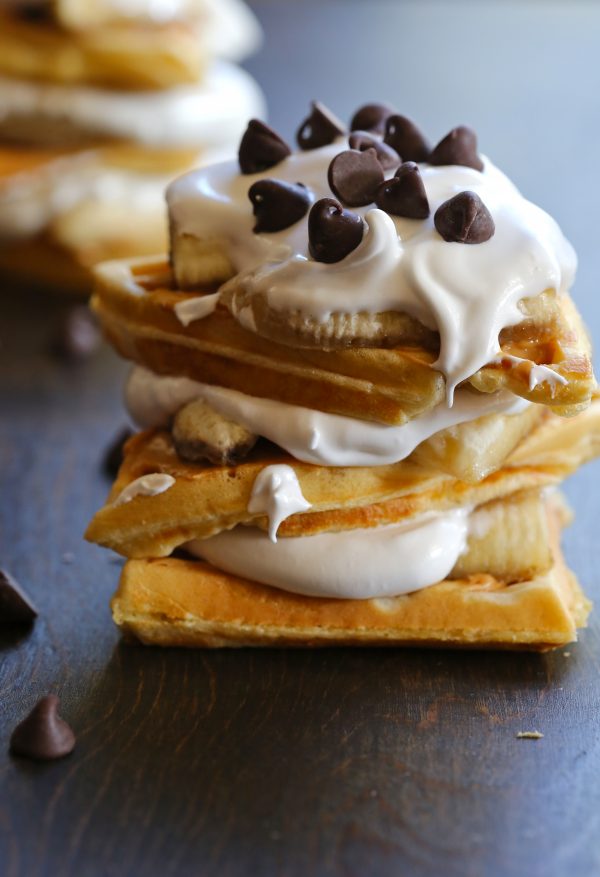 This past weekend was a first for me.
To be honest, I wasn't quite sure how I would get through it. The thought of spending the entire weekend all by my lonesome had me feeling a little panicked. Usually when Mr. B travels, I can rely on the Denver Village for distraction and some good ol' shenanigans. But this time, the village had vanished. It was just me, myself, and I.
What was a girl to do?
Well….I'll tell you what I did. I spent the whole 72 hours recipe testing, writing, photographing, organizing, and brainstorming. I plunged deep into the inner workings of the blog world. Having never spent so many connected hours on Climbing Grier Mountain because I have a day job, I thought I would get burnt out. Frustrated. Wanting to Chuck Norris kick the internet world. But the crazy thing is, I woke up Monday morning craving more.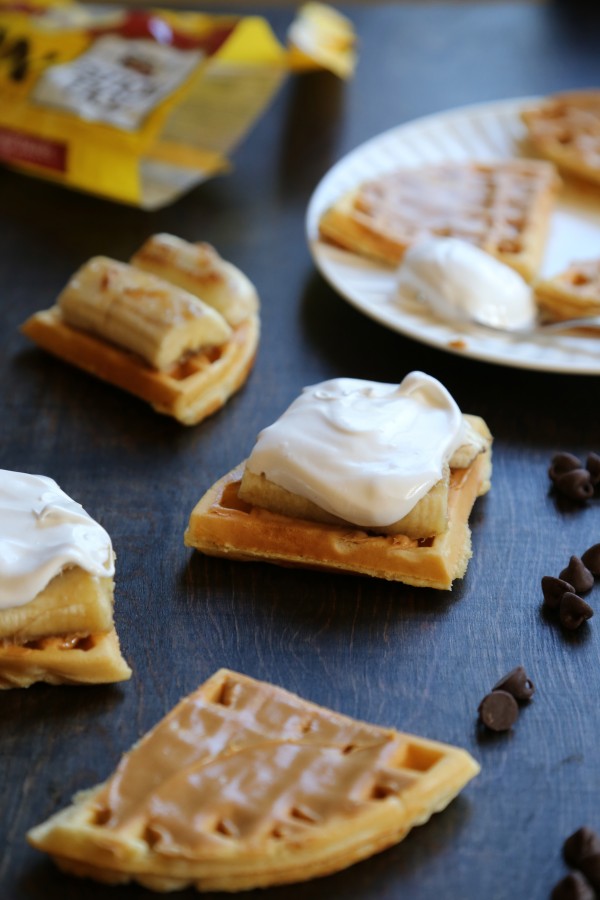 I realize this may sound major cray-cray, but I think that's the feeling when you have found a passion. I have spent the better part of my twenties and now early thirties searching high and low for something that I could get lost in. Something that makes me grin from ear to ear. And I think CGM fits that bill.
So, this is where I dive in and tell you from the bottom of my heart, thank you! Thank you for reading CGM day in and day out. Thank you for keeping me company this past weekend, even if you weren't by my side physically. Thank you for allowing me to find a passion that not only kicks my tookus every day, but allows me to create, and make delicious food for you. I am truly grateful and want to hug or #fistbump, y'all.
Now, we can't celebrate your awesomeness without something sweet! Apparently I have been on a stacking rampage. Did you see these monster stacks? Would you leave me if I told you there is more stacking to come? Don't answer that.
Well,I thought it would be fun to take a very traditional sandwich loved by Mr. Elvis Presley, peanut butter and bananas, and put my own little CGM twist on it. Enter, the Elvis waffle stack. I decided to add some marshmallow frosting in between waffles squares and garnish the top with chocolate chips.
It doesn't get much better than this folks. What do you think Elvis?….."Uh huh huh!"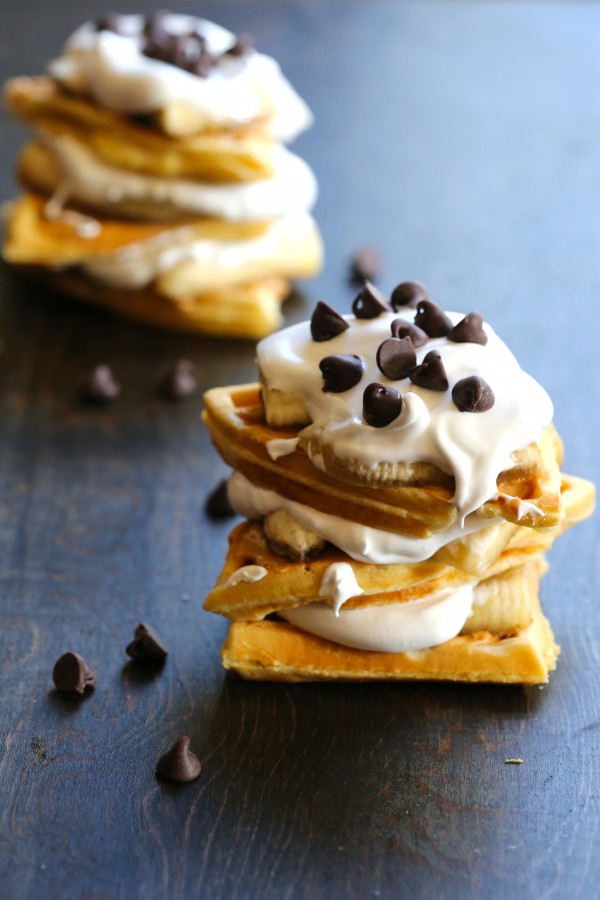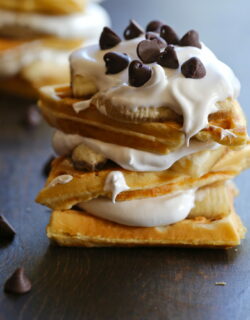 Elvis Waffle Stacks with Marshmallow Frosting & Caramelized Bananas
Ingredients:
for the waffles:
1 cup Bob's Red Mill waffle mix
2 eggs
3/4 cup cold milk
2 tablespoons vegetable oil
2 tablespoons creamy peanut butter
chocolate chips, garnish
for the marshmallow frosting:
2 egg whites
1/4 teaspoon salt
1/4 cup granulated sugar
3/4 cup corn syrup
1 teaspoon vanilla extract
for the caramelized bananas:
2 large ripe bananas
Directions:
for the waffles:
Mix together waffle mix, eggs, oil, and milk in a large bowl. Preheat a waffle maker and make 2 waffles (you will have leftovers so feel free to freeze some for later in the week!) Set aside to cool. You will only need three waffle squares (or sides) for the stacks.
for the marshmallow frosting:
In a stand mixer with a whisk attachment, beat 2 egg whites with salt until frothy. Gradually add sugar, beating until soft peaks form. Heat syrup in a glass microwaveable dish until it boils. Pour syrup in thin stream over egg white mixture, a little at a time. Beating on high speed until harder peaks form. Add vanilla and beat until glossy!
for the caramelized bananas:
Slice two bananas in half and then slice the half in half again. You should have four slices per banana for each stack. Preheat a skillet to medium heat and spray with non-stick cooking spray. Place four banana slices into skillet and let them saute for about a minute. Flip and continue cooking until golden brown. Repeat with remaining slices and set aside when done.
to serve one stack: take one waffle square and spread a teaspoon of peanut butter on top. Place two slices of bananas on top of the peanut butter. Dollop about a tablespoon of marshmallow frosting on top of the banana slices. Next, top the marshmallow frosting with another square. Repeat process again. The final layer you will complete steps up to the marshmallow frosting, but don't add another waffle square. Simply garnish top with chocolate chips.
All images and text ©