trip recap: iowa cornquest 2013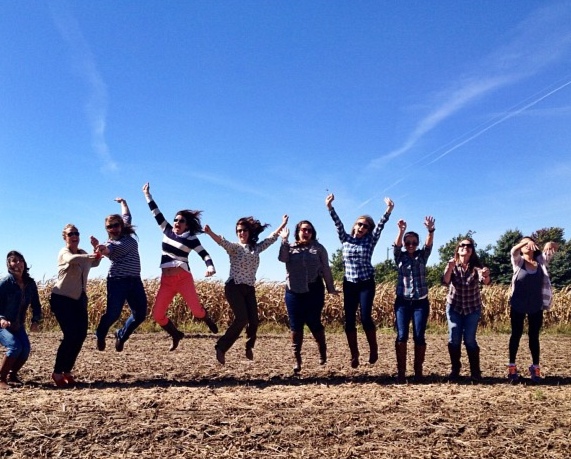 A couple of weeks ago, I flew across the plains to Des Moines, Iowa. I was invited to attend the annual Iowa Cornquest-er trip put on by the Iowa Corn Association, where nine fabulous food bloggers (Sandy, Sommer, Megan, Chung-ah, Heidi, Annalise, Sheila, Nikki, Jessica) and I gathered in a cornfield and filmed Food-ers of the Corn. Just kidding.
I grew up in southeast Kansas and never actually spent time in Iowa (except for when I was driving through it). So, needless to say, a visit was overdue. I was excited to get to know Iowa and see what all the corn-y fuss was about.
Let's take a look back, shall we…
We all arrived in Des Moines on Tuesday afternoon, giddy and full of anticipation. Our first stop on the Iowa Cornquest-er was Madison County Winery. But first, can we please take a moment and check out our ride for the first day and a half? Tour bus, anyone? Anywhere we pulled up, people stopped and stared, probably expecting Guns N' Roses to step out and break into Sweet Child O' Mine.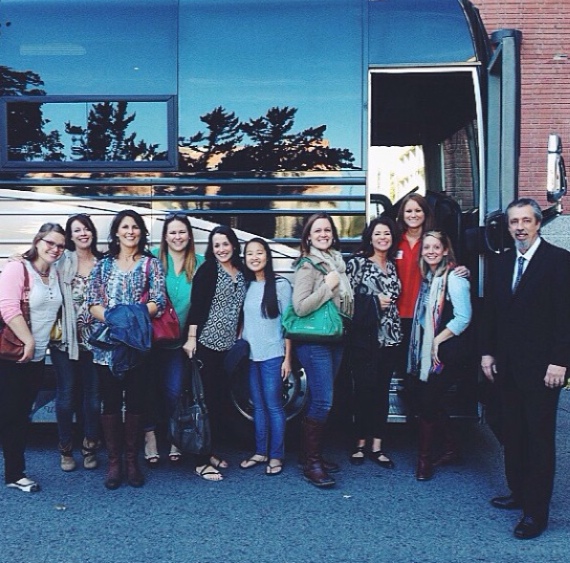 (pic from Heidi)
Madison County Winery was a breath of fresh air. Nestled into the side of a hill with lines of grapevines as far as the eye could see. The view melted my Midwestern heart.
The folks at the winery were wonderful hosts. They gave us the low-down on how they make wine (and beer – Twisted Vine Brewery) at their shop. I've been to Napa a few times, live in a state dotted with microbreweries, and I give the Madison County Winery "two sips up." I was really impressed with their chardonnay (2012 Vignoles) and their honey harvested ale.
After our pairing, we nestled under the lights and headed into dinner, provided by the Iowa Pork Association. I am a big, big fan of pork. Juicy like steak, and tastier than chicken. Plus, let's be honest – bacon makes everything better.
The dinner menu was "corn" themed, even the dessert! My favorite was (you guessed it) the pork, smothered with locally-made fire pepper jelly. Afterward, we gathered outside under the stars and chit-chatted over glasses of red wine. It was the perfect end to a fabulous first day.
Wednesday morning, we were up and at 'em! The first stop on our long list of adventures?…grabbing a farmer's breakfast at the Gateway Market. The Gateway Market reminded me of a lot of Whole Foods, but on a smaller scale. We ate potates, eggs, bacon, yogurt with fruit, and course, drank lots of coffee!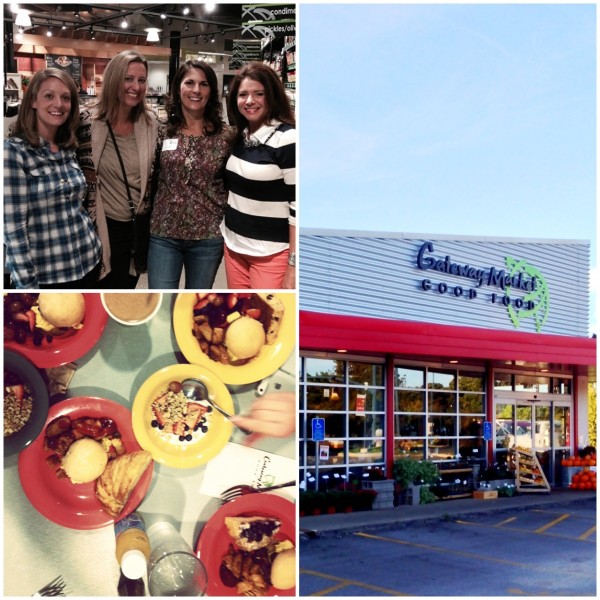 (top left pic from: Sandy, bottom right pic from: Nikki)
To the bus!…and the next stop on our Cornquest-er agenda: getting the farming low-down from a real farmer. Bob and Nancy Couser have owned and operated their farm since the 1970s. They define hard work, perseverance, and dedication. Without hard-working families like theirs, we'd all be eating dirt paste.
I was blown away by their operation. From soup to nuts, Bob's family does a full sustainable circle. They grow corn, harvest the corn, feed the corn to cattle, use cattle poop to fertilize the new crops, and repeat. Pretty cool, huh?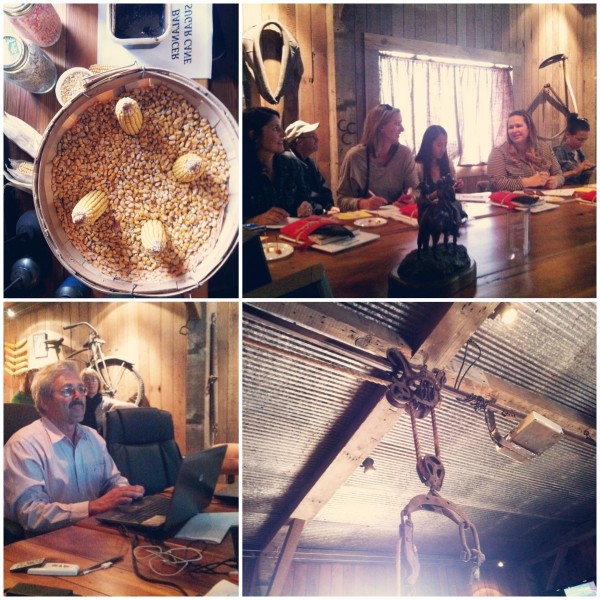 After our interview with Bob and Nancy, we had a beef sampling from the folks at Triple U Ranch. Elaine, whose farm had been hit by a tornado a couple days earlier, still made the trek down to give her presentation. Can you say "badass"? Elaine's presentation was very informative, especially about unami!
Once we finished our sampling and a tasty Iowa beef lunch in a 100-year-old barn, it was time to put boots on the ground (or sandals, for one southern cali girl!).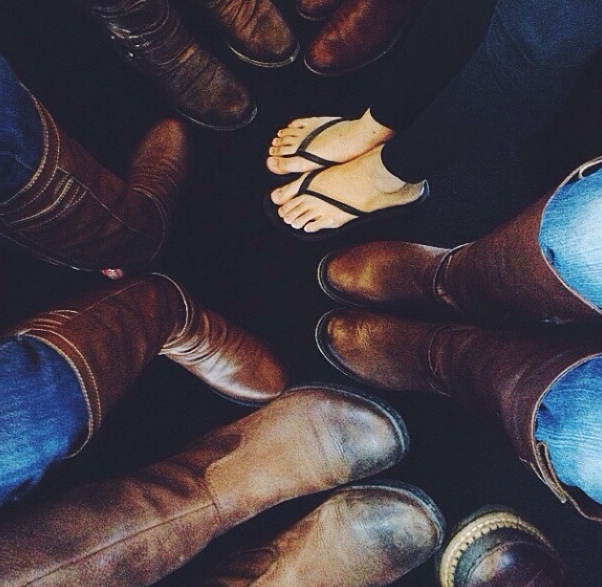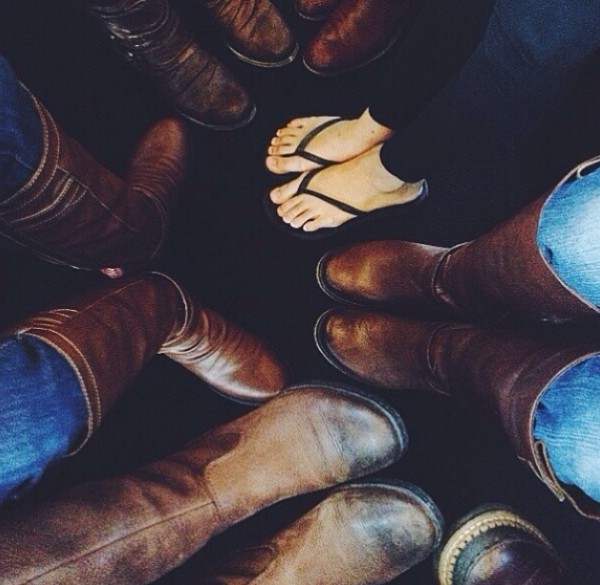 (pic from Heidi)
Stepping into a cornfield brought back so many memories of growing up in Kansas. It actually made me a little homesick, watching the combines, the colors, and…oh yeah – fun CGM factoid: did you know that as a little girl, I called hay bails "dinosaur turds"? What an imagination! How about a corn factoid: the corn you see from your car window when driving by is not the corn you eat. Only about 1% of corn grown in Iowa is edible (sweet corn), which is what we slather with buttah and put on our dinner plates. The rest is used for feed, fuel, etc.
Next on Tour de Cornquest-er was a pit stop at the Iowa Speedway. As soon as we hit the entrance, the quoting of Talladega Nights began. My personal favorite: "If you're not first, you're last." This was a fun tour because we got to see the pit and actually ride in one of the cars! We went 117 mph!!  The crazy part, all of the cars are fueled by 100% corn-based ethanol!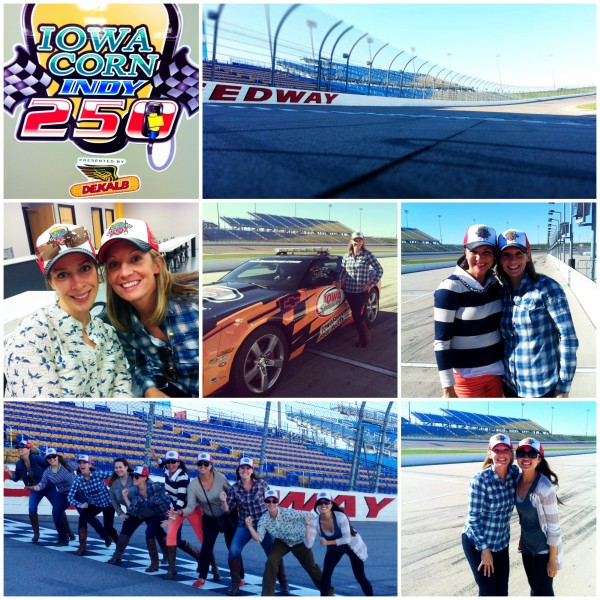 After the speedway, we headed back to the tour bus only to find out that it had bitten the dust. Not a problem. We had a stretch hummer limo come to our rescue!
Awwwww…..yeahhhhh!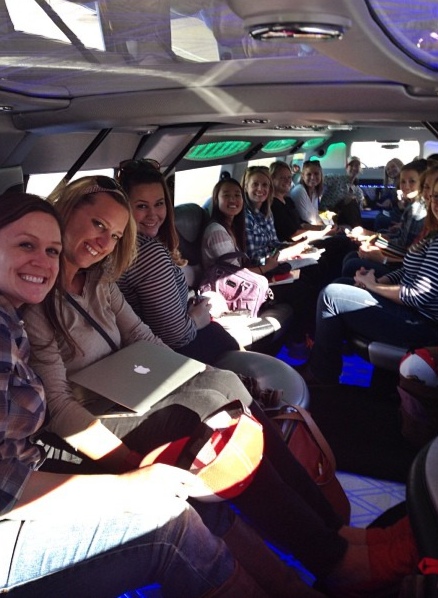 (pic from Sandy)
Dinner that evening was at the top of the state historical building, where the view overlooked the capitol. Des Moines, you sure are purty! We had the privilege of dining with a few more farmers. Each one had the floor to speak about what farming looks like in terms of work and expectation to keep the consumer happy in the twenty-first century. I got a little teary-eyed listening to them describe their work day in and day out. If you see a farmer, tackle hug them!
(pic on right from Sandy)
Of course, we couldn't let our fabulous evening end there. Oh, no! A group of us (and farmer Dick Gallagher who we peer-pressured into going with us) headed to Zombie Burger for some late-night snacking and shenanigans. My personal favorite was the Captain Crunch milkshake and gravy fries! Calories don't count when you're in corn country, right?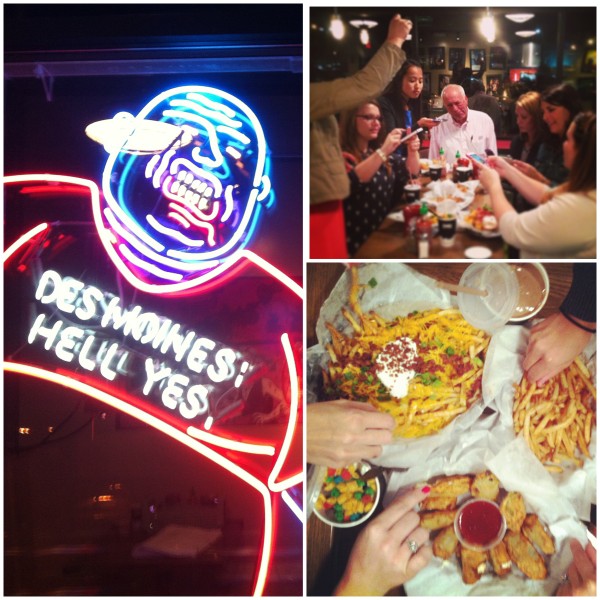 (bottom right pic from Nikki)
Our final morning, we gathered for breakfast at the hotel and a roundtable discussion with Dr. Ruth MacDonald, chair of the Department of Food Science & Human Nutrition at Iowa State University. And let me tell you, this lady knows her stuff. We covered everything from GMOs and hormones in beef and milk, to organic vs non-organic and the gluten-free trend.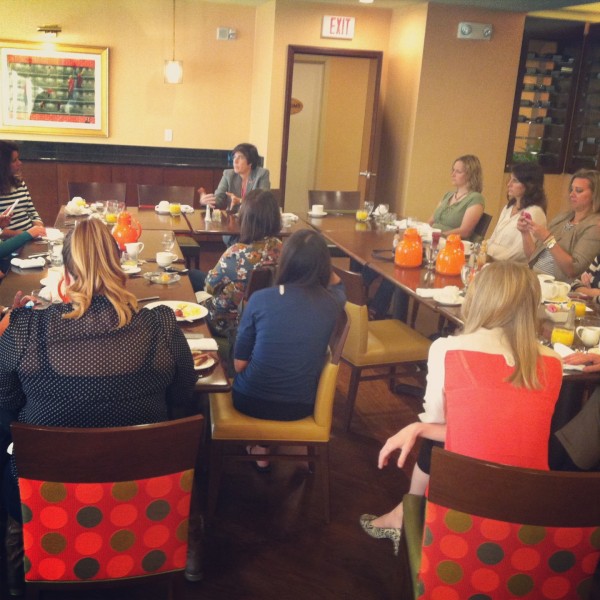 I was surprised by a lot of her information, and this was certainly one of the most intellectual, thoughtful conversations about food I've ever been a part of. I swear we need to give Ruth a food blogger bat-phone in case of emergencies!
Our second-to-last stop on the Cornquest-er tour was Meredith Corporation (a.k.a. Better Homes and Gardens). I was blown away by the size of their facilities. Not to mention I nearly peed my pants when I saw the test kitchen!! Can you believe their first cookbook was published back in 1930? That's a lot of recipes. Here's another fun little factoid: they test a recipe 3 to 4 times to make sure it's perfect. They have a grocery lady on staff, and can pull from their database of 123,000 recipes with a snap of their fingers.
Sadly, we didn't get to cook in the test kitchen, but we did get to tour the prop room. I'll take one of each, pa-lease?!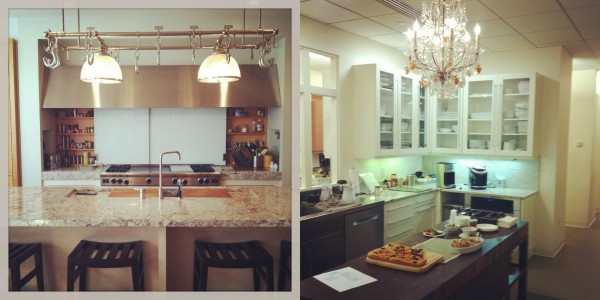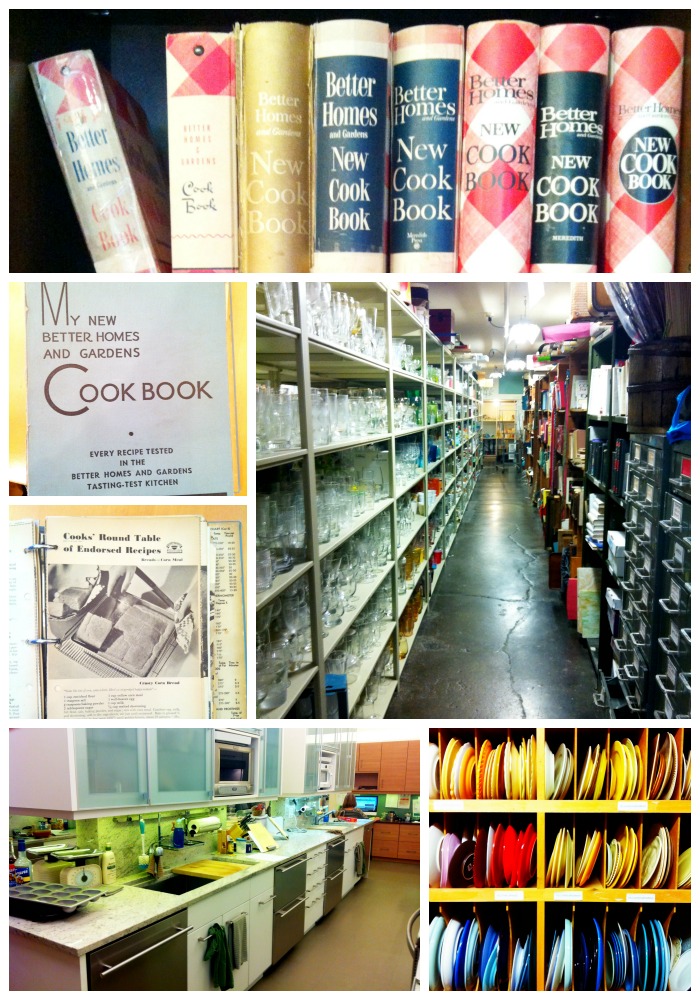 Our final stop on the Cornquest-er tour was a little bit of a mystery. We were dropped off at a Hy-Vee grocery store (mind you, in a hummer limo) where we were going to be cooking each other's recipes. All corn themed, of course! Yours truly had to make a cocktail – a Mango Mule. You're probably wondering, where is the corn tie-in for this drink? Well, the vodka was made from corn!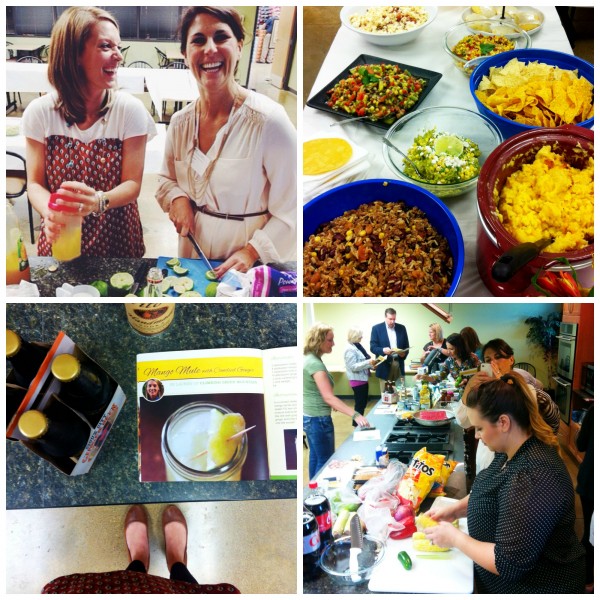 (top left pic from Heidi)
Cooking in the Hy-Vee kitchen was a little tricky, but we managed to whip up quite the spread. The verdict? Hands down some of the best food I've eaten!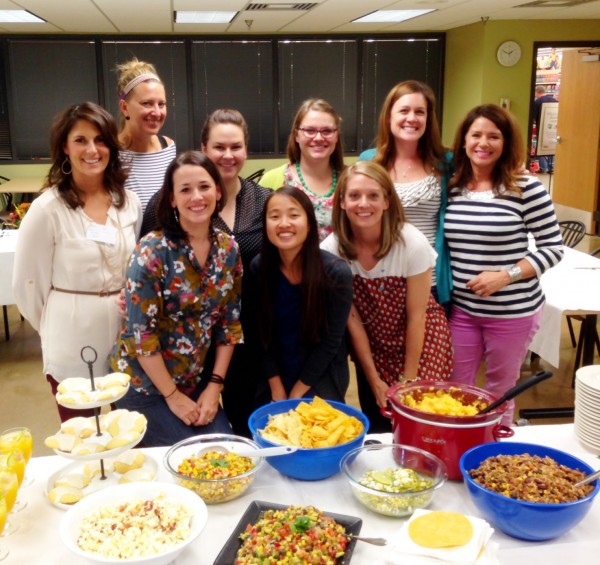 (pic from Nikki)
And, just like that, our time in Iowa came to a close. This trip was an absolute blast from start to finish. It was hard to say goodbye to all my food blogging buddies. I adore these women and feel very blessed to be a part of such a strong community. Make sure and check out their blogs!
Last but not least, I want to give a huge round of applause to the Iowa Corn Association and CMA (Roxi and Hana!) for putting this event together. You girls are rock stars and I can't thank you enough for letting me be a part of such an amazing and mind-opening event.
Until next time, Iowa.