philly cheesesteaks with sweet peppers and homemade provolone sauce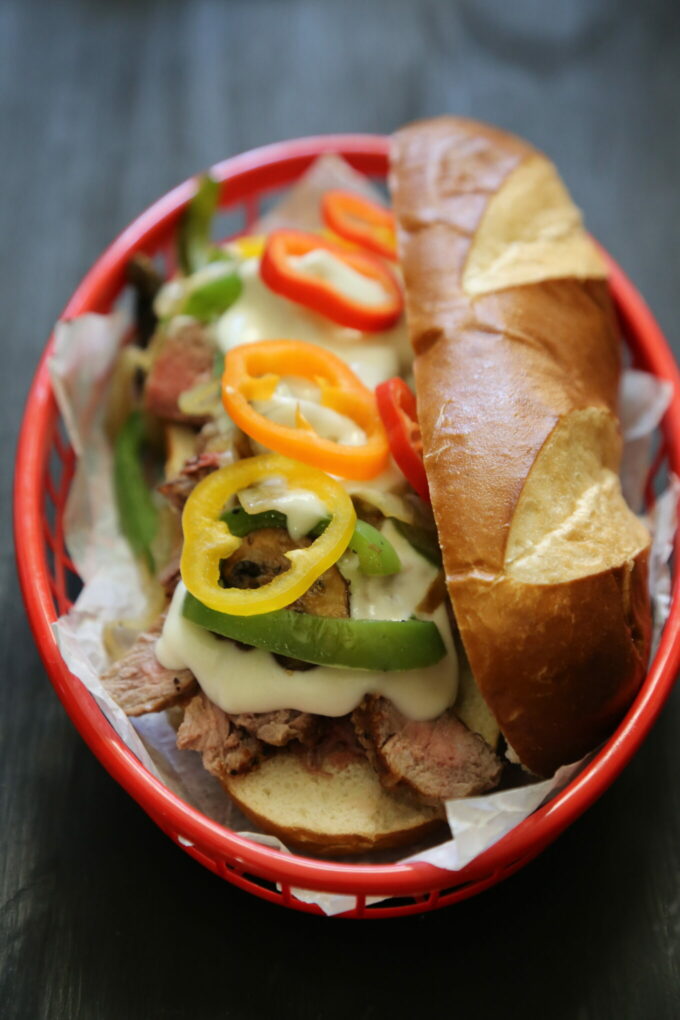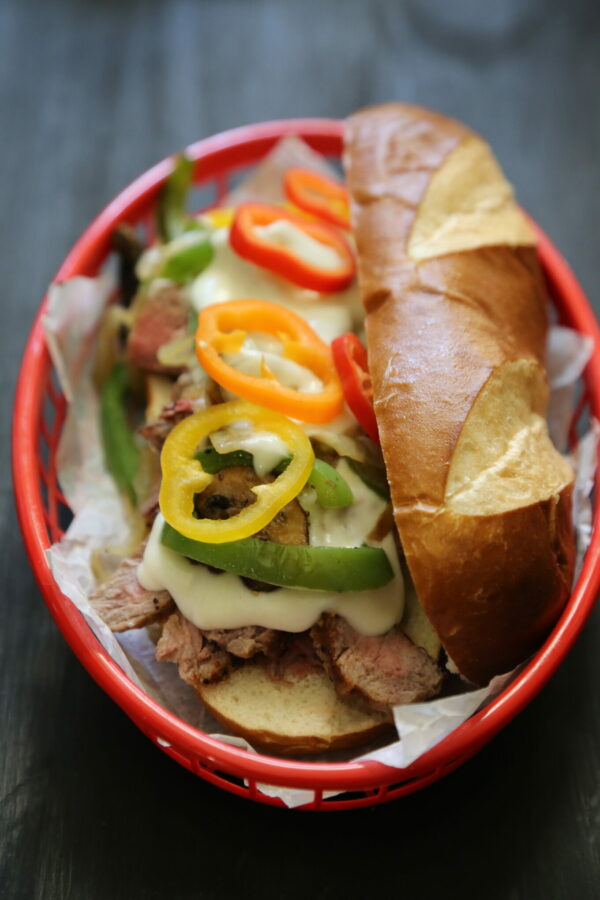 Sometimes I miss the ceremony of watching after-school shows.
I would come home from an intense day of studies at school, pull off my heavy backpack, head straight to the kitchen for a snack, and nestle in front of the TV, waiting to be memorized by tales of teen awkwardness and new morals.
Some of my favorites '80s and '90s' TV shows: Boy Meets Girl, Where In the World is Carmen San Diego?, Full House (obvi), Salute Your Shorts, California Dreams, Hey Dude, and Fresh Prince of Bel Air. Let's be real, Will Smith was a cutie back in the day. I love that the writers portrayed him as a thug from Philly up to no good. Um, those neon high-tops and t-shirts are real hard core gangsta. If you ask me, it's Carlton you need to be wary of. If I saw someone doing the "Carlton" dance in the middle of Rodeo Drive, I would hand him a straight jacket. Just saying.
Clearly I didn't realize this at the time, but maybe that's why I lacked friends in grade school. Maybe doing the "Carlton" dance had people questioning my sanity? Okay, that and my impersonation of ET with a side of Weekend at Bernie's dance. How I didn't eat lunch in the bathroom growing up, I haven't a a clue.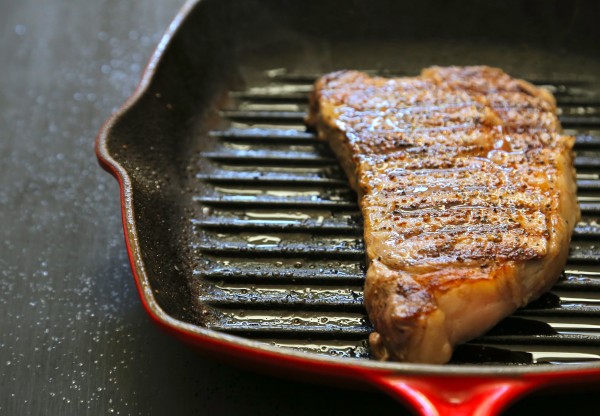 But looking back at the Fresh Prince of Bel Air, I don't ever remember Geoffrey fixing Will a Philly cheesesteak sandwich on the show. If he did, I don't recall. You would think a nice butler would make a kid living far away from home a traditional sandwich from Philly. It just makes sense. Well, in honor of Fresh Prince of Bel Air and after-school snacks, I thought making a homemade version of this classic sandwich seemed fitting.
Besides the thinly sliced juicy steak, I like the addition of the homemade provolone sauce and sweet peppers on top. The peppers give the cheesesteak a little neon flare. Definitely Fresh Prince of Bel Air approved.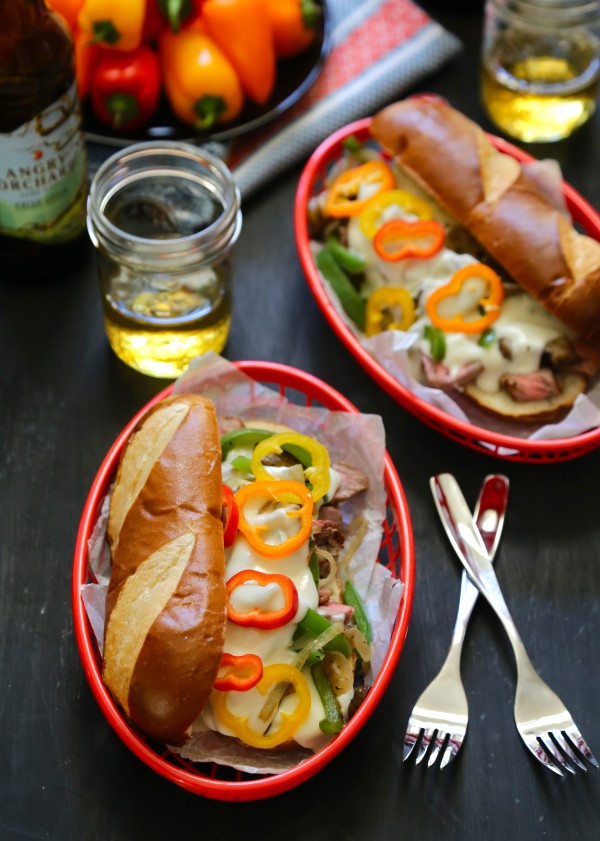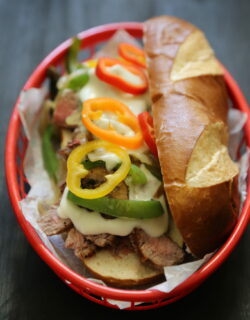 Philly Cheesesteaks with Sweet Peppers and Homemade Provolone Sauce
Ingredients:
for the philly cheesesteaks:
1 pound beef ribeye
salt and pepper to taste
2 pretzel rolls
1 small yellow onion, sliced
1 small green pepper, sliced
1 tablespoon olive oil
salt and pepper to taste
1 cup small mini peppers, sliced into rounds
for the provolone sauce:
3 tablespoons unsalted butter
3 tablespoons all-purpose flour
1 cup whole milk
1 cup provolone, shredded
salt and pepper
Directions:
for the philly cheesesteaks:
Preheat a grill to medium-high heat. Salt and pepper both sides of the steak. Place steak on grill and cook the first side about 5 to 7 minutes. Flip, and continue cooking for another 4 minutes or until cooked to desired temperature. Let the steak rest before slicing thinly.
In medium skillet preheated to medium-high heat, add olive oil, green pepper, onions, and a pinch of salt and pepper. Cook for about 7 to 8 minutes or until the veggies have softened. Set aside.
to serve: take a pretzel bun and place half of the steak slices into the bun. top with green/onion mixture and provolone sauce. Garnish with sweet pepper rounds!
for the provolone sauce:
In a small saucepan preheated to medium heat, add the butter. Let it melt and then whisk in flour. Keep whisking for a minute until you cook out all of that raw flour taste. Gradually add the milk. Stir often so the milk doesn't clump. After about five minutes the sauce should thicken and then you add the provolone. Stir and add pinch of salt and pepper.
All images and text ©