New York City + Hamptons: Where to Stay, Eat, and Visit!
New York City + Hamptons: Where to Stay, Eat, and Visit! Check out my ultimate guide on how to spend a long weekend in New York City and the Hamptons. From luxury hotels to must see attractions to decadent dinners to relaxing poolside with a private chef. This how you summer on the east coast!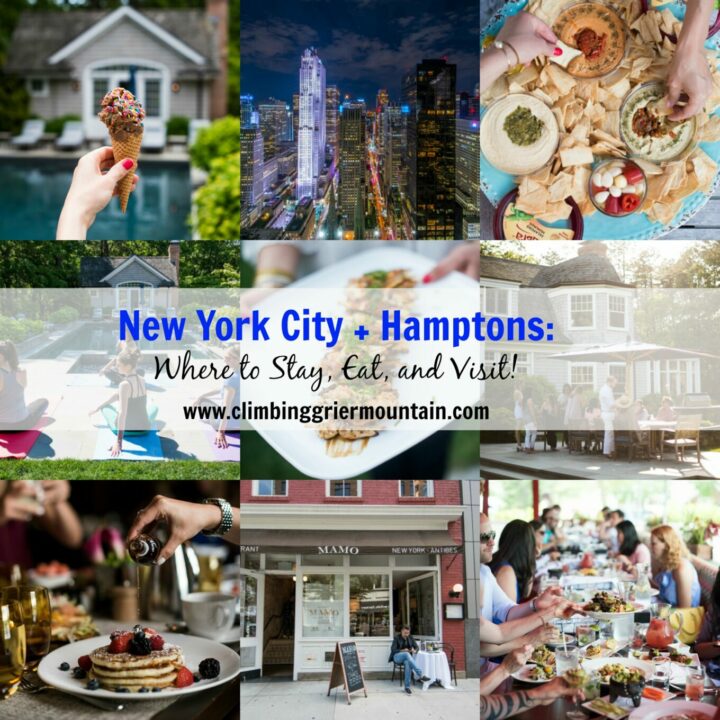 When I was in college there were two shows my girlfriends and I rallied to watch.
One, The Bachelor. Monday nights were reserved strictly for rose ceremonies; and two, Sex In the City. Every girl had their character they identified with whether Samantha, Charlotte, Miranda, or Carrie. I identified with Carrie because I felt she was the most balanced of the group. Plus, her outfits were always on point.
A part of me always dreamed of living life like Carrie. Working the 9 to 5 in the Big Apple and then jetting off to the Hamptons for a long weekend. Well, about a month ago a group of fabulous bloggers Gina, Lexi, Liz, Heather, Andie, Heidi, Jennifer & Trevor, Kristin, Beth, Gerry, Maria, Julie, and yours truly had the pleasure of "working" in New York City for 24 hours and then venturing to the Hamptons like a true New Yorker. All I can say, one could get used this lifestyle.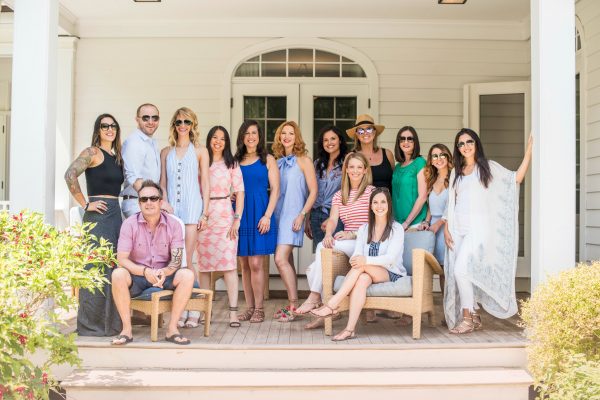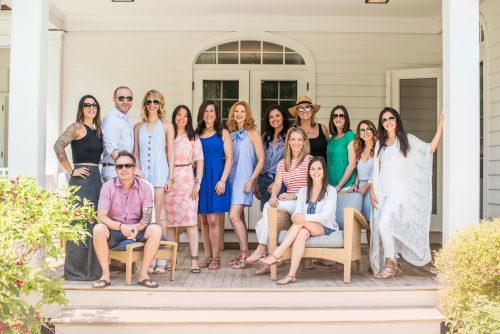 So, follow along because you don't want to miss the Ultimate Travel Guide – New York City + Hamptons: Where to Stay, Eat, and Visit!
NEW YORK CITY
WHERE TO STAY: New York City
When we arrived in New York City there was only one hotel that suited our needs, Lotte New York Palace. This luxurious hotel is located in Mid-Town Manhattan near some of my favorite landmarks – Central Park, St. Patrick's Cathedral, and Rockefeller Center.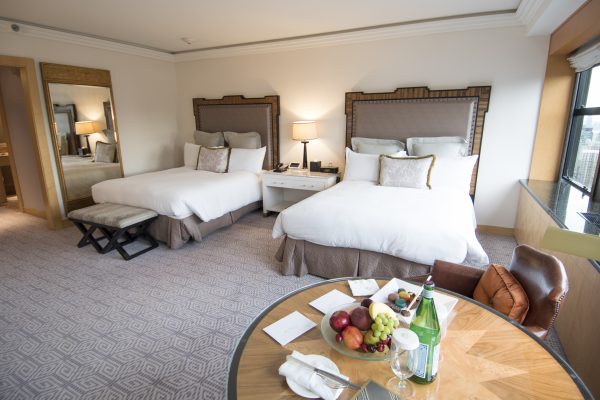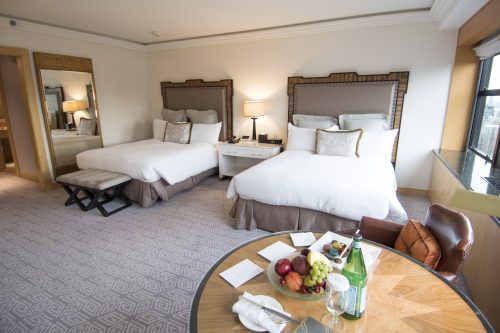 The Lotte has everything you want – spacious rooms, endless amenities like marble baths, turndown service, and the views are outstanding. The service and attention to detail will make you want to come back to this hotel over and over again.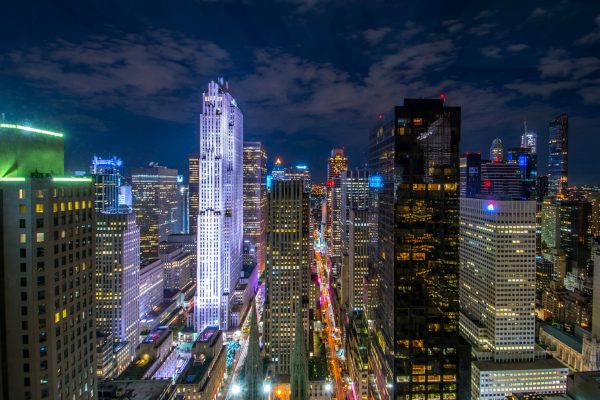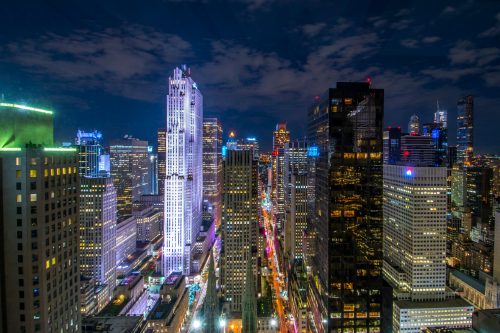 WHAT TO VISIT: New York City
Central Park
This urban park is not to be missed whether strolling through it with friends like Gerry and Liz, or stopping to snap a keepsake photo. You can spend countless hours moseying through this giant sanctuary.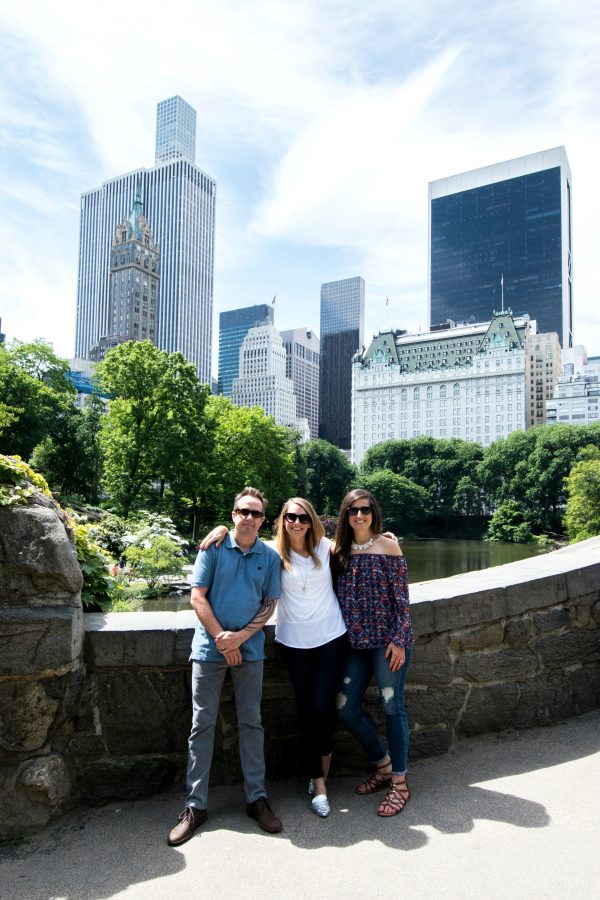 Rockefeller Center
The Lotte hotel is just down the street from Rockefeller Center. I highly recommend heading up to the observation floor to check out the view if you have a hot minute.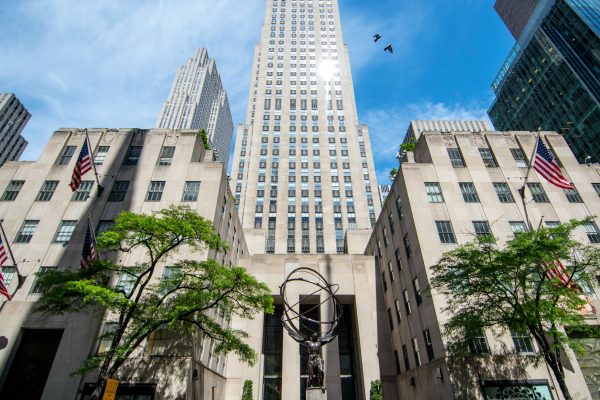 St. Patrick's Cathedral
Step back in time at this Neo-Gothic-style Roman Catholic cathedral church. Built in 1878 it's one of the oldest Catholic churches in America.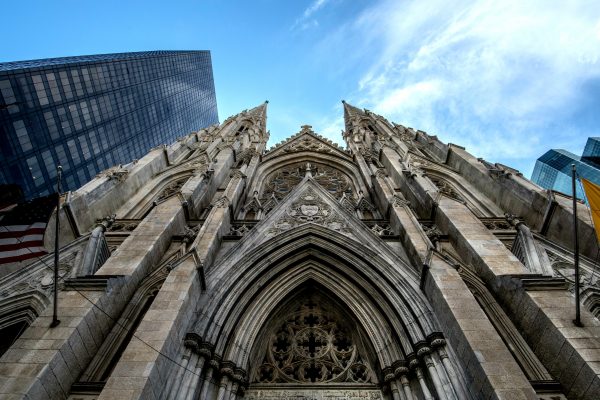 Other places to visit:
High Line, shopping on Madison Avenue, The MET, Chelsea's Market, and of course, The Statue of Liberty! Also, you can check out my NYC trip recap for even more things to see!
WHAT TO EAT: New York City
Deciding where and what to eat in New York City can be overwhelming! Here are a few gems that will knock your socks off!
Villard @ Lotte New York Palace
Thankfully breakfast was just an elevator ride away. We strolled downstairs to start our morning off at the Villard located on the lobby level of the Lotte New York Palace. This upscale bistro offers an innovative breakfast fare in a boutique setting. Make sure to try one their fresh-pressed juice flights, breakfast pizza, bacon beignets, pancakes, avocado toast, or the most gorgeous farro porridge!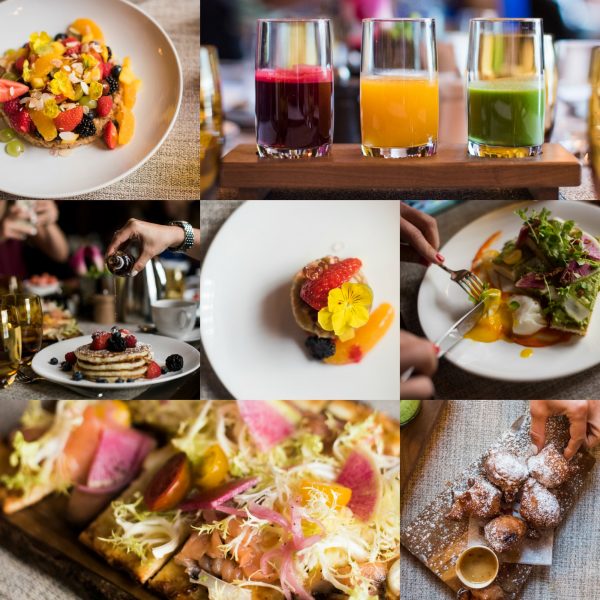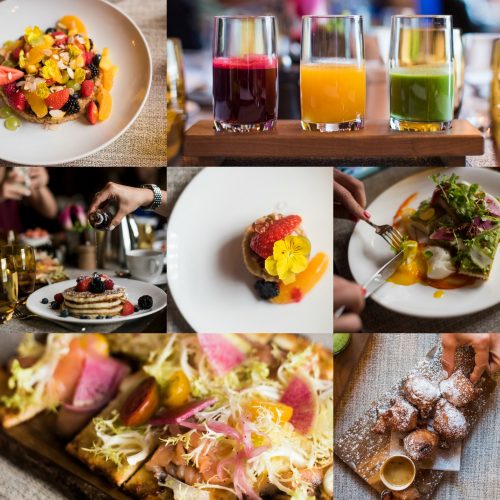 Mamo NYC
After all the walking around and sightseeing all morning, we stopped at Mamo NYC for lunch located in the SoHo neighborhood. Mamo NYC serves up a delicious, authentic Italian food. From fresh pastas to salads to the most decadent truffle pizza, everything hit the spot! Just don't forget to wash it all down with a glass of wine from their extensive wine menu!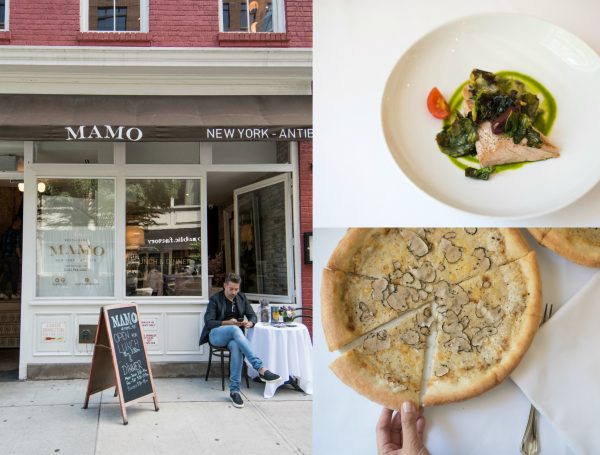 FIG & OLIVE
Since we only had one night in NYC dinner had to be an 11/10 situation. Fig and Olive located in the Meatpacking District did not disappoint. The ambiance alone invites to you linger for hours as you sip wine, converse with your friends, and nosh on some of the most thoughtful food such as pea crostini, burrata and heirloom tomato salad, and sea scallops.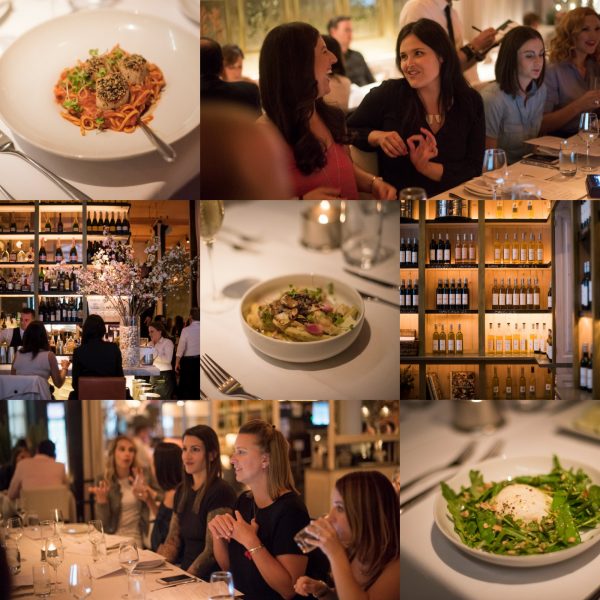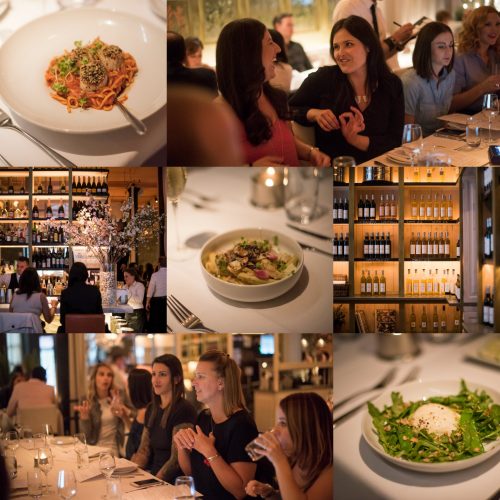 HAMPTONS
All right, it's time to punch the card and head east to the Hamptons. Grab your sear sucker dress, flip-flops, and fedora because the Hamptons is the place to see and be seen.
WHERE TO STAY: Hamptons
The Hamptons is a destination for many East Coasters, so there are a variety of options when it comes to finding a place to stay. Since we had 14 people, we decided to rent a large house for the weekend. This cedar siding styled house came with an east and west wing, a large gourmet kitchen, pool, tennis courts, gym, and game room!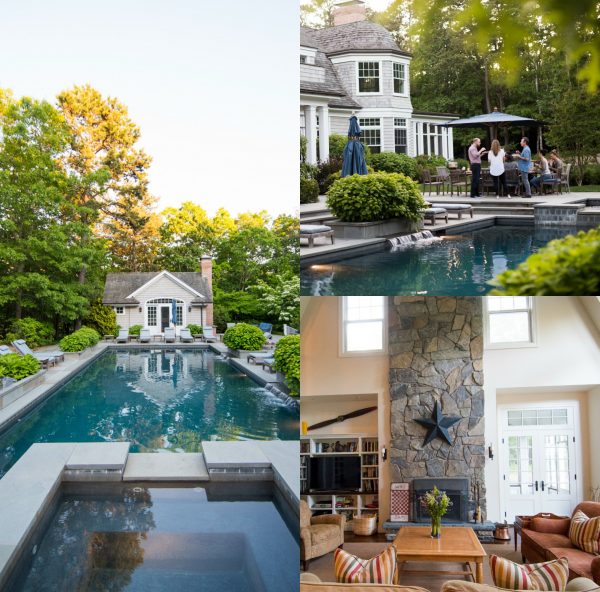 WHAT TO VISIT/DO: Hamptons
Bedell Cellars
The beach is a sought after location when you're marinating in the Hamptons. But! If you wish to dive into a different kind of cool, I highly recommend checking out Bedell Cellars. They make hand crafted sustainable wines that are refreshing, especially on a hot summer day. Also, don't miss sitting outside on their stunning patio while taking in the scenic vineyard view.
Yoga by the Pool
The best way to start any morning is with a slow stretch and mindful heart. Whether you are following a 30-minute yoga sesh on your iPhone or lucky enough to have Beth guide you through a session, yoga by the pool is a great way to set your intentions for the day!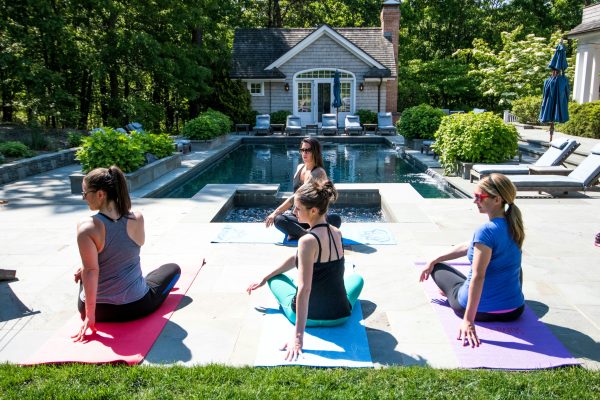 Host an Ice Cream Social
Summer screams ice cream! One of the best ways to combat the heat is to invite friends over for an ice cream social. Halo Top provided us with a smorgasbord of different flavors. Deciding which one to sample was the hardest part. If you must know, the birthday cake is my personal favorite!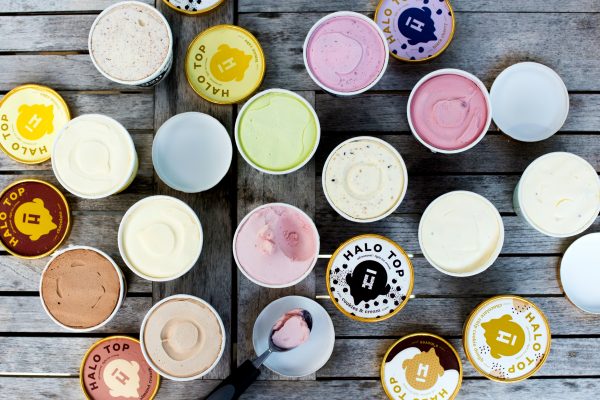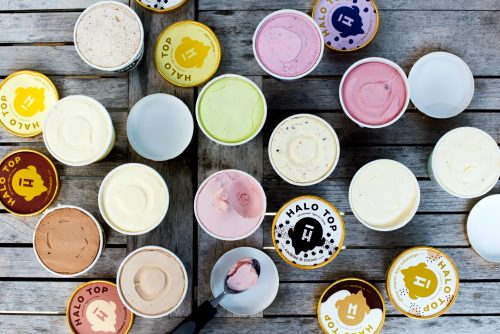 WHAT TO EAT: Hamptons
Ultimate Charcuterie Board by Delallo
When we first arrived in the Hamptons, we needed something to nosh on immediately after dealing with the infamous Long Island traffic. The best way to combat traffic fatigue and perk up the group (because, um, hello we are in the Hamptons) is with a beautiful charcuterie board provided by Delallo!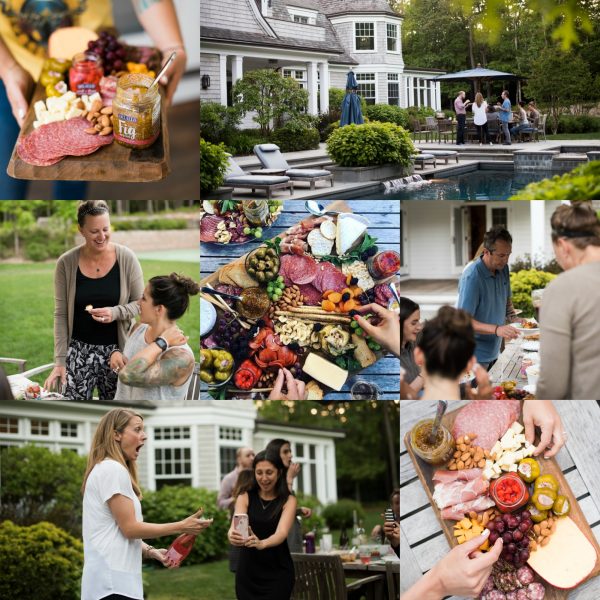 If you haven't tried Delallo products let me tell you that you need to RUN to your local grocery store and fill up your cart. Some of my personal favorites include their assortment of olives, crostini, peppers, pepperoni, endless amount of cheese, and glazes. All you have to do is place all the ingredients on a cutting board, pour a glass of rosé, and you'll slide right into the Hamptons vibe.
Union Cantina
Even though we cooked a majority of our meals at the house, it's also nice to venture into town for lunch. I highly recommend trying Union Cantina. They serve updated Mexican dishes in a rustic but chic space complete with a patio and tequila bar. We sampled one of the jalapeno margaritas and it was spot on!
On the menu you will find watermelon salad, endless amount of tacos (make sure to try the lobster!), deconstructed enchiladas, and whole pan-fried snapper!
Poolside Hummus by Sabra
After an afternoon of perusing around town, we came back to the house for another round of snacks by the pool before dinner. Well, y'all know my love for Sabra runs deep and what better to connect and lounge than with an 'official meal'. Sabra has so many wonderful flavors of hummus – supremely spicy, pine roasted nut, olive tapenade, jalapeno, and many more. Just place a couple of red-rimmed containers on a table along with your go-to crackers and let the dipping begin.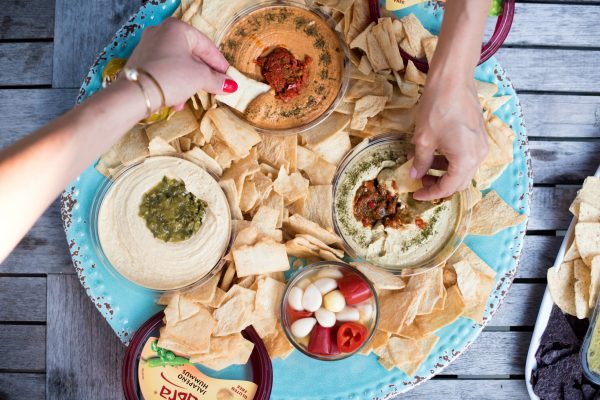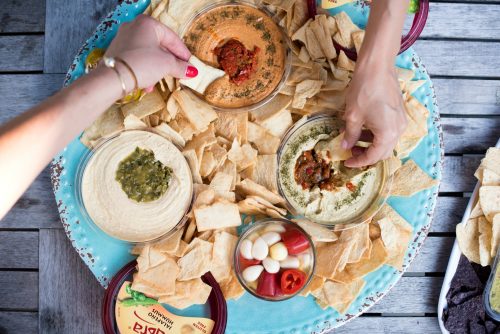 Private Chef Dinner with Green Giant
For our last night in the Hamptons we chose to hire a private chef to cook dinner. We wanted everyone to relax and not worry about doing dishes or meal planning. Thankfully, Chef Renee Blackman was up for the challenge. Green Giant provided the vegetables (like broccoli tater tots, cauliflower rice) to add to our amazing dinner. One of my favorite dishes was the beef short-ribs with Green Giant pureed cauliflower.
But the piece de resistance was definitely the dessert table! My inner five year-old was giddy at the fact we could scoop ice cream off the table without using a bowl! It was a great way to end the entire weekend!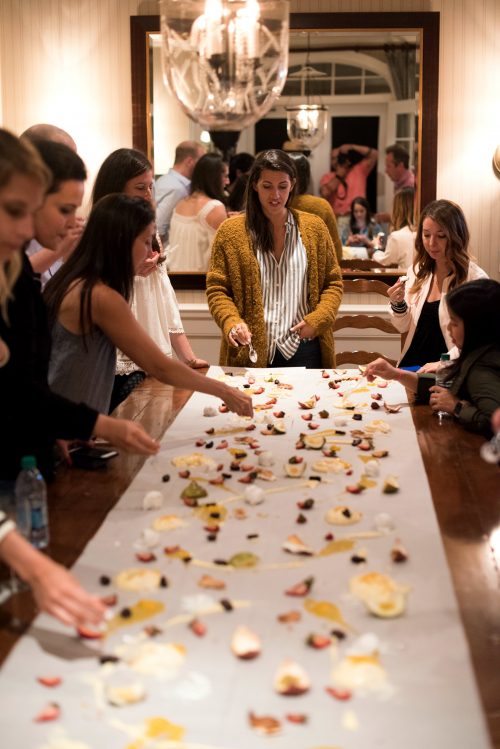 And that's a wrap! A big thanks to Gina, Lexi, and Liz for organizing a lights out smashing weekend! Another round of applause to all the sponsors who made our Hamptons weekend a reality – DeLallo, Sabra, and Green Giant. Finally, a sincere thank you to Vital Farms, Lorissa's Kitchen, Nespresso, and Halo Top. As well as Alejandro Photography for all the gorgeous photos used in this blog post. Until next time!
***Also, if you're interested in trying out Delallo products use GrierMountain25 code for a 25% off any order on DeLallo.com (Gift Cards & Sampler Kits excluded, expires 8/1).***