Salsa Verde Pulled Pork Avocado Toasts
Salsa Verde Pulled Pork Avocado Toasts are perfect for breakfast, lunch, or dinner! Boneless pork shoulder smothered with salsa verde and slowly cooked. Then topped with cheddar cheese, avocado, and fresh cilantro is a win all summer long!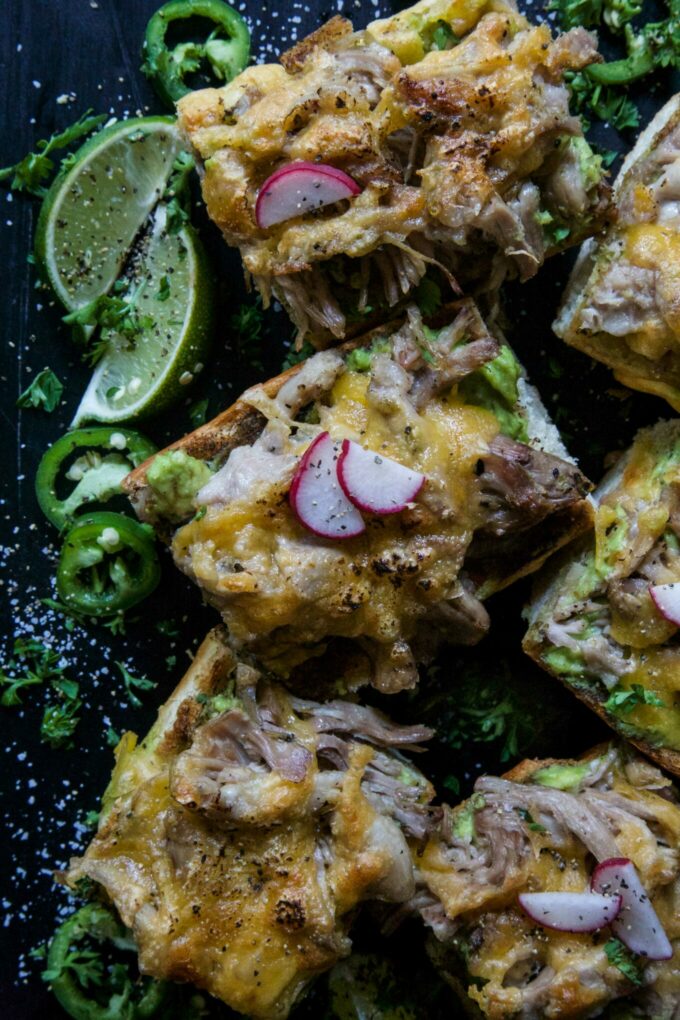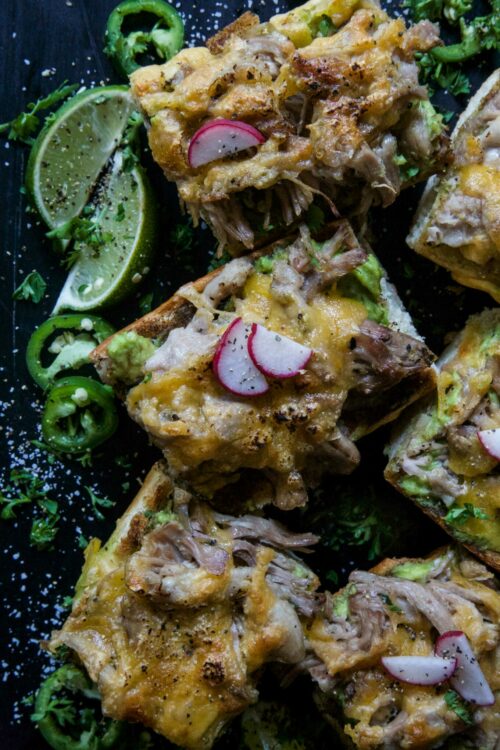 Ten years.
Yep, yep.
Mr. B and I will celebrate our ten year wedding anniversary this September. And while I'm trying not to freak out at the fact that I've now known Mr. B more than half my life. Fun fact: I met him when I was 18 years young. I am in the midst of trying to plan a vacation for us to celebrate our old ball and chain situation.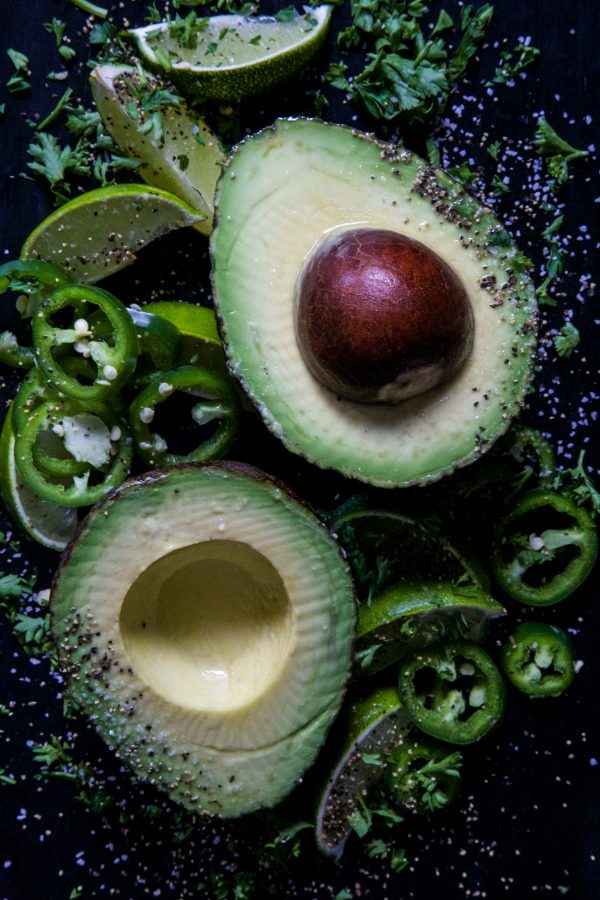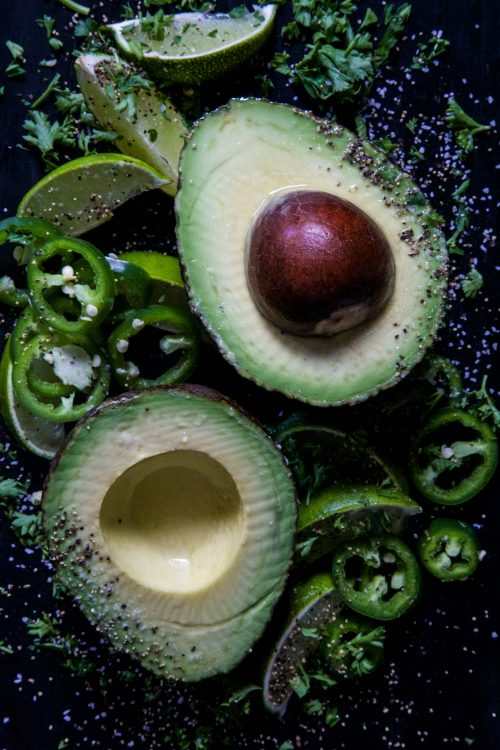 Currently we are feasting our eyes on visiting Jordan. Yes, the actual country. And to answer any immediate questions of concern, it is safe. Not like Pleasantville safe, but safe enough. Anyway, the reason I am brining this up is because I am sorting through different options and would love to hear recommendations if you been.
So, far we want to visit Petra, Wadi Rum, Dead Sea, all the spice markets, and maybe camp in the desert! Also, would it be wrong if I secretly wanted to ride a camel and post a picture of me on hump day? Maybe too much? Maybe.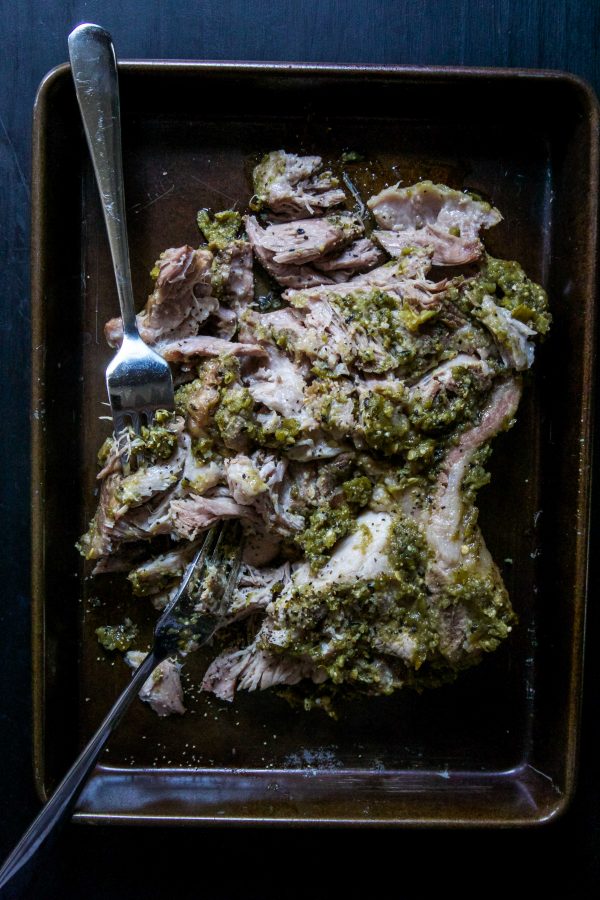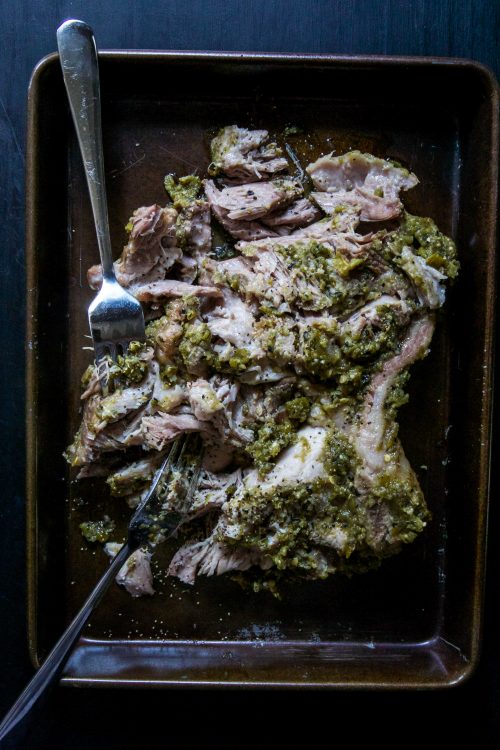 All this talk about vacation planning has me famished. Okay, but really, I'm basically bursting at the seams to tell you about these epic Salsa Verde Pulled Pork Avocado Toasts. With the weather in Denver being HAWT, I'm being extra needy with my slow cooker. Um, who wants to stand over a hot stove when it's 97 degrees outside? Not I.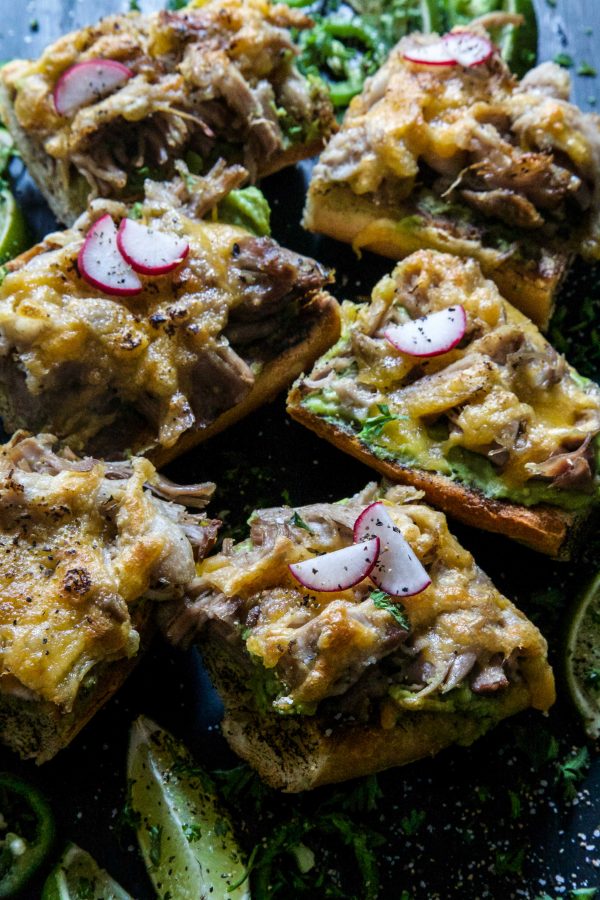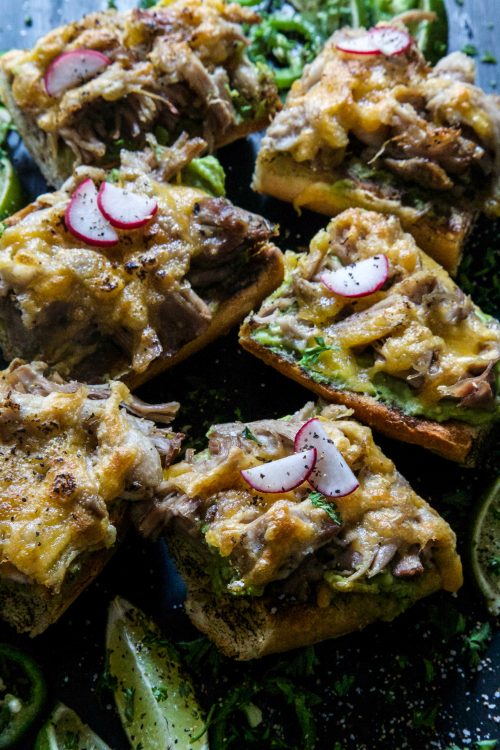 I try to keep things simple whenever I use my slow cooker. All you need to make the pulled pork is boneless pork shoulder and a jar of your favorite salsa verde. Put it all the slow cooker, set and forget it. Once the pork is done assume the avocado toast making position and start assembling.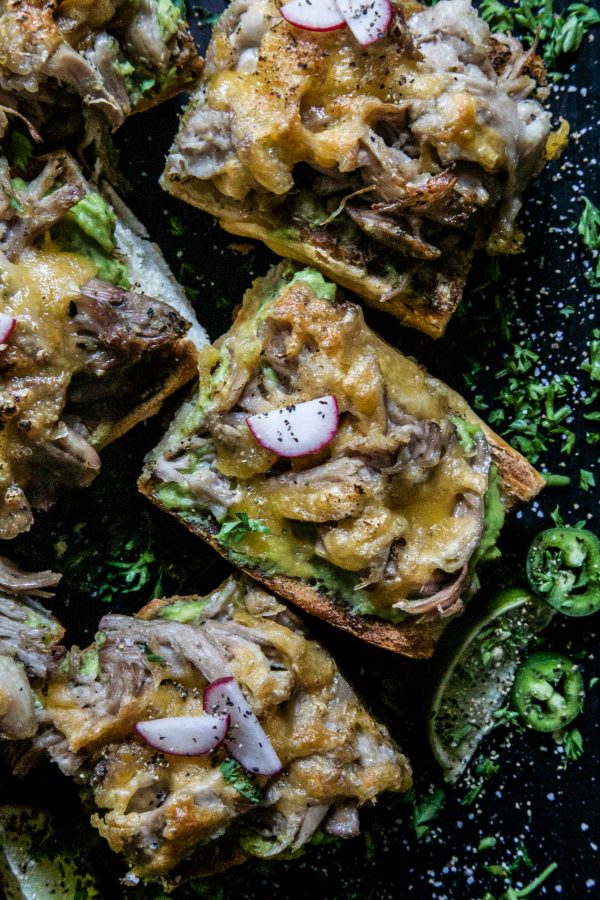 The secret to these toasts being amazing is toasting the slices under the broiler for a few seconds and then add the avocado. It's an 11/10 situation. For reals.
Okay, I hope y'all have a wonderful Monday. And remember to send me Jordan recs!! K. Thanks!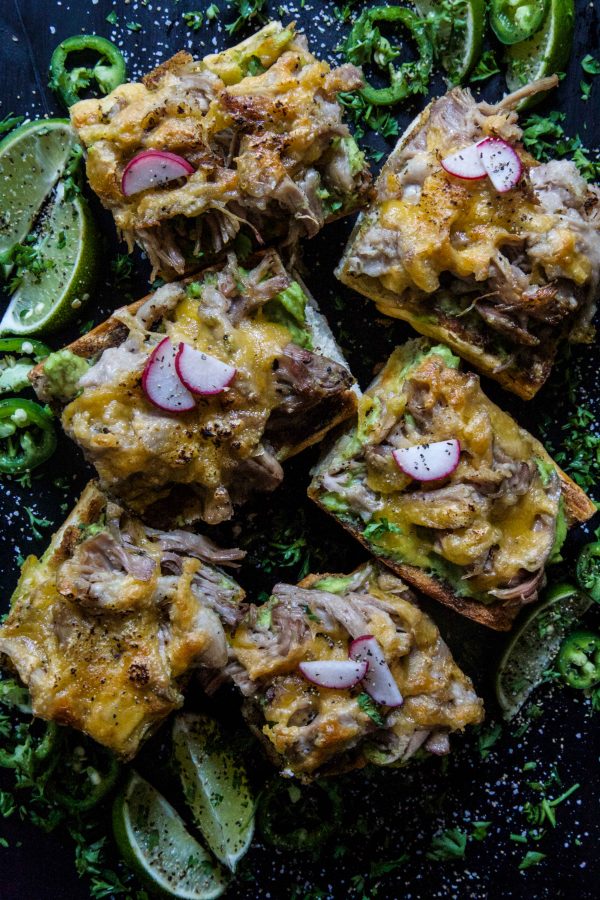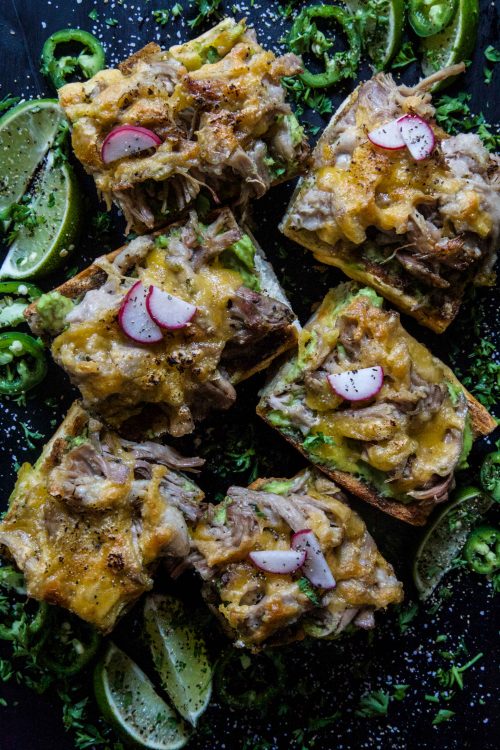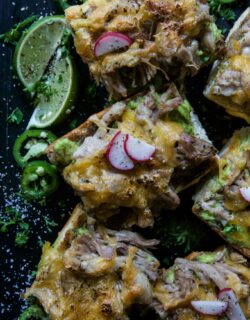 Salsa Verde Pulled Pork Avocado Toasts
Ingredients:
2 lbs boneless pork shoulder
1 1/2 cups salsa verde
1/2 cup chicken stock
1 French loaf
2 medium avocados, pits removed
2 tbsp lime juice
1 1/2 cups shredded cheddar cheese
Radish slices, for garnish
Jalapeno rounds, for garnish
Fresh chopped cilantro, for garnish
salt and pepper to taste
Directions:
In a slow cooker add the pork shoulder, salsa verde, and chicken stock. Spread the salsa over the pork so it's evenly covered. Place the slow cooker on high for 4 hours or on low for 8 hours. Once the pork has finished cooking, remove the pork and place it on a cutting board. Using two forks shred the pork. Set the pork aside until ready to use.
Meanwhile, take the French loaf and slice in lengthwise so you have two halves. Preheat your broiler and place the halves on a baking sheet drizzling the tops with a little olive oil. Toast the halves for a few minutes or until golden brown. Remove from the oven and set aside.
In a medium bowl, mix the avocado, lime juice, salt and pepper. Take a toasted loaf half and spread the avocado mixture on top. Repeat process with remaining half. Top each half with the pulled pork and cheddar cheese. Place the halves back under the broiler for a few minutes until the cheese has melted. Remove the halves from the oven, slice into toast sizes, and garnish with radish slices, jalapeno, and cilantro.
All images and text ©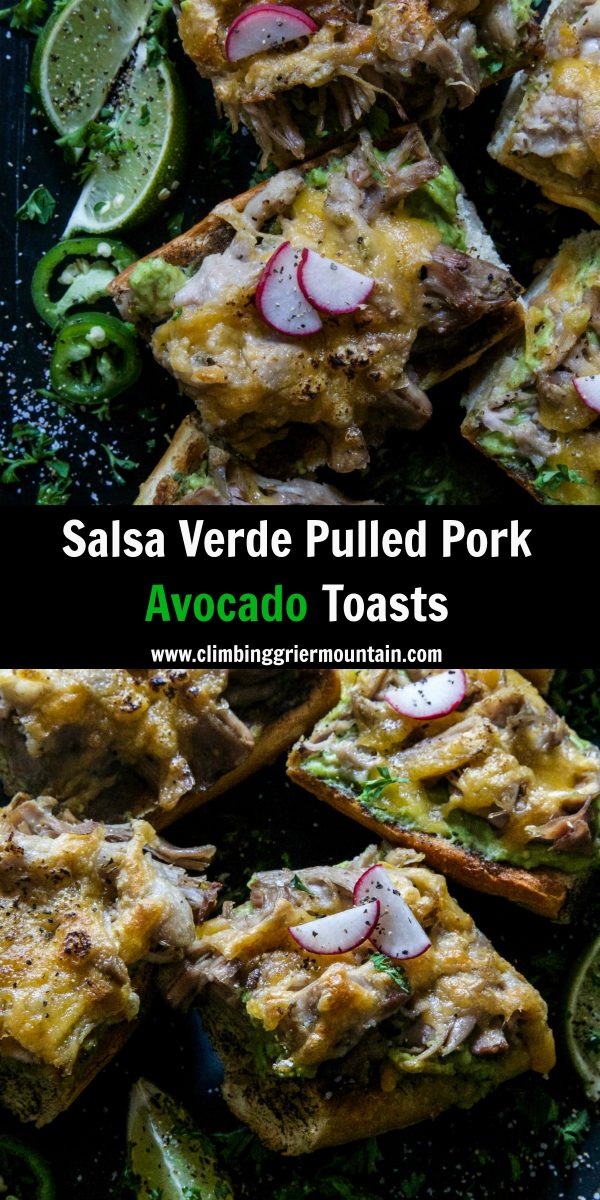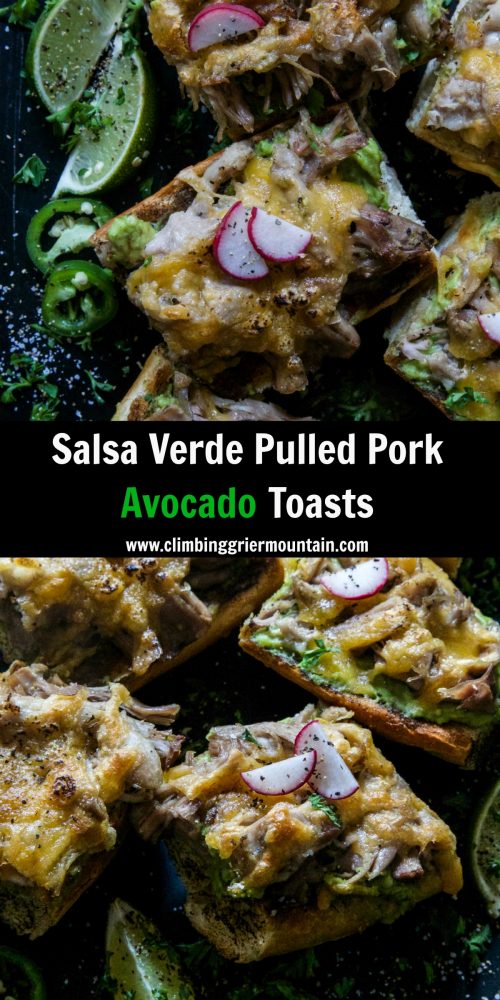 In conclusion, Salsa Verde Pulled Pork Avocado Toasts are a delectable symphony of flavors and textures. With zesty salsa verde, tender pulled pork, and creamy avocado, this dish is a culinary masterpiece that satisfies every craving.