Our Next BIG Adventure + First Trimester Recap
SURPRISE!!!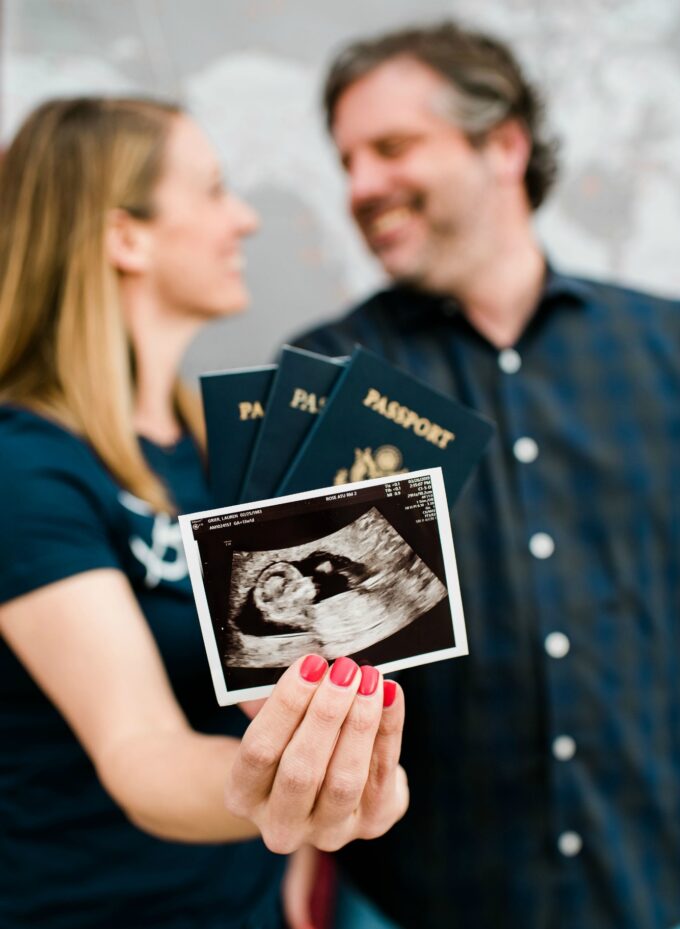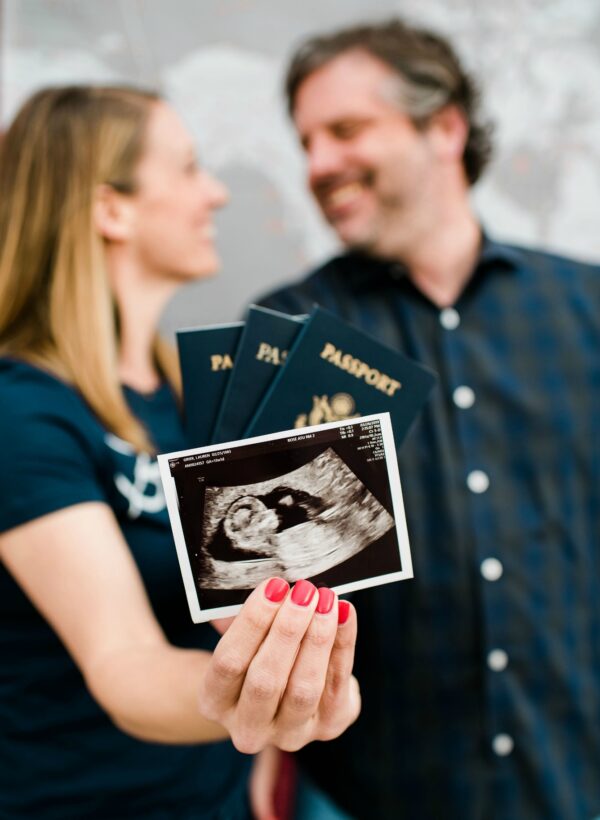 Our next big adventure is on the horizon.

September 30th to be exact.

Mr. B and I are thrilled, nervous, excited, scared, but overall feeling good about becoming parents. I have been DYING to tell y'all about our big news. Keeping a secret from our family and friends for eight weeks was tough. BUT! Not telling you guys for three months has been crazy hard. Curious, if any of you caught on?

Anyway, I want to tell you guys everything! Below is a recap of my first trimester by each week. There was so much going on that I felt this was the best way to explain everything. I think going forward I will do a more minimal recap of my second and third trimester, but let me know what you think.

Also, I've included at the bottom of the recap a few of my pregnancy favorites so far. Um, there is so much stuff to think about while you are pregnant that is it overwhelming. Lord knows what the baby registry will look like!

We are so excited to bring you guys along on this journey! Only six more months to go!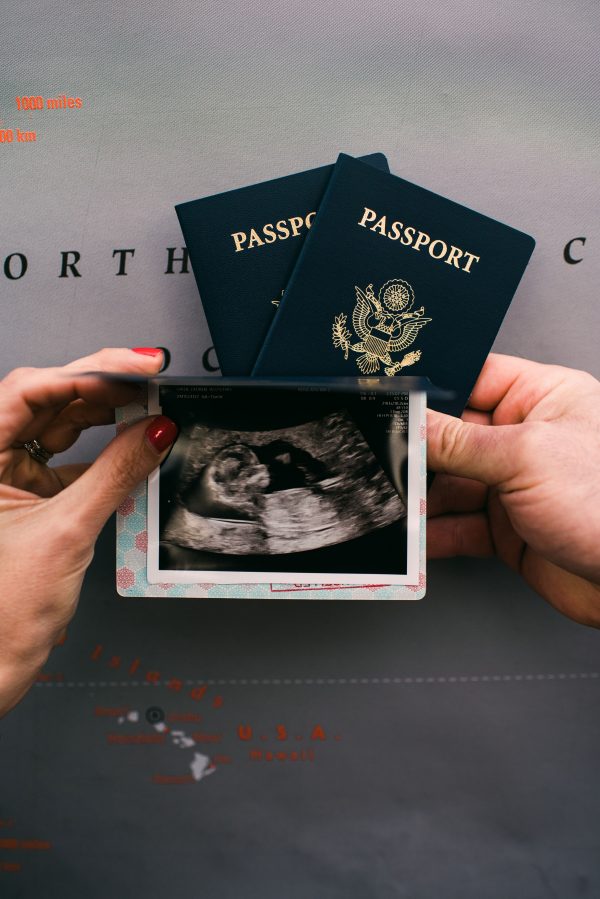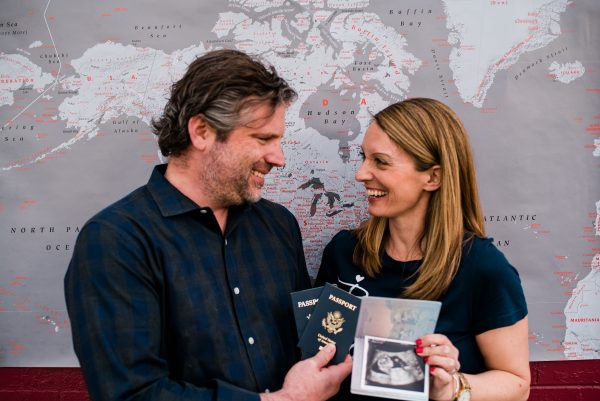 Week 4: The baby was the size of a poppy seed.
Symptoms: Bloating, swollen boobs, mild cramping, fatigue and mentally in shock!
The start of Week 4 was a roller coaster of emotions because this marked the beginning of our pregnancy journey. Full disclosure: my period cycle is regular to the tee. I am very blessed to have a normal menstrual cycle so when my period didn't arrive on Monday January 21st, I knew something was off (also, I should have known I was preggo because Juniper would not leave me alone). At the time, I thought, don't get too excited because my period could have been delayed due to the super moon that happened on Sunday. So I gave myself two days to let hormones or Mother Nature figure herself out. Well, come Thursday and still no period. I was like HOLY MOTHER EFFING BALLS. Is this happening? I knew deep down inside that I was pregnant, but I wanted to wait until Saturday to take a home pregnancy test to make it official. Well, I couldn't wait until Saturday so I took one Friday night before Mr. B got home from work. And sure enough, I peed on a stick and literally 10 seconds went by and BOOM! Double line – definitely preggo. I wasn't freaked out because we were obviously trying but I knew I had to wait until Saturday morning to tell Mr.B. Plus, on Thursday afternoon, I had something overnighted for Juniper to wear to make it a fun surprise on Saturday morning to tell him he was going to be a daddy. So, Saturday morning, I woke up (feeling like Christmas morning) and took Juniper downstairs to go potty. Secretly I was putting a bandanna around her neck that said "Big Sis." I took her back upstairs because we always cuddle on the weekends as a family so I thought this would be the perfect time to surprise him. I put Juniper on the bed and told Mr. B to check out the cute bandanna I got for her.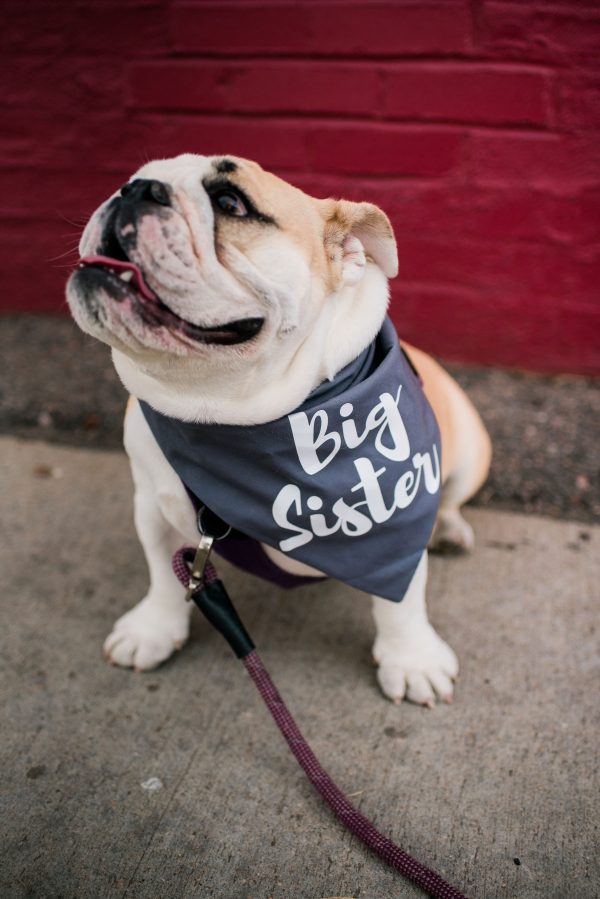 He looked confused and started to read it and said, "WHAT? Wait. ARE YOU FOR REALS?" Started laughing and then shouted, "I'm going to be a daddy!" I started crying because I was happy to finally tell someone!! Definitely felt a little more real especially when I handed him the pregnancy stick. Such a wonderful moment and one I will never forget.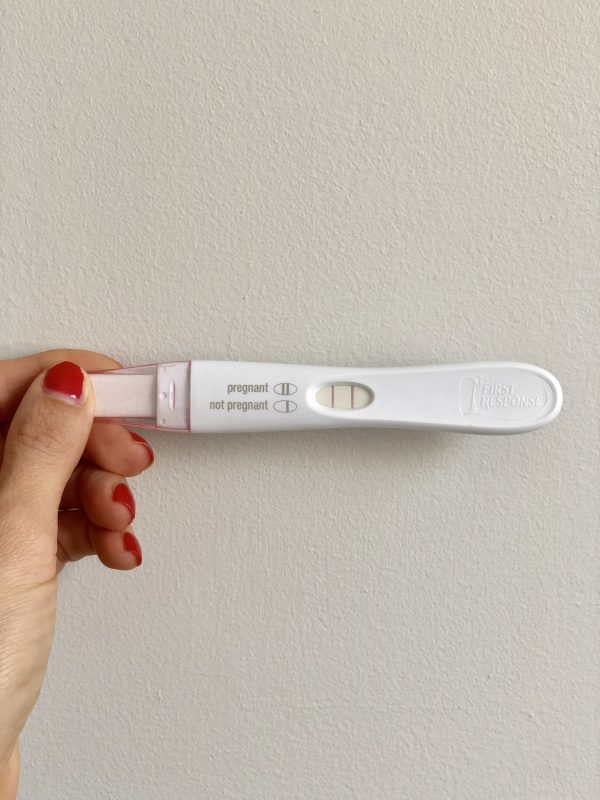 Week 5: The baby was the size of an appleseed.
Symptoms: Tired, swollen boobs, mild cramping, and mood swings (I almost went Wayne Brady on Mr.B).
The start of Week 5 I still didn't feel "pregnant-pregnant." Yes, mentally I knew something was going on downstairs because of all the construction. Mr. B and I have been communicating about the pregnancy via construction crew status. Sounds weird, but Mr. B would ask me in the morning, "Is the crew hard at work today?" And I would answer, "Yes, they are hard at work, or no they are on break." Honestly, that's what these past two weeks have felt like. The stretching of the uterus, the hormones, and swollen boobs felt like my body is under construction. Also, this was a hard week because I knew we still had three weeks to go before the doctor would see us and being over 35 I was concerned about miscarriage. So I told myself that is out of your control and just keep doing what you're doing, eat healthy, sleep, exercise and relax.
Week 6:The baby was the size of a sweet pea.
Symptoms: Swollen Boobs (gah!), getting full super quick, energy levels improved, craving bland food (avocado & turkey sandwiches were on repeat), and less mood swings.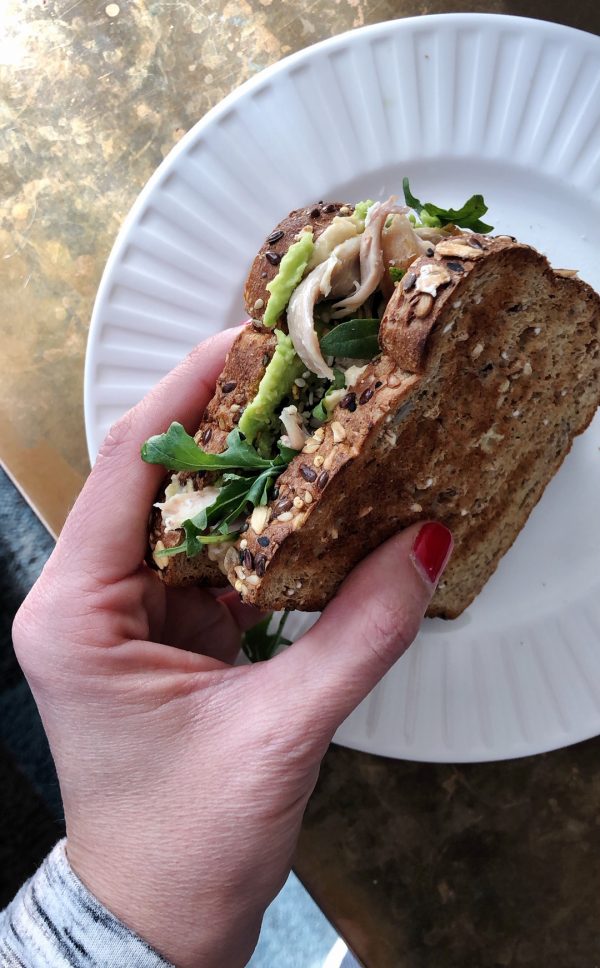 The start of Week 6 was so much better than the previous two weeks. I felt more settled about being pregnant. Not being able to have a glass of wine after a long day was a big shift. I decided to transfer my energy into the remodel; teach myself new cooking techniques, read, and work on CGM long-term goals. I also avoided people like the plague. Mentally, I needed to get to week eight (when I saw the OB-GYN!) to make sure there was a healthy baby to tell my parents, friends and in-laws. That was extremely hard to do! I really wanted to shout from the roof-top so I could get the show on the road. If anything this pregnancy has taught me a lot of patience!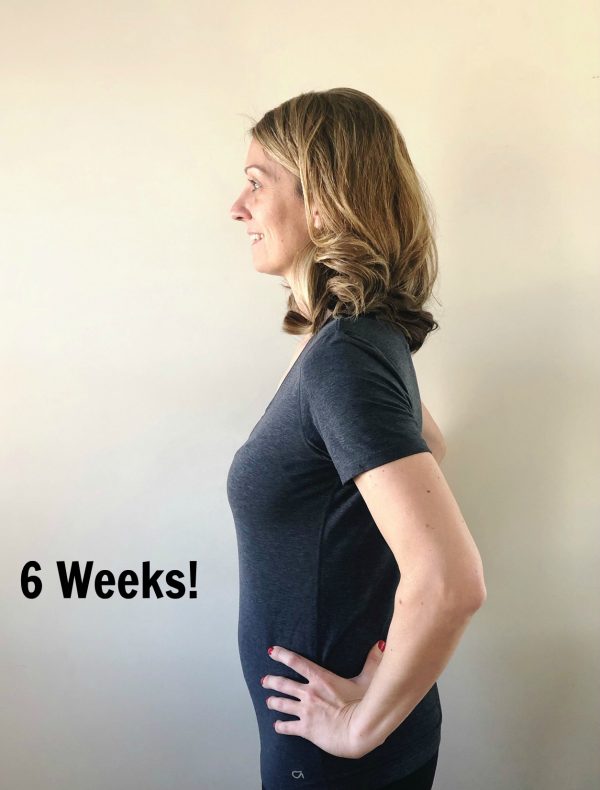 Week 7: The baby was the size of a blueberry.
Symptoms: Boobs are permanently swollen (for reals though), definitely feel a slight belly bulge and sense of smell has become heightened. Also, craving sweets like ice cream, cookies and BarkTHINs.
The start of week 7 I definitely felt a little more anxious. Only because I knew the following week we would see the OB-GYN, Bret's parents would be in town, followed by mine. Other than feeling my lower abdomen harden and swollen boobs, there wasn't much going on which I am thankful for. To calm my mind down while waiting until week 8, I did a lot of research on anything baby related. I made a list on Amazon of potential items that moms recommended and also tried to understand the whole newborn sleep situation. I am a total organized weirdo, but for me if I can visualize a routine and what it would feel like to get up every two to four hours I mentally do better. So, I've been practicing giving my undivided attention and I feel less anxious which is good. Also, I've been secretly putting together a nursery theme and my goal is to make the room an "imaginative space." more to come on that!

Week 8:The baby was the size of a raspberry.
Symptoms: Feeling tired in the afternoons, abdominal stretching and craving sweets in the morning. I have been living off Sprouts Cranberry Orange Scones.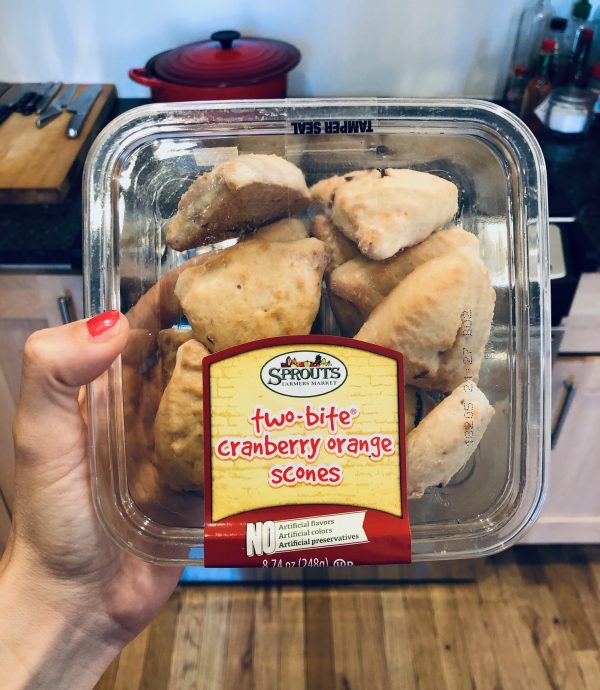 The start of week 8 I was a roller coaster of emotion. Monday we had our first prenatal appointment! Waiting four weeks to see the doctor was brutal. I almost took another pregnancy test just to make sure I was indeed, pregnant. Well, Mr.B and I survived our first appointment. Our OB-GYN was so calm, reassuring and walked us through all the nuts and bolts about pregnancy. Also, we found out that she lives down the street from us! How convenient is that?! On this appointment we saw the heartbeat and also found out that I have a fibroid. The doctor isn't worried just something we have to monitor, etc. Even though they say not to worry a part of me is still a little paranoid. We will find out more information at our ten week appointment.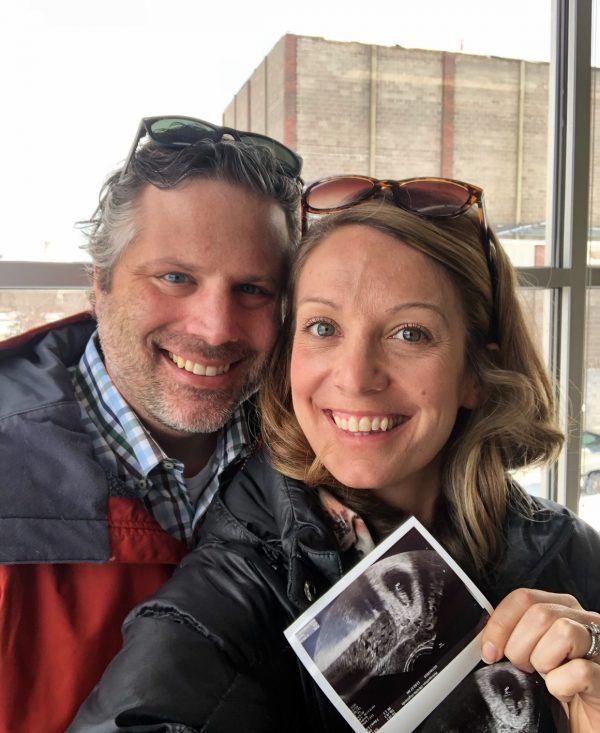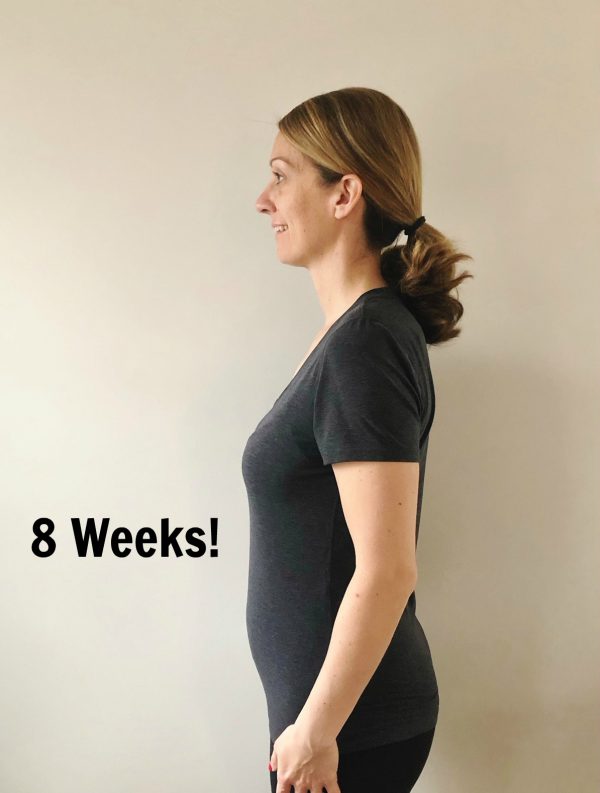 Week 9: The baby was the size of a cherry.
Symptoms: Boobs have definitely grown and resting during the afternoons has become a way of life! I started craving orange juice in the morning which is weird because I never drank it before.
The start of week 9 was a whirlwind. We had both sets of parents in town so we could surprise them in person! To throw the parents off we told them we found a piece of art to hang in their house from a "local" artist. When they opened the gift inside was a framed picture of the sonogram saying, "coming soon!" Each parent was in total shock and so thrilled for the good news!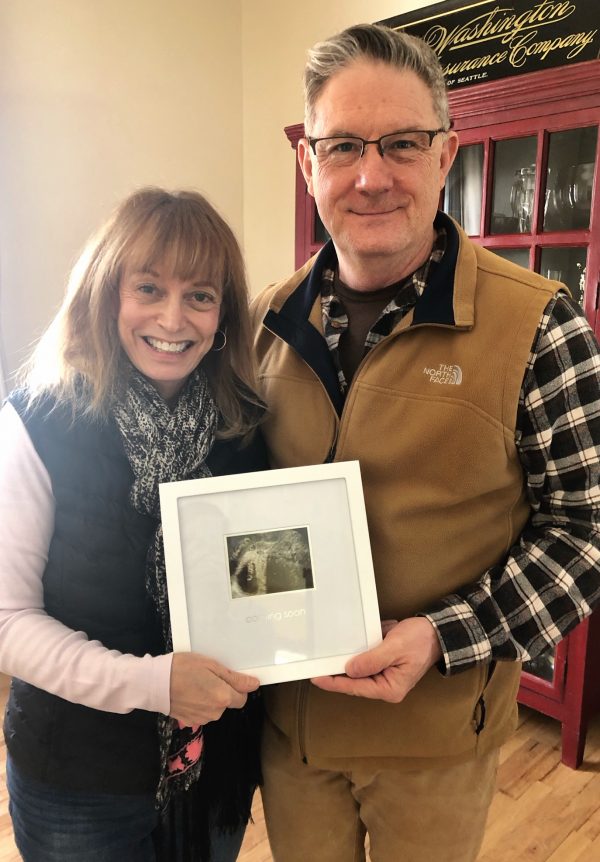 Week 10:The baby was the size of a strawberry.
Symptoms: More fatigue in the afternoon, the boobs continue to be tender and scones/orange juice are saving my life in the morning.
The start of week 10 was another round of pregnancy surprises + our genetic testing appointment. With our ski trip to Deer Valley in the mix, we decided to surprise our friends with the help of the hotel. I wrapped two jars of Prego spaghetti sauce and told each couple it was a special sauce from Utah. Katie and Megan immediately got the joke and were so happy!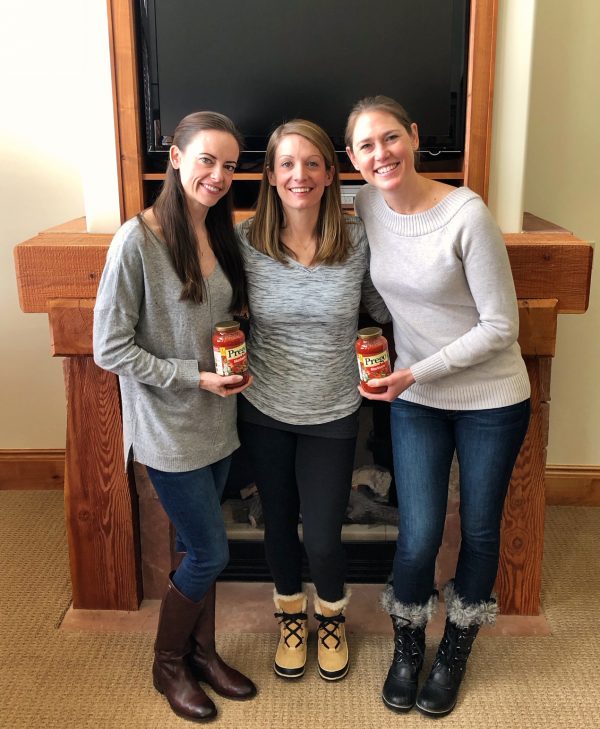 In addition to friends we also told our siblings. This took a bit more creative planning, because they all live back in Kansas, and I didn't want to just call them on the phone and that's it. I told Bret's family that I was opening up a CGM shop and needed to send samples for them to look at. Well, the samples were a few t-shirts that said: Funcle, BAE (Best Aunt Ever) and a white onesie (GUESS WHAT?). It was so much fun and no one had a clue!
For my family, I told my brothers that my dad wanted 'lake shirts' for this summer's trip, and that I was going to send them samples. Well, you can guess the samples were the same Funcle, BAE and a Cousin Crew shirt (for my side to mix it up!).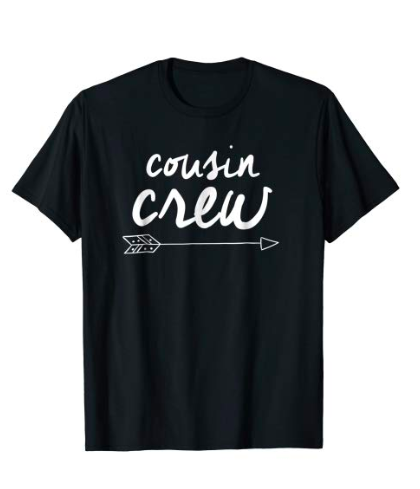 Besides the pregnancy surprises, we also had another ultrasound to check on the growth of my fibroid. Thankfully, it did not grow and is actually tucked away from the baby. PHEW. Again it's something that we need to monitor but overall it's looking manageable. We (I mean me) gave about four vials of blood for the genetic testing. Talk about nerves. Being over 35 and having a baby is a total mind EFF. So much testing and concern. I'm having a positive mind frame that this baby will be happy and healthy. Oh, and in case you want to know, we decided to opt out this time around on whether it's a boy or a girl. Mr. B does not want to find out, but I am still on the fence! Fingers crossed results come back with no issues.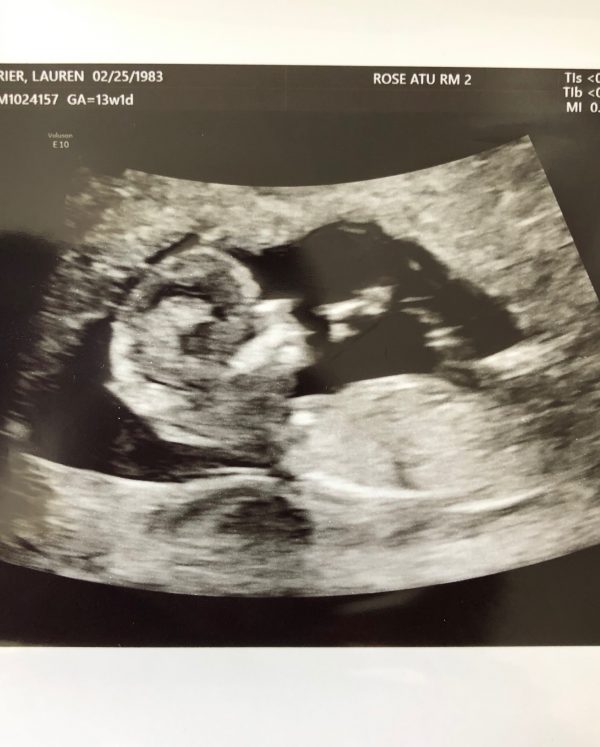 Week 11:The baby was the size of a lime.
Symptoms: Feeling really good besides the swollen boobs! The only food aversion has been big chunks of beef. For some reason I just couldn't eat it this week.
The start of week 11 was a good one because we got our results back for the baby portion of the genetic testing. The results stated we are low risk for any genetic disorder which is a huge relief! We also told more of our friends that we are expecting which was super fun! Since I am not showing yet, telling people makes this pregnancy feel more real.

Week 12: The baby was the size of a plum.
Symptoms: Energy is starting to come back, but definitely went up a bra size. Hello, boobs!
The start of week 12 I felt really good. I traveled back to Kansas for work and to see family. I did notice on this round of travel that I had trouble staying hydrated, but other than that I felt great. I got to tell my aunts and uncles that we are expecting, which was exciting. My sweet Aunt Joan who helped me write my cookbook, was in total shock. I handed her a cookbook and told her to check out this recipe. Inside, I had bookmarked the recipe with a sonogram and needless to say she was thrilled. Now that I am creeping towards the second trimester I have been getting a little more serious about what I want to do with the nursery and registry. Plus, I am starting to think about meal planning and how much time I want to take off for maternity leave.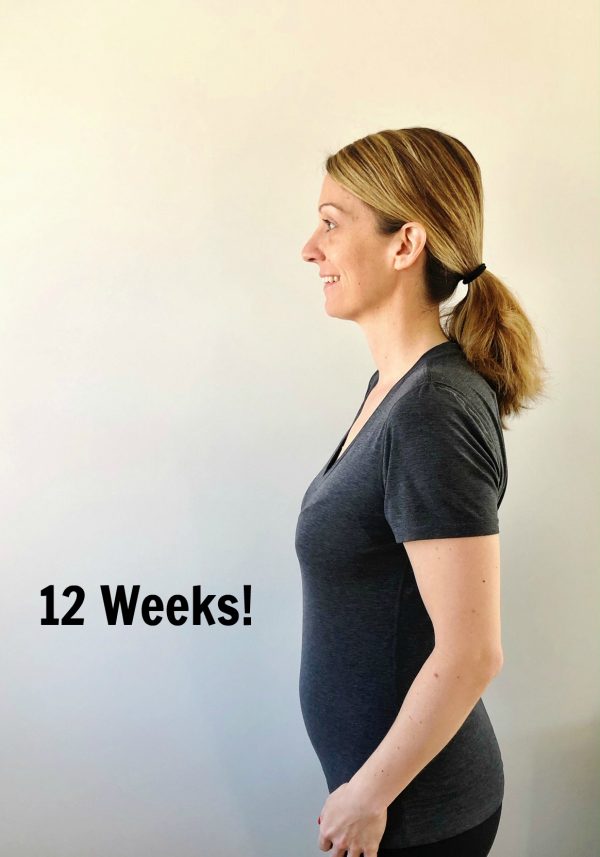 Week 13: Size: The baby was a size of a lemon.
Symptoms: Nothing new in terms of symptoms other than that linea negra line has started to appear. It's faint but I'm curious to see if the line will go above my belly button. Old Wives tale says it will be a girl if that happens.
The start of week 13 felt like it would never get here. This week we had our photos taken for the big reveal! Jenna took our family photos and we had so much fun. We went with a travel theme and even included Juniper!
And that's a wrap on the first trimester. HOLY BALLS. The past three months flew by and the more I think about it this baby will be here before we know it! Also, I am going to be super preggo during the summer so if you have any tips on how to survive let me know!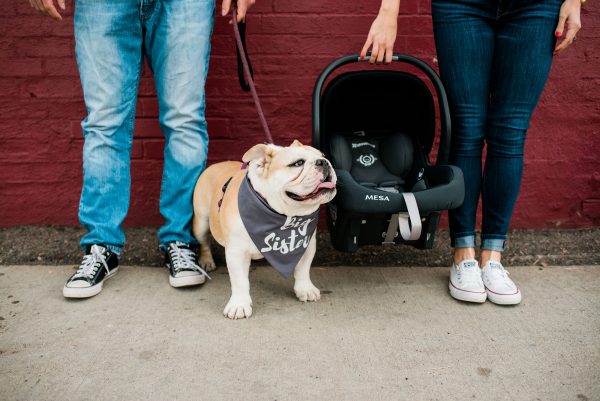 Things I'm loving during the first trimester:
– Olly Prenatal Gummies: Taking a pill is so 1997. Not only are these gummies super delicious, but not having to swallow a big ass pill makes me so happy!
– Mamma Mio Tummy Butter: I've been loving this tummy butter simply because it smells amazing and doesn't feel like you walked through a grease machine. I started using it around 6 weeks and so far my skin is looking fabulous!
– The Bump App: Not only is this app full of great information, but I love that I can share with Mr. B some random facts. Like today the baby is the size of a baby chicken. It really helps keep him engaged as well.
– True & Co. Body Lift Wireless Bra: The boob situation is serious and at about week 7 I couldn't wear underwire bras without being in pain. So to feel like a lady and not wear a sport bra 24/7, I found a miracle bra. Seriously, this bra is heaven! Feels like you aren't wearing anything and is flattering. Planning on ordering a few more.
– Lululemon Align Crop: I live in these capris. Not only are they effing comfortable, but they are a dream when it comes to my expanding belly.
– What to Expect When Expecting Book: Even though everything is on the interwebs these days, I'm loving this old school book because it does have some basic knowledge that is thoughtful and straightforward especially about delivery and postpartum recovery.
– Brands I've been following on Instagram: **I thought it would be fun to share with you some brands that I've been following on Instagram that cover pregnancy, motherhood, nursery, baby gear, etc.
– Taking Cara of Babies: Cara is saving my life with classes on how to teach newborns to 24 months how to sleep.
– The Snoo/Happiest Baby: Speaking of sleep this bad boy will definitely be making an appearance at our house.
– Chelsey Wang Beauty: Safe beauty products recommend by Cara of Taking Cara of Babies. Their diaper creme and calming massage oil look amazing!
– ASOS Maternity: Such great finds and affordable prices. Plus, they have nursing tops that don't look like you are wearing a moo-moo.
– Loulou LOLLIPOP: super cute baby teething toys
– Pehr Designs: Obsessed with their crib mobiles!
– Top Knots: GAH! If we have a girl I want to have 27 of these!
–KindredBravely: Their nursing and sleep bras looks super comfortable. Plus, they have bamboo nursing pads that come with a carrying bag that you can wash!
– BabyLetto: Their modern cribs are gorgeous and not to mention way affordable!