patatas braves (a.k.a. home fries) with chipotle cream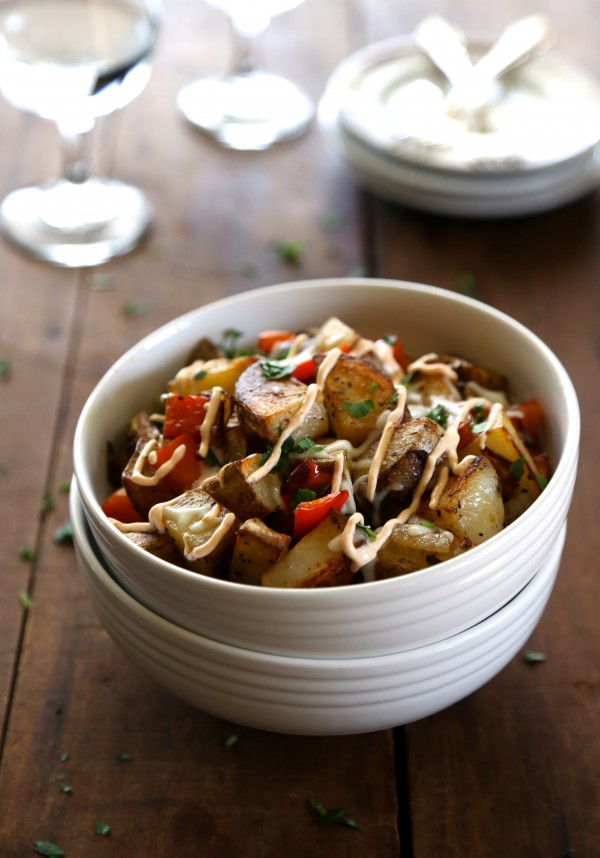 Um, what's up, March?
Oooooooooohhhhhh……..does this mean winter is over? As in I can bust out my flippy-floppies, bright colored clothing, and sip cocktails on the back patio? I don't feel it's much to ask, given the serious amount of snow every single person in this country has gotten in the face!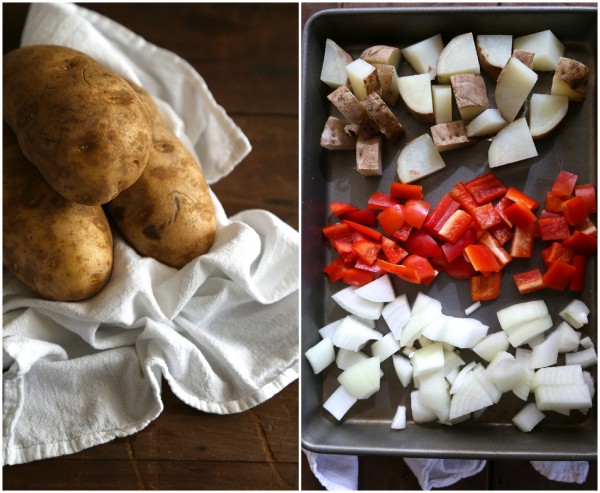 I don't know, I feel like Old Man Winter has been extra naughty this year and needs a time out. Let's be real, spring break is approaching and no one wants to get a pedi and then have to put on snow boots. Major es no bueno.
But! Do you want to know what is muy bueno? These patatas braves, or home fries, if you will. Every time I whip up this style of potatoes, I want to wash it down with a Modelo Especial. If I could sit on the beach with a giant bowl of these potatoes wearing a bikini and not look like a Weight Watchers commercial gone wrong, I would be all over it.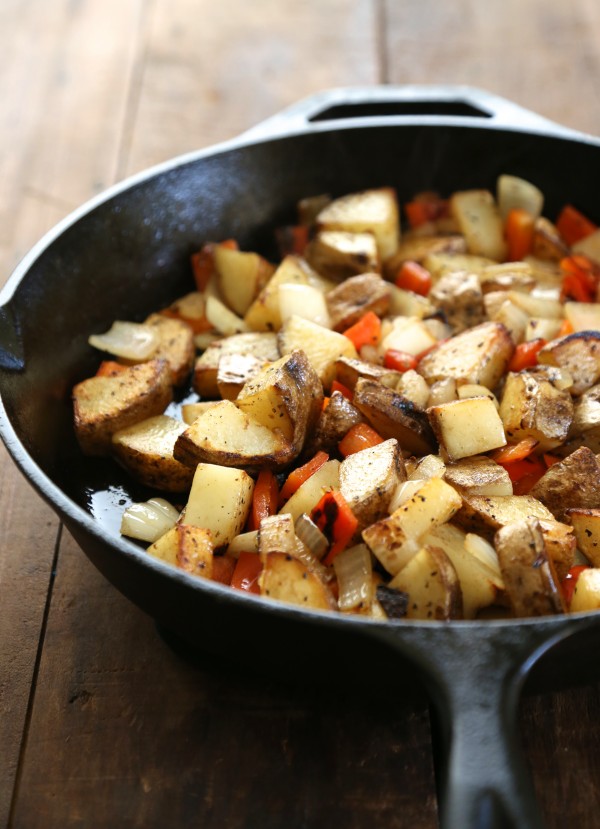 Besides partially cooking the potatoes (which is essential!) before they go into the skillet to crisp up, I love that you can top these taters with anything. My favorite way to gobble these down is with something spicy like chipotle cream or Tabasco. But you could certainly St.Paddy-tize these potatoes and add corn beef and vinegar. I won't judge.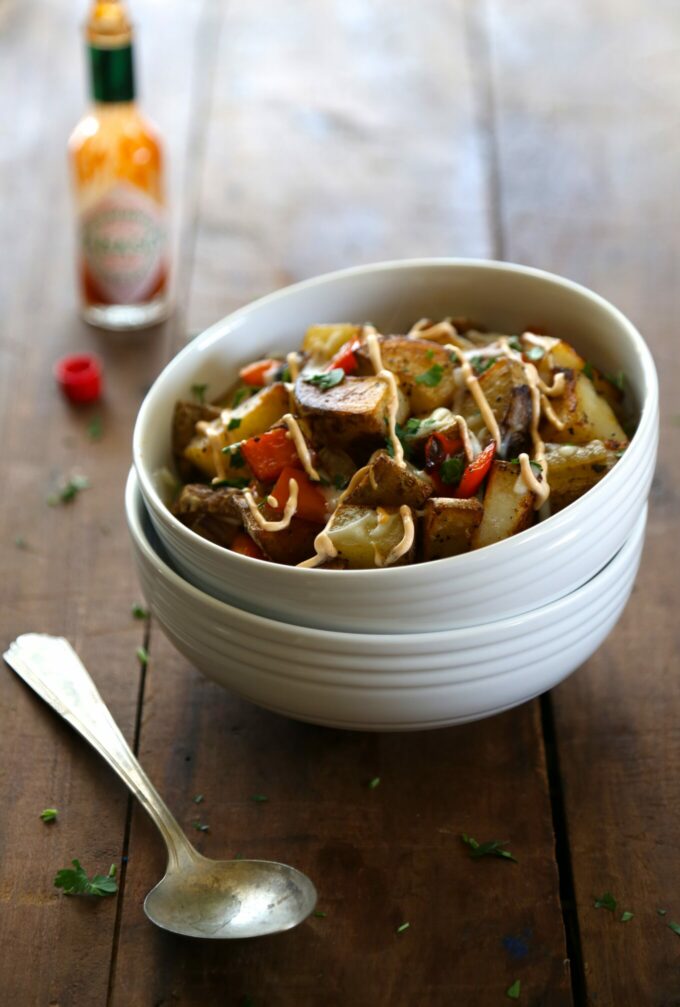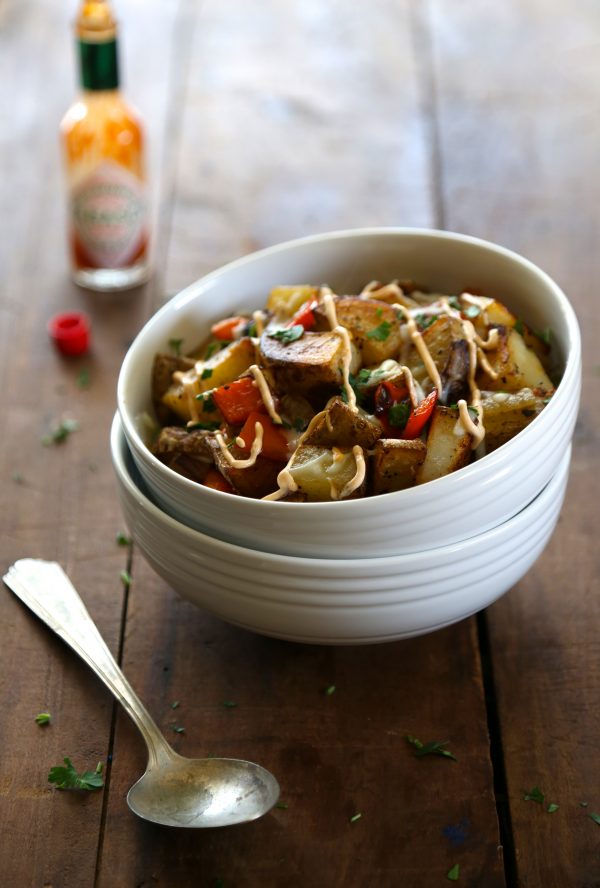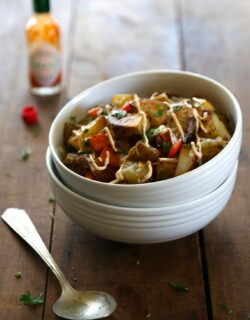 Patatas Braves (a.k.a. Home Fries) with Chipotle Cream
Ingredients:
for the homefries:
3 large russet potatoes
1 green pepper, chopped
1 red pepper, chopped
1 yellow onion, chopped
3 tablespoons olive oil
Parsley, garnish
salt and pepper to taste
chipotle cream:
1 cup sour cream
1 tablespoon adobo sauce
Directions:
for the home fries:
Preheat oven to 375 degrees. Poke potatoes all over with a fork. Place potatoes on the baking sheet and bake for 30 minutes. You are only partially cooking them. Remove from oven, cool slightly, and then chop into cubes.
Preheat a skillet to medium-high and add the olive oil. Add the potatoes and begin to crisp up; about 5 to 7 minutes. Add the onion and peppers. Continue to cook for another 10 minutes until the veggies have softened and the potatoes are nice and crispy. Remove from heat. Garnish with fresh parsley and chipotle cream.
for the chipotle cream:
In a bowl, combine sour cream and adobo sauce.
recipe adapted from Food Network
All images and text ©