Pregnancy Recap: Weeks 14-18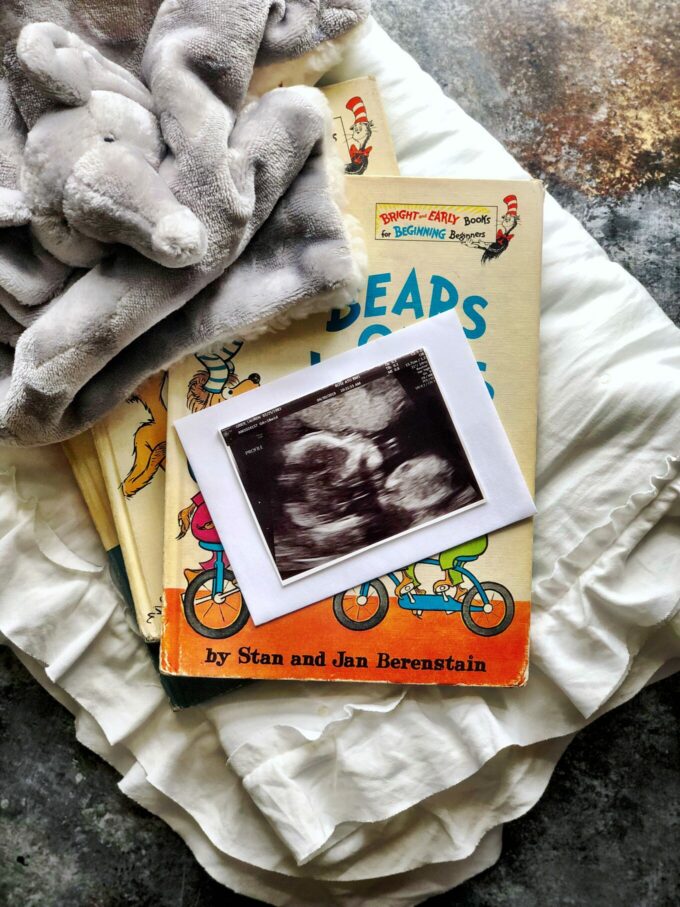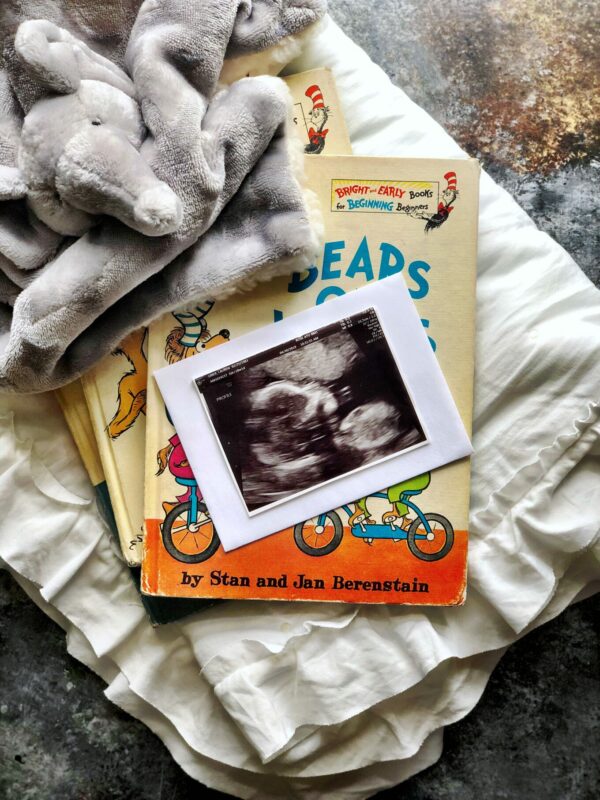 Howdy!
As promised, I am back with another recap of my pregnancy journey! I was trying to figure out how to keep y'all in the loop with everything that goes on behind-the-scenes that I figured a monthly recap might be the best way to go.
So, on to a recap of the first month of my SECOND TRIMESTER. Do what?!! I can hardly believe that I am one-third of the way through this second phase. I know I still have a ways to go, but I am trying to just enjoy being pregnant, spending time with Juniper and Mr.B, and well, remodeling our upstairs!
After the recap, I've included some more maternity and nursery favs that I've been loving! Hope you enjoy! Pregnancy Recap of Weeks: 14, 15, 16, 17, 18
Week 14: The baby was the size of a lemon.
Symptoms: Sh$t just got real moment, boobs grew (again!), and sleeping has become a struggle with lots of tossing and turning.
The start of Week 14 was a very surreal moment. WE MADE IT TO THE SECOND TRIMESTER!! Phew. Mr. B and I were really excited this week because it was a big hurdle for us mentally and emotionally to make it to the second part of pregnancy. The baby was healthy, my energy levels went up and we were settled on remodel plans for the upstairs. Amongst the chaos we finally felt a little more settled about becoming parents. I will say that I went into major planning mode during this week. I started working on my maternity leave content for the fall and let's just say it was hard to come up with fall recipes in April. BUT! I feel good that I am forming a plan because honestly I really want to focus on this baby and being the best mother I can possibly be when he/she arrives.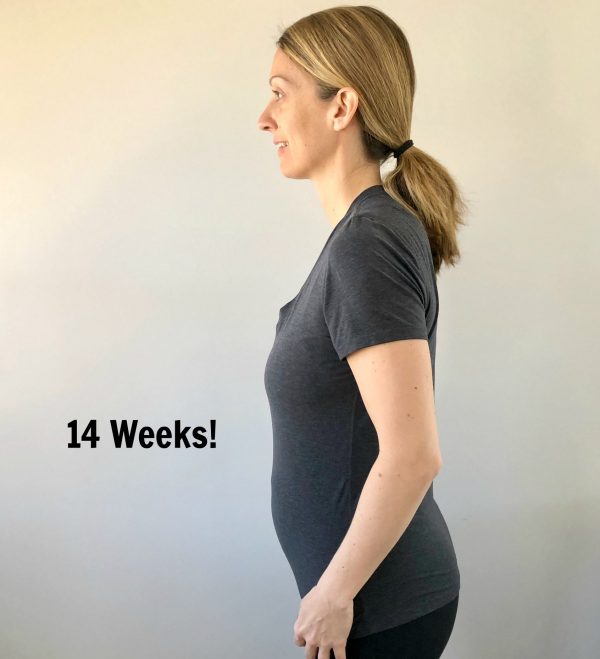 Week 15: The baby was the size of an apple.
Symptoms: Cravings for sweets have gone down which in turn has led to more energy. Clothes are feeling a little tight around the mid-section. And the feeling like I need to pee all the time is still there.
The start of Week 15 was pretty average. No weird aches or issues. I'm still doing Orange Theory and feeling very thankful I can keep up on those all-outs. I will say the only downside is feeling like I need to pee during a sprint even though I don't have to pee. What can ya do?! I traveled back to Kansas City for my brother's 40th birthday and it was a whirlwind trip. I got to catch up with all my G-phi gaggle, friends from high school and my grandmother. Over the entire weekend I was surrounded by such positive women that offered support, advice, tips and love. Baby G will be surrounded by lots of wonderful aunties.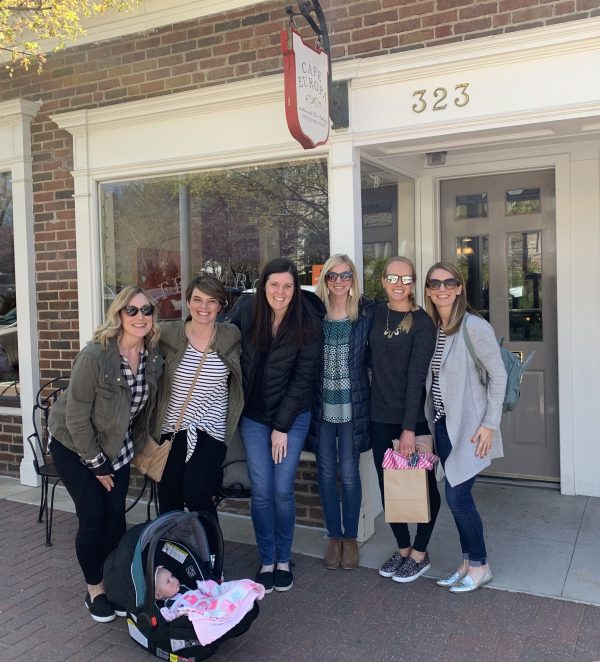 The one thing I did notice again with traveling was staying hydrated and just the sheer exhaustion. I was only gone for two days but it felt like a week of touring Europe. I have some travel coming up for work so I am trying to be very mindful of my body and when I need to stop and take it easy. OH!! And my pregnant brain forget to mention that this was the week we announced to the world that we were expecting! In case you missed that post, you can check out the full first trimester recap HERE.
Week 16: The baby was the size of an avocado.
Symptoms: Hello abdomen stretching, soreness around my mid-section and sleep is still continuing to be an issue. I tossed and turned all night trying to get comfortable on my side. Mission this week – find a good preggo pillow!
The start of Week 16 was amazing other than the sleep issues. I finally felt like I wanted to kick some serious ass. My energy levels went through the roof and all I wanted to do was get our house remodel finished and work on the nursery. Well, the nursery will have to wait because we are in the infancy stages of demoing the master bedroom/bathroom upstairs. Oh, and did I mention we are having air conditioning installed on top of that? Nothing like a home remodel when you're almost five months pregnant!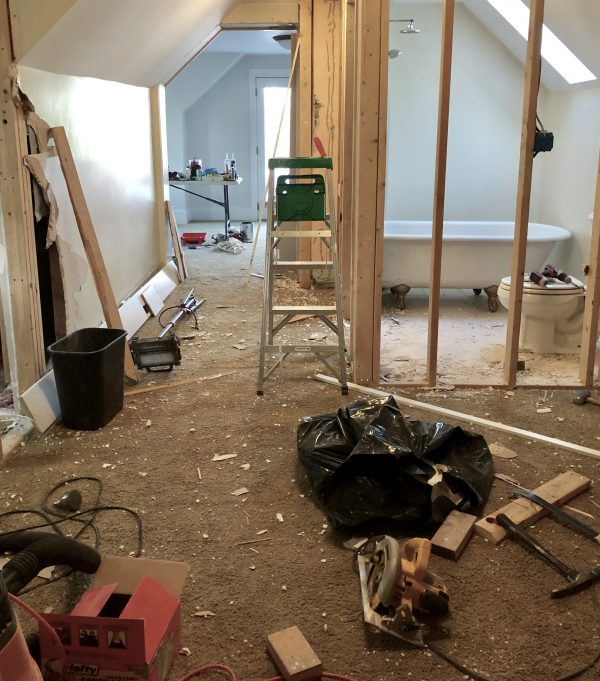 To keep me distracted, I have decided to start purchasing a few small things for the nursery. I'm pretty sure we aren't finding out the sex so I've been gathering ideas for a gender neutral nursery. Right now, I'm leaning towards an Art Deco style. I found some vintage Mother Goose nursery rhyme cards from 1925 that I'm using for inspiration.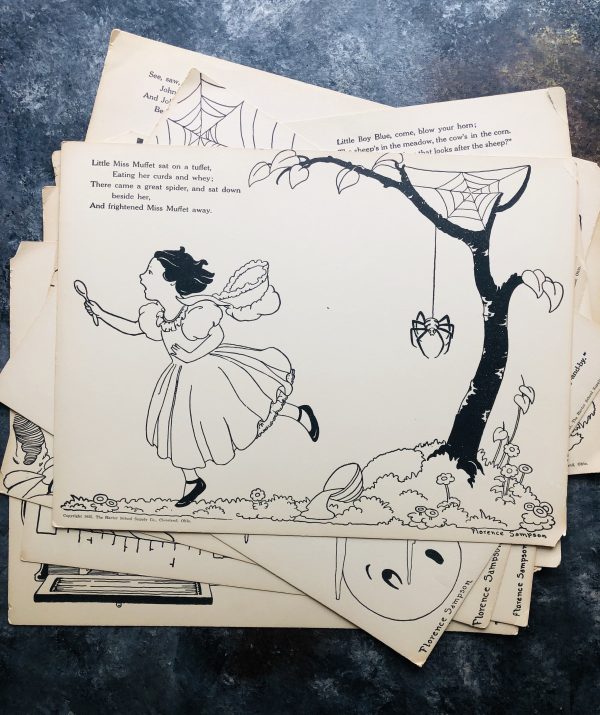 Other than the nursery, I need to start a registry!! If you have any ideas on what I need to add to this sucker let me know!! I think I am going to use AMAZON to make things easier.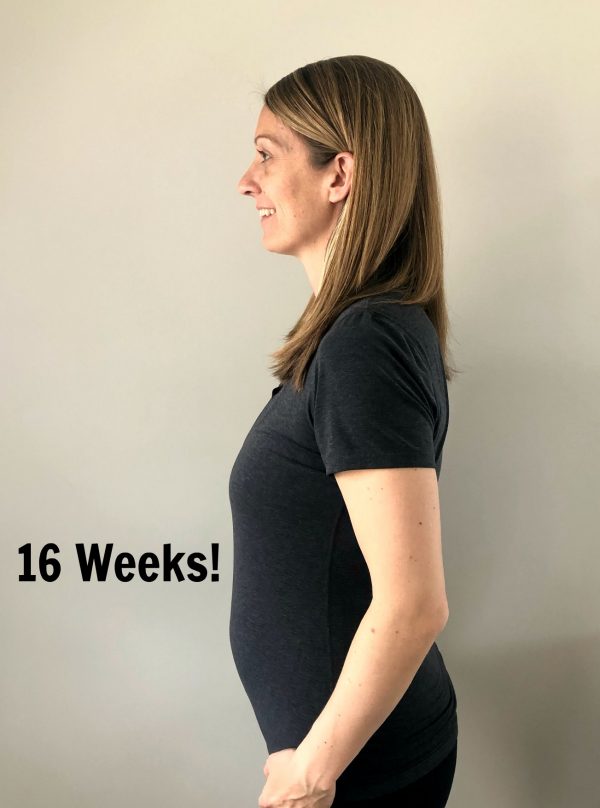 We also had our sixteen-week pre-natal appointment. My OB-GYN said I looked great. My uterus is measuring a little big because it's accommodating the baby and the fibroid. I did get to hear the baby's heartbeat again which always makes me happy. OH! And I heard movement as well. The doctor said I might start to feel kicks very soon!
Week 17: The baby was the size of a pomegranate.
Symptoms: Feeling very blessed that I have energy! I'm still working out although crunches have been a sporty event. Definitely can't do a full sit-up without feeling like I'm squeezing the baby. Also, my cravings have flat lined. I've been eating like I normally do which is great.
The start of Week 17 I felt way more balanced. I'm starting to mentally get my head around what I need to do to prepare for Baby G. I started making my hospital bag, baby medical/nursing kit, and postpartum lists. Again, I am a visual person, so if I can see what needs to be accomplished, I feel much more relaxed. Also, this week we've nailed down our baby shower dates. I'm very lucky to have such an amazing group of supportive family and friends. Baby G is so loved and that makes me so happy.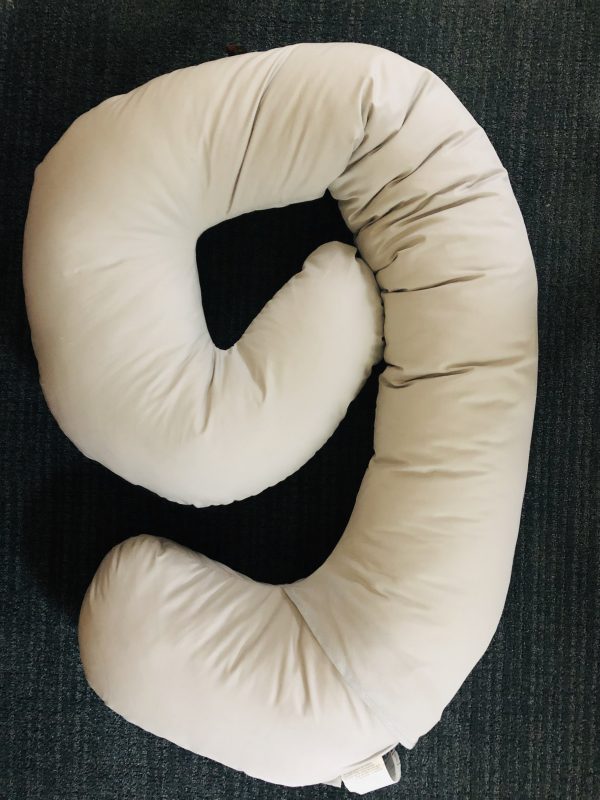 OH, almost forgot; the Snoogle came this week. It's a large, cushy pillow to help sleep during pregnancy. I gave it a go and it does help with keeping my hips level. I did sleep better, but my only drawback is the size. Mr. B has to fight for real estate with this trucker. I think as I get bigger it will play a more important role.
Week 18: The baby was the size of an artichoke!
Symptoms: I officially fit into my first pair of maternity jeans! I will link to my favorite jeans so far below because they are amazing and super affordable. I'm still sleeping okay. I find myself getting up to pee in the middle of night, but I figure that's my way of life right now.
The start of Week 18 was a rough one. Not only did we start the demo of our upstairs, but I came down with a wicked chest cold. Coughing, aching and feeling overall miserable is not fun while being pregnant. I am so thankful that I work from home because resting and drinking lots of tea was the only thing I could do to make myself comfortable.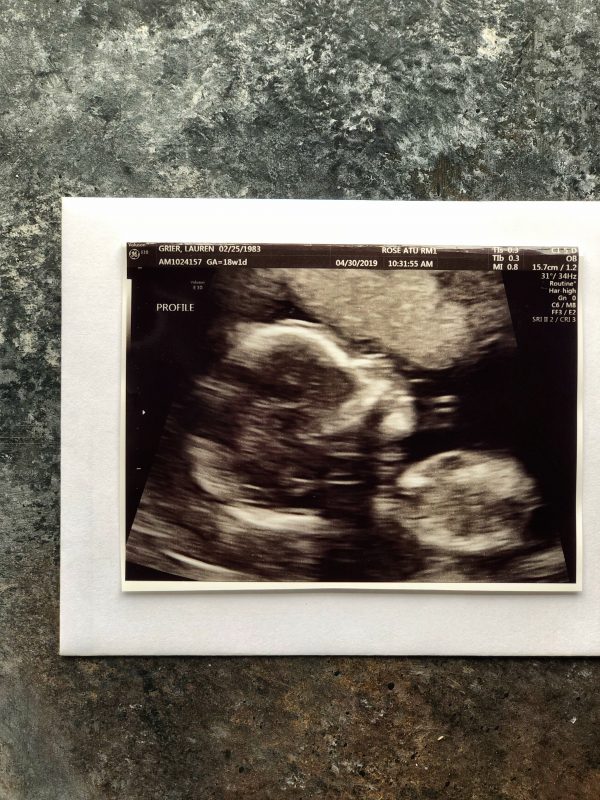 We also had our eighteen-week pre-natal appointment. This sonogram session took forever because they were looking at every finger, toe, kidney, heart, brain, eye, and spine. Phew! But happy to report that Baby G is growing on schedule and the fibroid has remained steady. Other than getting over the dang cold, working on the upstairs, getting ready for travel and finding time to fit into maternity clothes, pregnancy is going great!
What I'm loving right now for maternity and nursery:
– The Snoogle: This fellow is a little frisky, but he does help with consistent sleep. Easy to snuggle and great for keeping my hips level while sleeping on my side.
– Old Navy Front Low Panel Rockstar Jeggings: AMAZING!! Like fits perfectly. Sometimes Old Navy can be a little sketch when it comes to the quality of material, but these jeggings fit like a dream. Plus, how can you beat the price!
– Old Navy Maternity Body Con Dress: I will be living in this dress the rest of the summer! Paired with a cute jean jacket and flats. So comfortable and chic!
– Olli Ella Changing Basket: since we have two floors, my thought is to have two changing tables one on each floor. For the nursery I really wanted something different and this changing basket will give the nursery a zen/nature feeling.
– Willow Breast Pump: The hunt for a good breast pump is on! I've been eyeing the Willow because it's a wearable breast pump that you just slide into your bra. How brilliant is that? I figure why not pump while I photograph food! LOL!
– Doona Infant Car Seat: I've been told by many mamas that you will need more than one stroller. We are using the UppaBaby as our main, but when I heard recs for the Doona Infant Car Seat I was sold. We have our first press trip already scheduled in February with Baby G so I knew I needed something easy to travel with. This is it! It collapses to a stroller and back in seconds. Added this bad boy to our registry.
– Bella Tunno Silcone Taco Tuesday Bib: makes me so freaking pumped to feed Baby G tacos!