Rosé Strawberry Cookie Crisp Cups
Rosé Strawberry Cookie Crisp Cups are a delightful dessert that is easy to whip-up. Made with Bob's Red Mill all-purpose flour this will be a hit all summer long!
*This post is sponsored by Bob's Red Mill. As always all opinions expressed are 100% my own.**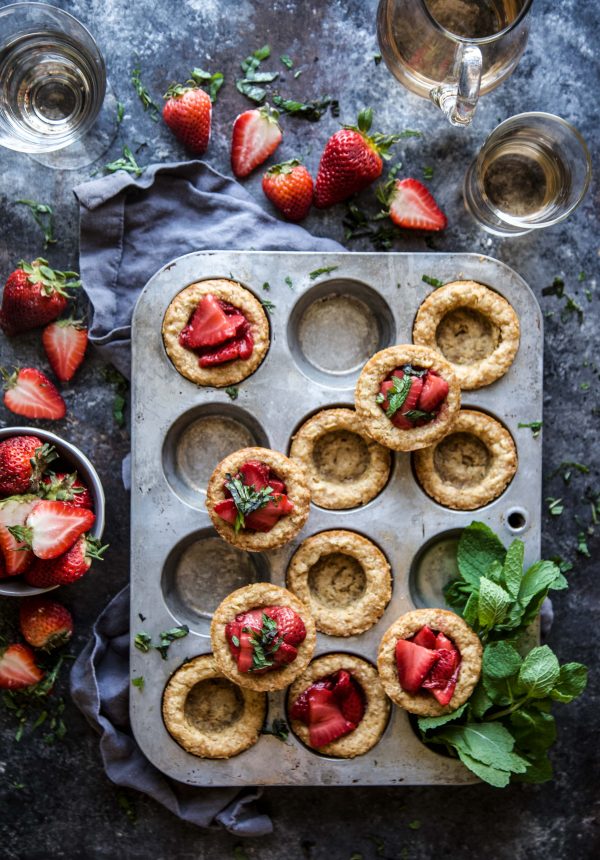 T-minus one week until the official start of summer.
Can you believe it?
I can't. 2019 has flown by. I feel like the first half I was in hiding because of the early stages of pregnancy, but now that the news is out, full steam ahead!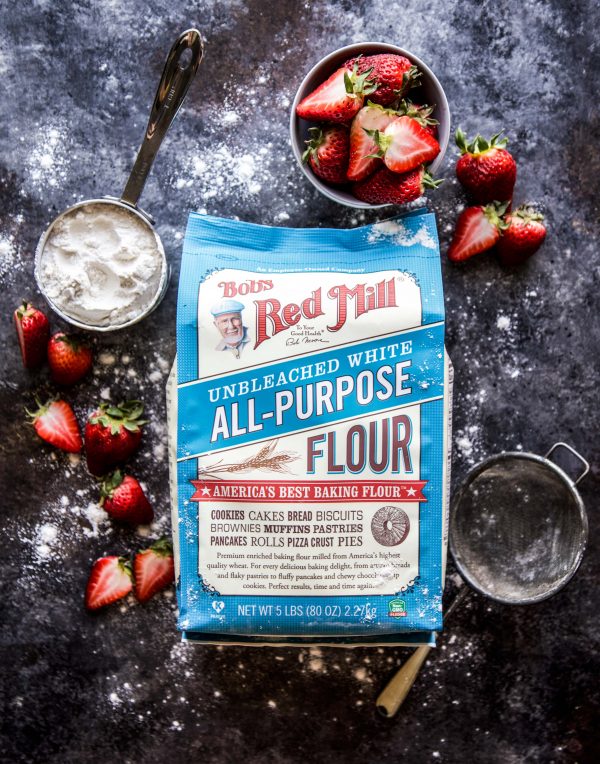 So, do you have BIG plans for Memorial Weekend? Going somewhere fun? Relaxing at home? Hosting a backyard party? We are staying home this coming weekend because we need to make some headway on the house. Every little bit counts!
BUT! I am thinking of having a few peeps over to hang out, grill, sip some sparkling water and make these Rosé Strawberry Cookie Crisp Cups. These cups scream summer! I mean, who doesn't love boozy strawberries?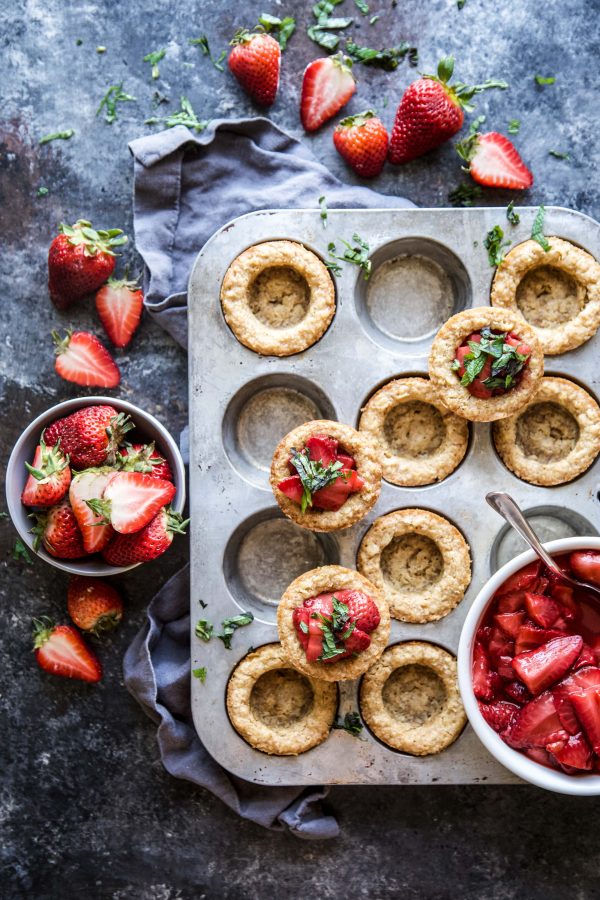 The reason why I love these so much are the ingredients. Simple and straight forward. Whenever I bake I always use Bob's Red Mill All-purpose Flour. Not only is Bob's the best (for reals though), their all-purpose flour is unbleached, unbromated, and enriched with baking flour milled from high quality wheat. With the touch of barely to enhance the rise of these cups.
Make a dozen, better yet make that two dozen because these Rosé Strawberry Cookie Crisp Cup will be a hit all summer long. Now, let's cheers to summer weeks ahead!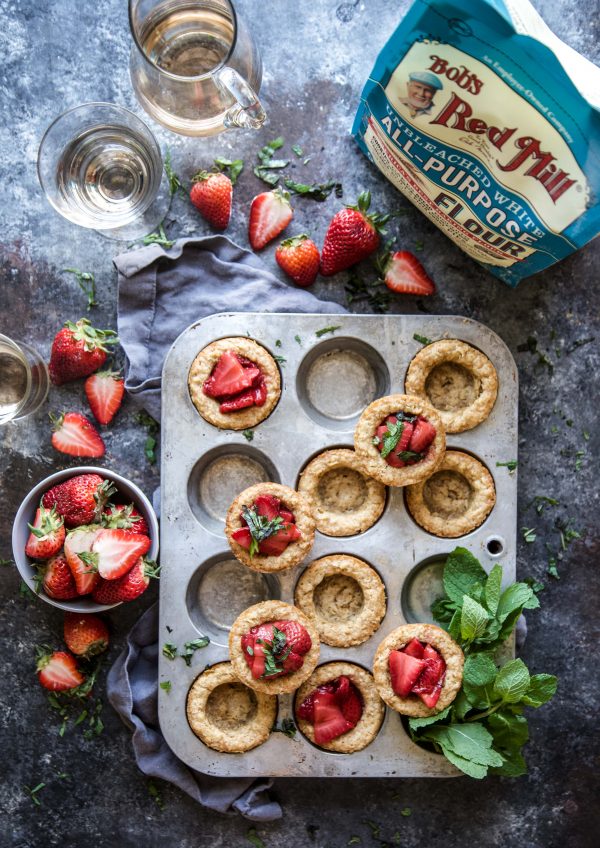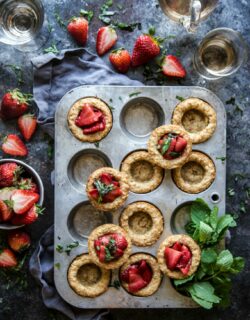 Rosé Strawberry Cookie Crisp Cups
Ingredients:
for the cookie cups:
1 cup unsalted butter, room temperature
1 cup brown sugar
1/2 cup granulated sugar
2 large eggs
1 tsp vanilla extract
1 1/4 cups Bob's Red Mill organic all-purpose flour
1 3/4 cups quick-cooking oats
1 tsp baking powder
1/2 tsp ground cinnamon
1/2 tsp kosher salt
for the strawberry filling:
3 cups sliced strawberries
2 tbsp granulated sugar
1/3 cup rosé
1/2 lemon juiced
fresh basil, for garnish
fresh mint, for garnish
Ice cream, if desired
Directions:
Preheat an oven to 350 degrees. Spray two 12-cup muffin tins with non-stick cooking spray.
In a stand mixer fitted with a paddle attachment beat together the butter, brown sugar, and granulated sugar until light and fluffy. Next, add the eggs one at time. Once mixed add in the vanilla extract.
In a medium bowl combine all-purpose flour, oats, baking powder, cinnamon and kosher salt. Add the flour mixture to the egg mixture. Once combined, take a medium ice cream scoop and scoop the dough into the prepared muffin tins. Gently press down on the dough using the back of the ice cream scoop.
Bake the cookie cups for about 15 to 20 minutes.
Meanwhile, make the cookie filling. In a small saucepan preheated to medium heat add the strawberries, granulated sugar, rosé, and lemon juice. Stir to combine and cook the mixture for about five minutes or until slightly syrupy. Remove the saucepan from the heat and set aside to cool before filling.
Take the muffin tins out of the oven. Spray the bottom of a shot glass with non-stick cooking spray. Press the shot glass down into the center of each cookie while still warm to create the cups! SO FUN!!! Let the cups cool in the pan before removing to a wire rack.
Take a cookie cup and fill it with the strawberry mixture and garnish with basil, mint and ice cream if desired. Repeat until all cookie cups have been filled!
All images and text ©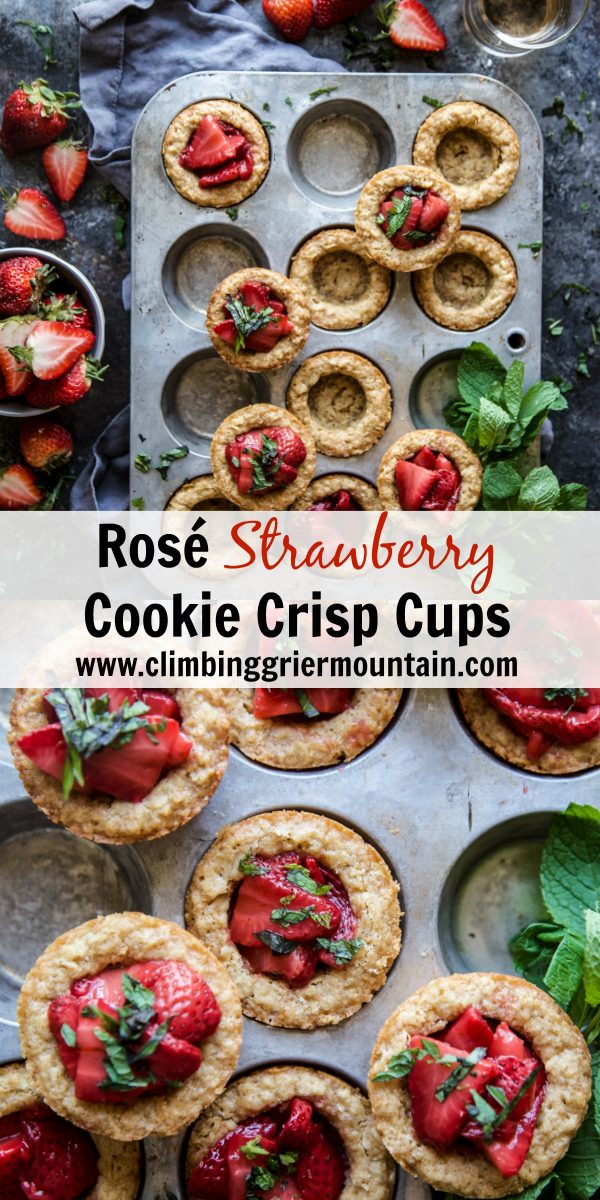 In conclusion, Rosé Strawberry Cookie Crisp Cups are a delightful blend of sweetness and sophistication. The rosy essence and strawberry goodness encapsulated in each cookie cup offer a satisfying conclusion to a charming dessert experience. Enjoy the exquisite taste journey in every bite.