Pregnancy Recap: Weeks 33 – 37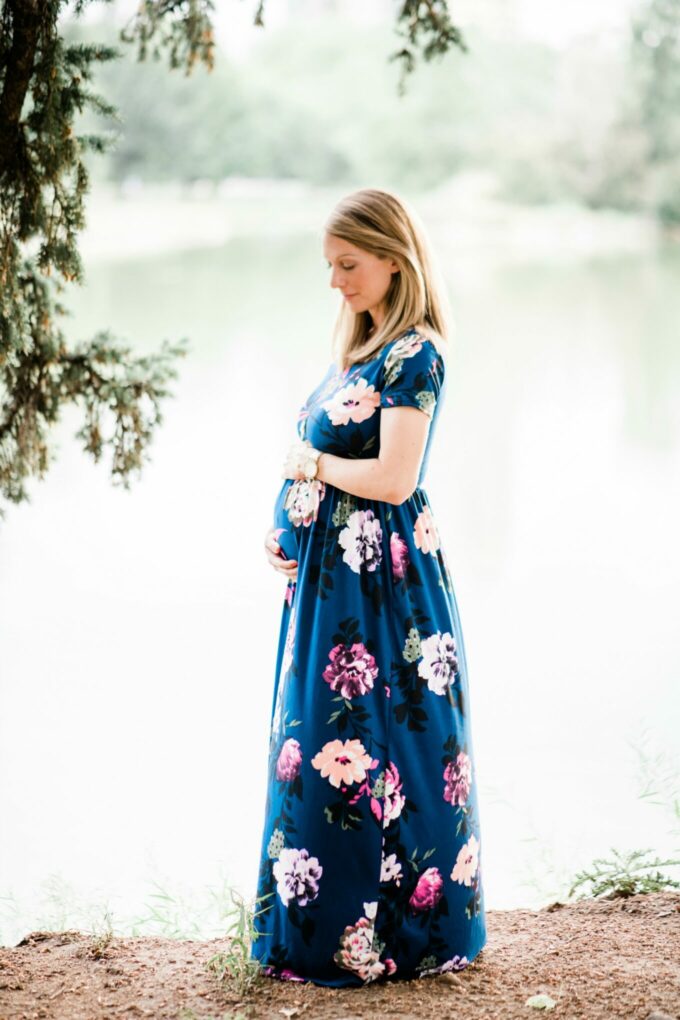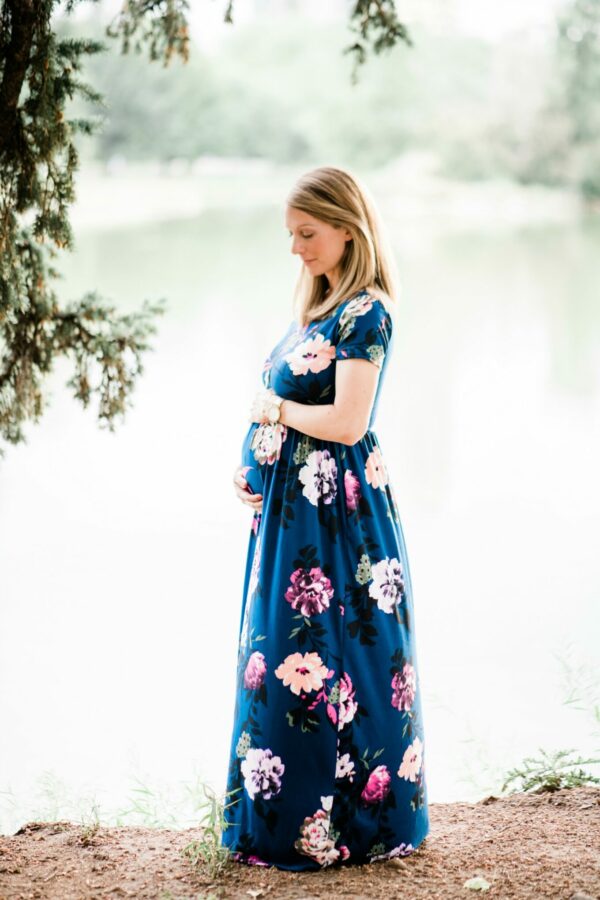 Home stretch.
Can you believe it? I can't!
This will be final post before Baby G arrives. HOLY CRAP! We are really having a baby. That still sounds so weird to say!
Besides wrapping my head around that we are having a baby, I'm still crossing off my to-do lists, finishing up work content, and putting the final touches on baby nesting. Is the last month of pregnancy just one giant sh$t show? I feel like they don't prepare you for the amount of stuff you need to wrap up before the baby makes the appearance. If you are reading this and are preggo give yourself some space and grace to relax during the last month because it's crazy town population you.
With that, I want to wrap up this portion of our journey by saying thank you. Thank you for all your encouraging words, advice, and support. I find it comforting to know that there are other mamas out there in the world and the fact that we can take care of each other (even though we may have never met) is an amazing feeling. Part of me is ready and part of me is not ready to become a mom. But knowing that Mr. B and I have people in our corner to help navigate this journey makes all the difference.
In case you missed previous pregnancy posts make sure to check out: HERE, HERE, HERE, HERE & HERE. Now, on with the show!
Pregnancy Recap of Weeks: 33, 34, 35, 36, 37
Week 33: The baby was as big as celery.
Symptoms: Swollen ankles! I can still fit my wedding ring on my finger, but by the end of the day my ankles look like the Stay-Puff Marshmallow Man.
The start of Week 33 I woke up in Steamboat Springs. It had been over two years since we've been to our favorite city in Colorado. This was a quick mountain escape with family. With temperatures in the mid-70's it was a nice break from the heatwave in Denver.
Since I was in my eighth month of pregnancy I was curious to see how my body would handle hiking and jeep touring. I will say I kept up okay on the hiking portion, but needed to lay down or put my feet up by the end of the day. Carrying around an extra 20 lbs is definitely a little bit of a struggle!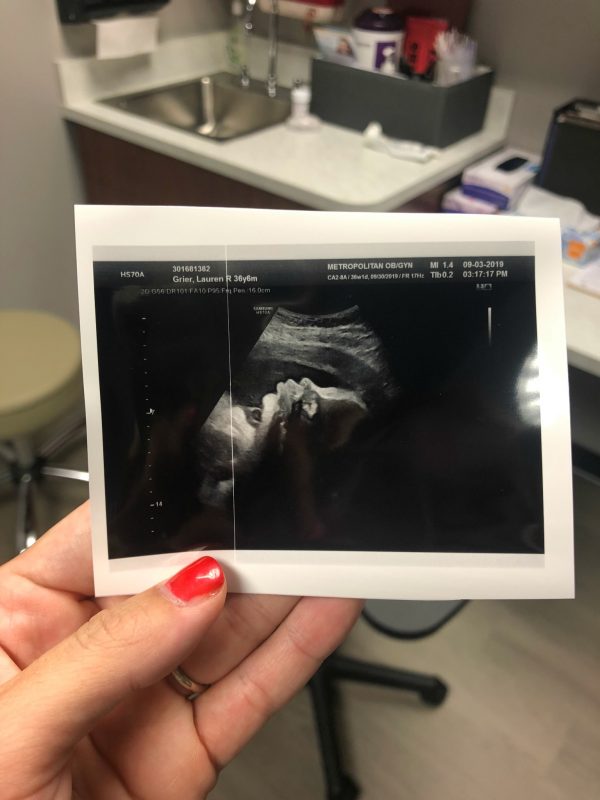 I also had my 33 week sonogram appointment to check on my fibroid and the baby. I did have a minor freak out because the technician said Baby G was measuring in the 40% percentile vs 80% percentile on my last visit. WTF?! I chatted through the whole measurement thing with my OB and she said it's totally normal. They only worry about the size if it's measuring below 10% or over 90%. And I was like okay, then why the eff even bother giving me this swing in numbers? It's only going to freak people out!!!! Part of it is CYA, but also helps keep a temperature check on everything. Whateves. Other than that, Baby G is rocking and rolling. Also, punching and kicking me at every moment.
Week 34: The baby was the size of a butternut squash.
Symptoms: Breathing. I am definitely running out of real estate and every time I walk or stand, I need to take a big breath in and out. I could feel Baby G kick under my rib cage!!
The start of Week 34 was full of emotions. My parents and in-laws were heading into town and we were gearing up for the Denver Village baby shower. This week I felt so overwhelmed with the amount of stuff that we needed to do in order to prepare for this baby. Pro tip: take a week to just unwrap all the boxes of baby products you may have ordered or been given, like blankets, bumbos, highchair and supplies. Chews up so much time and not to mention getting rid of all the trash.
Thankfully my nerves began to settle down because with both sets of parents around we knocked some serious sh$t off the to-do list. Put together changing tables, diaper carts, washed clothes, assembled the stroller, cleaned upstairs, and so much more. By the time they left, I was more mentally ready to welcome this baby.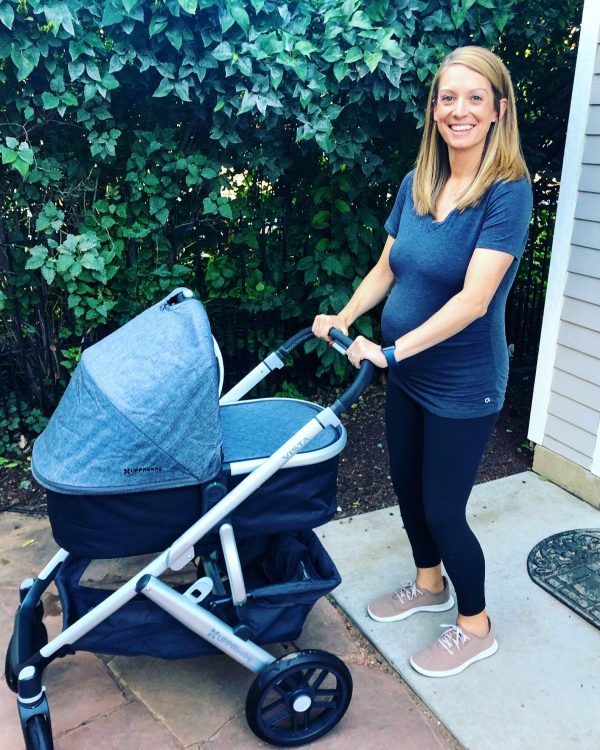 Besides mission get ready for Baby G, my Denver Village friends gathered at El Jeffe for a Mexican fiesta themed baby shower! Every single detail was so thoughtful and beautiful. The menu, the flowers, cake, and party favors were just gorgeous!! Mr. B and I had a blast especially when he had to read "The Wonky Donkey" out loud to the group!!
Week 35: The baby was the size of a pineapple.
Symptoms: Napping is crucial. I've been trying to maintain a consistent energy level throughout the day and taking a 20 minute nap has been very helpful. Also, and this may be TMI, but I definitely had a little colostrum leak out of my left boob. For a second I thought, sh$t, am I going into labor? But after doing a bit of research I found that it's my body's way of saying, "Your hooters are a go-go for milk launch!."
The start of Week 35 I felt way more centered. After having both sets of parents in town to help nest, work on the house and provide emotional support, Mr.B and I felt much better. My dad gave us the best advice too. He said: You want to go into your last two weeks before the baby arrives with at least a half a tank of gas in each of your tanks. It's hard to do because there is a lot of stuff to get done, but it's important to take a moment to rest, connect and refuel before a big change occurs. The last thing you want to do is coast into the hospital on fumes. This way you can enjoy the whole process of becoming a parent. God I love my father. That really put a lot into perspective for us. Our plan is to weave in some "us" time throughout this last month and not stress about what needs to be done. Not everything will get done.
Since we were headed into the holiday weekend, I wanted to make sure we had our hospital bags packed and the car seat installed. Plus, I wanted to finish up all my maternity content for the blog too. The latter happened and I got organized with the hospital stuff, but between working on the house and taking a break I didn't get everything done. And IT'S OKAY! I could be upset, but I had so much fun just hanging with my hubby and tidying up work stuff that I was okay with not crossing everything off my list. In a way it was totally freeing!
Week 36: The baby was the size of a payapa.
Symptoms: Moving slow and expanding. Or is it I'm expanding and thus moving slow? Whatever the case, my entire body has downshifted. I think it's all hands on deck to make sure the baby has everything it needs to grow in these last few weeks.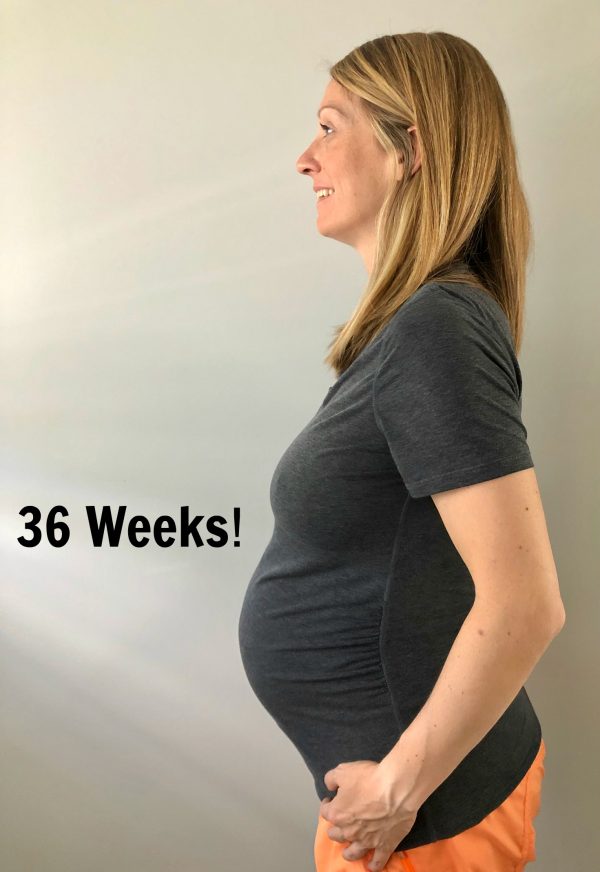 The start of Week 36 was busy! The short week started with a trip to our OB for our 36 week prenatal appointment. I was a little nervous going into this one because last time they said Baby G had moved from the 80th percentile to the 40th percentile. Talk about freaking me out! Anyway, they measured again and he/she is measuring right back on track now in the 60th percentile. Phew! Baby G weighs 6lbs already! Also, I am 1 cm dilated and have a thin cervix, which my OB says is good. Kind of weird to be walking around with a 1 cm of your whoo-ha open. Other than the having the awkward Group B strep test done, the appointment went great!
Also, I decided to stop Orange Theory. That was a hard decision to make because I LOVED IT!. But after a class two weeks ago, it took me a day and a half to recover which was really hard on my body. My plan is to do some light lifting and treadmill work at our regular gym. I will return hopefully later this fall and can't wait!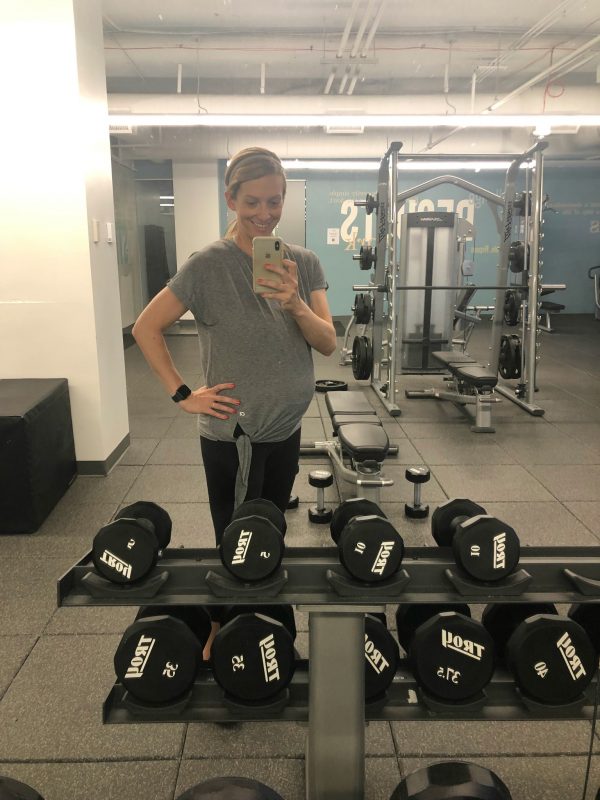 I did manage to go on a Trader Joe's run to stock up on freezer goods. I bought a huge cart of goodies that the checkout guy was like, "You must have a big freezer." Thankfully I have two fridges! I also made a few homemade meals as well. I am doing a few recipes from the "Pinch of Yum Freezer Meal Guide" and a few from my recipe collection. I think we will be in good shape in terms of food once the baby arrives.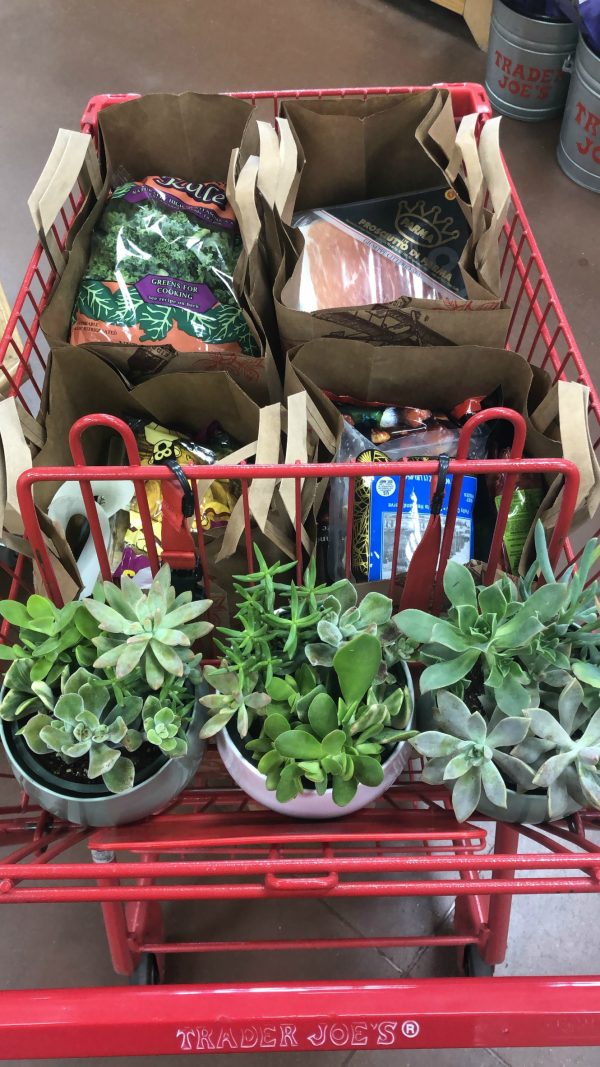 Week 37: The baby was the size of romaine lettuce.
Symptoms: Feeling more pressure in my pelvis. My appetite has definitely been way off. Craving basic foods and drinking a sh$t load of water!
The start of Week 37 was a huge reality check. WE ARE HAVING A KID! Or at least that's how it felt coming back from my 37 week prenatal appointment. My OB said I don't look pre-labor, but the baby's head has definitely started to settle into my pelvis. This could mean I could go into labor any time. OH! And there is a super moon that coming weekend so we will see!
Thank goodness we installed the car seat and managed to wrap up a few things around the house to make re-entry with the baby easier. The nursery won't be done until November, which is okay. I can't wait to show you guys though! Other than that, we are just in a holding pattern until Baby G decides to make an arrival! I have to ask, do you think it's a BOY or GIRL?!!!
What I'm Loving Now for Maternity and Nursery:
Konny Carrier: I know people love the moby wrap, but after checking out the Konny carrier I was hooked. The carrier is built so you don't have to do any pre-wrapping. Just stick the baby in and you're off!
Gap Nursing Tank: another mama recommend their nursing tanks and I am so glad I purchased a few. Soft and very easy to snap on and off!
Gap Maternity Jogger: living in these at the moment. Plus, I'm planning on bringing these to wear home from the hospital.
Gap Nursing Sweater: loving this sweater. Super cute, comfortable and easy to get the hooter out!
Also, if you need any help with registry items check out my Amazon registry. I had several moms help me build it and I think we covered all the bases! Wouldn't change a thing!