Hummus with Spiced Avocado & Ham
Hummus with Spiced Avocado & Ham is a fresh, flavorful, and real snack made with Smithfield Anytime Favorites sliced ham!
***Disclosure: This post is sponsored by Smithfield® Anytime Favorites®. As always all opinions expressed are 100% my own.***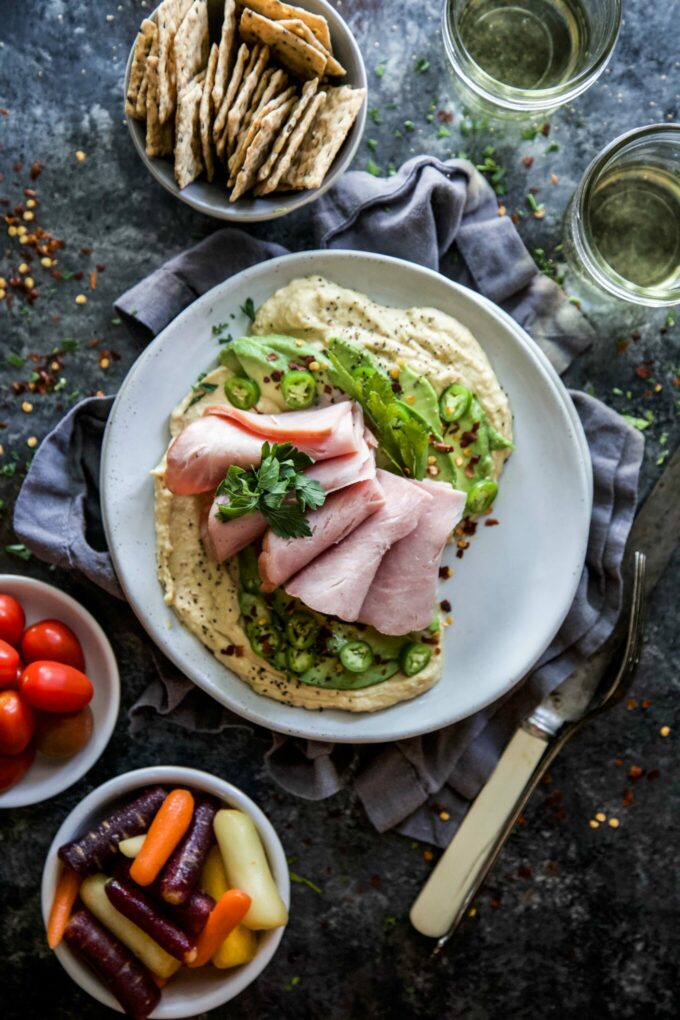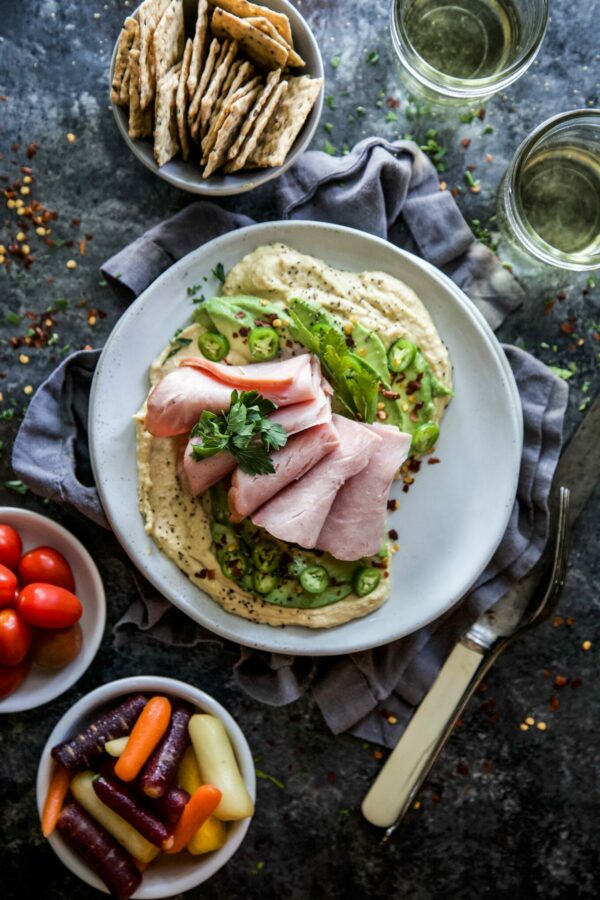 The countdown continues.
I am starting to feel prepared for the arrival of Baby G.
The big things like the bassinet, changing table, diaper caddies, and hospital bags have all been assembled. The only thing missing is food prep. BUT! Let's be real for second. Coming up with a list of meals to make-ahead of time is like a never ending task.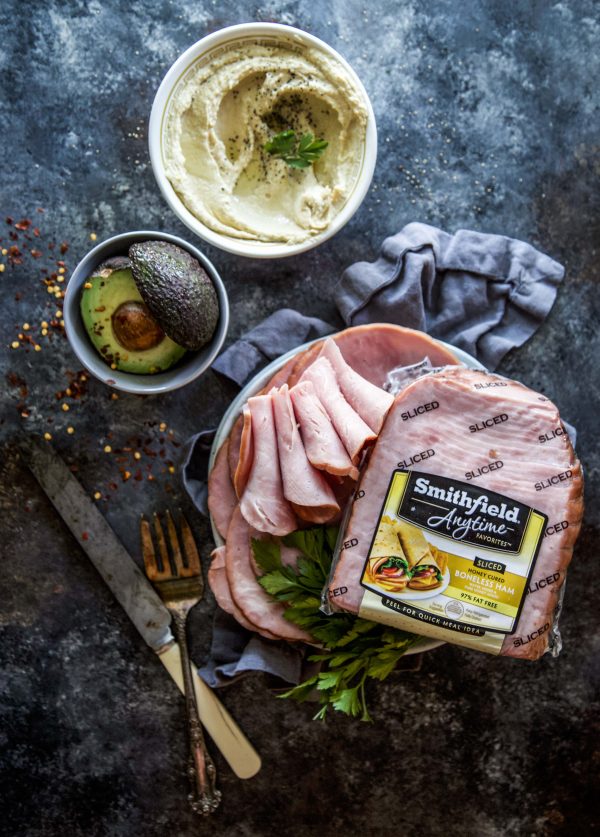 This is why I am big fan of keeping it simple. For me, coming up with family-friendly meals or on-the-go snacks is much easier when I know the ingredients I have on hand are fresh, flavorful and delicious. Have you ever tried Smithfield Anytime Favorites Honey Cured Sliced Ham?
Let me introduce you to your new best friend. This honey cured sliced ham is pre-cooked which means it's a convenient option for meal prep or a quick snack. I'm a big fan of keeping some slices within arms reach to make this Hummus with Spiced Avocado & Ham. Full of flavorful, high in protein, and takes five minutes to assemble.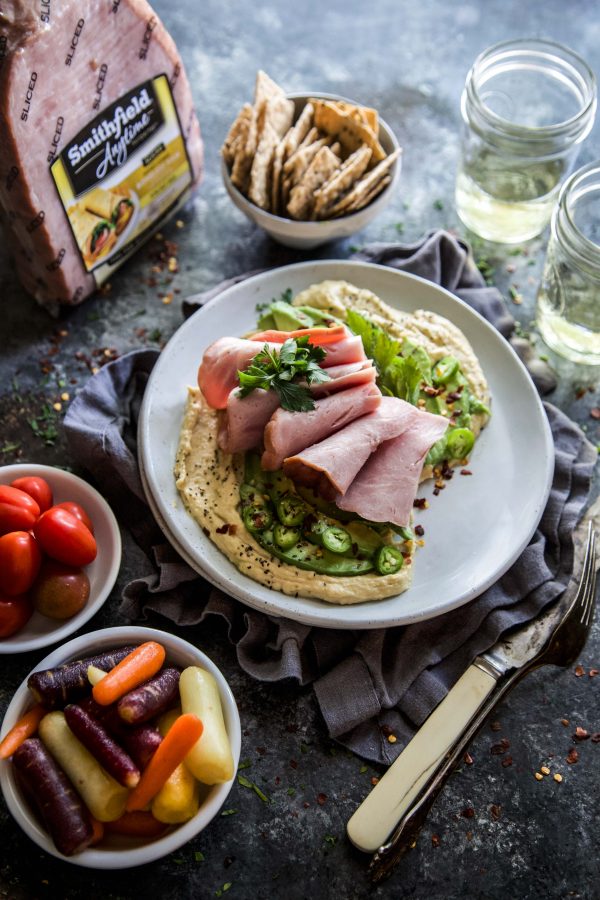 Simply spread some hummus onto a plate, top with sliced ham and spiced avocado. Besides being a quick snack this will be a great appetizer to serve when I have company coming over to see our soon-to-be bundle of joy!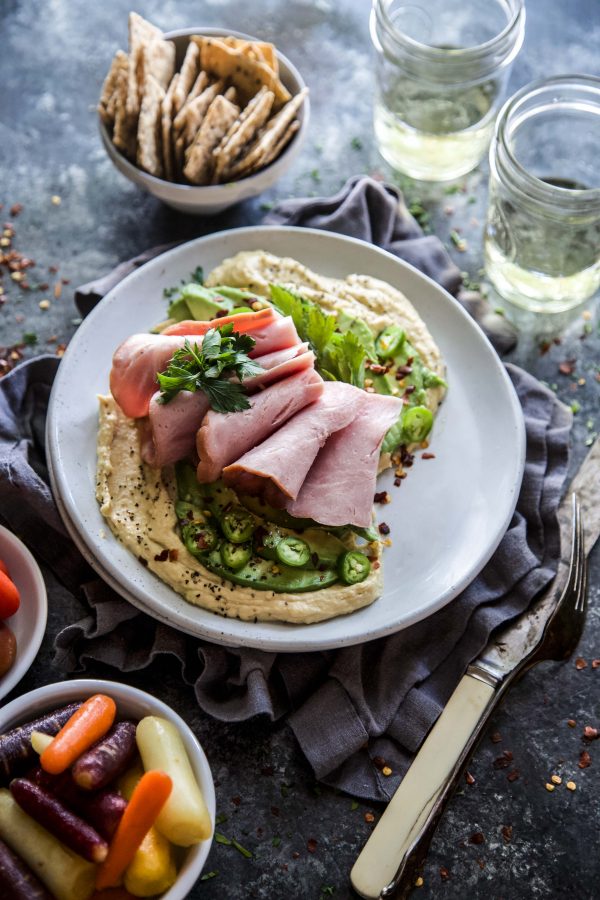 But wait! There's more. Anytime Favorites has an assortment of different products like diced and cubed ham, and ham steaks. Having these options just made meal prep and snack-time a breeze for me. I can simply pick up a few different options near the meat section of my grocery store and know that I can make a meal quick, fast and in a hurry.
Now if only Baby G would make appearance that quickly!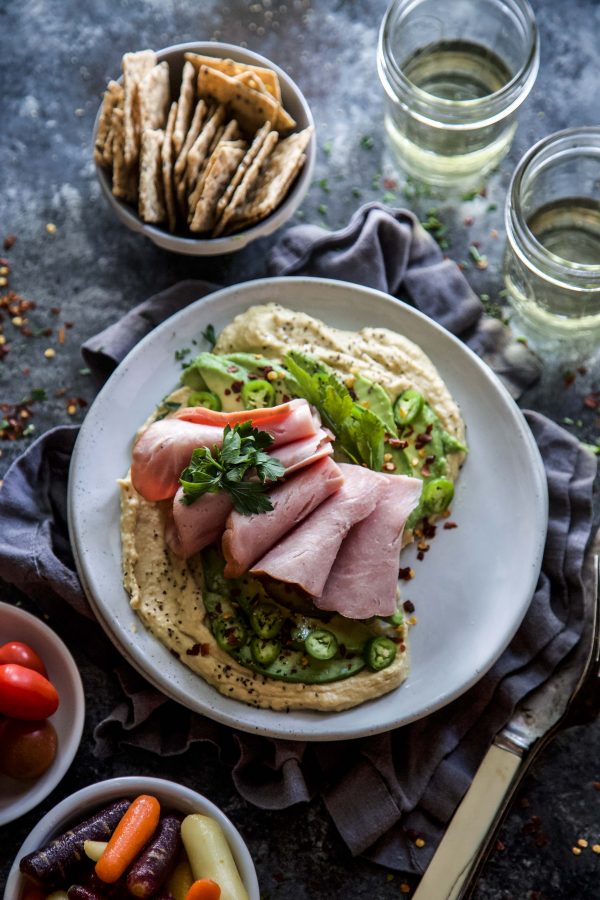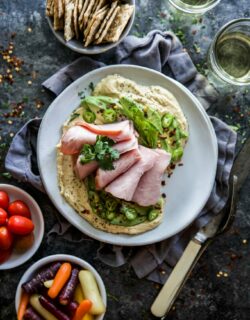 Hummus with Spiced Avocado & Ham
Ingredients:
1 1/2 cups plain hummus
1 tbsp olive oil
2 avocados, pits removed, thinly sliced
Jalapeno rounds, optional
1/2 tsp red pepper flakes
5 to 6 slices Smithfield® Anytime Favorites® Honey Cured Sliced Ham
Fresh parsley, for garnish
Crackers, for serving
Grape tomatoes, for serving
Carrots, for serving
salt and pepper to taste
Directions:
Spread the hummus evenly on a plate. Drizzle olive oil over the hummus. Top the hummus with avocado slices, jalapeno rounds, and red pepper flakes.
Next, add the ham slices on top of the avocado slices. Garnish with fresh parsley, salt and pepper. Serve with crackers, grape tomatoes, and carrots.
All images and text ©