Everything Burrata Quiche with Almond Flour Crust
Everything Burrata Quiche with Almond Flour Crust is a light, flavorful, gluten free meal that's perfect for brunch or dinner!
***This post is sponsored by Bob's Red Mill. As always all opinions are 100% my own.***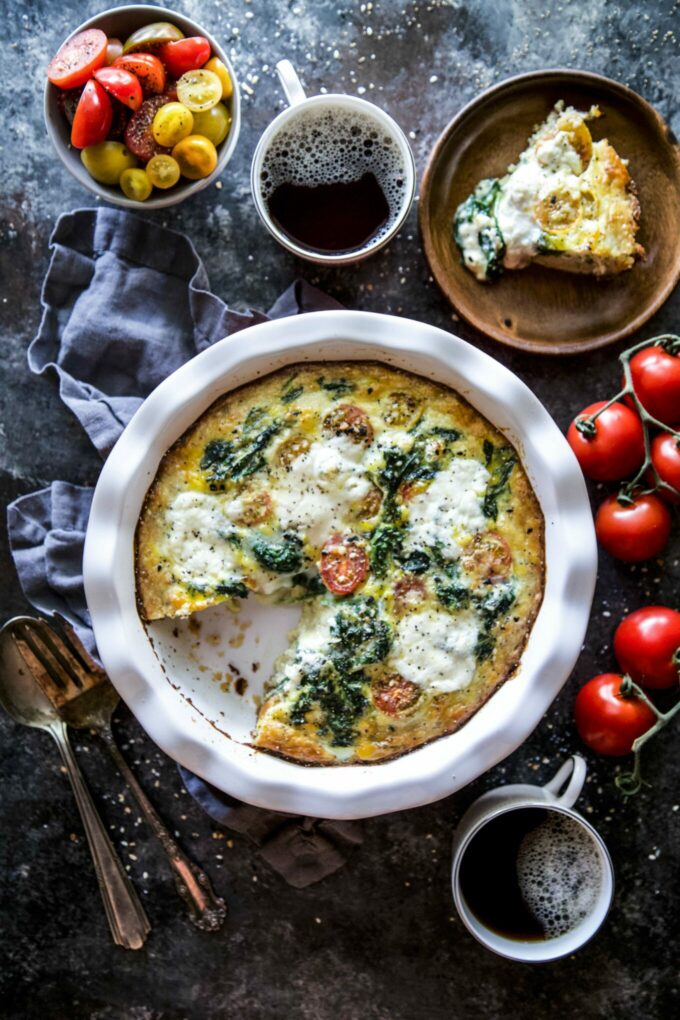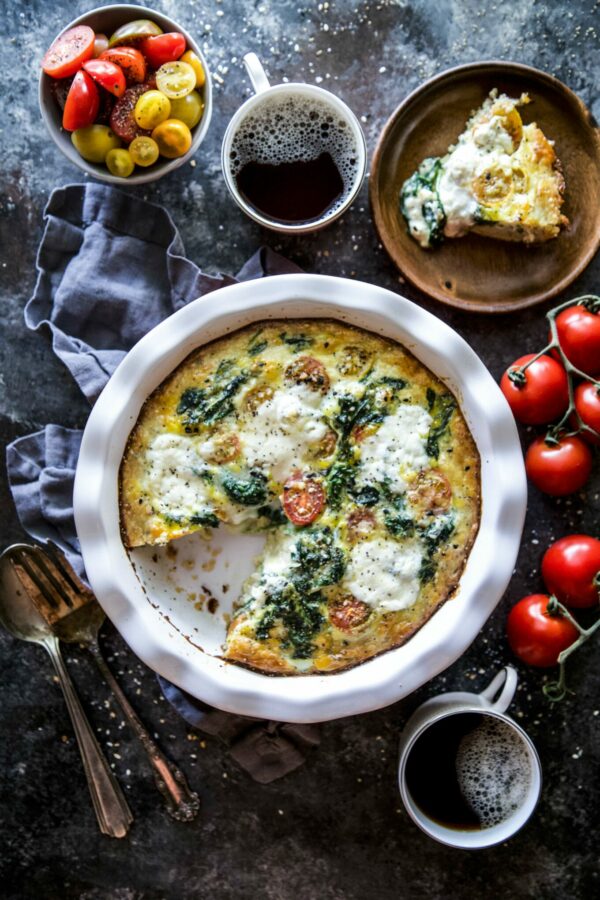 Back to the grind.
Is it me, or do weekends once school starts go by super fast?
Okay, getting ready for a baby does take up a lot of free time, but everyone I've talked to said their weekends are booked from now until Halloween! What the heck are they doing?!! Maybe it's the mad dash to get everything in before the holidays? I dunno.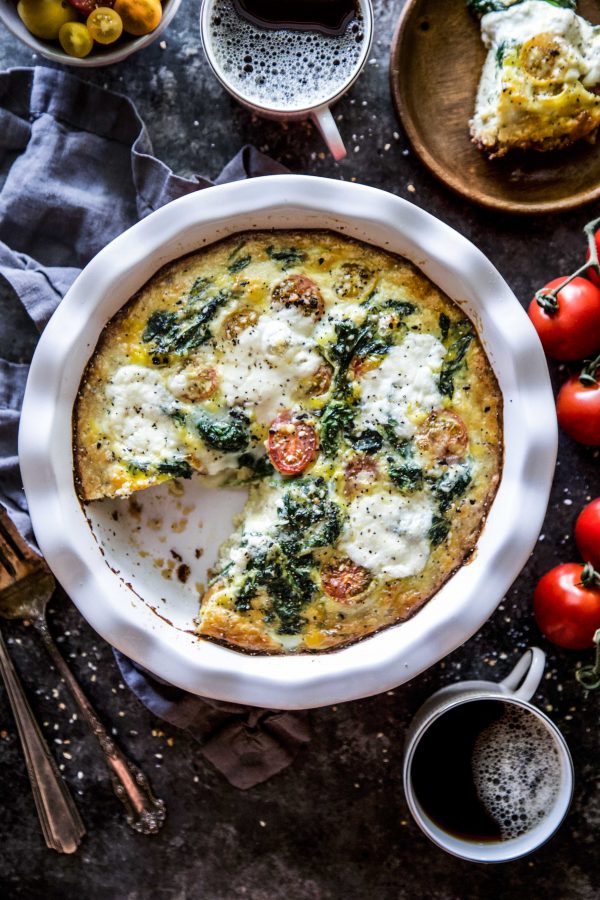 Honestly, I feel like we need to take a moment from all this overbooking especially on a Monday morning to just re-center. Monday's can be so hectic already with the addition of an overloaded work week no wonder we are all zapped by Friday.
My solution to all of this overbooking: substance. I'm a big believer if you've got the right food entering your body you can slay the week (or weekend). Today, I wanted to share with y'all a recipe that gets us out of the breakfast toast routine. This Everything Burrata Quiche with Almond Flour Crust will change your life. Not only is it great for meal planning, but it will make your Monday morning an 11/10 situation.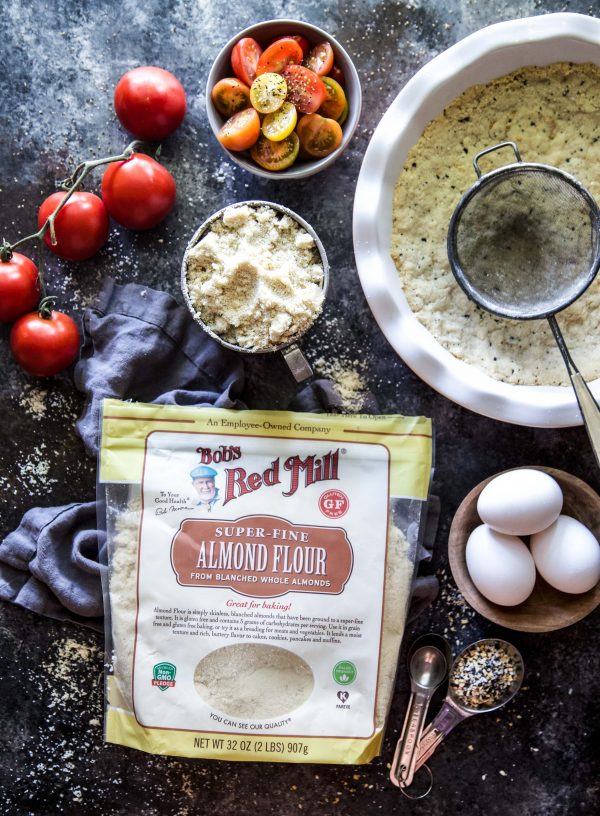 The reason for it's superiority is the almond flour crust. The almond flour hails from my one of my favorite companies on this Earth, Bob's Red Mill. If you are looking for a gluten-free, low-carb flour their almond flour will be your new best friend. Made from California-grown almonds, which have been blanched and ground to a fine meal making it ideal for baking!
I mean just look at that beauty!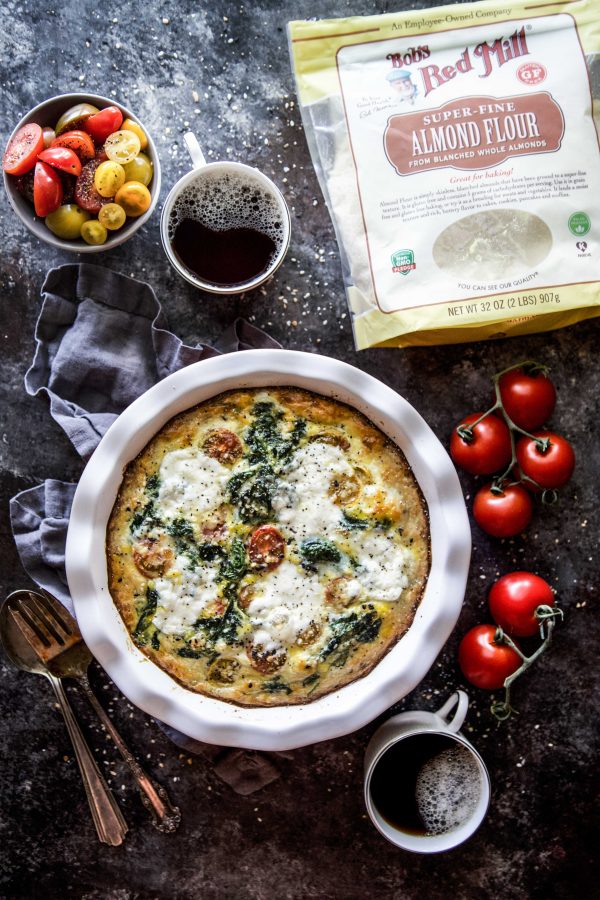 Besides meal prepping for the mornings this Everything Burrata Quiche with Almond Flour Crust is great as a dinner option as well. Serve alongside a fresh salad or end of summer veggies, and what you get is a lights out way to fuel your body for the week!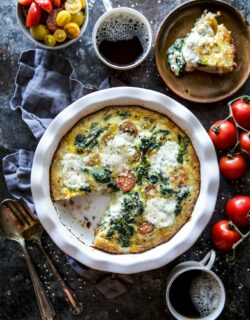 Everything Burrata Quiche with Almond Flour Crust
Ingredients:
for the crust: 
1 1/2 cups Bob's Red Mill almond flour
1/4 tsp kosher salt
1/2 tsp baking soda
1 tbsp everything bagel seasoning
1/4 cup olive oil
1 tbsp water
for the filling:
1 tbsp olive oil
2 cloves garlic, minced
1/4 cup chopped yellow onion
1 1/4 cups fresh spinach
5 large eggs
1 cup whole milk
1 cup shredded Parmesan cheese, divided
1/2 cup grape tomatoes, halved
8oz burrata ball
salt and pepper to taste
Directions:
Preheat your oven to 350 degrees. Spray a 9-inch pie dish with non-stick cooking spray and set aside. Next, in a large bowl combine almond flour, salt, baking soda, and everything bagel seasoning. In another small bowl combine the olive oil and water.
Take the olive oil mixture and stir into into the almond flour mixture until the dough is formed. Press the dough into the bottom of the prepared pie dish. Bake the crust for about 12 to 13 minutes or until golden brown. Remove from the oven and allow to cool completely before filling.
To make the filling, preheat a skillet to medium-high heat. Add the olive oil, garlic, onion, spinach, salt and pepper. Cook the veggies for a few minutes and then set the skillet aside. In a medium bowl combine eggs, milk and 1/2 cup cheese. Pour the veggies into the bottom of the prepared almond flour crust followed by the egg mixture.
Sprinkle the grape tomatoes on top of the egg mixture followed by the burrata. Sprinkle the remainder of the cheese on top and bake the quiche for about 35 to 45 minutes. There should be no liquid when a knife is inserted into the center. Remove from oven and cool before slicing and serving.
All images and text ©