Pumpkin & White Chocolate Mousse Pie
Pumpkin & White Chocolate Mousse Pie is a delightful autumn dessert perfect for any occasion!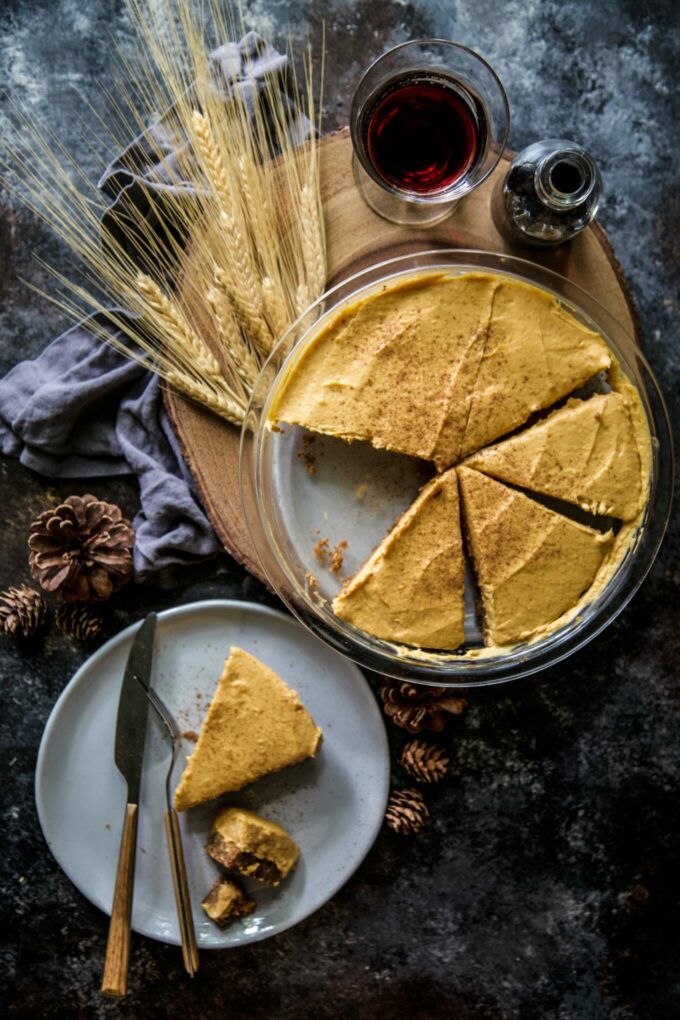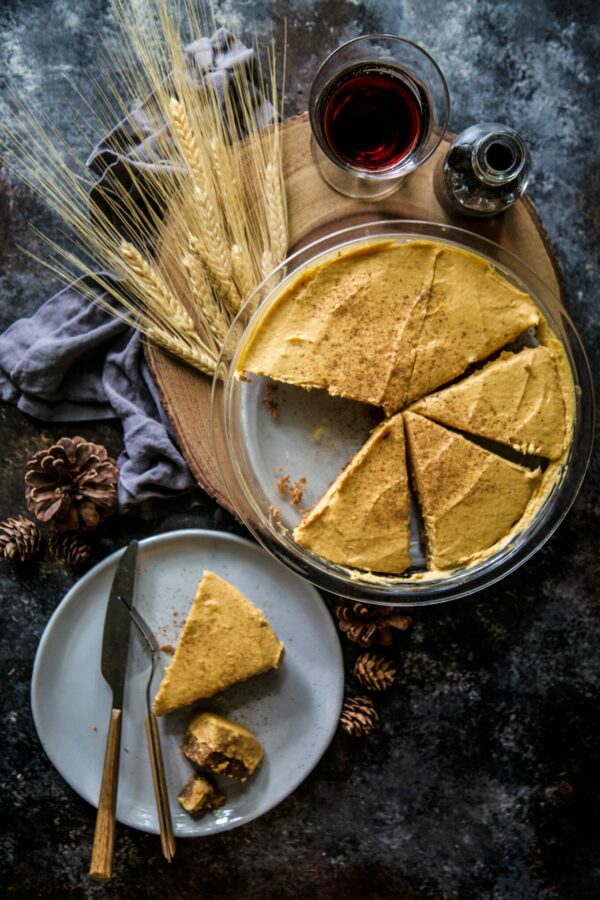 Are we good to go?
I don't want to jump the gun here because we haven't even had Halloween yet.
What I'm trying to say is, can we talk about pies? I feel like today's recipe is perfect to serve during the entire fall season and not just Thanksgiving, etc. I mean if we were splitting hairs, I would say we could have been talking about this pumpkin mousse pie in September. Don't judge.
Anyway, with the weather finally cooling down and the holidays approaching I wanted to arm y'all with a simple dessert that is flipping delicious. I know you don't need another traditional pumpkin pie recipe although my sheet pan pumpkin pie is damn good. This Pumpkin & White Chocolate Mousse Pie is a fun way to mix up the dessert situation.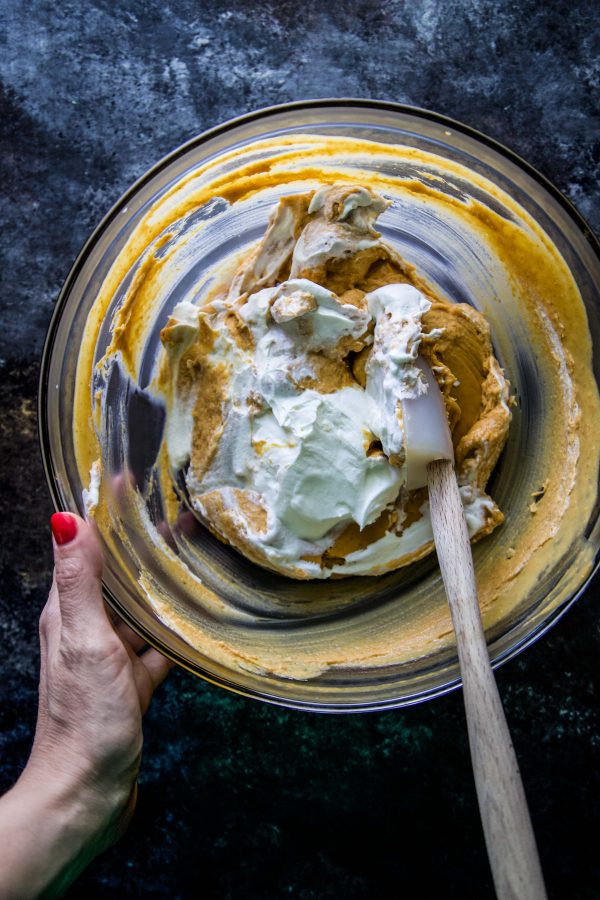 The crust is made in a food processor, slap together the filling and let it set in the fridge until ready to consume. For me, the less work I have to do babysitting the oven the happier I am. Plus, that gives me more time to play with Charlie.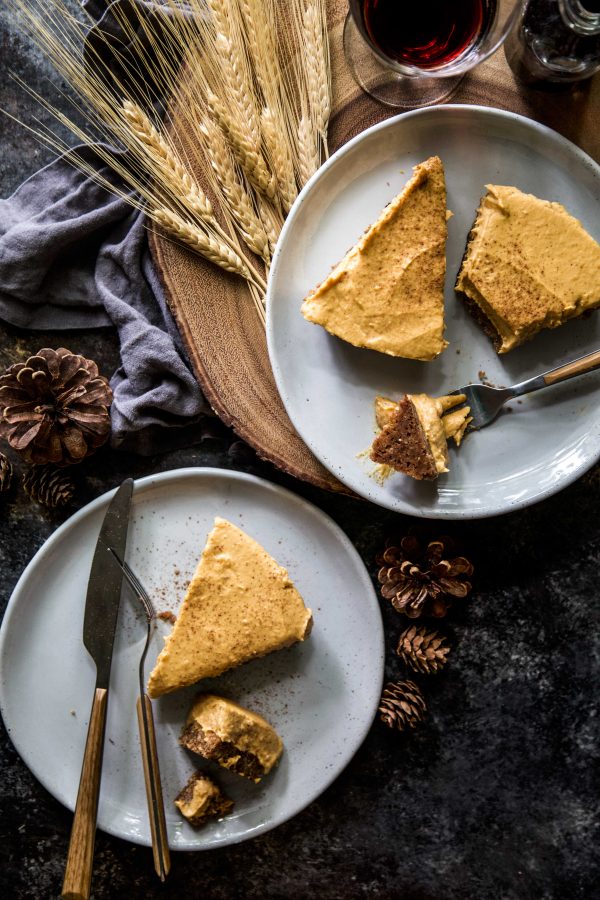 Another great thing about this pie is that it can be made a few days ahead of time. Oh, and a bonus: last up to a week in the fridge for that ultimate sugar fix. So are we good on the pie situation? Cool. Let's pie ahead.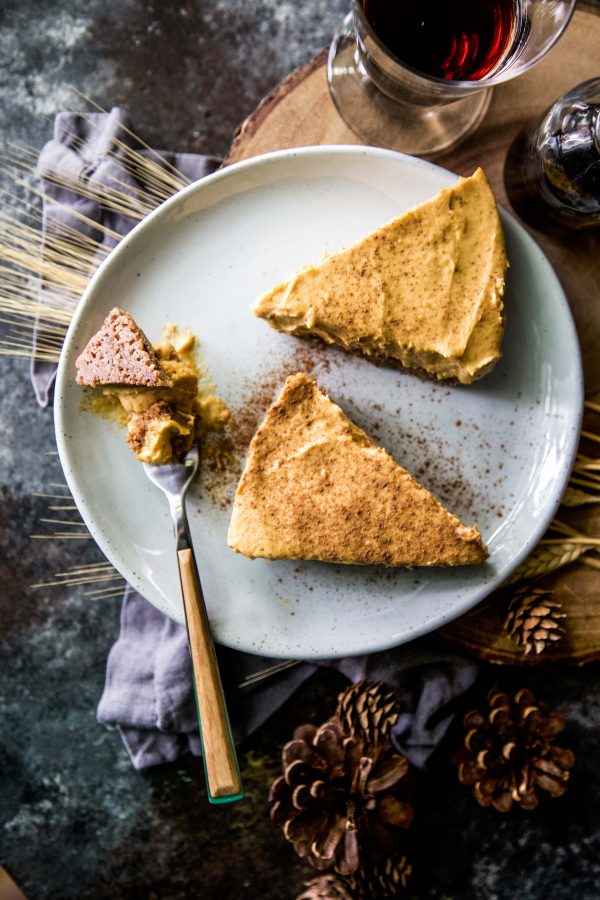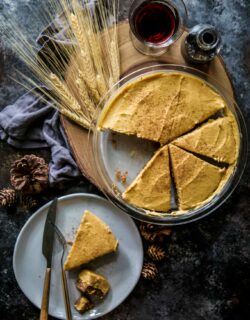 Pumpkin & White Chocolate Mousse Pie
Ingredients:
for the crust:
1/4 cup macadamia nuts
10 whole graham crackers, broken into smaller pieces
7 tbsp unsalted butter, melted
1/4 cup light brown sugar
1 tbsp cornmeal
3/4 tsp ground cinnamon
1/4 tsp kosher salt
for the filling:
1 tbsp unflavored powdered gelatin
1/2 cup white chocolate chips
2 large egg yolks
1/4 cup granulated sugar
1 cup heavy whipping cream, divided
1 bay leaf
1 cinnamon stick
1/8 tsp ground allspice
1/8 tsp ground nutmeg
1/2 tsp vanilla extract
1 1/2 cups pumpkin puree
1/2 tsp kosher salt
Directions:
for the crust:
Preheat an oven to 325 degrees. Spray a 9-inch pie plate with non-stick cooking spray.
In a food processor, add the graham crackers and pulse until finely ground then pour into a bowl. Next, add the macadamia nuts to the food processor and pulse until finely ground and then add it to the bowl with graham crackers.
Add the melted butter, brown sugar, cornmeal, cinnamon, and salt to the graham cracker mixture. Press the crust into the bottom and up the side of the pie plate. Bake for about 20 minutes until set and then remove to cool before adding filling.
for the filling: 
In a medium bowl add 1/3 cup water. Sprinkle the gelatin over the water and let stand for five minutes. Set aside.
In a medium bowl add the white chocolate chips. Set aside.
In a large bowl whisk together the egg yolks with the granulated sugar. Set aside.
In a small saucepan simmer 3/4 cup cream with the bay leaf, cinnamon stick, allspice, nutmeg and vanilla. Simmer for about a minute and then discard the cinnamon stick and bay leaf.
While whisking add the cream mixture to the egg mixture. Next, add in the gelatin mixture and keep whisking. Pour the entire mixture over the bowl with white chocolate chips. Let it stand for one minute to all the chocolate to melt. Continue whisking. If you need to microwave the chocolate for 30 seconds to help it melt that's okay!
Next, stir in the pumpkin puree and salt. Place the filling into the fridge to set for about 1 hour.
In a small bowl whisk the remaining 1/4 cup heavy cream until peaks form. Take the pumpkin filling and fold in the cream. Pour the filling into the prepared crust and spread into an even layer. Place in the fridge to set for about 1 hour. Serve and enjoy!
All images and text ©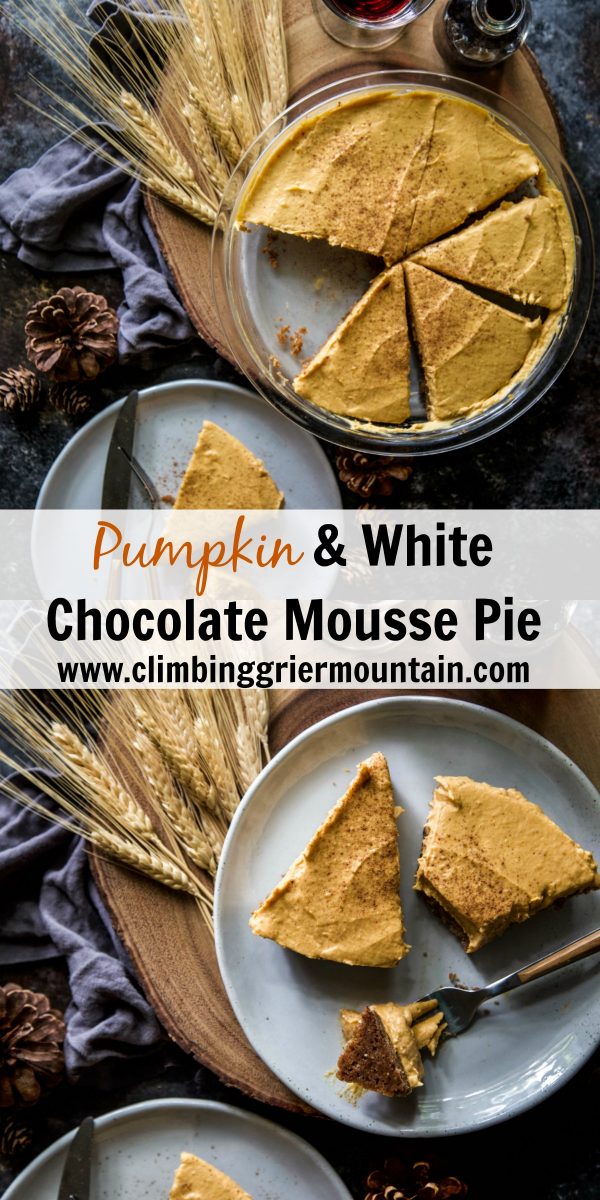 In conclusion, our Pumpkin and White Chocolate Mousse Pie offers a delectable symphony of seasonal flavors with creamy pumpkin and indulgent white chocolate. A delightful dessert that captures the essence of autumn in every luscious bite.