Sweet Potato Hummus with Harvest Greens
Sweet Potato Hummus with Harvest Greens is a delicious side dish made with Sabra hummus and hearty harvest greens!
***This post is sponsored by Sabra. As always all opinions expressed are 100% my own.***
Happy Sunday, friends!
Can you believe we are a month into fall? Where does the time go?
As we approach the holiday season I'm already plotting what to make for the greatest gathering. I'm talking about a little situation called Friendsgiving. Maybe you've heard of it?
Each year our Denver Village gathers for an epic day of flag football, wine consuming, turkey frying and the chance to celebrate our friendship. Friendsgiving is one of favorite days not only because it brings us all together, but celebrating with food with the people you love in a casual, relaxed environment is the best!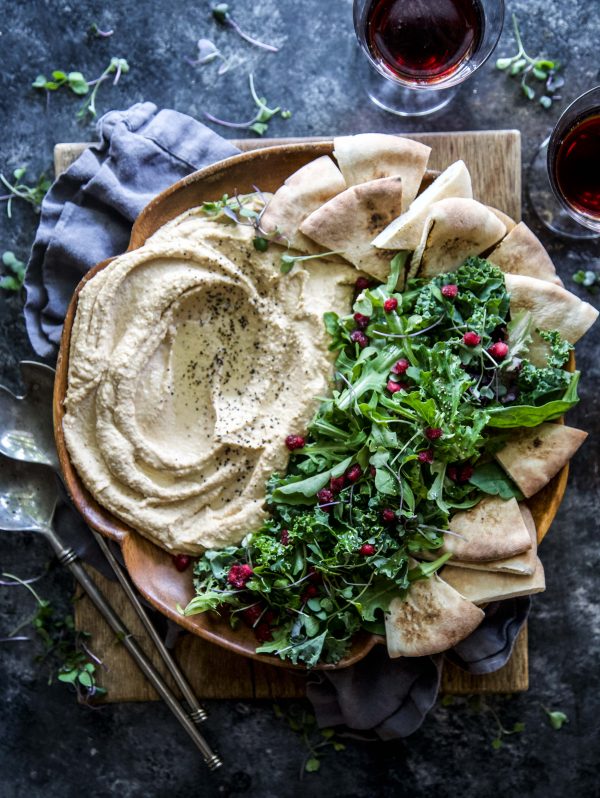 Now the key to celebrating Friendsgiving is the menu. The village divides and conquers when it comes to preparing dishes. This year I am planning on bringing two: 1) Sweet Potato Hummus with Harvest Greens and 2) Moroccan Cauliflower Bake (which I will be sharing tomorrow so stay tuned!)
Each dish is a fantastic addition to the Friendsgiving menu. For the sweet potato hummus with harvest greens I wanted something super simple to serve as a side that would also taste like fall. I think I nailed it with this dish. Sweet potato hummus is luxurious with a touch of cinnamon and the harvest greens are tossed with a maple vinaigrette. Put this plate full of goodness out on the buffet table and watch it disappear.
With that, if you are looking to host a Friendsgiving this year, my friends over at Sabra want to help you bring your friends together for an unforgettable Friendsgiving.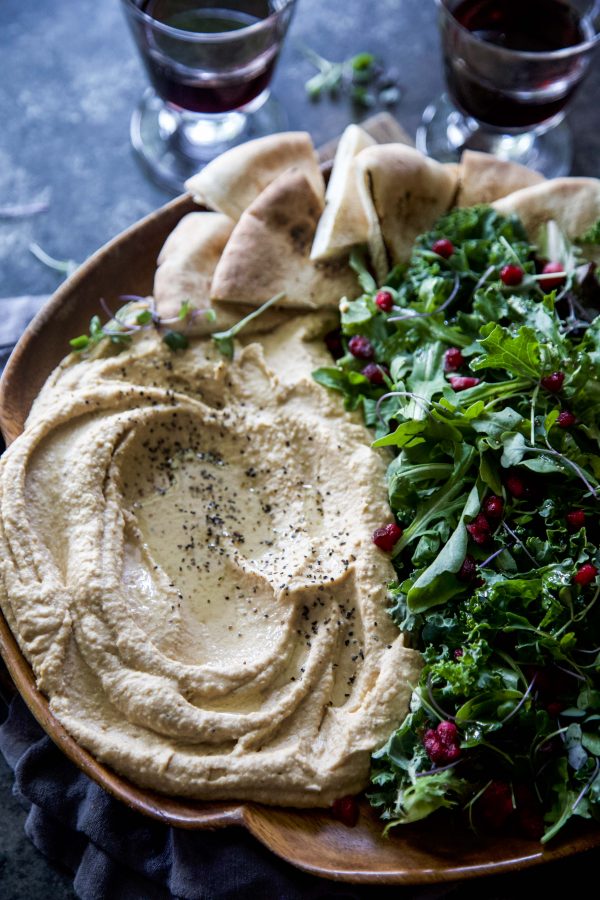 Definitely check out their Pinterest board for recipes, decor ideas and more inspiration here: https://www.pinterest.com/sabradips/friendsgiving/] It's a good way to mix things up and start a new tradition with flavor and fun.
So welcome your friends, pull up a seat, and join us, because this Friendsgiving is going to be a Friendsgiving For All.
Sweet Potato Hummus with Harvest Greens
Ingredients:
for the hummus:
1 (15oz can) chickpeas, drained and rinsed
1 medium sweet potato, mashed and cooked
3 tbsp tahini
2 garlic cloves, roughly chopped
juice of one lemon
1 tbsp maple syrup
1/2 tsp ground cinnamon
1/2 tsp ground nutmeg
1/4 tsp kosher salt
1/4 tsp ground pepper
1/3 cup olive oil + more for garnish
4 to 6 tbsp water
for the harvest greens:
2 cups kale
2 cups spinach
2 cups arugula
1/4 cup olive oil
1 tbsp apple cider
2 tsp maple syrup
2 tbsp Dijon mustard
salt and pepper to taste
Pomegranate arils, for garnish
Sweet Potato Hummus using SABRA:
for the hummus:
1 10oz container Sabra plain hummus + 1/2 cup 
1 medium sweet potato, mashed and cooked
2 garlic cloves, roughly chopped
juice of one lemon
1 tbsp maple syrup
1/2 tsp ground cinnamon
1/2 tsp ground nutmeg
1/4 tsp kosher salt
1/4 tsp ground pepper + more for garnish
Olive oil, for garnish 
for the harvest greens:
2 cups kale
2 cups spinach
2 cups arugula 
1/4 cup olive oil 
1 tbsp apple cider
2 tsp maple syrup 
2 tbsp Dijon mustard
salt and pepper to taste
Pomegranate arils, for garnish 
Directions:
for the hummus: 
In a large food processor add chickpeas, sweet potato, tahini, garlic, lemon juice, maple syrup, cinnamon, nutmeg, salt, and pepper. Pulse until well combined. Next, add the olive oil and pulse until smooth. You may need to scrape down the sides to ensure everything is well combined. While the food processor is running add a little bit of water at a time until desired consistency is made. Spread the hummus onto a serving plate and garnish with olive oil and black pepper.
for the harvest greens: 
In a large bowl combine kale, spinach and arugula. Next, in a small mixing bowl combine olive oil, apple cider, maple syrup, Dijon mustard, salt and pepper. Drizzle the vinaigrette over the greens.
To serve: Spread the hummus onto a serving plate and garnish with olive oil and black pepper. Add the harvest greens next to the hummus and garnish with pomegranate arils. Serve alongside pita if desire.
Sweet Potato Hummus using SABRA:
for the hummus: 
In a large food processor add  10oz container Sabra + 1/2 cup hummus, sweet potato, garlic, lemon juice, maple syrup, cinnamon, nutmeg, salt, and pepper. Pulse until well combined. Spread  the hummus onto a serving plate and garnish with olive oil and black pepper. 
for the harvest greens: 
In a large bowl combine kale, spinach and arugula. Next, in a small mixing bowl combine olive oil, apple cider, maple syrup, Dijon mustard, salt and pepper. Drizzle the vinaigrette over the greens. 
To serve: Spread the hummus onto a serving plate and garnish with olive oil and black pepper. Add the harvest greens next to the hummus and garnish with pomegranate arils. Serve alongside pita if desire
All images and text ©