Chunky Chocolate Peanut Butter Apple Granola
Chunky Chocolate Peanut Butter Apple Granola is a delicious topping on breakfast toast or perfect as a snack!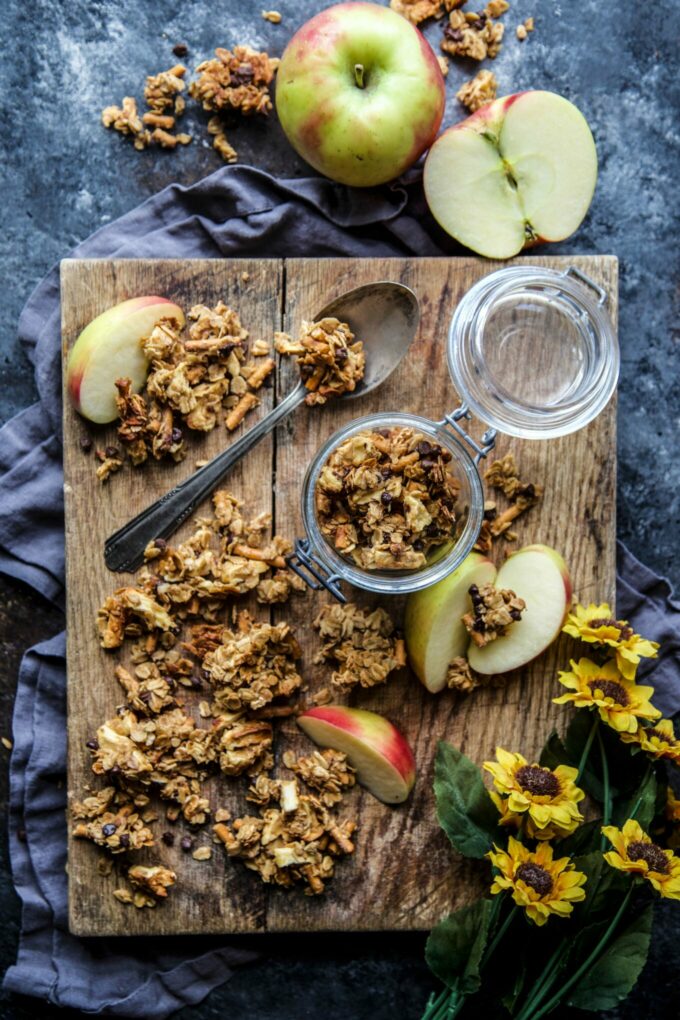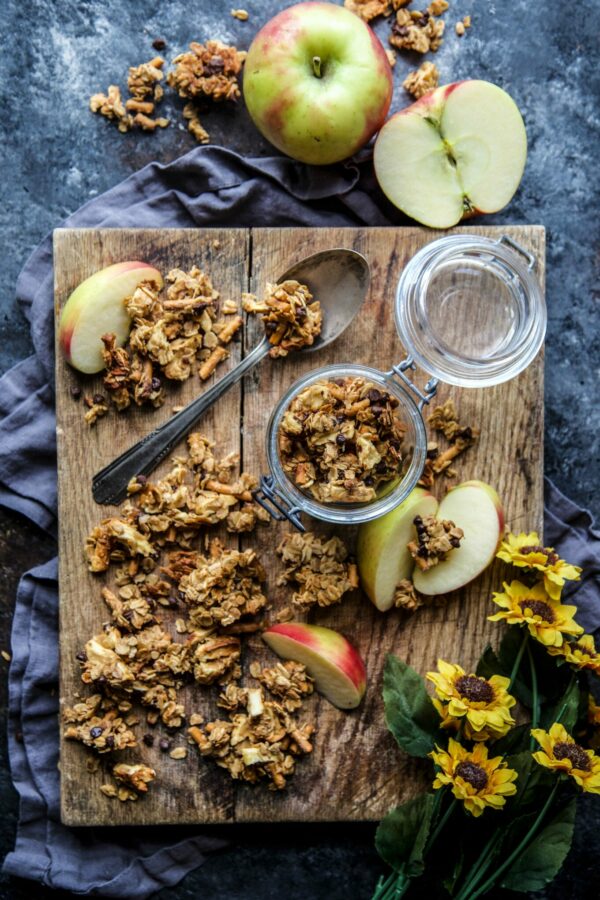 Have you watched it?
Beverly Hills 90210. Not the 90's version, but the new one?
I am probably late to the party. I've heard good things about it, but I'm a little scared to watch because my teenager years were devoted to the watching the 90's version. Also, my heart is broken that Dylan Walsh wouldn't be on the show. God rest his soul.
Luke Perry was one of my favorite actors as a teen. Do you remember Buffy the Vampire Slayer? LOVED that movie. Best line of the entire movie: "What's your name?" "My name is Pike." "Pike is not a name it's a fish." Might have to re-watch that movie while feeding Baby G!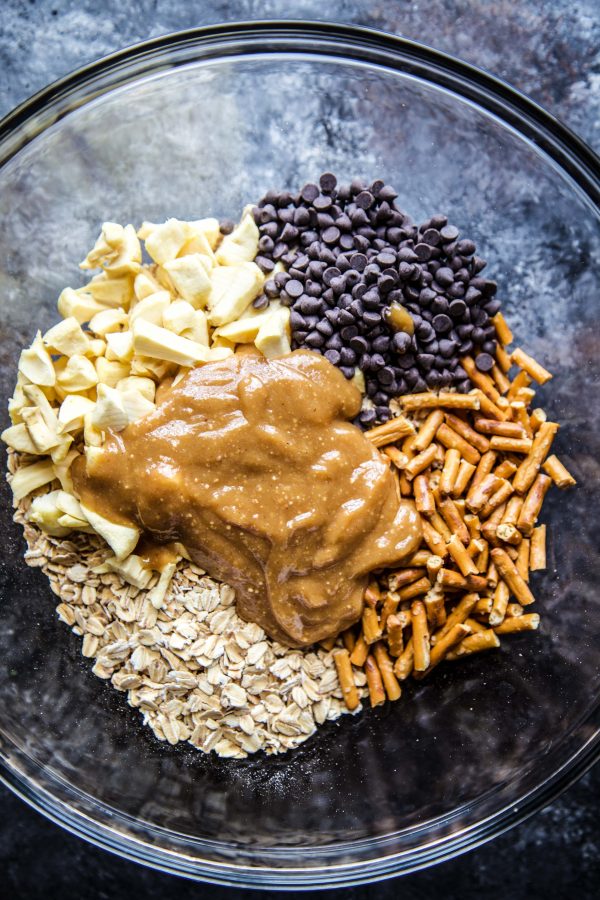 Anyway, if you've watched the new version, I'm dying to know if you think I should watch it. Or will I totally be disappointed? Also, while we are on the subject of shows to watch would love your recs on what to binge once the baby arrives!!
Moving on to a more important subject…..food! Being nine months pregnant I am constantly snacking. Which got me thinking y'all might need a few back-to-school snack options. This Chunky Chocolate Peanut Butter Apple Granola is a fun treat to get into the fall spirit. Loaded with peanut butter, apple, and chocolate. Is there a better combo?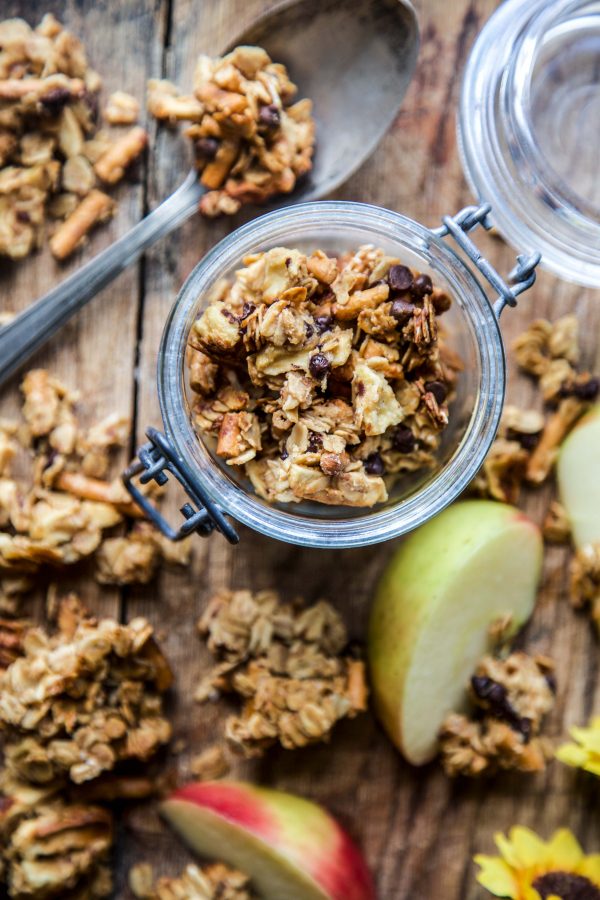 This granola is great on top of breakfast toast or Greek yogurt. Love putting out a big bowl and serving it with cheese or fresh apple slices as a snack. The options are endless. Just make sure to make a big batch because this homemade granola will go fast!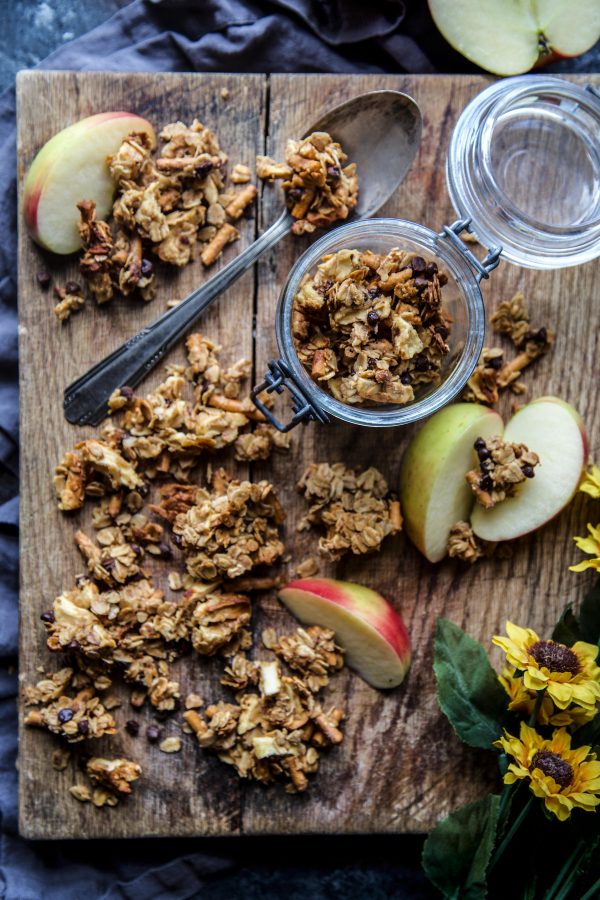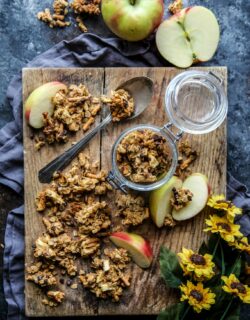 Chunky Chocolate Peanut Butter Apple Granola
Ingredients:
2 cups old fashioned oats
1/2 cup creamy peanut butter
1/4 cup honey
1 1/2 tbsp olive oil
1 tsp vanilla extract
1/2 tsp kosher salt
1 large egg white
1/2 cup coarsely chopped mini pretzel twists
1/3 cup coarsely chopped dried apples
1/3 cup semi-sweet mini chocolate chips
Directions:
Preheat your oven to 350 degrees. Line an 8X8 square metal baking dish with parchment paper leaving an excess over the edge so you can pull out the granola easier. Spray parchment paper with non-stick cooking spray for extra insurance.
Take the oats and spread them into an even layer on a baking sheet. Toast the oats for about 10 minutes in the oven and then place them into a bowl to cool.
In a medium bowl add the peanut butter, honey and olive oil. Place the bowl into the microwave and heat on high for 30 seconds. Whisk until smooth. Next, add in the vanilla, kosher salt, and egg white to the peanut butter mixture. Continue to whisk until smooth.
Add the pretzels, dried apples and mini chocolate chips to the oats. Take the peanut butter mixture and pour it over the oat mixture and stir until well combined. Next, take the oat mixture and gently press it into the prepared baking dish.
Bake the granola for about 20 to 22 minutes. Cool completely before slicing. Remove the granola from the pan and you can either cut into bars or break the granola off into chunks! Enjoy!
All images and text ©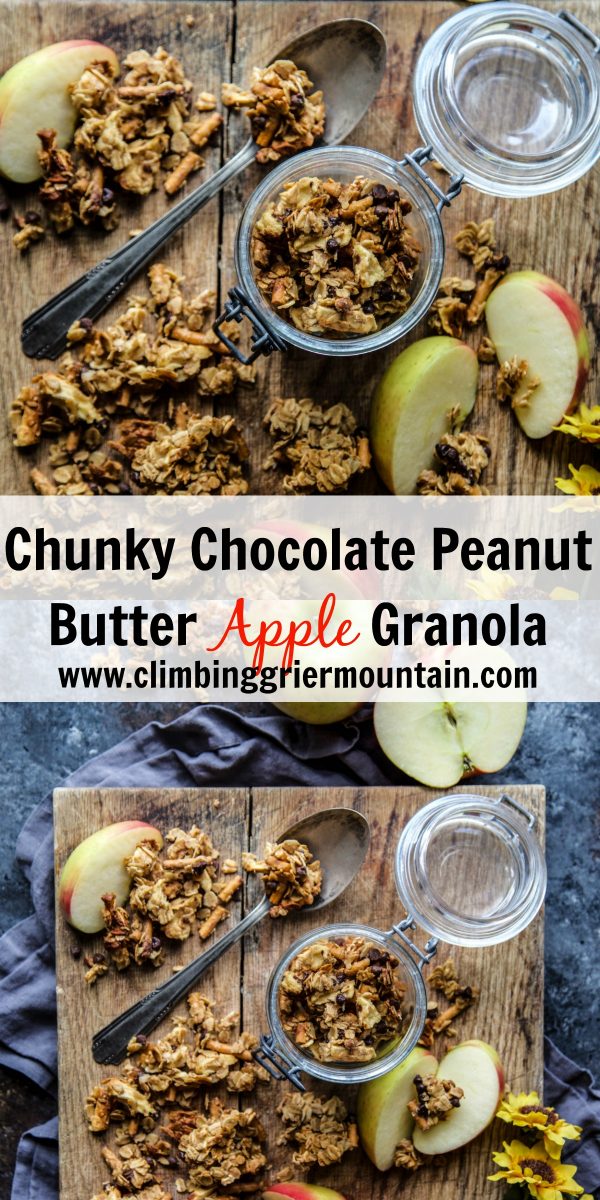 In conclusion, Chunky Chocolate Peanut Butter Apple Granola offers a delightful blend of sweet, nutty, and chocolatey flavors, providing a satisfying and scrumptious start to your day or a tasty snack any time.