Za'atar Roasted Chicken and Potatoes with Spiced Labneh
Za'atar Roasted Chicken and Potatoes with Spiced Labneh is a tasty and easy meal to make! Oven roasted chicken topped with za'atar seasoning and spiced labneh. This will be in your regular dinner rotation.
***This post is sponsored by GRIZZLY Cast Iron Cookware. As always, all opinions expressed are 100% my own.***
I'm pumped.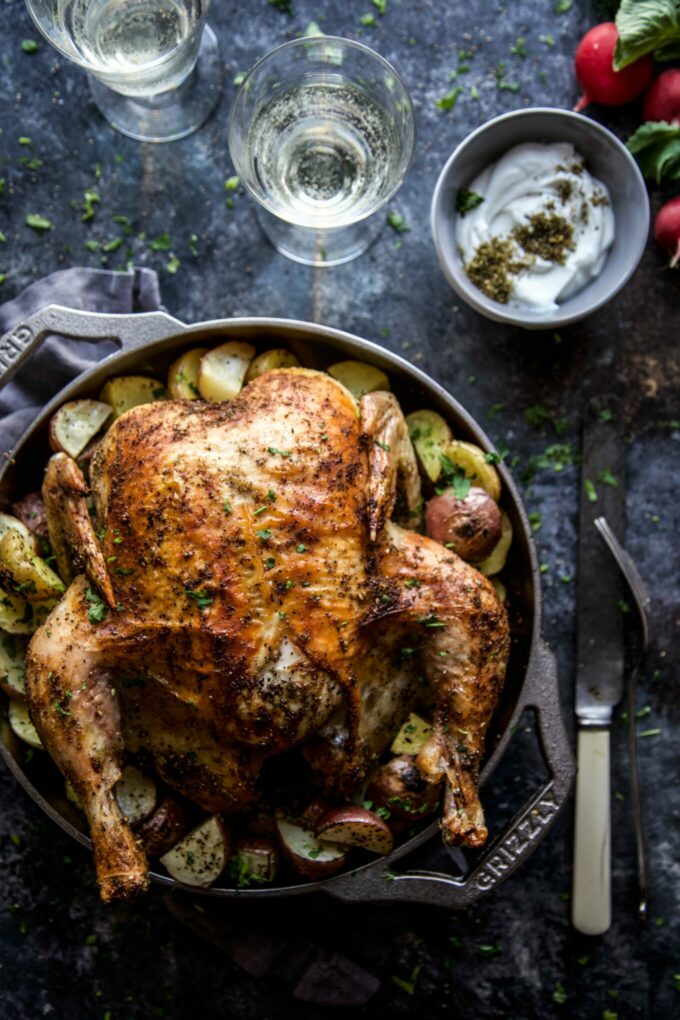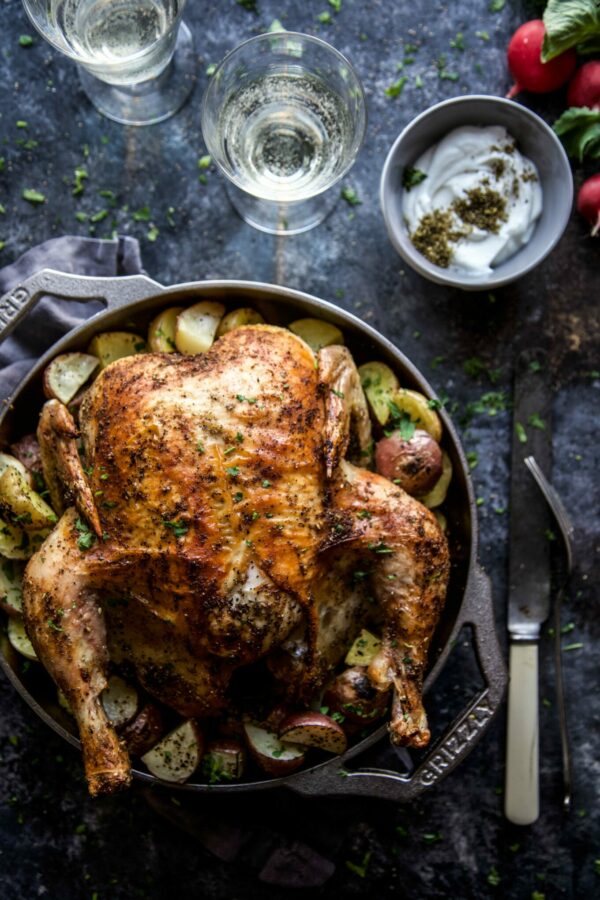 Like can hardly contain my excitement.
This year I really want to bring y'all fresh, flavorful, and delicious dishes. Not that I haven't in the past, but since having Charlie, I've had to refocus a bit. Which is totally fine because it brought us today's recipe.
BUT! Before we dive into flavor town, I want to talk to y'all about my latest obsession. I use a lot of variety in cookware when I'm in the kitchen. Recently I had the chance to take GRIZZLY Cast Iron Cookware for a test drive. YOU GUYS!!! Their products are a game changer.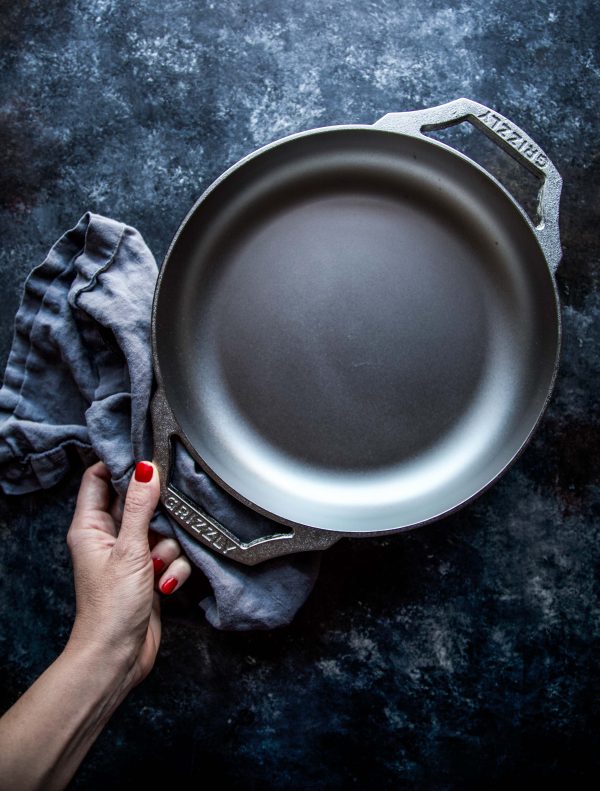 Let me break it down for you because I know you will be obsessed too! First, isn't it gorgeous? The coated cast iron skillet feels amazing and that's because it's hand-crafted right here in the good ol' US of A. Second, there's no seasoning required. GASP! Third, it's super easy to clean. I'm talking just some soap and water. Bonus: rust resistant. Are you in love, yet?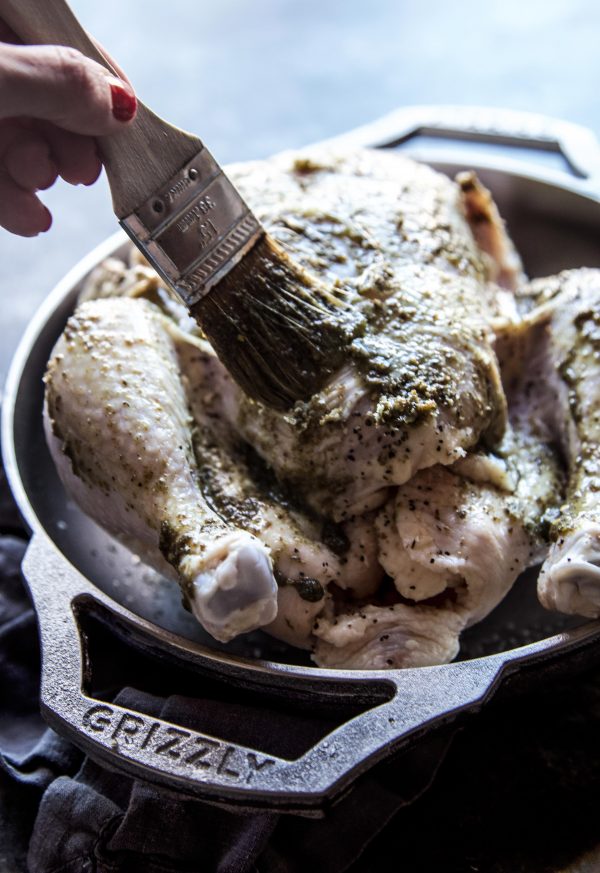 In order to see what this amazing new cast iron skillet could do, I thought let's go back to the basics. We all love roasted chicken. For convenience we all tend to buy the $6.99 rotisserie chicken at the store. Well, today's recipe will have you walking past that prepared bird.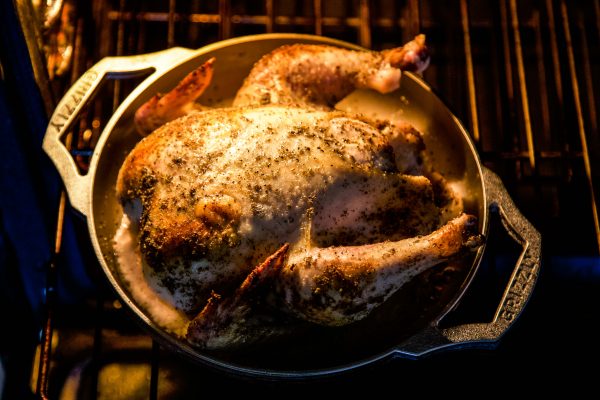 This Za'atar Roasted Chicken and Potatoes with Spiced Labneh will be a regular in your dinner rotation. Promise. All you need is a 3 or 4 lb bird, some za'atar seasoning (I use this kind!), and this cast iron skillet. That's it. Roast the bird for about an hour and fifteen minutes. What you get is the most juiciest, roasted chicken.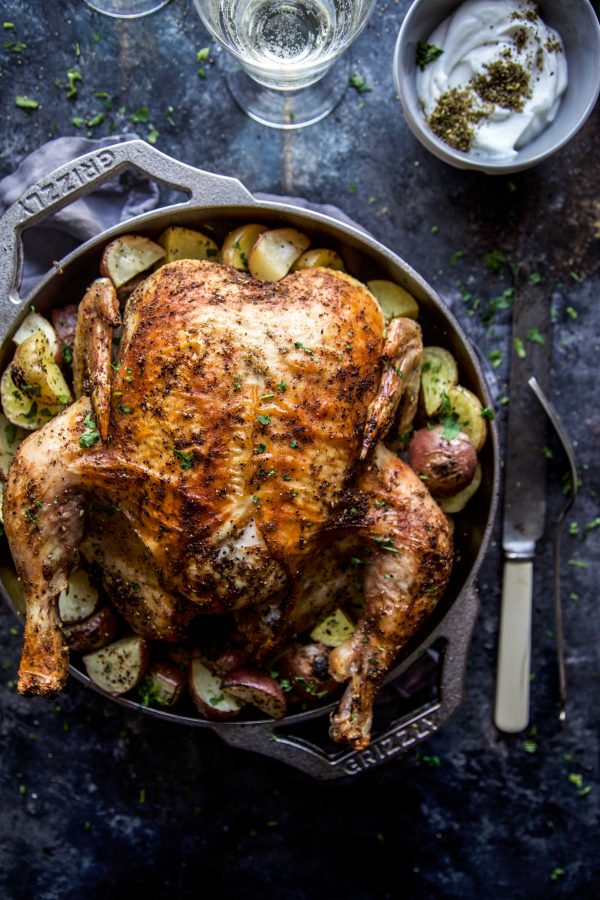 Besides the oven you could also make this on the grill, over a campfire, or electric stove. That's how freaking good this cast iron skillet is! Can you tell I'm super pumped?
For more information about GRIZZLY Cast Iron Cookware check our their website!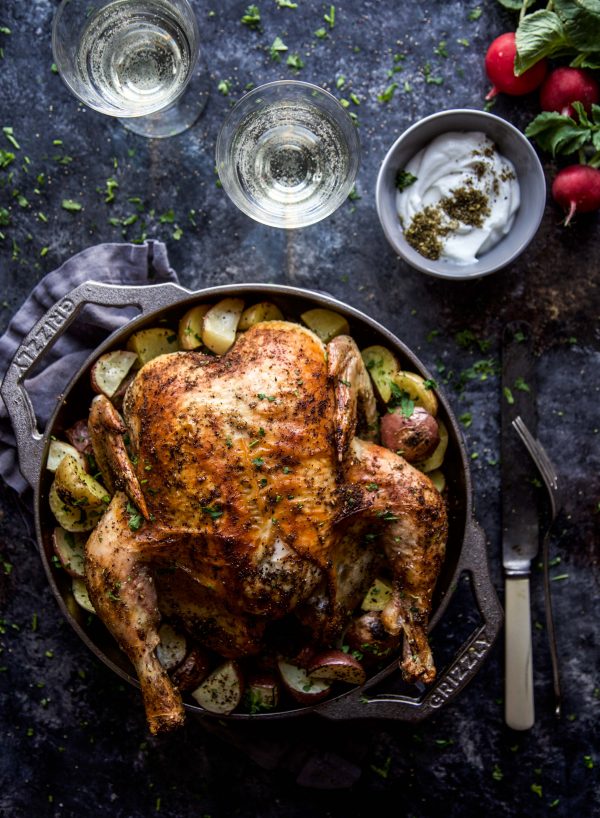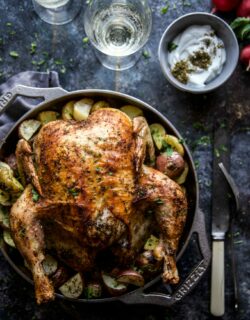 Za'atar Roasted Chicken and Potatoes with Spiced Labneh
Ingredients:
One (3 to 4 lb ) whole fryer chicken, giblets removed
1/4 cup unsalted butter, melted
1 to 2 tsp za'atar seasoning
5 to 6 golden potatoes, sliced into quarters
1/2 cup labneh or plain Greek yogurt
1/2 tsp red pepper flakes
squeeze of lemon juice
salt and pepper to taste
Directions:
Preheat your oven to 425 degrees. Place the chicken into the GRIZZLY 10-inch cast-iron skillet.
Pat the chicken dry with a paper towel.
In a small bowl combine melted butter and za'atar seasoning. Using a pastry brush, brush the melted seasoned butter all over the chicken. Next, add salt and pepper.
Place the skillet in the oven for about 30 minutes. After 30 minutes remove the chicken and add the quartered potatoes into the skillet. The potatoes may slide under the chicken and that's okay!
Continue to cook the chicken for additional 30 to 45 minutes or until a meat thermometer reads 160 degrees when inserted into the thickest part of the breast.
To make the spiced labneh, simply mix the labneh with red pepper flakes, lemon juice, salt and pepper.
Once cooked, remove chicken and let it cool for a few minutes before slicing and serving with potatoes and spiced labneh.
All images and text ©